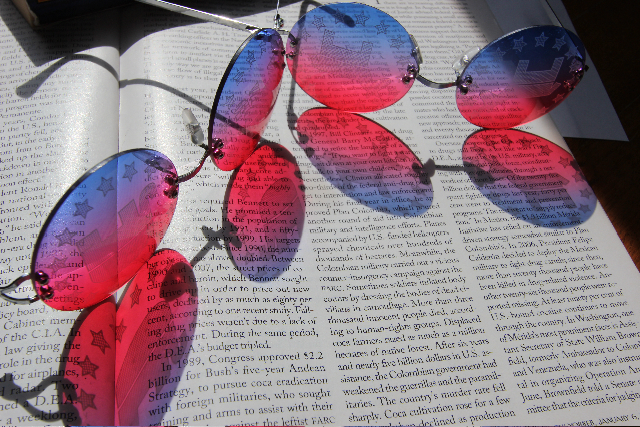 LOSE THE BLINDERS
How party politics color debate — and keep voters clueless
"Get real!" "Get informed!" "Get a clue." Read the online discussion surrounding any hot political topic, and you'll see a lot of tense debate over the most basic facts. For every rock-solid stat in one corner, comes a hard-hitting response from the other — often with an insult or snarky comment for extra punch. But the problem isn't that people come to debates lacking the proper information — it's that they enter discussions overloaded with passion.
"It's called 'motivated reasoning,'" says Dr. Brendan Nyhan, Assistant Professor of Government at Dartmouth College and political contributor to the Upshot section of the New York Times. "So while we like to think people start with facts and then reason to a conclusion, in a lot of cases, the factual beliefs people hold are more a result of the identities they have."
In other words, forget "right" or "left." It's more like, "We're right — you're wrong." And even the most indisputable evidence won't make us think otherwise. Suddenly, it all makes sense: the college-educated teacher who won't admit tenure can protect even one bad apple. Or the NRA member who disputes the most powerful gunshot statistics. Just about every foul-mouthed Facebook tantrum to date. But don't get too smug. Because if you're motivated enough to join in the conversation, there's a good chance you're also engaging in motivated reasoning.
"This is something we all do as human beings," Nyhan continues. "You do it. I do it. Everybody does it. But it can become pathological when people come to hold false or unsupported beliefs and aren't willing to listen to the evidence. That's what we see a lot in our current politics because it is so polarized."
With a lot of election debate on the horizon, we asked the doctor to help us figure out how to stay informed and still stay accurate — and how to best educate others without fooling ourselves. What follows is the full transcript of the interview featured in Fall 2014's Issue 3.3.— Matt Walker
What's your title? What's the best way to describe you?
I'm Assistant Professor of Government at Dartmouth College. I'm also a contributor to the Upshot [section of the New York Times].
So how did you end up doing this type of research?
I used to actually do fact-checking myself. I was the cofounder of a website called Spinsanity — which ran from 2001 to 2004 — and was syndicated on Salon.com in 2002 and The Philadelphia Inquirer. And we wrote a book, too, so I was engaged in the process of trying to convince people of the facts myself and saw how hard that can be when people aren't especially willing to listen. And then I went to graduate school at Duke and in my academic research I came back to this question of "Why is it so hard to change people's minds?" And in particular, "Why do people hold factual beliefs that aren't factually true?" So forget opinions. Can we just agree on the actual facts in question? And that often turns out to be a very hard problem.
Why is that? You would think certain numbers would be so obvious, it's like the sky is blue. Why won't people see the facts for the facts?
There are a couple of problems. The first is that in politics there are very weak incentives to a have accurate beliefs. It matters a lot more that you make an informed choice about buying a reliable car or which house you buy or what refrigerator you purchase. So accuracy matters a lot more with what consumer choices you make for your wellbeing than it does for political choices. So there's very weak incentives for voters to be well-informed. And it's hard for voters to keep up with everything. And in some ways I think it's unreasonable for voters to know a lot. So this isn't a critique of people for not having an encyclopedic knowledge of minutia. What I'm especially concerned about are people who are misinformed. So not, "I don't know" but "I think something that's not true, and I believe it with confidence and I'm unwilling to be dissuaded from that belief despite factual evidence to the contrary." That's the challenge I'm interested in.
So why is that? Well, there are different factors that contribute to it. One of the most important factors in misperceptions in politics is called "motivated reasoning." The idea that people are biased toward information that confirms their pre-existing views and biased against information that disconfirms those views. And this is something we all do as human beings. You do it. I do it. Everybody does it. But it can become pathological when people come to hold false or unsupported beliefs and aren't willing to listen to the evidence that there's no basis for those claims. And that's what we see a lot in our current politics because it is so polarized. And people's political identities are more partisan and tribal among the people who care the most about politics than in the past.
And this isn't everybody. There are a lot of people who don't care about politics. But the people who are in the comments sections, who are arguing in letters to the editor the newspaper, or on social media, etc. that's the group to whom politics is a more important part of their life and identity. And so they're especially likely to engage in this motivated reasoning process.
And they're the ones we're gonna hear from the most too because they're the ones who are most caught up in it. So even if you're partially engaged in the debate, you look on line and see that voice.
That's right. The media especially gets a very skewed view of the electorate because those are the people who are visible to you. The people motivated enough to engage in the political process are the ones who are at the meetings or the speeches or the events. And they're ones who write letters or call you, etc.
Can you give me a good example of a fact that people simply won't accept? I think of climate change. Because if 97 mechanics told you the problem was the muffler and 3 said it was the windshield, you'd fix the muffler.
Right. Or if 97 doctors told you that you had a disease that threatened your life [you would fix it.] That's probably the issue that's most salient for any coastal community. In terms of where misinformation matters for the world, climate change is very high on the list. We can have a discussion about the extent to which something like death panels poison the debate over health care reform. But climate change is arguably an order of magnitude more significant for the world. And I'd be interested in hearing from your experience: do the greater personal stakes for coastal communities make them more open-minded about an issue like climate change? Are they more focused on accuracy? Because that's an abstract debate for someone who lives in Nebraska. But you might wonder whether someone who's property could be threatened is more likely to listen to the evidence because their house could be underwater.
Actually, coastal communities are more worried about insurance it seems like because that's a more immediate threat. On the other hand, many of these same people now love their medical insurance company because they hate Obamacare. Is that normal?
Well, our incentives drive our beliefs. And our identities drive our beliefs. The point I often try to make people in politics, in health — in all sorts of areas — is that we like to think people start with the facts and reason from there to a conclusion. But in a lot of cases the factual beliefs they hold are a result of the identities they have or the interests they have. And that's why we shouldn't be surprised when facts don't change people minds. Over the past 20 or 30 years, people have said again and again: the scientific consensus is extremely strong that global warming is real and manmade. And yet, we've actually become more polarized in our beliefs than less. So even as the scientific evidence continues to become stronger and more detailed and more elaborate, the public opinion along partisan lines is sharper. So it's going in the opposite direction of the scientific consensus. Why? Because not believing in climate change — or opposing policies associated with mitigating climate change — has become divided along partisan lines and people take cues from elites.
So this reminds me of another study that said people would rather be right than be informed. That the more information we get, the more divisive things become.
There's a Dan Kahan study that's really good on this. They did a little math problem of "Did this policy work or not?" And they showed people the numbers. And they found that when you describe it in terms of "Did this policy work in terms of a sunscreen test?" people who were better with numerical reasoning performed better. But when you describe it in terms of gun control, that mathematical advantage goes away. Because they actual reason toward their preferred conclusions as Democrats or Republicans, and not thinking about it dispassionately in term of what the numbers are telling them.
So even if you're super smart and super good with numbers, change the topic to something you're passionate bout, you're as likely to flip viewpoints as much as any uninformed voter.
Sometimes more likely. Because people who read journalism often think of themselves as being informed. But being more knowledgeable and sophisticated sometimes means you have more cognitive resources to acquire what I call "viewpoint-consistent beliefs." To hold factual beliefs that are consistent with their affiliations. So they're more likely to have politically consistent views. And they're more likely to have the cognitive resources to defend those views when they're challenged. So it's harder to change their minds. Because they're better able to think of reasons to hold the view they want to hold. In some cases. That's why it's not just a question of more facts not being the answer, but it's not a question of more education or knowledge being the answer. Because in some cases those can actually lead people in different directions. The most open-minded people are often the people who least interested in politics. And the reason they're open minded is because they don't have any views because they aren't interested in politics so they don't pay attention to it.
But they're also less inclined to vote, too, so it doesn't make much sense for a politician to appeal to people in the middle.
That's right. We have this idea of this very committed swing voter who considers both sides and makes up their mind and that's who determines elections. And it's not that those people don't exist, but they are very rare. People who care about politics and are engaged in politics are much more like sports fans than they are the ideal of a rational voter.
It does seem like a team thing. Where if you can't be NRA member who's a fiscal conservative but thinks gays should be able to marry. There's no room for a nuanced view. But if everyone felt the same way, there'd only be two types of people. So how does that work?
Well, as you move away from the most committed, educated people, you get more heterogeneity along the lines you're describing. So most Americans don't have fully, 100% consistent issue positions. Every view they hold isn't aligned with their party. But the more sophisticated voters are going to be more consistent. And because sophistication is correlated with engagement, those are also the people who are going to be the most active and the most vocal.
So do the political parties and decision makers understand this fact? I assume they must. And do they play off it? Do they want their parties to be misinformed and rabid and do they cater to that? Because you see these attack ads and the divisiveness they create. They have to know what they're doing, right?
Yeah, we've seen more of an emphasis on mobilizing strategies. You're trying to mobilize your supporters and demobilize — or demoralize — the other side. So yes, the parties are aware of who's actually involved in politics and what they care about. In terms of misinforming people, we can't say what they do in private or what they think, but there are certainly cases where elites say things that aren't particularly well supported by the evidence and continue to say them and it seems to benefit them politically.
Give me a good example.
Well, the one I often use is "death panels." It was coined by Sarah Palin. A lot of misinformation comes form elites. Whether it comes form the party itself is unclear. What is a party anyway? We could have a whole seminar on that, right? Some of my colleagues write books on that subject. But a lot of misinformation comes from elites and people take cues from elites so it can spread very rapidly. So Sarah Palin created the "death panels" myth. And within a few months an overwhelming majority of Americans had come to hear of it, and it's still echoing. It's still lingering. The Washington Post wrote a story about the expansion of Medicaid in Virginia right now, and people were saying, "I don't want to sign up for health care that I qualify for because I'm worried about death panels."
And there are no death panels, right? I mean, insurance companies are already known to deny coverage for certain illnesses or try to avoid paying for expensive treatments.
Right. People say to me, "she means rationing." And I say, "Well, insurance companies ration all the time. If that's death panels, we have them." But Sarah Palin's language is much more vivid. It's more like "I don't want to go in front of the death panel" — and you'd have to pull the exact quote — but it's much more vivid. It describes government panels will decide if people live or die. And that's just not the case. So they vary to the extent that they're elite driven. A claim that was widely held among Democrats is the belief that Bush was implicated in the 911 attacks — the "inside job" conspiracy theory. That had limited elite support. Very few elite Democrats actually espoused that. But there are beliefs that are pushed by elites.
And I think that our political culture — and especially our journalistic culture — is insufficiently harsh on people who do that. There are very few negative reputational consequences. So we shouldn't be surprised when people still push these things. CNN will still have you on. You'll still get quoted in the newspaper. You're still on TV. And a lot of the stories that cover your claims will be written in a framework that suggests your story might be true. They don't adequately characterize the evidence for readers, but instead frames it in this is "he said, she said" framework.
If we go back to climate change, there's a really good evidence that giving people quote-unquote "balanced" portrayals of scientific or factual debates for the evidence isn't balanced and can really mislead people. Somebody did an experiment where he varied whether a climate change coverage had a skeptic in it or not, and the inclusion of one skeptic completely changed how people thought of the evidence.
So just suggesting something might not be true is enough for people to think it's not.
Well if you go by the sources quoted in the story it's 50/50. There's one climate scientist, there's one skeptic, and if you read the story not very carefully you can come away thinking the scientific consensus isn't very strong. So it's not only a function of elites. They do play a key role, but they're enabled by the weak negative incentives against misinforming people.
What's another good example on the left that mirrors death panels then. What do left leaning people cling to that's not supportable?
Well, it's not the same as death panels but Obama saying you can keep your health care plan is sort of a dubious claim that people on the left seem to forgive him for. In some ways you could see it as the most prominent and misleading claim that was made on the Democratic side. It's not as flatly false as the death panels claim, but it's one he made a lot of times. And there's others people associate with liberals. The public opinion data don't show these as being more prominent among liberals at this point, but the elite action on them has been a little bit skewed left. Like vaccines and genetically modified foods are two areas that people often bring up where there are myths that circulate widely and they are often associated with a certain type of liberalism. Vermont just passed the first genetically modified food labeling requirement and that's a very liberal state overall. And there are a lot of unsupported myths about the safety of vaccines and of genetically modified foods.
You mean as far as how dangerous they are?
Right. Basically there's no data that supports that they are any more dangerous than anything else. Everything we eat has been genetically modified, depending on how you use the adjective. Humans have been breeding plants and animals for particular traits — which is a slow and inefficient way of genetically modifying food — for millennia. There's a reason the turkeys we raise for food are so huge they can barely walk. But Moveon.org — which is a prominent liberal group — just sent out a fundraising email to raise money off the Vermont law, making Monsanto out as the boogey man.
But I'm scared of Monsanto. So even as you tell me there's no safety issues, I still don't buy it. In fact, I'm inclined to go look for research that says otherwise.
Right. Motivated reasoning.
I also saw a study where Democrats are changing opinion over how old is to old to be president. When Dole and McCain ran — or even Reagan — there were too old. But now studies say Hillary might not be.
Yes, Democrats consistently said every [Republican] candidate was too old — until it was their person. [laughs] My favorite on that was a political scientist who looked at the people who were concerned about age. And the people who were most concerned were old people because they knew what happens to them. And my mom who's 67, she agreed to that.
So knowing this, how do people have a reasonable discussion? You talk about inoculating yourself against bias and boosting ego. What do these things do and what can we learn from this?
Well, that's hard. We need institutions that facilitate more broad minded kinds of discussion. I don't think that should be up to people themselves. We need settings where you can engage constructively. So basically the opposite of internet comment sections. [laughs] And people are trying to figure this out. People are trying to moderate comment sections — the New York Times does that. And I know a researcher named Talia Shroud at Texas, who's been working with news companies on how to create more deliberative online interactive options. Like using a 'respect' button instead of 'like' button so people could say, "I don't agree with that but I respect where you're coming from" as kind of a civic-minded way of engaging. So there may be things you can do.
Is Facebook the worst thing ever for political debate? It seems like it lets people spew opinions and not listen to each other or take each other seriously. Has technology made it worse?
I don't think we really know yet. People are investigating the extent to which there's diversity in social media and the extent to which they interact across political divisions. I don't know the full state of the research. But there's a lot of heterogeneity in families — think of people arguing across the Thanksiving dinner table — and a lot of those people are your Facebook friends too. Or coworkers, right? And those can be politically diverse depending on the field you work in. But I wouldn't say that trying to reverse political differences on Facebook is a conservative way of finding common ground. Most of the stuff I see tends to be cheerleading on one side on the other. But it's hard. We're often pretty well sorted by our politics as a result of where we live or our profession or our background. So the danger is being trapped in this mono-culture politically where you only talk to people with likeminded views. And there's some evidence that deliberating with people who agree with you makes your views more extreme. So having heterogeneous groups is important. But that's easier said than done.
What about your research that suggests boosting someone's ego makes them more likely to accept a point of view. Is that sort of like the adage of giving people a compliment before offering a critique? Is it as simple as going, I respect your opinion but…"? Or is that all minor detail stuff compared to "My identity is my identity."
It might help. My research involves people do themselves: so the extent you feel good about yourself buffers the threat you might otherwise feel when you're told something you don't want to hear. It's hard for someone to do that for you. The reason it works is because you're thinking about something that's meaningful to you in some other area of your life and saying, "I'm a good person. I'm someone who tries to uphold their values' so when someone says "Your side is wrong" about a controversial issue, you're maybe willing to be more open-minded because you're feeling better about yourself in this other area. That's hard to replicate.
Is it at least safe to say that insulting people is not the best way to engage in debate? That calling someone a 'republitard' is not going to advance your veiwpont?
[laugh] Oh yeah. Yeah! But there's all kinds of behaviors that can poison the well. Being respectful certainly helps make for more reasonable discussion.
So if everyone's prone to digging their heels in and proving each other wrong, how do you get people to agree on this stuff?
I'm less worried about liberals and conservatives agreeing – they're never gonna agree. What's more important is agreeing on the underlying facts and having institutions that work when they disagree so sharply. But there's no perfect solution to this. And there doesn't need to be. I would say the reason we have politics is because we disagree. What we need are institutions that work when people disagree very sharply. Because polarized politics aren't going away anytime soon. So the challenge is how do we govern our selves? And how do we have an actual debate about what we should do? How do agree on the terms of the debate?
My instinct in these debates is to say, "We shouldn't put the burden on the individual to solve these problems; we should solve these problems collectively." I we're going to have a fact-based debate we need to create incentives for people to be accurate in public life. If we're going to figure out how to govern ourselves when there's polarization, we need to figure out how to make institutions work when the divide between liberals and conservatives — Democrats and Republicans – are so sharp. And those are problems that are beyond the scope of any individual, right? They're really about us as a society. Could individuals do more? Yes. Should we expect them to? No! people have other things going on in their lives. And a lot of what w e see is a symptom of the way the political system is working as much as the cause. They're taking their cues from the political system.
So we have one more reason to hate politicians. Just kidding.
[laughs] Yes. But the problem with this misinformation stuff is when I talk about it people think democracy is doomed. I don't have quite as depressing a read on it. Because, again, we've had voters who aren't so informed ever since democracy started — and we're still here. And we've had polarization before. And this is a particularly ideological polarization. And that's hard. And that's the challenge we have: it's that parties that aren't just fighting really intensely with each other, but liberals and conservatives are matched really closely to whatever party they belong to. And that's what makes it so challenging — both in terms of the facts and in terms of making government work. But the point I was saying about coastal communities and the extent to which there's partisanship and common ground, I'd love to see you cover that. Because it's at the leading edge of the climate debate. And there's some indication that some places have fond more common ground for having those kinds of debates about mitigation than other places.
Because they're more in the cross-hairs. So much like buying refrigerator, there's a real consequence. Except this is much bigger than the refrigerator. It's everything.
Right. I mean Downtown Miami could be underwater in forty years or whatever. So there are places where the stakes are so high, and in some cases the impacts are already being felt. I don't know if that's hit the Outer Banks yet. But I'd love to see if you cover it.
Well, I'm sure you saw North Carolina was the state that passed a law saying they weren't going to consider sea level rise when making their laws. That was actually our coastal counties that led that change because of the potential economic damage on development and insurance hikes.
Wow. Oh the insurance thing! That's right. That's interesting because people are having that conversation of will insurance change the debate? Will the liabilities make it prohibitive to build in places that are at risk. But I hadn't really thought about it on the consumer side.
Is that a classic case of people ignoring the facts? Or is it a little more nuanced? Because it seems like they almost readily admit they're ignoring the facts for economic reasons.
You would know better than me. I hadn't fully considered the economic and planning implications for people who live there, especially homeowners. So those unfortunately create perverse incentives to avoid long-term forecasting that call the viability of some of those residences into question.
Is NC-20 saying, "We're not going to take this into consideration now" a case of elites dictating discussion? Or is that different?
I almost feel like I lack the local knowledge to speak to that one. The extent to which the local knowledge is mirroring national debate or deals with local dynamics and property values and insurance, I can't say. But I will say it's an interesting test case. We spoke earlier about how higher stakes might give people incentives to have more accurate beliefs and there's a paper by a professor at Yale who talks about his work in Florida on climate change mitigation and the relative lack of polarization there on support for mitigation measures, which he sees as a hopeful sort of development. That there might be a possibility for a more fact-based dialogue in these local areas that are threatened. But it seems like the Outer Banks has not achieved the same level of consensus.
I wonder if that's because in Miami there's water backing up storm drains on extreme high tides. They're feeling it firsthand, where here it's less tangible — and therefore more debatable as to whether our issues are sea level rise or something else.
How salient sea level rise is in Miami on a day to day basis — or month to month or a season basis — is probably important. So the question is then, how do you move the discussion forward before it gets to that point in other places. Because when you get to that point, things are getting seriously wrong. And I don't know the answer. We're much better at diagnosing the problem than the solution, unfortunately. But what I would say is if you were looking at who to interview next, I would talk to someone in Holland. Because they're threatened. And they're having a very different conversation.
Are they being more proactive?
I'm no expert, but the European consensus around climate change seems to be stronger. They're still having trouble moving forward on some of the more difficult mitigation and conservation methods that are harder to sell anywhere, but their consensus over scientific evidence seems to be broader. And I guess I wonder if there are lessons we can learn. And I'm no expert on the policy response and how to physically address the threat of rising sea levels. And all those aspects of the debate are going to play out in places like that too. It's not like you guys are the only ones confronting these issues.
At least they agree there's an issue to react to. Here it seem like both sides can find support for their views: see, it's no real science. Or see, you guys need to act now.
Right. Well the way people's property values and insurance are tied up makes it potentially very costly for them to admit they're at risk. And again, the thing I would say is this such an important issue. And you're having a debate that a lot of other people are going to be having in the future. So its important to learn from what's happening and share it more broadly. That's why the Washington Post is covering what's happening.
Because we're really small community. It's not like we're not a teeming metropolis.
And the fact you're in North Carolina, which is a politically competitive state. It has a conservative element and these newer, more liberal migrants. I'm not going to say it's a microcosm of the United States, but I has a lot of the elements that are at play nationally.
———————————————————————————————————————————————————————————————————————————————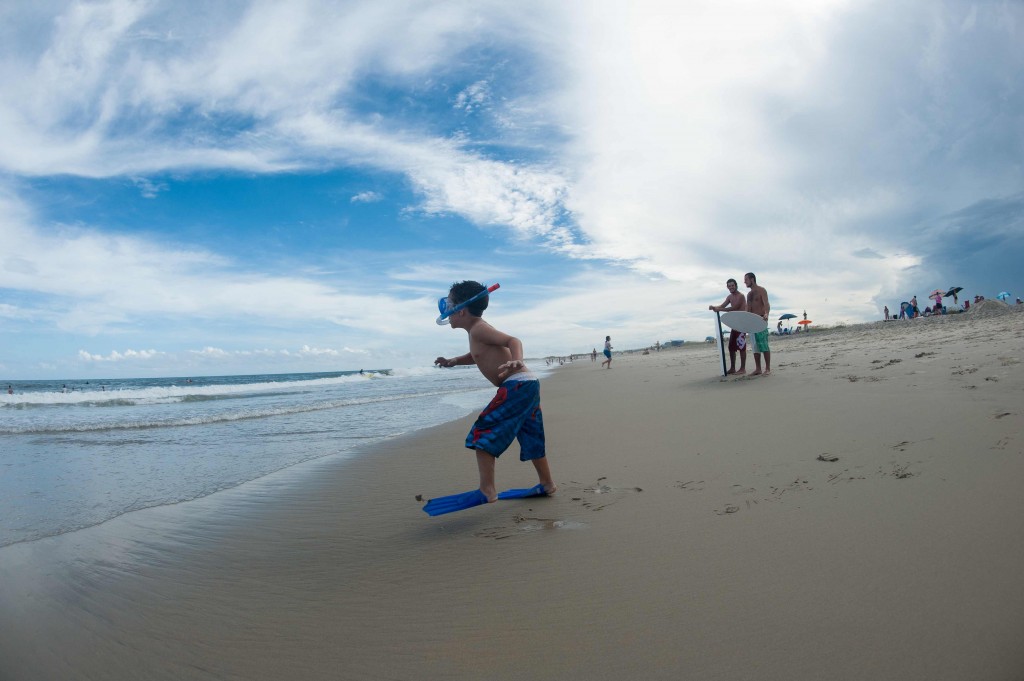 GIVE IT TO US STRAIGHT, DOC…
A check-up with Dr. Stephen P. Leatherman on what makes for a healthy beach
Just who is Stephen P. Leatherman? And why should any of us care? Well, you probably know him better as "Dr. Beach." Every Memorial Day weekend he issues a top-10 list of "America's Best Beaches," inspiring huge headlines for coastal newspapers across the country and endless slideshows for click-hungry travel websites. (Not to mention drawing biting cries of malpractice by destinations that don't make the cut.)
What you may not realize is Leatherman isn't some quack paid to write press release fodder for tourist boards — he's a respected scientist and professor at Miami's Florida International University who's spent 20 years developing and revising a format of 50 criteria from access to water quality. And what you most surely didn't know is he began his illustrious career right here on the Outer Banks, doing research for his alma mater, North Carolina State University.
"I spent my last two years as an undergrad studying erosion," says the 67-year-old Charlotte native. "Every weekend I'd drive down to do beach profiles and track currents in Cape Hatteras and Ocracoke. That's how I paid my way through college. I see the Outer Banks as almost a second home."
Maybe that's why both beaches consistently make the top 10. (Ocracoke even hit #1 in 2007; Cape Hatteras' highest ranking was #4 in 2010.) But just because we're among his favorite patients doesn't mean we get special treatment. Each year, Leatherman dives back into his research to perform a veritable colonoscopy on every inch of U.S. shoreline, meaning beaches rise and fall every summer. Some even drop off the charts entirely. We called the doctor to find out what makes for a healthy beach and how to stay on his list for years to come. What follows is the full-transcript of that one-hour interview. — Matt Walker
MILEPOST: What's the best way to credit you?
DR. STEPHEN P. LEATHERMAN: Well, everyone knows me as Dr. Beach. It would be good to credit my website — www.drbeach.org — because it has a lot of information on it. But I'm a professor in coastal sciences at Florida International University in Miami
I found that interesting because, despite all the publicity, people wouldn't automatically know how much of a coastal science background you have.
Right. A lot of people know me as just Dr. Beach. They don't know there's a Dr. Leatherman who does scientific research. And I really started off looking at beaches. In fact, I grew up in Charlotte, North Carolina and I went to NC State University as an undergraduate. There was a project at the time and they wanted people to go out in wintertime and survey the beaches on the Outer Banks on North Carolina. Because there's always been questions about erosion. And that's really how I got into all of this. I spent my last two years as an undergrad studying beach erosion. A lot of people didn't want to go. They said, "Oh no, I don't want to go to beach in the winter. It's cold in the winter." But I was paying my way through school, so it worked out perfect for me. And every weekend I would bring another person with me and we'd drive out and survey the beach profiles and use fluorescein dye to check for longshore currents and try to estimate the size of the waves. I did that my final two years at NC State. I paid my way through.
Have you been back since then? Do you know how much it's changed?
Last time I was in Cape Hatteras was probably three years ago, but the changes are incredible. Whalebone Junction was just two roads that came together. There was nothing there. All just nice little cottages. I kind of wish it was that way now, to be honest with you, that they hadn't brought in all the commercialization. But I do understand people need a certain amount of convenience.
But it is sort of a double-edged sword how this tuff works; you build up these tourism industries, but how do you preserve the atmosphere people come for?
It is. I think one good thing is it hasn't gone high-rise — like Miami or some of these other areas.
Not yet. So how do the criteria affect each other? I'd assume the more access you have, the more potential for water quality problems — or even just crowds.
Ironic, isn't it? But you're quite right. If there's not good access, then I can't give a beach a good rating. And bad access could mean not enough parking. There's some beaches where you get to and drive with the kids and everyone in the car and it says "park closed" on your favorite weekend or wherever you want to go. And there's a place here in Florida where you only get there by ferryboat and it's fairly expensive. And to me a $60 ride on a ferryboat is not good access. So I have to count a lot of points off for that. And people there say, "Well, you know, it keeps out the riff-raff." and I say, "I'm sure it does [laughs], but I can't see paying $60 on average per person to go across to the beach."
And you developed this criteria over the past 20 years, correct?
Well, it didn't take that long. But over a period of time. But it took quite awhile to do it, but nobody had done it before. And I thought that was interesting. People had rated rivers but not beaches. I don't know why that is. But it took a while to think about that, and the ratings are scientific but they're also meant for people's use of that area. It's not just grain size or mineralogy just for its own sake; I try to think about how people would enjoy it. So, very fine sand, people prefer that. And of course, pink sand, but there's not many pink sand beaches. But black sand beaches are very exotic in Hawaii, but they really are very hot. [laughs] But for the 25th year — next year — I'm going to pump up another criteria and that's smoking on beaches. I'm going to try to get smoking off beaches. Because the number one form of litter is cigarette butts. The number one problem is plastic. But cigarette butts are awful. And people put them out and think they disappear, but next thing they're up on the surface. Kids are eating them. Ugh! Give ma break. There's nothing I hate more than putting my hand down in a pile of cigarette butts.
I would assume water quality would make all the difference because that's where people spend their time in the water. Is it weighted in some ways?
For water quality, I look at EPA data. I couldn't possibly test all the beaches myself. But fortunately, all the counties have their own health departments to take water samples. And all that is put together by the EPA. And the NRDC also has it. So you can go to either website and find it. But I look at all the water quality data. And if they've had more than a couple of beach closures a year, then they're out — that's for sure.
So there's a tier system of sorts. If they don't pass a couple of primary levels, they're out.
Exactly. If they've got water quality problems, they're out. Flat out. And the reason I say one or two, because a sea gull can poop in the water and if you take a water sample, you'll get a high bacteria count, even though it wouldn't be harmful to you. So you have to allow for one bad test show a year. But if it shows up again, they're out.
It's funny you say that. Because we don't have bad water quality, per se. But if it rains, it can get bad at certain spots because of run-off. And I lived out for Southern California and if it rained there you didn't surf for 72 hours. But there was this complacency about it. But here, we have outfalls that connect to these drainage systems. And occasionally, if they test, the numbers aren't pretty.
And that is a real problem. I get a lot of criticism from people in California who say, "Why don't we have more top 10 beaches? Is it because we don't have enough mosquitoes? Or we don't have enough hurricanes?" And I get that a lot from the LA Times and the San Diego Union Tribune. They get really mad at me. They say, "You know we have the best beaches in the country. The Beach Boys songs tell you that." Yeah, for surfing. But the problem with Southern California is there's so much development. And you may have great beauty with all the sea cliffs, but it's where the mountain meets the sea, so you also get run-off problems. And it's very hard for them because when it rains in winter, it runs off so quickly — how do you stop all that? And in San Francisco they tried for a while, and it overflowed their sewer systems, which is even worse. And I know in your area and also in Myrtle Beach and other places when get those thunderstorms and a lot of water, it's very hard to deal with. And you don't want to shunt it back toward the bay, because then you foul up all the water for the clamming and oysters and all that.
Well, when they do the DENR testing here, there's a sound beach that's consistently worst in the state. And that's because the water's stagnant, and hot and we only have one inlet. I know the sound in the summer is great to kayak in but I wouldn't want to go swimming in it. And it all comes down to the number of people; the more people in a spot or resource, the more you'll foul it up.
Sure. That's right. And then you had that huge disaster a while ago, Floyd, when all those pig pits overflowed and went into the Pamlico Sound. That was unbelievable.
So how does these criteria play off each other? It's water, sand, rip currents.
Well, here's the way you look at it: number one it's clean sand, clean water. If you don't have that you're out. And obviously, number one is clean water, but I also look very carefully at the sand. Both sand quality and in terms of is there litter? Is there glass in the sand? But the way it gets weighted is there's 50 criteria, and if you look at it there's a number of issues about the sand — so if there's a problem with the sand quality, you'll get knocked down real low. Same thing with safety. Beach safety is a very big issue. If you look at the criteria, I talk about rip currents, I talk about the presence of lifeguards — two or three other things — where it's all about beach safety. You don't have those things and you have problems with drownings, you're going to go down very fast. Beach safety is a big issue. Beach access is a big issue. And that's how it's weighted, because there's a number of factors in those areas. There's not just one factor that captures those aspects.
It's funny you say that, because they're all factors we're coming to grips with. We just had a big nourishment project but they actually did a good job with matching the sand…
Oh good.
And they're about to do that for the whole county. How will that impact years to come?
Let me talk about that. How did Dare County get the money?
We fund it ourselves. We have a county fund beach protection measures. And we just put an extra penny of tax on our occupancy to help fund it. Nags Head just did it and three years later all the towns have teamed up to do it from Duck to Nags Head.
Well, here's the thing. In some ways I'm going to applaud you for not going to the Corps — not that you could get the funding, because you don't have enough high-rises or what they would call 'economic value.' And that's the terrible thing, is you sort of have to be the bad kid to get the Corps money. And to me that's wrong. It's also very political, because even if you have a lot of development and come up to their benefit-cost ratio, there's a huge amount of politics. There's lobbyists who make six-figure salaries talking through the senators and congressmen to see who get the money. And there's some good people in the Corps of Engineers. I have colleagues there, but by and large, it's an agency that's a mostly political animal. But that's not your Field Research Facility; that's research. And that's a great thing. That's the most studied beach in the world. But Wilmington has one of these Corps district offices and by and large, those offices aren't base level funded. If you look at most federal programs, the money's going to come in no matter what they do — I hate to say that, but that's kind of how it is. But the Corps, they shrink up if they don't get projects. So they're forced to go after projects. In the old days, that meant building dams. Well, as someone says, "They dammed every river they could." Now in the last 30 years, it's all pretty much been — well, they do some inlet work, they get money there — but a lot of it's beach nourishment because that' where the money is. And they've become political animals trying to get that money. Here on the Panhandle of Florida there was a town that didn't want beach nourishment but they got it anyway. Because the Corps wanted to keep money rolling.
It's funny you say that, because we have a lot of issues with Oregon Inlet here. And the Corps is responsible for dredging. And some people want to put a terminal groin on the north side, but even the Corps said that wouldn't stop them from having to dredge, which to me said a lot: because if the Corps says 'no' to a job, it must not be a good idea.
Well, that's going to be a big black eye if they do that. Because we know it's not going to work that well. Because that's a huge inlet. Probably the most treacherous inlet on the whole east coast. I'd hate to be a fisherman going in and out of there in winter. But it's one of those inlets that's very hard to hold. But that's a tough one, for sure.
So with nourishment here, seeing as it's self-funded, is it a good thing?
Well, I know people like Orrin Pilkey, who's a retired professor at Duke, have campaigned against beach nourishment for most of their life. And I understand where he's coming from in the sense that the public seems to think that beach nourishment is an end-all. That it's a permanent solution. And it's not. You have to realize that putting sand on a beach treats the symptoms; it does not cure the disease. The symptom is beach erosion, but the disease is rising sea level, coastal storms and some other factors. So the thing is, there's going to be a lifetime of that nourishment project. In other words: it's not going to last forever. So you have to think of it that way. And that's not the way the public thinks. And also people have come to think that beach nourishment equals coastal management. That all you have to do is keep pumping sand on shore and they don't have to worry, they can develop as much as they want to. In fact, in Ocean City Maryland, people started developing closer to the water after all of these projects. You see what I mean? So let's go back to your situation: assuming that the project's done well, assuming that you've got material that's of similar size, then I credit beaches with the nourishment. Because I look at beach width: if there's no beach at high tide, then I have to take off points for that.
As long as the sand quality's good and they're not dumping fill dirt.
That's right. I used to work down at the Duke University Marine Lab, I taught there for about five summers —I guess back in the 90s, I can't remember now — but it was a course called Barrier Island Ecology. I really enjoyed being there. Beautiful area. And the inlet which comes into Beaufort — Beaufort Inlet in Morehead City — the Corps periodically has to dredge that out, so they looked at Atlantic Beach on the north end of the island and said, "You want some free sand?" And they said, "Sure! Free sand!" Well, it wasn't just sand; they also got a bunch of clay. And they kept pumping that out on the beach. And for years the water, which used to be very clear — in fact, other parts of the area were called Emerald Isle — these mudballs would be moved by the surf and be caught up in suspension. And the water was all turbid. It was awful. I'm not saying it was polluted; but it was awful.
So there's ways to do it right, and ways to do it wrong. And you have to keep your eye on the ball. And the end goal is to achieve a place that people want to enjoy.
But that wasn't strictly a beach nourishment project, it was a disposal project, and they got away with it. But I'm not against beach nourishment. I do ask the question, who profits and who pays? For instance the south side of Long Island is getting 100% of their beach nourishment paid for because they've got all this money left over from Superstorm Sandy. And I went up to Montauk, and the Corps came in and said, "We have $100 million to blow. We're gonna give you beach nourishment and we're going to build you a seawall." And the concerned citizens of Montauk called me up and I said, "Let's do the beach nourishment, but let's get rid of the seawall."
I think there's a lack of awareness as to how coastal processes work. People want groins because hard structures seem permanent, but they actually do more harm.
That's right: groins rob Peter to pay Paul. You put a groin in front of your property, your beach gets very wide, very quick. But you look at your neighbor's and it's shrinking. So groins don't create any new sand, they just redistribute it along the beach profile. And that's the problem there. And they say, why don't we do the whole beach? And it will hold the beach. But you still can lose sand offshore, and over time you'll lose the sand and have to do nourishment anyway. And the other thing is, aesthetically, I don't find them very pleasing. And they're also a hazard for swimmers.
That's the other issue we're facing. As you know, Cape Hatteras has a lot of park land. Part of their federal budget cuts included eliminating lifeguards at the three remaining beaches. Is that an automatic ding?.
I'm sorry to hear that. Got rid of all the lifeguards? You mean Lifeguard Beach on Ocracoke is no longer a lifeguarded beach?
That's right. The situation's still fluid. They're trying to find the funding. But right now they're saying lifeguards on federal property. Now, the towns still have them – including Rodanthe and Buxton on Hatteras – but not on Ocracoke.
Oh no! Well, that's going to be a downgrade, there. I'm sorry to hear that. Can they put the lifeguards back?
People are trying. There's been some outcry and stuff, and petitions. But who knows how the government will react? It's all part of lots of changes in the whole park system here in response to budget cuts.
Well, you know, I can go into a whole other issue about this too. I was looking at a park down here in Florida with the park service people, not too far from Cape Canaveral. And I looked, and I said, "This is a national park?" And they said, some local congressman slipped it in. And they spend this huge amount of money on this place, which — as far as I can see — has no real significance other than that someone knew someone. And they're spending millions of dollars fixing it up. And so we have a lot of national parks that shouldn't ever be parks. Therefore they're draining money from the real gems like Hatteras and Yellowstone to subsidize and pay for what should be state or county parks. But that's a whole 'nother issue.
Well, the park service is a lighting rod here. People aren't happy with the issues with pedestrian and ORV access and protected species and so forth. But it's kind of a Catch -22, because at the same point, if it wasn't' for the park service, the beach would all be condos.
That's right. And I know exactly what you're talking about because sometimes they clamp down too much. It's always been a challenge of the National Park Service to make available the resources and also protect it. And sometimes they go too far on the protection because it's the easy thing to do. But you know, the Outer Banks is a special place and that's the reason it became the first National Seashore. And if you look at satellite imagery from around the world — and I have — you don't see anything quite like these three big capes. So it's completely unique in the world. And it also has such a great history of shipwrecks and the things people did.
So how does that work? When you gauge those issue, is a pristine beach you can't get to, how does that work?
Well, I start taking points off for that, too. Because at the end of the day, if you don't have access , you don't have anything. And the other thing, I like the Outer Banks because you do have towns, so you do have some — shall we say — creature comforts nearby. Now I can take you to a beach in Olympic national park, Shi-Shi beach. There's a 10-mile walk in and you have to take everything with you. And you'll see a lot wildlife and wood on the beach — in fact, you'll see logs that are five feet in diameter — but the point is, I don't put that on my top 10 list, because this area is so isolated and there are no amenities. And how many people are going to want to walk in 10 miles to a beach? Yeah, there's some real hardy people out there. and I enjoyed it one time. But I'm not going to go out to that beach very often. So if you want to make the list, you do have some creature comforts. But you also let nature be nature. Down her in South Florida — South Beach? I go down there every now and again. But it's a party beach. It's all a bunch of nightclubs emptying onto thee beach. And the beach is big. It's nice. It's warm. But I can't make it a top beach because it's overcrowded. You go onto the beach you can't find your kid. It's like Where's Waldo?. So if there's too many people it's not going to be a top beach. And then people come out of the bars and pee in the streets. [laughs ] But the bathrooms are just awful. It's hard to keep them in good shape in Loomis Park because when they did the $60 million nourishment project, they had to set the beach up as a public park. But the bathrooms are just awful because the homeless use them to live out of.
Well, one of the questions about beach nourishment here is what to do in Duck because there is no real access. And of course, it's public money. And even up in Corolla, there's not much access. So how do those rate?
I don't rate those beaches because I don't think they're truly open to the public.
Well, to the county's credit, when they started talking about funding Duck they said access will have to improve. But you mentioned the high rises earlier and the amount of economic value. There was a point here where Kill Devil Hills discussed raising the height limit to allow for taller buildings. And I do think part of it wasn't so much about putting bodies on the beach but getting that nourishment funding. Is that an old trick?
It's an old ploy, that's exactly right .You have to have infrastructure at risk to get the federal money. So you have to go up. If you just have regular housing, it's not enough money. Because if you look at beach nourishment, it's usually $3 or $4 million per mile to do it, depending on how wide you build the beach. So you've got to get the value up to generate the return or cost-benefit ratio. And I think initially a Corps project is a subsidy for the people who get it. But at the end of the day, the area puts in a lot more money than they realize. And you have to wait years to get things going. And it becomes political based on what lobbyist works the scene the best. The point of it is: I don't think the Corps should be in the business. But I'm not against beach nourishment. If we didn't have beach nourishment here in South Florida we wouldn't have any beaches. And the reason for it is we've got beach erosion and people built clear to the shore. So we created the problem. But if we didn't have the beaches, people wouldn't come to South Florida. They'd go to the Caribbean or somewhere else. South Florida wouldn't be a hot beach anymore. It would be sea walls and water and no beaches. It wouldn't be what it is to day, that's for sure.
Are there any high-rise towns one your beach? There are some pretty obvious gaps — VB , Myrtle Beach…
No, there's no high rise beaches. I know people in Baltimore who go to Ocean City and they say, "We live in high rises here and we want to go to a high rise in Ocean City. We don't like those little flat buildings; we want a great view. And I kind of understand that. But high rises really take a way from the whole felling of an area. They dominate the landscape. And in the afternoon, they're blocking the sun — and that's the best sun of the day! At least on the east coast. And aesthetically, they dominate the landscape and to me that's not nature. It's not like Diamondhead in Waikiki where you have this big volcano in the background. That's fantastic; that's all part of nature.
There's a lot of people in those things, too. And that' the irony – and I don't' know if you feel any guilt about this — but towns use these ratings to get more bodies.
Well, I tell people this. If you have the luxury to travel when you want to, go in the off season. Go to the Outer Banks after Labor Day. The water's still warm. And it stays warm 'til October or something. You don't have the numbers so much. And the fishing starts coming in the fall, too. But if you can choose you season, you can avoid crowds. I lived on Cape Cod for a number of years and I don't' go in July and August because overrun with people. There's' traffic jams and you can't go anywhere.
That's why I figure winter is our saving grace. Because if it was nice here year round, we'd be in a world of hurt.
In terms of population? I think you would be. But you know, I like the beaches there in winter. Certainly, you have to put on your coat, and the wind can really whip through you sometimes. But the beach looks so different and I like to see the big waves crashing through there, particularly at the point where they refract around and hit each other on that spit that goes out in the water. It's just a different place altogether. I don't know. You get away from everybody. You can walk the beach and not see a soul. Just the whistling of the wind all around you. I became a person who loves the beaches in the wintertime. And people couldn't understand that at all, but it's totally different. Of course, you can't go swimming obviously — and I love to go swimming. But I like the solitude. I like the serenity of it all.
That's funny you say that, because a lot of people who live here say the same thing. It's sort of a litmus test for survival. So you might make the cut if you ever wanted to live here.
You mean I might be acceptable? [laughs]
That's another interesting thing looking at your annual list: there are a lot of national seashores and state parks —Hawaii, Florida, Cape Cod, here. Why is that?
Well, the reason I put them on there is for their great scenic beauty. Their water quality is high usually because there's no overdevelopment. And they usually keep up the resource well. And they usually have pretty good access. And they don't have huge crowds normally either. There's no big high rises on the beach; it's more scattered in terms of where people are. It's not throngs of people where you can't walk past the blankets to get to the water.
It seems like they make good anchors, too. Even here in Nags Head and Kill Devil Hills, we have Hatteras nearby.
It's a great asset. A great asset. I like your combination because you've got the villages and people can have all that. And if you want to get away more, you drive south a short ride and see just pure nature. So I like your combination — I think that's one of the best combinations — because, again, you've got the facilities, you've got places to stay. You don't have to camp out — but you've got campgrounds if you want to do all that. So I like that balance. It's one of the reasons I really love the Outer Banks, in addition to all the other things.
I was surprised to see South Hampton, Long Island on the list. My vision of that is exclusive homes with P. Diddy Martha Stewart with little access
Well, let me tell you about Southampton. The Hamptons are very exclusive. It's one of what I call the "three gold beaches" in the U.S. The others are Palm Beach and Malibu. So these are havens for the rich and famous, there's no doubt about that. But if you drive out on the Sunrise Highway — Route 27 or whatever –you go through an area where its stunted pine forest and there's no development for miles and miles and miles. And then you get into West Hampton Beach, South Hampton Beach, and all that, and finally East Hampton and then Montauk. So you have a long stretch there where — yes, you have the rich and famous — but in many ways, they've maintained the big sand dunes. They have not built on the beaches. And there's no high rises. And the houses they build are very interesting. Some look like castles. every one of them is an architectural wonder. You have 25- to 30-foot dunes there. You have beaches that are 300 feet wide. There's no pollution. No factories. The beaches are almost pristine in that regard. Except for behind the sand dunes, you've got huge houses sitting on sometimes 10 acres of land. But they do have public access. So you go to Coopers Beach in South Hampton , which was number one beach a few years ago, there's a parking lot behind the big sand dune that will hold probably 200 to 300 cars. But you have to pay to get in there. And it's very high, like 30 dollars. But what I tell people to do is go to South Hampton and bring a bicycle. It's like this little New England town with a proper square and a little historic district and wide streets. So you ride everywhere on bikes. You don't need to drive your car and pay. Because I'm not going to pay $30 a day to park.
Here we have an access in every block in some place. And the parking's free. And sometimes people recommend charging as a revenue stream, but I'm happy to say the towns seem to feel that's short-sighted.
Or New Jersey you have to have a beach badge. And that to me is ridiculous.
I assume that's why you don't see New Jersey beaches on the list either.
That's one reason. They also have a lot of pollution problems. And it's over crowded. People pour in from Philadelphia, New York — and New Jersey has a big population in its own right. And they charge you 10 to 15 bucks to get a beach badge. That's public beach! How can you charge me?
I've always said, I've never been to New Jersey beaches and see a NC tag. I think there's a reason people drive past so many options to come here. That says something.
It does. When I lived in the DC area, I was a professor at the University of Maryland for 16 years, and we always went to Duck. And the reason was it was the closest high quality beach. And a bunch of us would come down and get a five-bed room house. And it was up high so you could see the water. And it's a beautiful area. The whole area. I used to go windsurfing in the sound. And at night we'd drink good wine. My kids would go out and chase ghost crabs. They thought was so much fun. So that was one of the criteria for a good beach when they were 8 or 9 years old. We don't have those down here.
So maybe the lesson is to play your strengths. I think when people see these lists they have the tendency to homogenize and pick up other beaches' attributes. But you have to play your strengths. we may have rip tides, but that's price of natural sloping beach. Or an issue with access down south is part of the price of a national park.
It is a balance. And it is a tradeoff.
Have any beaches ever fallen off of the list? For what reason?
Oh yes. I had a beach, Poipu Beach in Kauai. A fantastic beach on the dry side of Kauai. An idyllic place. It got hit by a hurricane that kind of wiped out the area for five or six years. And I had to drop it off the list. But finally the beach did come back naturally and they rebuilt some facilities and it later became a national winner. But it didn't come back for along time. And of course, if an oil spill hits — I had to pull some beaches off the Gulf of Mexico on the Florida Panhandle. And they were off for a year or so. Fortunately, a lot of the oil never made landfall. Although the tarballs are bad. And just the threat of them are bad.
The dispersants are what I got worried about.
Well, that was unnecessary and stupid in its own right.
Well, that's another issue because our Governor wants to drill offshore, which seems foolish when you consider what our tourism economy brings in. Should we be worried?
I can't imagine you have the oil they have in the Gulf of Mexico. The geology's not the same. But I don't even think oil drilling would be economically viable off there. And I know where the governor's coming form. Everyone's trying to get more economic activity and more jobs, but you guys are better off than most areas because you've got the tourism. And it's so much more expensive offshore. And when you look at the potential for oil and potential cost environmentally, at least for thee foreseeable future, I don't see it. But if you start having problems with oil spills, or those other things, it's certainly gonna sink you.
So, looking out long-term, how do think we fare? Are we pretty high upon the list? Do we have a shot at the title?
Well, I'd like for you to work on those lifeguards. Because this is very upsetting to me. Maybe the county can come up with some money for just one area designated for the lifeguards. Because a lot of people, particularly the visitors, can come in who have no idea bout the water. They can drown almost in their bathtub. Much less worry about currents, and big waves and that kind of thing. So I hope you can get the lifeguards back. But I love that area. It's like a second home in many ways. You've got Jockey's Ridge. How many people have that? It showed up on early maps. That's not something recent. All the early explorer charts show Jockey's Ridge. I've always wanted to try hang gliding there because it seems like a safe place to try. But just climbing up is an experience. When my kids were small, we climbed up Jockeys Ridge and they're tired and screaming like, "This is like the Sahara Desert!' And I'm like, "I know. Isn't it wonderful?"
____________________________________________________________________________________________________________________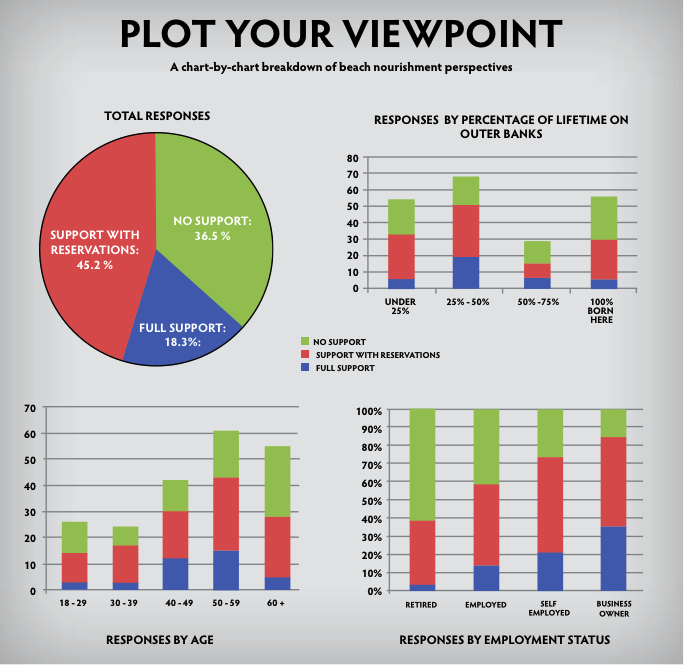 CONSIDER THE SOURCE
In an age when politicians and activists increasingly twist environmental debate, one anthropologist asked people for their honest opinions.
Are you a Lorax — or an Onceler? Are you the bunny-hugging, pro-regulation eco-terrorist who "speaks for the trees?" Or the soulless pro-developer willing to pave over plovers and parks to make every penny? Quick, pick a side. Because when it comes to environmental debate in Dare County, there are only two teams: those who will protect nature no matter who it hurts economically; and those who will fuel the economy now matter how much nature it kills.
Or so the various politicians and activist groups would have you believe.
"The message war is the biggest war of all," says East Carolina University Anthropology professor Dr. Christine Avenarius. "So we have all these special interests who try to put discussion into a particular framework and stimulate people along a particular thought path."
Last summer, Avenarius decided to bypass those paths. For six months she and six grad students talked to 208 Dare County residents. No SELCs. No NC-20s. And no direct questions. Instead of "How much do you hate catch limits?" or "Which McMansion would you burn to the ground?" — they asked things like, "Do you see changes?" and "Where would you put tax dollars?"
What'd she find out? A whole lot. Mainly that residents are quite aware how economics and the environment affect each other — especially when it impacts them firsthand — leading to more varied and nuanced perspectives than you might believe.
"A lot of people do have middle-of-the-road opinions," she notes. "And very few realize how many others share the same opinion as themselves."
We sat down with the good doctor to hear more about what we think, why we think it and what it means for Dare County in the future. What follows is the full unedited transcript from the interview printed in issue 3.1. — Matt Walker
MILEPOST: Thanks for taking the time to talk. I know it's early in the analyzing process, but I'm sure there's enough info to give some perspective as to what you were trying to do with the project.
DR. CHRISTINE AVENARIUS: The whole idea was to give people a voice to hear what they're thinking. And, also, by talking about it, to come to some realization and awareness. That was the original goal. And if you look at the demographics, we've got 208 people who went through the questioning process. We've got slightly more men than women. It's not as equally distributed as I designed or wished for, so I might at some point start leaving people out and see if I have an equal distribution on how those opinions change. But what came out is a pretty interesting proportional representation of what's going on and who really wants to be heard. So, in some ways, we don't have as many Hatteras people as in other areas, there are fewer year-round Hatteras people over all. So if you look at this, KDH has the biggest population and we have the biggest proportion there. So 35% of the people come from KDH north, then Nags Head, then Hatteras and Manteo.
But even so, if there's 35,000 year round residents, and 5,000 people south of the bridge. That's one-seventh. You didn't just set up at a single beach access and talk to people as they walked over the dune.
Right. It's not completely exact. But it's not completely off. And I've teased it down into more detail. So if you look at the number of people who are born and raised in Dare and spent 100% of their lifetime here, it's around 27%. And the biggest proportion is people who've spent between one quarter to a half of their lifetime here. They're mostly represented. And many fall into the age group of 40 to 60. And I've played with age in different ways, but here we have youngest to 35, and the middle-aged people and then the over 50. And then I also did under 30, 30 to 39. But, the bulk of people come from this 40 to 60 group.
But that's when the bulk of people moved here.
And Dare County is an interesting place because it was so empty in the 80s and then all these people came in, almost gold rush style, moving in and building up businesses. And those are people who came from the outside, often at the age of 25 to 28 — I have a lot of those biographical stories — and now they're in their 50s. And it's still traditional gender roles, where the guy does most of the business and the wife does the background either helping with the books or helping with the kids. And that's still the dominant Dare County model right now. It's on the out, but it's there. And interestingly, over 60 — and this is typical of American demographics — I've got more women than men. So for more active women over 60, 65 — League of Women Voters and that kind of thing — there were a lot of people who came forward from all areas and were willing to talk. So what happens with this type of sampling, when you do it as long as we did it, you come up with an organic representation.
And then I was struggling with socioeconomics, so I had true business owners — people actively running a business, not retired ones — and that's 25% of the people we interviewed. Most of them are 40 to 60. Freelancers, about 9% to10%. And most of them are younger, under 45. Then you've got a big group of people who are employed. And then there are retired folks.
When I see those numbers, I see retirees as "no dog in the fight anymore; just cruising." The middle guys are holding on to what they've got. And the younger guys are coming up and trying to get what's theirs. The new growth.
And this is going to be a huge, huge topic for Dare County. How is leadership going to change? How are the demographics going to change? But it is an interesting social laboratory here in Dare County because you had this rather scarcely populated area. Then, you've got all these people coming in following the traditional business and gender roles. They're all about to retire. So in the next 10 years, we'll see a lot of people segueing out. And then the next generation and younger is not so interested in business or running a restaurant.
I see two things going on. I'm not so sure the people who moved here in the 80s were looking for a gold rush so much as they were more engaged in the lifestyle. And they figured out how to make that happen. I would argue that we're seeing more of a gold rush now, where certain banks and developers smell money and are coming strictly for that reason. Their motivation is to make money.
Some people had quotes that said, "If I see another bank I'm going to vomit."
Well, it's true. There was a time when it wasn't so clear whether a business would make money. We now have a population that's large enough it can support business whether it's necessary or not. So the Outer Banks went from a situation of "How can I make it there?" to "How can I make a buck there?"
And then some of the people in this older group maybe came in to surf or fish, and carved out a niche. And as that solidified, they shifted as their lifestyle position changed. So they got more conservative.
Okay, so let's pull back before we go any further: What's your title?
I'm an Associate Professor of Anthropology at ECU.
And you live in Greenville but you stayed here for six months?
Yes, I rented a house for six months. I had grant money that paid for a house and funded gas money and a little for the students' living expenses, so they could help me.
So no tax dollars.
No, the Z Smith Reynolds foundation funded this. The idea was to restart the dialogue on coastal management procedures. And in order to restart the dialogue, with all those different factions, you needed to hear from a large cross-section of the population about what they see in terms of environmental changes and what they see in terms of economic issues. And part of the grant money will now be used to gain insights as to what they all said. And this next summer I'll do the inner banks around the Albemarle. But the grant money paid no salary for me, but for accommodations, gas money and for student stipends.
When I think of environmental debate in Dare County, it's you're either a Lorax or a Onceler. There's no middle ground. It's either, save everything or kill everything. And in many ways that's because debate over these issues is being shanghaied by interest groups. So on one side you've got Audubon and SELC pushing their agenda and on the other side it's NC-20 or the Chamber of Commerce. And the idea you can have an issue-by-issue stance has been lost.
So what I was trying to do is give people a voice — and give people from a large range of demographics a voice — and not go to the groups. And of course, there are some Dare County celebrities — for lack for lack of a better term — who are part of the group because people would say " you have to interview this person." So people would put a front man on the issue. But a lot of times I would decline, because I was looking for people who aren't running for office or aren't invested in certain issues.
Well, that's how the media works. And you end up going to those people when you're looking to cover an issue because they're the spokespeople. And it narrows the debate, because the only people talking are the people who have something major to gain or it's part of their job to put the word out. But those are the only people you hear because the press can't talk to everyone.
So we're trying to cut through that, without giving them a platform.
Who funds the company who funds the grant?
Z Smith Reynolds? It's originally tobacco family money out of Winston-Salem.
So it's not like Audubon is funding it.
No. And it was unusual for Z Smith Reynolds to fund me, because they normally fund actual community efforts where someone says, "I want to establish an afterschool program for kids." But they were intrigued because opinions were flaring up in regard to the policy of NC-20 to ignore sea level rise recommendations. And I said, "give me money to collect more voices." And they thought that was interesting so they did. But, truth be told, it was $32,000 for one year. Once you rent a house and give stipends to six students, that money's gone. It's not riches.
Well, it's just a matter of figuring out who funded what. It's not like the SELC said to go out there.
No, the mission was to stimulate dialogue and get people together. And that's what interested the grant people.
And the other part was to get people to think about why they think a certain way, as opposed to just parroting a certain viewpoint.
What everybody else says. And another thing was we wanted to look at was the mistrust of scientists. There's been an increase among the general population of people who question the objectivity of science — or they're not interested in the objectivity of science — and many of them are more interested in what they believe, or what they think is right, or what they think is common sense. And they have the feeling that they have been let down by these scientists and their discussions. And so I wanted to go out and ask them, "What do you actually see? Do you see change in the environment? Or are these scientists crazy? This is your chance to say something."
So you wanted to get past the "official stance" and into the individual perspectives. How did the process work? You didn't want to direct the conversation by asking direct questions. So what did you do?
These long sit-down interviews had several parts. One was to collect observations about environment and how things have changed. So those were open-ended questions where we asked people, "What are your favorite places?" And "What are your least favorite places or eyesores?" And from there, we'd say, "What on the beach have you seen changing? How do you know it's changing?" Same with the soundside: "What's changing and how do you know?" And those were the basic questions we asked. And we're hoping they'd mention climate change or sea level rise, but at the most you've got 20% of people mentioning that at all. But everybody — almost 90% if not more — can describe a few different areas in Dare County that they've seen changes over the years. And they describe it as "erosion." So one of the take home messages I'd turn over to our dear scientists is that people really don't see evidence for sea level rise. And some would say as much, "How do I see sea level rise? I don't see it. The waves come and go but I don't see it." But they do see erosion. They see beach disappearing and sand accumulating.
So they are aware.
Very aware. They see change. They say, "Of course it's changing." And most everybody can describe what's going on. And they have very interesting descriptions, like 'Mother Nature takes." Or, "The beach is always going to be there, it just won't be where it is today." Or, 'Watching the coastline change is like a mother who might not notice her child grow. She might not notice from day to day, but over time a great deal of change takes place." Or, "Oregon Inlet is like taking a wild child and making him sit still in a seat." [laughs] I love that one. But a lot of people who live in Dare County say things are always changing. And it always comes back to, "You cannot fight nature."
But you never actually asked, "Can man fight nature?" Or directed the conversation in one way or the other.
Right. This is all without being prompted. Then we had another place where we asked about preferences for where the tax money should go. In order to dip into people's ideas about economic constraints or economic opportunities vis-à-vis the environment. And the way that worked is over time reading up on issues, I identified 18 different projects that could be used for taxpayer's money. And I often asked people, "If you were king or queen of Dare County, and you could propose where the tax money goes to or the next five years, where would you put it?" And I had people go through those 18 different cards, which included such things as widening of Hwy 64 toward Columbia, as well as non-Dare projects like the Mid-Currituck Bridge. And then the various beach nourishment projects for KDH and Mirlo Beach, the dredging of Oregon Inlet, various Bonner Bridge ideas — long bridge, short bridge, ferries — and also such things as school money for comparison. And then we asked them to say which they favored, which were maybies, which would be bogus. And people made different piles of what they liked and what they hated. Or some people had an "I Don't Know" pile. Or an "I Don't Care" pile. We basically left it to people to sort for themselves. And we also had people comment on it. Because it was a great opportunity for people to say, "Here's why I like the short bridge." Or "Here's why I like the long bridge.' Or "Here's why I think ferries are bogus or ferries might work." And those are the results we need to finally tally.
Was it pretty easy to see where people were getting their info? For example, ORVs and Hatteras, could you hear the echoes of Audubon on one side and the NCBBA on the other? Or even both sides?
Well, particularly in Hatteras, they all said the same thing. They're all lined up. But a lot of regular folks are also in line with what they say. Most people are pro-access. Particularly, all self-employed people, partially because there's this whole attitude of, "Don't tell me what to do." But the beach buggy people have a very strong message that is very easily heard. And the whole other message that is sometimes swirling around is that no beach access might get us the high-paying, environmentally interested tourists who might come in with big bucks. And that message gets drowned out. It's not here. Very few people have that message. Because some figures show Hatteras has done well the past couple of summers. And there are northerners who like vacationing there. But people are hung up on the fishermen tourist: "That's what we're for and that's what we want to offer. And by us not offering it, we're losing money."
I've used the analogy the muffler shop is shutting down, but there's a windshield shop that could open if they changed tacks. They're stuck on the muffler shop.
They're very much stuck on the muffler shop. And that's a thing I think you see in the news media. That's more in Raleigh, there were a couple of op-eds saying, "You guys, eco-tourism in Hatteras could be a good thing. High paid tourists would come. And you wouldn't need to drive on the beach and you could still make money." But people don't hear that. Or they don't' believe it.
Well, Dare County's numbers may be up, but Hatteras is still feeling the effects. I know people who are feeling the impacts. I've also seen some progress where business are catering to different markets and look for new ways. But I do think there's a lot of resistance to change. Because you can't trust the people who aren't engaged in this fight to be telling you the truth. Because they will tell you what you want to hear if it advances their mission. And only that far. So there's a lot of bad blood there, too. If you told the people on Hatteras they could make a million bucks catering to bird lovers, they'd probably still say, "I'd rather be poor" out of spite. So part of the problem with these issues getting shanghaied by groups is you don't trust anyone's argument because it always fuels their own agenda. And the other thing people say is "I think for myself" but if you go through these talking points, most people don't think for themselves, they regurgitate what they've heard.
Absolutely. The message war is the biggest war of all. What message gets through and why. And that's something I can't show, I wish I could. Because we've got all these special interests who put things into a particular framework. And then stimulate people along a particular road. But my hunch would still be it has to do with networks and the people they talk to. And that's one component I wanted to do with these interviews, but we couldn't because there wasn't time. I had questions in the script. But we don't have that data as well as I'd like it.
It would be great to trace the DNA of a thought or idea to its original source, whether it's the SELC or Chamber of Commerce.
We did ask about media sources. Outer Banks Voice. Coastland Times. Facebook, of course. But the DNA is a good way to put it. That should be my next study: How do you really trace how people get their information? Who do people listen to and who do they believe? In the old days, I think I was the pastors who were influential. But some people watch Fox news, some watch Colbert. And there's a lot in between.
And people say, "Why haven't I seen this on the news?" People are conditioned to have the information delivered to them instead of taking the steps to find it or verify it. I think Facebook makes things worse because people share headlines without even reading the story or knowing it's true. Or they share a funny meme that cements their viewpoint and antagonizes another. But what I liked about the pile sort is it makes people analyze their decision. It also gives an understanding of how hard it is for decision-makers who have to make that call. Because people say they'll do things all day long. But when they're forced to actually do them you have to critically consider a choice. It's still hypothetical but it's more concrete.
Yes. The pile sort task is my favorite task to tease out people's opinions. It's something about putting cards down. And you could move them around. People could make 3 piles, 4 piles, 2 piles. It's up to the person. And it served two purposes: a) to really record the numbers and the other part was to use it as a talking tool. Because we always wrote down what people said as they were talking about it.
And that's where the information comes from that while 60% of people are for beach nourishment, two thirds of these people have reservations. They'd say, "I guess I'm for it" or "I guess I have to finance it." Or "It's useless but I cannot not put money towards it because it's our economy." That's how I would tease out this information. Basically about 40 percent say it's a waste of funds. Twenty percent give full support, no reservations. And then 40 percent support it but feel it won't last — they say, "We have to do it, but it's stupid.' So while 60 percent of people are for beach nourishment, two thirds of these people have reservations. And if you look at business owners — people who really own a business, not freelancers — very few of them say no. And that's a smaller number of people, too. These people are mostly for it regardless. And who are the 20 percent who say "No support, waste of funds"? Younger people who aren't invested with homes or businesses and older people who are retired.
The people with the least to lose. Is it safe to say that when people supported something that didn't' make sense, it was for money? And the more solid the viewpoint, the more that person has at stake — or less?
Yes. It was for money. Yes. And that's what makes these beach nourishment figures so revealing. And that's one reason the business people are that much different. You can see it with the middle level of employees. People with a regular paycheck, who work for the government or teachers, they know their money is going to come every two weeks for years to come — and for retirees who've made their money — but they have easy talking because they're safe. And you can see that in their answers. They're the ones who say, "Beach nourishment is the stupidest thing ever.' And it's not that the people who are for beach nourishment don't have the same facts, but they have to survive. They say, "I'm for it — I hate being for it — but I'm for it." And the people with a steady job and no fear of losing that job, they have easy talking — and retirement folks of course. Particularly, the people who recently retired here.
I feel like a lot of this conflict is driven by two things: fear of not surviving. And fear of what the other guy is going to do: "If I don't do this, someone else will." And then there's probably a sense of propriety: "If anybody is going to do this, it better be me." Is it human nature people to justify these actions?
To some degree. And I think that has to do with the scarcity of the environment and the lack of security. A lot of people have moved over time into place of "A buck I can make right now is better than the "maybe, baby.'" So when there's a conflict between the environment and development, that's where you hear, "I know this may not be the right thing to do, but I can make money and put that away." Or "Just this once." A lot of people said, "I want the environment to stay the way it is, but let me make money first." So that was the punch line I got out of this study, particularly with economics.
But when it comes to difference of opinion, business owners and the middle aged group stick out — and there's a certain overlap between those groups — and then the proportion of lifetime spent in Dare County. That middle bracket of 25 to 50 percent of their lives. And these guys have very pronounced opinions about nature versus the economy — and it's economy first, nature second.
And then the guys on edges are more nature-friendly. The less than 25% and more than 50% seem more nature-friendly.
Yes. And then the Hatteras people are coherent independent of age and economics. Or, as we sometimes say, "They all drink the same Kool-Aid."
Did you notice that mentality changed by region. Was it pretty localized?
It's very localized. If you go by KDH to Duck people — and not surprisingly — beach nourishment's needed, but it's frivolous. They say— "Yes, yes, we must have it" — but they don't care about Mirlo Beach. And most Hatteras people are not putting beach nourishment first, either, because few local Hatteras folks own property at Mirlo Beach. But Hatteras people — and again, someone needs to study them and how they get their messages, because they all have the same opinion — for them, only the bridge counts. And they're the only ones who are 100% "We want the short bridge, and don't talk to me about anything else." Whereas a lot of people say "Long bridge, short bridge, I don't' care, just give me a bridge."
But we all know that Hatteras people do their own thing. And to some extent Manteo as well. The older Manteo people stick together: this is their universe, it's Manteo and that's all there is to it. And the beach towns you see shifting alliances. Because a lot of them have moved around. Nobody says, "I'm a Kill Devil Hills person," "I'm a Kitty Hawk person," "I'm a Nags Head person." A lot of them define themselves through their churches or their clubs — Rotary Club, Lions Club, or whatever it may be. But for the guys under 45, not so much. You don't see that happening.
Do they seem part of larger group? Or do they just not define themselves in stricter terms?
I don't have enough data on it, but they're just not involved in these groups.
But you don't need to join groups here to be social. You can go drink beers and be social. I'm always impressed by how stretched out the demographics are here and how inclusive the community is. You can be hanging with people who are 20 years older and 20 years younger. Or more.
That's absolutely true. And unfortunately our study couldn't do that, but I would love to have done some network things to see who's hanging out with whom. Because it's very peculiar, particularly in Dare County, how people hang out differently. They're not just meeting in associations or churches.
At one point, just taking the leap to move here was enough of a shared commitment and belief systems to bond people. I think people who moved here 3 years ago, still buy into that. Because it's still not easy to live here. It is if you have a ton of money to support you and gain your foothold. But I'd argue there's a kneejerk mistrust of people who do come here like that. I bet it's harder to buy your way in than it is to starve your way in. Did you research show a mistrust of the wealthy?
Yeah. It's very much a sense of "us versus them." And it's not just "Oh no, another bank." It's those rich people who are second homeowners. Or investors who try and move and shake things a little bit. But they're certainly not part of the social fabric. And I think that's what a lot of those Rotary Club/Church group, middle aged and older people don't really see: it's an organic socializing. It doesn't need a particular location and it's not tied to a particular organization. People share, because they love the ocean or some other common kinship, and that's good enough.
So there's a question: if they're 50 and 60 now , does that mean today's 40 year-old becomes that 50- or 60-year-old?
That's the big question. Particularly people who are your friends or younger who might be freelance now but might jump onto a big business opportunity moving forward. Because a lot of these guys came here the same way and they may still be cool but now they have mouths to feed and people on pay roll an their opinions have changed. But it's very difficult to pinpoint.
What about Manteo and Manns Harbor?
Manteo and Manns Harbor are certainly against beach nourishment — for obvious reasons — and some of them are surprisingly pro-regulation. Particularly the older ones. I think it has to do with age and seeing that sometimes regulations are necessary. That left to their own devices, humans will sometimes make a series of selfish decisions. Some of these older people from Mann's Harbor and Manteo they say, "Thank God for the Park Service. They should buy up more land. So what if I can't go there like I could in my youth, this is the only thing that works." I have a lot of solid responses like that from people over 65 who are born here and grew up here. They say, "Thank God for the Park Service. That's the only thing that keeps these crazies in line." And they've also seen some erosion there, too, and they see that it's very fragile and it's all going to go away. I also talked to some young people in the fisheries and they're really struggling. They want to protect their way of life. But they're certainly not completely business-minded. They're not having this, "I want to make a buck at all costs." And they also recognize that fisheries have a bad rep. They feel misunderstood.
Because they felt feel like regulation issues are displayed as one or the other: kill 'em all or lock it down. There was no sense of sensible management.
And that's actually where I came up with that idea that people have to move way form that local focus. Because where they're really the most confused is that this whole idea of common sense and self-regulation only works when you really close ranks and know everybody in your community. And everyone agrees you don't overfish or you don't do "x" or "y." Then it does work, because they're all good stewards of their environment and they don't want to overdo something. But they have the hardest time seeing that they've lost that battle. That there are these people coming in from the outside and they might take away their livelihood because they're coming in with pockets full of money.
But a lot of people realize we should've had better planning early. That once you get on a certain trajectory, it's over with. Some of these other quotes, you'll see people are very aware of our situation and our own role creating our problems: "We made a big mistake. We built up the dunes and put houses nearby, that should have never happened." And 70% of people, except the younger ones who come from outside, — the younger ones who grew up here know this — they know the dunes were man-created. Tourists don't know that. They think the dunes have always been there. But most everyone who lives here knows it all started in the 30s with these dunes being built. Because once they were built, we had a different dynamic. The water just didn't come and go, and come and go. We had these dunes now and that meant more permanent housing structures. And once we started filling in the houses underneath, basically it was done. And a lot of people can explain that to you: "Yeah, we should've let Mother Nature do her thing. But when the houses stopped being on stilts to let water flow through, that was the beginning of the end."
Was there any place where everyone agrees?
Oregon Inlet. Ninety percent are for dredging. Even the people who say, "Beach nourishment is bogus, we need to let Mother Nature do its thing" also say we should dredge Oregon Inlet. Why? They feel fisheries should be sustained: "This is our tradition, we cannot let these Wanchese people die out." So that's another big contradiction. Because if you want to line it all up: "I'm for the environment, I'm for the long bridge, I'm for no beach nourishment whatsoever, everything should be as natural as possible." They should also say, "Let Oregon Inlet close up again." That would be the logical consequence of that train of thought. But that wasn't the case.
And nobody wants more density. We don't want to be Myrtle Beach. We don't want to be Virginia Beach. And for a lot of people, the largest thing that keeps us from being a Myrtle Beach or Virginia Beach is a sewage system. As long as don't do central sewage we're good. The moment we allow that to happen — in a wider area than the few things we have, right? — then the high-rises will come, then we have absolute density. And nobody wants more density.
Even the unabashed pro-tourism business types you were talking about? I thought everyone wanted more tourists.
Nobody said there weren't enough tourists. A few of the younger people said they wished more people would come into restaurants. But you've heard about the problem with these big oceanfront homes, is that families frequent the grocery stores more and aren't going out to eat. So they certainly felt the pinch. But they know the tourists are actually there, they're just spending their money elsewhere.
That's an interesting point. Because in many ways the economy is an ecosystem. So what happened there is someone said, "More bodies is better." And it may be for some groups but not for others. And all these issues are a spiderweb and it's hard to know how they'll impact everything.
Be careful what you wish for. Or the law of unintended consequences. And we heard that a lot, too: "We really didn't know what we were getting into." And when you look at how the county and towns make a decision, they weigh their options quite well but often they're pinched and then they make a decision and don't know where it's going. Some builders told us that the height restriction made them all build on a slab to maximize space instead of keeping it up on stilts. And if all beach houses were all on stilts and allow the water to go through there would be probably be less damage. But because of the height restrictions, that's what they did.
What other issues did you talk about? Anything about energy?
We asked about different evaluations of environmental opportunities, such as wind turbines and solar panels — how were they supported or not. We asked about fracking, too, but of course everyone was anti-fracking.
That's surprising. Because I think a good portion of our community as being pro energy.
Only the affluent, elderly folks, ultra-conservative oil people were for fracking. Almost everyone was against.
What about offshore drilling?
Most people were very much against it, fearing that it would influence tourism.
So, again they were worried about the economy —not the oil hurting the ocean or themselves.
Yes. What it would do with the tourism industry. Surprisingly, with wind turbines it was 50-50. Younger people and business people were very much for wind turbines. It's some of the older people, or people who were more into the aesthetics and bird people who ware worried about wind turbines. For wind turbines, a lot had to do with unsightliness and birds. Most of it was unsightliness. They say that wind turbines look horrible. It's not worth the money.
More horrible than a day-glo Wings on the side of the bypass or miles of giant light poles?
It's funny you say that, because when we asked about eyesores, 80% of the people said the box stores and Wings were an eyesore. 75% said French Fry Alley. They didn't have to pick one. They could say as many as they wanted. 50% mentioned the light poles. And again, people had to mention, they didn't confirm. We just say, "What is an eyesore?" This is what people came up with. And in Hatteras it was the Rodanthe Water Park was an eyesore and the Mirlo Beach houses are an eyesore.
But these are things people might say is necessary too. Whether it's jobs or tax revenue or power. So they say, "I'll take that eyesore,' we need French Fry Alley and utility poles.
But you could turn this around: "You've been able to live with a Wings store. You could live with a wind turbine." And that's where there's a lot of room for education and where messages may not get across. For example, how much wind turbines might contribute in terms of economic benefits. Because if you could sell it as such, you're home free. Because a lot of people hear "Wind turbines don't give us as much energy and they're not efficient. They produce some electricity, but not enough." Or, "We pay too much to put wind turbines out there and the return isn't justified. "And so a lot of people had those numbers down, but they didn't know any of the positives.
Like the numbers of jobs created or what the potential energy output would be selling wind to other states.
Yes. So this is where you actually start to see how — if you wanted to reform things or get the message across — you could use that material to say, "Here's where people are hung up."
A lot of it's awareness. Drilling says we'll bring 5,000 jobs to the state. That sounds like a lot, until you find out there's 11,000 tourism-related jobs in Dare County. Or people talk about wind subsidies as a waste of tax dollars. But nobody considers the billions our military spends in the Middle East. So information is power, but if you're only getting information fed to you by an interest group it becomes easy to get your viewpoint skewed.
And that's with everything. That's the big problem of our time. We never get full information. And the only hope we have for future is people who are willing to think for themselves and not align themselves with a particular group. But if you want to reform or introduce a new idea, you have to understand all the different arguments that people have for or against a particular project and then really pitch against it.
Well, people cherry pick in a lot of ways, too. The Mirlo Beach homeowners are for nourishment instead of a bridge. And they're quoting Stan Riggs.
Right. And Stan Riggs may not be pro-bridge, but he's not pro-nourishment either. And here's where you have to say: What are the various arguments? And what stacks up? Is it the birds might get harmed? Then turn it around and say, "I can show you how birds won't get harmed." But then people would have to be open to listen to that argument. And that's another big problem.
To me, the beach access issue is one the most frustrating. Because I don't trust the SELC or Audubon. At the same time, I recognize that you can't have the same rules for a tourism industry of 1970 as you do for 2020. But Audubon and the SELC have been disingenuous. And they are putting out misinformation that's convenient for their own good. So these wedge issues inevitably play into the interest groups hands by dividing people. Because people assume that because a person holds this viewpoint, they most hold these other viewpoints.
And a lot of people have a middle of the road opinion. Like the beach nourishment: the gung ho people are about 20% — or less than that. And then there's plenty of people who say it's a waste of funds that could be persuaded to accept that it's necessary. But the big thing is one hand doesn't know what the other hand is saying. And very few people know how much the others have the same opinion as themselves.
So what were the other big issues?
And some people brought up the whole thing with insurance. And if you did the story right now, there'd be even more talk. It's a snapshot as of summer 2013. And the whole sewage system business is an issue. Some people talked about how the sound is quite polluted, quite yucky and what will we do? They said, "We might need central sewage at some point. We've reached a breaking point."
And that's a good example of a tough issue. Would people accept high-rises to get cleaner sound water? And is that even possible? I'd argue it would be a net loss, but that might just be me putting my spin on the issue.
And it goes back to the original discussion: you almost need to say to people, , "The only reason you're not thinking about a sewage treatment system is you don't trust your neighbors not to build high rises." If there would be some way to absolutely prevent high rises and higher density and at the same time have a better sewage system, a lot of people would buy into it. Those are the only two reasons why people are against centralized septic system: one is the cost of water would be higher — nobody wants more costs — the only other reason is it's their last defense against more density.
Was there any issue where people seemed willing to sacrifice for the greater good. Where they said, "I recognize this will hurt me now but in the long run it will be better for my kids and the Outer Banks in general?"
Younger unattached people — some surfers, some fishermen — those who weren't economically invested, are willing to say, "That might not be so good for me, but I'll put up with it." And some older people as well.
So the people with no vested stake and the people with little time left on the planet – again, the people who won't really feel it. At the same time, did people recognize their hypocrisy?
Yes. A lot of people said — particularly after the card sort — they'd say, "I guess I'm a hypocrite." So lot of people came away uneasy. And, of course, I wasn't a part of every interview, so I don't know how well the students channeled that and said, "It's okay" or "Other people felt the same way." But it happened very, very often. Because I always asked the students to record comments. And I saw that a lot. But we tried to cheer them up.
It's hard. I look at my grass, and all the weeds in it, and I want to dump weed-n-feed in my lawn every year because I think of what I spent on sod. I don't because I'm worried about the sound. In fact, now I think, "I wish there were no lawns." But if my landscaper friends read that, they'll say, "Are you crazy?! That's my livelihood!"
And that's a very normal story that's emerging from this. Think of your own biography – once you're locked in with kids and a job, that's when you make these decisions. As opposed to when you're coming into the tunnel or headed out the other way.
And that's the 40-60 range you talk about. So what does the future look like for the Outer Banks, knowing this research. Is it a death knell? A wake-up call?
Well, I'm always optimistic. It should be wake up call. And the number one thing people might get out of it is if they could just talk more to each other, and take the time to really get information and really participate in decision-making. And that's a very difficult thing to do. Most people don't have time to go to meetings. And everything gets decided right now. Nobody says, "Let's take our time." Think about these beach nourishment decisions. Nobody took time to study what happened and consider before moving on to the next project.
It also comes down to the shift between a community that's locally focused, and that urban sprawl, globally influenced society. You have these smaller communities. But in many ways, we're bigger. So really the problem lies in the fact that people are at that crossroads of localized community and urban sprawl. And people behave whatever way the wind blows. If it suits you you're too busy doing your thing to worry about others: "It's my life, I run my life as I see fit, and I can't participate." But when it's your school it's an issue. Or if your friends are in trouble, then everyone rallies and donates to help. It's very local. Where it gets complicated is that Dare County is not Dare County anymore. There's all these other influences from tourism, transient people, and whatever else, and I think some people would benefit from making coalitions that are wider than just their Rotary Club or "This is what we do here in Manteo" or "What we do here in Hatteras." Because this whole closed ranks idea of being a locally focused community still works on one level. But on some other level, it doesn't.
So are we all hypocrites? Is that what it comes down to?
Most of us, yeah. [laughs] Without taking it too far. We have different opinions and we shift them based on how they affect our own backyard. And of course, we all feel we should be able to come to Dare county but we should close the gates behind us.
Are humans hardwired to protect their own interests?
I think it's more to do with the national culture. And this is a tricky one because I'm European and I spent so much time in China where people have other psychological outlooks. In China, they don't own property so that's why they throw around so much money on luxury items. It's a very different psyche if you can't buy a house. And they have a different long-term perspective compared to Americans. And the American culture idea is based on having so much space around. And if this doesn't work out, I'm moving elsewhere. This is a fundamental idea here: I'll pack up and go to the next hill and start over. That is something other cultures do not have. And that's why other cultures do more long-term planning, because they can't move anywhere else and they have to do the right things and be nice to all their neighbors. You have to dig in differently. But even in Dare County there's always another opportunity. People think, maybe next year. Maybe next month. That whole living paycheck to paycheck, for most it still works. Very few people stop and redo their whole behavior. It's a couple of adjustments here and a couple of adjustments there. And hope it works out. And most of the time it works out. And if we don't make it, then we leave.
______________________________________________________________________________________________________________________________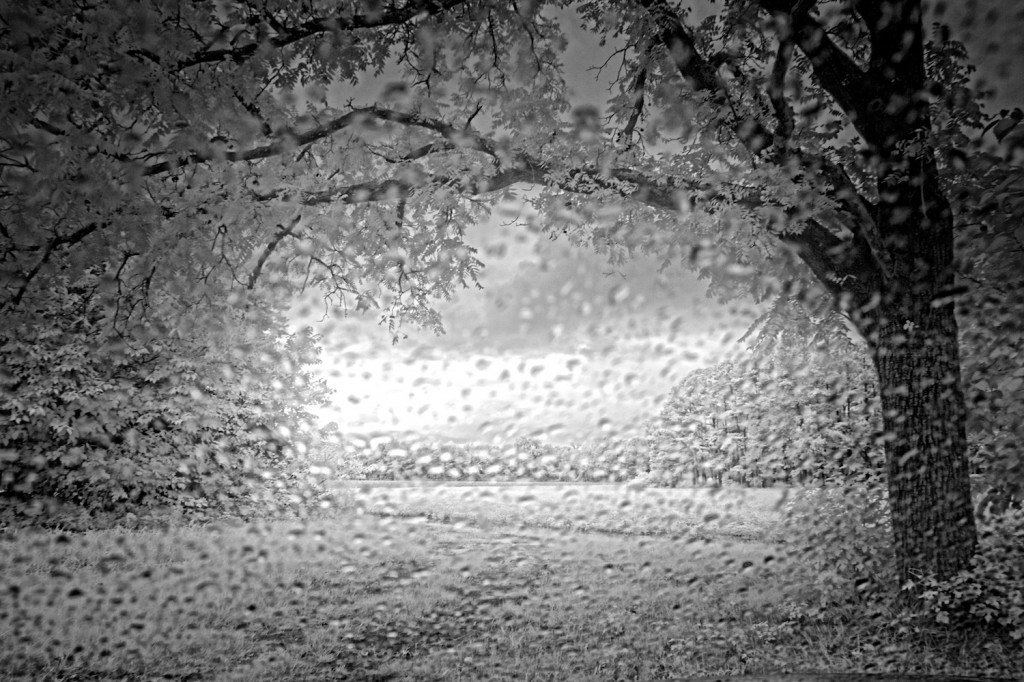 WINTER OF OUR DISCONTENT?
Tis the season for behavioral health issues. PORT New Horizon's Michelle Decker discusses symptoms, myths and options for those in need.
Shorter days. Shrinking schedules. Smaller paychecks. Bigger benders. Despite all our self-professed love for the offseason, it's often the most psychologically trying time of year. A period when bad moods and worse habits can get the best of anyone. And yet — while we all recognize our community isn't always 100% happy-go-lucky — we don't always know how to tell when someone needs help.
"If a person's not functioning — if they seem like they've changed — that's when you encourage them to go talk to a counselor," says Michelle Decker, program supervisor for Nags Head's PORT New Horizons, which provides behavioral health and substance abuse assistance in Dare County. "You say, 'I don't know what's going on, but you seem out of sorts. And I know some places you can go to figure it out.'"
We sat down with Decker to discuss various problems from depression to suicide to substance abuse to see just what the signs are and what resources are available. What follows is a transcript of that conversation; for the edited interview, find a copy of Milepost 2.4.
MILEPOST: What's your title?
MICHELLE DECKER: Program Supervisor for Port New Horizons. PORT stands for Prevention Out-patient Residential Treatment. PORT Started when Pitt Mental Health was privatized. When we went through mental health reform, they took over some residential adolescent substance abuse inpatient programs. The existing name was PORT. And as we expanded they liked the name so they wanted to keep it.
And how long has that been on the Outer Banks?
PORT was initially involved in the New Horizons demonstration project, which was five years ago. There was sort of an uprising in the community because there wasn't any substance abuse or mental health services. So the health department and county spearheaded getting funding, the county committed a certain amount of money and the state committed a certain amount of money for he development of New Horizons — which was just substance abuse. And it was funded for three years. And at the end of that funding the state didn't have money to continue it. So PORT was always in the background, they supervised and hired the clinical staff, but this was actually part of health department. And when state funding dropped out they asked PORT if we would come over and make it a regular behavioral health clinic. So for two years we've been doing mental health too. The county supports the substance abuse side; and the syate has some [mental health] funding for people who don't have insurance, who are 200% of poverty level or below. So there's availability for everybody. And private fee for service: Blue Cross, Blue Shield, Medicaid, Health Choice. But right now, PORT New Horizons is the only place people without insurance can come for health treatment and get reimbursed. Unless they can talk someone into treating them for free.
So, otherwise you go hire a private counselor.
Yes. Because ResCare — the other place that was able to access state funds — closed June 30.
So in all Dare County, this the option.
For people who are uninsured. Our county has some great private practitioners and therapists.
So you provide the service to anyone who doesn't have insurance for any kind of mental health concerns: form substance abuse to depression.
Any mental health issue or substance abuse ages four and up. And this is the second year we've had a counselor in every Dare County school at least one day a week — sometimes up to 3 days a week.
That's in addition to a traditional school counselor, who would be more about encouraging you to pick the right college…
Yes, they're more focused on educational issues. What we're doing is actually just like going to an outpatient counselor — except we're located in the school. They're giving us the space. And we served 150 children last year.
What's the average age on that? Because I saw this YouTube clip that featured a 5th Grade teacher who had students who were suicidal — granted, this in East LA, but…
Well, I can print you out the study. But for the school project, ECBH — East Carolina Behavioral Health — is the overseer of the Medicaid and the money for the indigent services. It's called IPRS dollars. They 're actually the managed care organization. They authorized the payments and the treatment. They're who we submit our claims to. They gave us some start-up funding to start, so we had to keep some pretty specific data and it's a public report.
150 students sounds like a lot.
And this is the thing: we had to stop referrals four months before school was over because we didn't have enough spaces. We had 189 referrals. And some people didn't come for whatever reason — we called and the parent didn't want to, or whatever…
So who does the referrals?
The school counselors. And the teachers.
So it's not like the child says, "I want help." The school or teacher says, "There's something going on here." But some parents didn't want to follow up. Why is that you think?
I don't know whether it was stigma or availability. Because the parent has to come to the first appointment. And really, for some parents, if it's hourly work and the end of the season, it can be hard to get away for two hours. Others may be struggling with their own substance abuse or mental health problems. And I've lived down here eight years but I was shocked at the complexity of the mental health problems our students are having.
But it's a range of issues too: anxiety, impulse control, sexual and gender identity, eating, mood.
And a lot of elementary kids are having adjustment disorders. Which means they're having some sort of stress in their life and they're having issues as a result. They're not being able to function. Either mom and dad are getting a divorce, so they're feeling, and they're interested in going out and playing any more.
Well, the idea for this story came from a couple of places. You always hear about depression this time of year. There seemed to be several suicides in the past year or so. And at the same time, we had a couple stringers suggest an article about depression – seasonal depression, male depression. So, we thought: What is 'depression' exactly? What is the connection? And what is the over all picture of mental health on the Outer Banks? How much is stereotype and how much is reality?
Well, I think the best place to start is just to talk about mood disorders. Seasonal Affective disorder is a type of mood disorder. Now, Seasonal Affective Disorder is a depression that has an onset in the fall and winter. And normally, it wouldn't be as severe as Major Depressive Disorder — which is the technical term for depression — but the symptoms are the same: difficulty sleeping or inability to sleep; feelings of hopelessness and helplessness; thoughts of suicide; weight gain, weight loss. Lack of ability to feel pleasure is really a hallmark of depression. People can have things going on around them in their lives that are normally exciting and not be able to feel pleasure from them.
That's what's interesting: because it seems like any of those symptoms are nebulous and — at least by themselves — can be misinterpreted. Is it the combination that makes a difference? How do you know it's more than just a normal bad day?
We look at a couple of things. One is how long you've been feeling that way. So, generally, at a minimum, we say over two weeks. And the other thing we look at is severity: is it keeping you from working? Is it keeping you from participating from activities? Is it impacting your ability to function in your daily life? And if it is then it's time to get some help.
And that's when the stigma comes into a play. And maybe this isn't the case, but I had a conversation with someone about male depression and he said there's a macho culture where asking for help is taboo for lack of a better term. It's seen as a sign of weakness. Is that a problem?
Sure. I think its' more difficult for men to come in and ask for help. But we don't keep breakdown by sex to see.
From your own anecdotal experience, does it feel like more women come in for help?
Because we have that foundation of substance abuse, I'd say substance abuse runs pretty close — probably 60-40% men. But mental health we probably see more women. And, again, it's a newer thing — we've only been doing it a couple years. And a lot of people were at ResCare until they closed in June.
Is there a profile people fit? Are there similarities? Or is it as diverse as the individuals?
Well, unfortunately, there's usually a crisis that makes people make the phone call to come in here. Either someone who loves them finally sits them down and says: "Look: this isn't okay anymore. You're not taking care of yourself, you're not taking care of the kids, you're not getting to work on time." Or the boss calls them and says, "You're not functioning at work." There's some crisis that usually brings them into treatment. Or it's themselves and they're not happy.
But there's not an identifiable pattern. Or only identifiable pattern after the fact.
That's one of the things that's hard about any behavioral health service — substance abuse or mental health — is that what gets somebody to seek treatment can be so unpredictable. Like, for substance abuse, someone can have a blackout and it scares the daylights out of them and they're in here to get treatment. Whereas someone else, they've been arrested four times, they're losing their kids, and they still don't want to come to treatment. It's very individualized.
So pulling back, what is the mental health situation on the Outer Banks. What are the problems in the community?
I don't think there's any more significant amount of problems on the Outer Banks than anywhere else. I think the issue is a lack of resources. There is one licensed psychiatrist on the Outer Banks. We do all our psychiatry through telemedicine. They're PORT employees in Greenville or Ahoskie or what have you. But it's not for lack of trying to recruit. We've been trying for years to get a psychiatrist to come here.
Is it the usual problem: it costs more to live here and you can't pay as much? That seems to be the formula for everything else around here.
I don' t know why psychiatrists don't want to live here.
Maybe they know something we don't.
I've heard people say there's not the cultural things, the shopping, things like that, which I think is crazy. But…
Well, if you don't like being outside and being in nature, there's not a lot of reason to live here. I know couples who were split on moving here, the wife didn't want to come.
Because there's no Target. The Target's too far [laughs]. I felt that way personally a little bit. But I worked for Albemarle Mental Health and they paid their psychiatrist much higher than the national average and they had a hard time getting them to stay. But I think there's just a shortage of specialty doctors. And even more critically, there's a shortage of trained child and adolescent, board-certified psychiatrists. And PORT has an office in Elizabeth City and that doctor telemeds a couple hours a week with us to see younger children. And they can certainly drive up there, if they're able to. But a lot of people aren't able too, whether they don't have car or they don't have the resources – the gas money – to get there.
And a couple hours a week isn't going to see but so many kids. I don't know what the average session is.
Fifteen to 20 minutes. Kid can be 30 minutes — for medication checks. Not for therapy. Our primary care physicians around here take up a big part of the mental health treatment. I think if you talked to any of them, they're doing a lot of prescribing of behavioral health, especially for anxiety and depression. I think. You'd have to look this up and make sure it's correct. But I believe it's like the number 3 or 4 reason people go to their primary care physician is depression or anxiety.
Wow. What does that say? Is that our culture in general? Is that a reflection of how hard it is to live down here? And there's a certain pride people take in that fact, too, but it's not a place where you're going to launch a whole new career or something. So I can see where that adds a level of anxiety – when the shifts stop coming or restaurants close or whatever. Is that part of what feeds that anxiety?
Any major life change is going to feed anxiety: divorce, job change, job loss. Here's a local example. Apparently they've changed the way they're formulating how much you get for unemployment benefits and its' caused a significant amount of stress. Our clients have been talking about it because they're no going to be able to live off unemployment; they're going to have to figure out how to supplement themselves so they can get by. And it's causing a lot of stress.
I wonder what the Internet does for this stuff. Because there's a lot of comments that say "good riddance.'
I think that's something that people don't get about depression. I worked with a psychiatrist once — you know it used to be called melancholia — and he said, "I wish they'd kept that or come up with a different name other than depression." Because everyone thinks they know what depression is. That they've been depressed when things have gone wrong in their life. They think they've known that experience. But in clinical depression, it impacts your ability to perceive what's going on around you accurately. So, you will have people that love and support you. But you don't feel like that. You don't feel like they're helping you, you don't feel like they care about you. That is clinical depression. When some commits suicide, the question is always why? Why did they do that? They had a great business, they had a family, people liked them. But if they were experiencing depression, they didn't see it that way. That was not their reality. What reality was is not what the depressed person sees.
So it's a complete distortion.
Right. And it's due to — all of our emotions and feelings are chemicals that are generated in our brain. And the easiest example is the day you get married, hopefully you're really happy. When someone dies, you feel sad. Life can change our chemistry in our brain. And sometimes it does it in a normal way and we can cope with it. And sometimes it responds in an abnormal way. And the other thing is we're all born with a certain amount of stress tolerance. There's been some research that says some people are naturally better able to tolerate stress than others. The good news is you can change that by going therapy and learning skills and tools to strengthen those skills. So you can improve it — it's not hopeless. But some people are just better able to handle what life throws at them.
That does seem to hold true. So when it comes to solutions, how much is treatable? And how much is medication? Because I'm prescription med freak. I don't want to to take a pill to feel normal. I don't want to take cholesterol meds. So is that a problem?
I think it's too much in the opposite direction. I think American culture is, "Oh something's wrong with me, I feel uncomfortable, give me a pill."
So what's the philosophy? And what's the balance between medication and training?
You have to look at how the symptoms are impacting that individual and how they're functioning. Because there's two strategies. Everybody who comes here has an assessment by a licensed counselor. And they talk about symptoms and treatment options. And the best treatment for depression and anxiety usually is a combination of medication and therapy. But a lot of times people don't want to do the therapy. They want to take the medicine. And a lot of anxiety symptoms can be resolved with therapy. And if you just take a pill every time you get anxious, it's like taking cold medicine — it doesn't cure the problem. We do believe in therapy, individual and group especially, it's highly effective.
But it's almost more stigmatized. People are more likely to say, "I'm on Xanax" than "I have therapy on Tuesday."
Oh, absolutely. I guarantee you, if I called 10 of my friends and said, "Oh man, I just lost my job," three would be like, "You want some Xanax?" Because it's culturally acceptable. But part of it roots back to not having enough [behavioral health] providers so the primary care physicians are dealing with the anxiety and depression. And they don't have therapists. They have medication.
But it's a good point. There's something to be said for using medication to solve a problem but there's also a lot of just attacking the symptoms instead of the cure.
I mean, we've got stuff to do, so we want to feel better so we can go about our business. And if you can take a Xanax and get rid of your anxiety and go to work, you think, "Okay.' But the thing is you build tolerance with any benzodiazepine — Valium, Xanax, Klonopin — that's so heavily prescribed in this area. One's gonna work for a while, and then you're gonna need two and then you need three and then everyone's calling you a drug addict and you can't get the medicine you need or you feel sick.
And all your trying to do is go to work. You're trying to do the right thing. Your motivations are good.
Opiates are like that, too. It's an epidemic down here and everywhere in the United States. You have surgery and you start taking Percocet and then….
That's my biggest shock. All the heroin rumblings, I wonder how many are people who got hooked on painkillers and moved on.
I'd say a good bit of 'em.
I'd be interested to know. Because there's always been some sort of drug culture here, but it was mostly pot, and drinking and cocaine was the hardest stuff. That was the pattern. And the last five years it's been…
Pills. And it's young kids. We have a very small Suboxone program. Suboxone is an opiate antagonist — it's actually an opiate too — and it's mixed with another drug called Naloxone. And it keeps people from getting dopesick. Because that's part of the problem. And it's not life threatening but when you get hooked on opiates, whether it's because of a medical problem or recreational use, you eventually need them to function. When you try to stop, you will get the worst case of — it's not even fair to compare to the flu. You are vomiting, muscle cramps, pain for five to 14 days. I mean it is horrible. So people wake up and they can't function. Or their surgery's over and they try to get off this medicine and they can't do it. Well, Suboxone, we give it to them and it fills the receptors. They don't get high, they don't get dopesick, and it inhibits the cravings, too. So we give them that and we drag them in here and we try to give them therapy and give them education and get hem to build the tools they need to stay clean, and then eventually you work on tapering them off that medicine. But we have 30 [treatment] slots. They're full. Constantly. You have to have a special license from the DEA to [dispense] it. Anohter doctor does it here, I think he has 100 spots. They're full. And we have a crap-ton of people who go to Virginia for it. And we get two calls a day for it.
Well, that's what William Burroughs said in Junkie: "I need heroin to get up in the morning, to shave and eat breakfast." I think some people don't get that it is a sickness and it is impossible to function without it. But I think we have a very tight nurturing community in a lot of ways — but we also have a tight judgmental community in other ways.
Well, people make judgments based on their own experience. They think, "I lost my job and I got through it and I was fine." Or "I had surgery and I had to be on Vicodin for three weeks and I was fine." And they think their experience is the truth for everybody. And it's not. Really, a lot of this is biologically based. Addiction is a great example. I've seen 30 year-old men who've been drinking for two years and they're on the verge of liver failure. And I've had 70 year-old truck drivers who came in because they got a DWI and they're fine otherwise. It's biological. The difference is biological. When alcoholics try to stop and can't their whole biology fights them. You have to be receptive to the idea that people experience things differently because we're different biologically.
And it's probably hard for people to accept hat too. They think, "I'm a failure because I cant 'stop this. or I'm inferior because I'm depressed." Is that where the hopelessness comes from?
People who experience addiction or clinical depression, schizophrenia, bipolar disorder — one of the first things we try to do is show them this is a medical problem. That this is a brain chemistry problem. That it's not caused because they're deficien in anyway as a human being or their moral character is bad. Whatever moral reason they think — that God is paying them back for the bad things they've done. People come in with all kinds of reasons. So one of the first things we try to do is educate them that this is medical problem and there's solution. Now part of the solution is behavioral. How you eat, how you decide to cope with things, how you decide to think about things, monitoring your thinking. The treatment of depression — besides the medication — is getting people to be mindful of what they think: What am I believing about what's going on that's making me upset? So let's say I spend 3 hours with you today. Tomorrow I see you in Walmart and you walk right by me. And I'm like, "What did I do to him?" And I get myself all in an uproar because I believe you're blowing me off and you think you're better than me. Well, maybe the truth is you didn't see me. Or you were busy because you're kid was screaming. So we teach people to break down their thinking and confront that. Does this make sense? Because depression will skew what you believe.
You go straight to the worst possible answer. So you say, look at the spectrum of options; don't assume the worst.
That's right. We train people to do that. And they'll see they have a tendency to personalize everything. If something's going wrong, it must be because I had an impact on it.
It sound pretty egotistical. To people in these situations tend to be self-absorbed?
Depression is a selfish disease. People do come off as very selfish and that can make things very difficult for loved ones. Because they are working t heir tales off to figure out how to help the person and it's never enough. And it's very frustrating for the people around them. And there can be a lack of appreciation because their perceptions are not accurate at that time.
I bet it can sound accusatory at times, too, because you're telling people they have a problem. And it's not a nice problem. And like anything, you have to want to change to do something. You can't force people.
Nope.
So you do you broach the subject? Are there tips? Are there ways? I'm sure if you say, "you need to see a doctor" without sounding accusatory or making them feel worse?
I think the best way is to try and come from — well, number one, take a step back when you're not frustrated with the person because they're not going to work for the third day and you're ready to pull out your hair. Or the laundry didn't get done. plan it, as opposed to doing it at a time when you're really frustrated. I think you have to come at it from a place of love and compassion and concern: "Hey, I'm really concerned about you." Who are the people in that person's life who they're usually receptive to? It might not be the husband or wife, girlfriend or boyfriend. It might be mom. Or dad. Or a friend who can sit down from a place of concern and say, "This is what we're seeing? What's going on? What do you think? I'm concerned that you're depressed." And know the options. Do they have a relationship with their family doctor? Because that's a good place to start and a lot of people do.
And it sounds like it may be less of judgment thing to. I don't know why I keep coming back to that, but it seems like people do feel that way.
Well the other part of this is sometimes people just don't have the skills to manage what life throws at them. They're not mentally ill, but they were brought up in chaotic, dysfunctional environments and they were never taught the skills to manage life. So they developed these really — we call them maladaptive ways of functioning.
Example.
People who use intimidation to get what they want. If anything happens at all, they're screaming and yelling — because people respond to that. Other people learn to be completely dependent on others and develop this kind of helplessness. Other people get manipulative to get their needs met. And eventually all of those things tend to get people in trouble. And that's not a chemical problem with how their brain is functioning. Usually, they develop these skills because they work. If somebody were to come in here and say, "I'd like to see Michelle, can you see if she's available?" The desk would say, "Sure. Go ahead and have a seat.' And they'd come back and I'd say, "I'll get there as soon as I can." But if someone is screaming out there, the desk doesn't even have to get me. I hear them and I get up and I respond to it. So people learn they can get their needs met by being aggressive and loud. So it's really a therapy issue. And we say, 'That works, but it's not the most effective way and it's causing other problems. You've got a restraining order now and these 'communicating threats' charges." And there is a separation between the people who are having a chemical problem and people who don't have the most effective ways of coping. Does that make sense?
Sure. You have to discern what's what. And I'm sure sometimes its' a combination.
Exactly. But if they're coming here, I don't know why anyone would discourage somebody from getting help. No matter what they think. Even if they think they're lazy and ridiculous, if somebody's not functioning well — if somebody's not able to take care of themselves, to work everyday to be a productive member of their community, whatever that means for them — why wouldn't you, if you care about them, encourage them to get some help?
So what are the parameters of that? At what point are you goofing off and at what point are you a trainwreck?
It goes back to your ability to function. If somebody wants to surf all day and they can support themselves and have a roof over their head, there's nothing wrong with that I'm not here to judge somebody's lifestyle. But if somebody has rent to pay and bills to pay and they can't get up out of their bed because they feel hopeless and helpless and they've lost 20 pounds because they haven't eaten, then that's a problem.
To people develop depression at a certain age more than others?
The age onset that's really common for behavioral health disorders is between, say, 16 and 21. When you're body's developing and there's major changes going on in your brain, that's probably the most common. and there's childhood depression and childhood schizophrenia, but it's rarer. You usually see problems developing between 16 and 23, college.
That's mental health issues like schizophrenia stuff like that.
Yes. And for women and men, a major life change can trigger depression. Divorce. Job loss. Loss of parents.
So the older you get, the more likely you are to face these issues. So chances are you're going to have to deal with sometime — either yourself or someone around you. So do you get busier in the wintertime?
There are trends. Springtime is the time for hope and renewal, and everyone is very hopeful things will work out and they make changes. And things tend to deteriorate over the summer. August and September is a hot and heavy time. I think people have been through the summer, their job is ending, they realize their substance abuse is out of control. So fall's a big time for people get sober. Then things tend to die down again around the holidays because – again – it's a period of hope. People think, "Oh things will work out this year."
I always heard holidays were a depressing time. Is that just a myth.
I don't think it's a myth. People have expectations around holidays. But it's usually after because it's a let down: "My family's still not perfect, Uncle Joe's still an ass, and my kids didn't behave again, somebody didn't come and see me."
So is that Seasonal Depression?
Seasonal Depression would start in the fall and they think it sis related to the decrease in daylight. People are indoors more and they're not getting the amount of vitamin D you need. If you're deficient in Vitamin D, you'll be tired, you'll be exhausted. And even now the primary care doctors are including that vitamin D test in physicals. So that's one thing we're starting to look at. But if you had seasonal depression, it would start in the fall and gradually get worse throughout the winter until you felt like you didn't want to go outside the house. But most people with seasonal depression you're functioning, you just don't feel as good. But there's two other different kinds of depression. There's major depression — and major depression is usually cyclical. You'll have a period where you're fine, maybe even without your medicine, and then things will slowly start deteriorating: you don't want to be around people maybe, you start feeling more irritable, you have hard time getting motivated to do things. At it's worst, people have a hard time even getting out of bed. I mean, I've seen people so depressed that they defecate in their bed. It can get that bad. Start getting suicidal thoughts. And then, even without any intervention, it just starts lifting and you feel a little better. But the problem is this is your life. And it's a rollercoaster. And it's horrible. But it's also part of the problem in treating depression, because you take your Prozac for two months and you're feeling better and you're done. And you stop taking your medication when you're feeling better naturally and you're okay for along time and six months later you're back down here and it hits you again. And you're like, "What did I do?" well you just have a disease, depression.
So it's not necessarily environmental. It's mostly biological.
It can be just biologically based. And with seasonal depression, it might be that that's their cycle, and they feel it in the fall and winter they have this mild depression and then it lifts again.
But you don't necessarily see numbers spike in the winter time.
With depression, I don't think we have enough experience with the mental health stuff here after two years to collect the data.
So what's the relationship with depression and suicide?
In depression, what we know is that suicide occurs — if depression is this horrible bell curve and you're at your worst at the bottom, that's not when most people kill themselves. This is when most people are worried, because the person isn't talking, they're not returning phone calls, they're not showing up at church like they used to, they're taking more sick days off. But that's not when people commit suicide. People commit suicide later, when they're starting to get better. Because they don't have the energy to do it when they're at their worst. But later on, when they start feeling better but they can still remember how bad they felt and how much they don't ever want to ever feel that way again and they're still impaired — their reality testing is still impaired — but they have the energy to do it, that's when people commit suicide. So people need to be aware that a big risk for suicide is when people first start to get better.
So what do you do? How do you react?
Well, if it's someone you care about, you try to make regular contact and make sure they have support and you're available to talk to. It's hard when it's someone who lives alone. What we try and to is develop a support system so there are people around them who will be mindful and notice a change. Who are ware and educated about this. But if you have someone you live with we can educate you about this.
But you always hear: "No one saw it coming."
It's not always telegraphed. That's true. The people in treatment here — we have very few suicides with people in treatment. It's usually people who aren't in treatment. And the majority of suicide attempts are impulsive decisions. Usually triggered by an event losing a job, getting arrested, being rejected by a significant other. Or something like no one remembered their birthday or anniversary of a loss. Individuals who are experiencing clinical depression often feel things disproportionately…..sadness, sense of loss, hopelessness are magnified and become unbearable.
On the other hand some suicide attempts are planned, and they likewise can be difficult to see coming. If an individual is planning often you may notice unusual behaviors such as giving things that are important to them away, making wills, making final visits to see people. They are the people coming out of the deep depression and have made a decision they no longer want to live that way.
A new report, said suicide rate here was 4% higher than the state. And there were 65 ideations at the Outer Banks Hospital between 2010 and 2012.
Ideation is having thoughts. But generally, to be admitted to a hospital, you not only have to have a thought but you've also thought of a plan. It's not abnormal to have thoughts like, "Oh I'm so frustrated. I wish I didn't have to go on today" or "I wish I could just go to sleep." But if you get to the point where it's like, "You know what? I could drive my car into that tree or run off the bridge." Or "I could take that medicine in the cabinet." When you start thinking those thoughts, that's a crisis. That's when they need urgent help. But anyone who says anything about suicide you should take seriously and contact a professional.
Because that's the other myth: "the cry for help." That people who talk about it never do it.
That's not true. And don't be afraid to ask the question. Ifyou observe someone that is acting differently, isolating, irritable, sad and depressed, making excuses not to participate, having crying spells, increasing alcohol consumptions you need to ask " have you been having thoughts that life is not worth living anymore." If the answer is yes you should urge them to seek professional help through a crisis line, mobile crisis, primary care physician, or simply walk into PORT New Horizons.
So it sounds like there's no distinct checklist.
Well, there's other things that make people at higher risk. If they've had a family member who's committed suicide — a parent or a sibling — it makes you more at risk. People who try once are more likely to try again. If you use substances it makes you more at risk, because it impairs your judgment. If you're depressed anyway and you're drinking or smoking marijuana it's going to impair your ability to make decisions and more likely to follow through on your decisions. Men have a higher risk than women. Because they're more lethal. Men tend to use guns and women tend to use medication. So a lot of women overdose on pills and someone comes across them and they go to the hospital and get treatment. If you decide to shoot yourself you're generally successful.
Any specific local factors that make us have a higher risk? The report discusses lack of services – substance abuses, psychiatric. Another report said poorly populated areas.
I don't know about that.
I guess it makes sense to some degree. But even though we have a small population density it is a tight community.
There is a strong sense of community here. And it's a very helpful community, too. But, thinking about what you're saying, there's the whole Frisco/Hatteras mentality, too. Some people there aren't as receptive to treatment because they're fiercely independent. I came from Maryland, and I do think there's very fiercely independent people down here. We don't expect every bit of comfort within our reach, or you wouldn't move here.
So it can be a bad thing. We think of it as matter of pride, but sometimes you do need help. And getting people to admit that can be hard.
Some people truly it doesn't cross their mind that they should. Because they've always gotten by. And if it does, it's difficult. We have counselors go to Frisco twice a week, so we have 16 hours of service down there.
And it's probably filled.
Uh huh. And it's insufficient. Because sometimes seeing a counselor once a week or twice a month just isn't going to cut it. You need more time than that and it's not available down there.
In that situation, does talking to a friend help?
It depends on the friend. [laughs] If the friend says take a couple Xanax and you'll be fine it'll blow over, that's not good.
Or to man up. Stop crying.
Sure. But there's also some places where that's appropriate. My kid plays baseball, if he gets hit by a ball and it's not in his face he needs to suck it up. That's a good life lesson, too. But if a person's clinically depressed that's a horrible thing to say. And so how do you make a judgment? You do the safe thing and you encourage someone, if they're not functioning — if they seem like they've changed. If they seem like they're different and they've changed — you encourage them to go talk to someone and to figure it out. You say, "I don't know what's going on but you seem sad, you seem out of sorts, and I know some place you can go talk to a counselor and figure it out."
And I know there's the 211 service.
We're on 211. East Carolina Behavioral Health that's responsible for the behavioral health services in the 19 counties, they have a 1 800 number you can call day or night and they will refer you. There's a mobile treatment team that's run by integrated family services that's completely free, they'll respond to your home 24/7 -– if you want them, they won't come if you don't. Trained counselors will come out to your house — or they'll meet you at the 7/11 or Food Lion parking lot if you want — for any mental health, substance abuse. Or if you have a family memer with a developmental disability they'll respond to that and it's completely free.
So what about survivors? Any suggestions for them?
It depends on the individual and how it impacts you. Expect to not be happy. Expect to be angry at the person. That's normal. They took their own life; it's preventable. Expect to be angry. It's normal to be sad. It's a grief experience. And with grief, if it goes beyond a certain point where you're not functioning. If after a certain period, a week, two weeks — I hate to put numbers on it because it's different for everybody — but if you're not functioning, if you're not returning to yourself after what's a reasonable time then you should go talk to someone.
Is there a genetic connection?
There's a genetic link for all mental health illnesses. If your parents have depression you're more at risk for bipolar, if you're parents are bipolar you're more at risk for depression. If it's in your family, you're more at risk for developing it.
I guess that's the reason to go into schools to catch stuff early.
Well, the department of mental health and hygiene have great reports based on how many substance abuse counselors are in each county and they figure out how many kids should be in mental health services based on our population. And when they looked at our area, they said based on what we know in general about the prevalence rate among kids, we were way off in this area. Services weren't being utliized. So they put grants out for us to hire staff. And ECBH told me other day that in Dare County, we have one of the highest percentage of uninsured children in the services because it's available in the school. And I'm really proud of that. But we also have really good private counselors in the area. But they cost money.
How bad off are our kids?
Here's the thing. I've had one of the elementary school counselors come in twice and tell me about two school children that have been sexually abused — but it's so hopeful that they're getting care now. They're going to have treatment for that trauma and hopefully not turn to drugs or alcohol or develop deep depression or poor self esteem and make all the bad choices that come as a result. They're going to work through the trauma hopefully. And psychiatry and behavioral health is among the newest sciences. And we're looking and training ourselves using these evidenced-based treatments. And they're treatments that have been studied and been shown to be effective. So there are five of us now who have been through a specialized training to treat trauma. They know if you use a strategy to help a child with trauma that it has good outcomes; that it works. So it's not just coming in and talking and saying, "Oh you're gonna be okay buddy! You can do it!" [claps her hands] We're learning techniques that are proven to really help people.
There are a lot of people who think psychologically/psychiatry doesn't work. It's a harder sell. Your kid breaks his arm, you go to the doctor. But with your field, it's not such an obvious problem.
It's not, "You're depressed, we're going to give you six treatments and you're gonna be better." It's not that concrete.
Maybe that's part of the problem, too. You don't have an endpoint.
Because it depends. Most of our medicines for depression have to get into your system four-to-six weeks to work. There's how severe the symptoms are; how motivated they are to learn the things hey learn. How much support somebody has is a huge issue. We have plenty of people who can't get here for whatever reason – because they have to work, and we have some evening hours but . . .
So when you look at behavioral health on the Outer Banks, what's the most pressing issue or cause for concern?
Well, as far as totality, probably addiction is still the most damaging.
And I'd assume that has to go up in the wintertime.
Yeah. Unstructured time, for addicts, is not a positive thing. Not having a job to go to and having to much time on your hands is damaging. It costs our society so much. But I till go back to stigma. Getting people to be receptive that treatment is out there and it will work and to support people who are doing that. And resources: I mean, if you're in Hatteras — if I was in Hatteras and I had to get my son up here for counseling once a week I don't know how I'd do it. And then there's gas money…
I do think being understanding is important. If you're employee is in tat situation, don't just…
Fire them. Try to get them some help. But I'll tell you we have so many people dragged in here by our other clients that are like, "I've been there, the people are really nice, I swear." We get a lot of referrals from our clients – for whatever reason, somebody lands here and their family or friends end upcoming in. So the addicts drag each other in here, too, a lot, but I think it's having someone say, "You know what? It's okay." People have that fear of being judged. It's a huge thing. Even if they're receptive to getting help, they're afraid of what you're going to think when they tell their secrets.
I'll be honest: when I pulled up, I thought, "Dang…"
I knew he was on the dope! But this is our thing: whatever your problem is, we're gonna try and help. And if you're worried about walking in that front door, then we'll meet you at the back. If that's the big issue, then you can park someplace else and scoot in the back. We try to accommodate people. Because some of that is very real: if you're a teacher or a policeman seeking help for a mental health problem? But you can go get 150 Xanax from your primary care doctor and nobody thinks you have any problem whatsoever.
What's the success rate like?
Well, this is the problem: everybody wants to know that. But I would caution anybody if they hear somebody say a success rate they need to say, "What does that mean?" For example, the only thing we measure our success rate with is our substance abuse intensive outpatient program. If outpatient isn't enough, you come in here three times a week and it is like SA boot camp. We're going to teach you everything about substance abuse and being sober and every tool you can possibly use. And the average person stays about 12 weeks. But we've had huge arguments about what is success. Because if you're in that program, and you've been sober 2 months, and two weeks before you're to be discharged you relapse. You come in; you share with the group that you relapsed. Should I not graduate you? And we've had this discussion with the supervisors of all the PORT Clinics. Because we want success to be they've been clean for fou weeks, they' made progress toward their goals, but in realty we've had people who are clean for 8 weeks and then relapse. Some people say at a year, 70% of our people are still sober. But how do they know? Are they calling and asking? Are they doing drug tests? And as a field we're still struggling with that question too: how can we prove what we're doing is effective? And that's where these evidence-based treatments come in.
It has to be more effective than doing nothing, though.
You would think. But that's struggle for this field. And that's why we get trained in techniques that have had some scientific research showing they're effective. But we're really in our infancy of being able to prove it.
But personally, do you think it's making a positive difference?
I know it is. We've had people come in here who couldn't get on the liver transplant list because they couldn't stay sober — and they've been able to stay sober and get a liver transplant. We've had people who've gotten their children back who were taken away form them. We had one woman who was so depressed — I mean she was just suicidal constantly. She wanted to die every day. And she came in the other and had a huge smile on her face. She's working, she's in a relationship, she's functioning. And that's why you do it. What's the percentage that happens to? It's hard to quantify.
But there's three good stats right there.
Well, they say people get better because hey feel the fire, not because they see the light. So we do see that. Generally, people are coming in because they're feeling some fire somewhere. But then it's how to keep people motivated. And you get trained in special techniques you know will work and you try to be engaging and keep people trying. And you'll find 10 people who'll say, "New Horizons is great they're wonderful there." And then you'll find that one who says, "That bitch Michelle threw me out of the Suboxone program, they wouldn't help me." I mean I can guarantee we do everything we can to try and help someone. But it gets to the point where it's not working, especially with addictions, we're going to refer you to go inpatient. And if you don't want to do that, do I continue to provide you with something that's not effective? So those are the days that are hard here: when you talk to someone and say, "This isn't working, what can we do?" And they don't want to do anything different.
People have to change. It's not just going to happen.
And in all likelihood, if you're going to change, your going have to do something you don't want to do. You're going to have to try something different. And that's uncomfortable. So that's where support comes in. There's not any community services out there so you have to take what you learn in here. And it's nice if you have a support person who can help you and encourage you and prompt you and be by your side.
Do you encourage people to bring people in?
Oh yes. We encourage families to come in and we have a family support group that's free for whoever's interested. I mean, anybody in the community. If someone had a son with an active addiction and wasn't in treatment, they could come. Or if someone who has a child in Virginia who's depressed and they're dealing with it, they can come too.
So what are the take home points? If you could get a message out the community, what would it be?
That mental health and substance abuse issues are treatable illnesses. That is not a hopeless situation. There is help available. It might not be on your terms, and it might not be located where you want it to be, but it is available. And mostly that it's treatable. You should never give up hope on anybody. I've been doing this 20 years and I can't predict who comes in. There's people who come in who I think, 'They've got everything going for them; they're gonna beat this thing." And it's a real challenge. And then there's people I think, "Here they come again" and they get better. So you don't ever give up on anyone. And there's no shame in asking for help.
_________________________________________________________________________________________________________
When it comes to Roanoke Island Festival Park, the local community roars with opinions. Executive Director Kim Sawyer addresses their requests, concerns — and what's in store for the facility's future.
"Living History." That's what gets top billing on Roanoke Island Festival Park's welcome sign. What gets the most attention? Live music. No wonder. While people must pay to see the facility's 16th century costumed interpreters, board the Elizabeth II or get hands-on with American Indian Town's educational displays, the sound stage is wide open and impossible to miss. So, when the budget crunch hit the state facility big-time this year, critics and fans alike roared for more concerts and events. But as Executive Director Kim Sawyer, notes: "It's not like those old movies where Judy Garland says to Mickey Rooney, 'Hey! Let's get on Broadway!' And, boom, they're on Broadway. People need to learn the steps to get there. And as much as people love concerts, that's not all we do." Sawyer sat down with us to discuss just how the park plans to maximize their assets — from concerts to Boy Scouts to blushing brides — and what that means for the park's future and fundamental purpose.
MILEPOST: Spell your name and tell me your position and give me a quick bio of you how you came to the Outer Banks and got involved in Festival Park.
KIM SAWYER: Kimberly Sawyer, Executive Director. I was director of a craft cooperative in Camden, North Carolina. And at the time it was the largest cooperative in the country. And I just wanted a change, and there was something with First Flight [Foundation], and I applied for the position. And I started off being the communications coordinator and I ended up being the administrator for the state park for the program. Had my office at Wright Brothers. So that's been 10 or 12 years, and I remained with the department after that. I was called the Eastern Region Administrator; I worked with the secretary's office on different projects throughout the state. And when the last [Festival Park] director left, I was asked to serve as an interim director. And then ended up having he position full time.
And that was three years ago.
Yeah. And I always liked the marriage of creativity and business. I think that' a great marriage and pretty much thorough my career that's what you see. And that's what you see here; you see us trying to promote history but in a fun interesting way to get to the general public.
What about the park? It's main thrust is educational outreach. It's field trips, tours…
The ship started it first, thirty years ago. And then around that was built the park, 16 years ago. And the history center was originally part of that as well. And from that it's grown. So they started off with the ship, the settlement site and the adventure museum. About two years ago, American Indian town was built. And that's part of separate funds — I'm always really cautious about that, because I know people are like, "What do you mean they're upgrading something? They don't' have any money!" So let me be clear [speaks directly into the recorder]— please hear me on this Mr. Recorder — back in 2007, the park got some money its' called R&R — repair and renovation money — and that helped build American Indian Town. And that was my first summer here. Just executing the project, the project had already been developed but we had to make sure it got built. And it did. And then the remainder of those funds are to help update the adventure museum and the sales ticket area. And so that was really the latest addition in 2009. And it really was a tribute to the history of Roanoke Island. Which is important. This is where people first came and spoke English in the Americas. And 22 years later Jamestown established the permanent settlement.
And so, really, number one: we want people to have a good time. We want them to have a good time with the costumed interpreters, and they get a kick out of seeing the ship, and they can go in back and talk to the blacksmith. And maybe, if they're well-behaved, they get a nail. So really we're focused on family fun, and we find that we have a lot of families here. And they like to try on costumes and take pictures. And talk to our interpreters.
At first, the Governor's budget eliminated all funding for the park. You ended up with $450,000 from the state for two years; and you're requesting $325,000 from your 501(c)(3), Friends of Elizabeth II. But that's still basically half of what you used to get. What's the plan?
Well, we knew that our appropriation was scheduled to be cut, and we had started planning for the inevitability of those cuts so we had a five-year plan in place. Our commission voted on a preliminary budget back in April, which included — what we would have gotten from the state was $1. 5 million. So in essence, with the announcement of the governor's budget they accelerated our cuts. And that's not unlike a lot of other agencies or, lets' face it, a lot of other businesses in our communities who are running on tight budgets. I always get concerned because I know people hear those numbers, and they're probably sitting in their businesses thinking, "I wish someone would give me those funds."
But I remember — because I'm a workaholic, and it was here pretty late at night — it was about 10 o'clock and I got this email. We're under the umbrella of coastal resources, but our funds come to us separately. So our funds aren't comingled with the department of coastal resources. And this email came from Coastal Resources and it said, "Hey, we're only going to get a 15% cut – except the Roanoke Island commission, and you're going to get a 50% cut." And so there it started. And so what we started to do was think beyond just the ticket revenue we take in. What else can we do to bring in revenue? The cool thing about Festival Park we have a lot of different opportunities to look at for generating other sources of revenue. And we've come up with three areas that we've focused on. One is the Boy Scouts and Girl Scouts programming, the overnights. That's something we've done for about a year and a half, and if you look at all my clutter, you'll see our patch — the Girl Scout patch. And not to be neglected we are working on developing a Boy Scout patch. The other is weddings. They say the Outer Banks is — what? — fourth for wedding destinations?
They say that. Third or fourth. I've yet to see it officially corroborated but it's huge, that's for sure.
I've been here 3 years and I would never have thought we'd do weddings. I don't know why. But we are doing it. And we're only into our second year of that. And the first one we did was on the ship last year. After they said, "I do" the gun went off [laughs].
And then the concerts.
And then the concerts, absolutely. One of things when I heard when I came here was we need to do more out on that space. And so one of the things we've done is redouble our efforts to get concerts out there. So we're kind of planting the seeds this summer. I think after the summer — in all those areas — we'll get an opportunity to look back on whatever lessons we learn and say: "What can we do better?" I think for our space back there, our big opportunity is rental income. A lot of people, it never fails, when I give a tour of this site and take them back to that space, they'll go, "This is what you can do out here!" It's like those old movies when you see Judy Garland and Mickey Rooney, and Mickey says to Judy, "Hey! Let's get on Broadway!" And, boom, they're on Broadway. But people need to know, "Here's the steps to get there." My original vision was we would do a Roanoke Island Festival Park concert series. But at the same time the reality of our budget cuts is coming. And it's like, "Is it a wise decision to invest thousands of dollars into bands?" Because the band gets paid whether they sell one ticket or 1000 tickets. One of the cool things about renting the facility for us, is that helps us in that we're not having to put the large amounts of money that you do when you bring in a band. And what's in the rider, whether it's catering or security or those kinds of things. Because there's risk and then there's calculated risk.
And not to mislead, I know they had done concerts here in the past. And one of the things we're looking at here at the park, in all areas, is what can we do more of? The old adage is there's more than one way to skin a cat. And in my mind, yes it's concerts, and we're trying to promote to the promoters. Because one of the things we see in routing with the bands — Straight No Chaser is a perfect example. That's a group that learned about some of our ads we're doing for promoters, they saw it and said, "It's a beautiful site," and they were appearing somewhere before us and it fit into their routing. Or Cory [Hemilright], who brings in the Bluegrass Festival. Or Blues Traveler, it's a great opportunity for Brew Thru, a local person who wants to do concerts and also help promote his business. And what a great marriage to be able to do that. So doing that and not just getting stuck on that. Also saying, "If you want to have a wedding, we can do that, too."
We just at the end of the day really want to maintain our visitor experience. And it sounds corny to say that. But everyone wears more hats than one, which is no different than what anybody else does, but Tanya [Young], she does our marketing and promotions and she also is the person that helps sell our wedding packages. I've got my operations manager, that if we're shorthanded on ticket sales, he goes down and helps sells tickets. Our maintenance staff, when we have events they're part of that as well. So we're all trying to do more with less, but at the same time not only have the same visitor experience, but enhance it. I'm anxious to sit down at the end of the season and say: What are our lessons learned? What can we do better? What shouldn't we do? What should we work toward? And be able to do it with in the scope of our capacity.
So when you say renting a space, it's to a promoter – or whoever – but you say, "We have a venue, and it does this." And let them handle the logistics…
Of everything.
You're in the business or running a park; they're in the business of holding concerts.
Exactly. But we've also found that brides like our stage. Because we're still kind of learning what it is that brides and grooms and families are interested in. And it so happens that since we have lighting out there anyway we can offer a lighting package and it's right on the sound. But we also have the space here, the art gallery, and the grand mall space and then we have this outdoor space. So that's something else that we're working on. And we're starting to get that the weddings are like a show. [laughs] Because it is the lighting and the sound, and I think we're lucky to have that as an add-on out there. I get it, people like concerts, they want concerts and we're working toward that. But it's not all we do out there. And one of the cool things about the weddings we've discovered that I didn't anticipate – particularly if it's a local family — is it's a way for them to connect with us in a different way. And so maybe the fundraising opportunity besides providing us with funds that we need is a way for people to connect with us in a more personal way.
It's interesting, because now I think of all three areas – and even the education part – as sales opportunities. Even our scouting is an opportunity to meet two missions: one, it's great to be involved with the Girl Scouts and Boy Scouts because they're great operations. But I also think that we've got a great product. That we're able to provide them overnights and do work with their camp leaders with more specific programming that we can do here. So, one of the things the state is encouraging everything to be more entrepreneurial. And I think that's an opportunity for us to do that. But when I say that, I also say — and I probably say it too much — is that I just don't want people to forget our core mission and our educational assets. The things that have always been here that I think are great assets and I think are the heart and soul of what the park is. Whether it's just tourists coming or school groups that are here. Or even we're finding more of the senior tours that are coming here. And I don't want people to forget that because I think it's really important piece of who we are. And I hope it always be the center of what we are.
Well, obviously, educational outreach is what started it all.
The first English speaking America is here. And when I've had to go speak to legislators, I remind them. I say, "This is your history. And this was 22 years before Jamestown."
I don't think Jamestown would be in this situation. And I don't know what their funding situation is, but I doubt the Governor of Virginia would say "Let's defund Jamestown." And I doubt there'd be the same lack of concern.
Well, remember: the first proposed cuts came from the previous administration. But if you were going to compare us to something — if you would look at all the cultural assets under cultural resources — I think the museum of history is a really great place, but they don't charge an admission fee. They charge an admission fee if they have a special exhibit. We're responsible for our own maintenance here. If we were located in downtown Raleigh, the department administration would be responsible for our maintenance. So, you know, everyone's got their own standard they're set against. And we're being held to a different standard. And it's not just us. It's other places. But that's something a lot of people don't understand as far as what we get versus what someone else gets.
But at the end of the day I have to decide, "What do you spend your time on?" And right now, we're looking at something we haven't done a lot of here, but something we certainly will have to do — and that's fundraising. Getting those people who are interested in helping our facility and finding ways to do that. That's something I've just started to work on and outline. It isn't anything I've even promoted yet. But hopefully I'll come up with a nice package and you'll see what I'm talking about. And it's not new and sexy; but we've got planks on our boardwalk people can buy. And we've got gardens people can support. And benches. So just looking at other opportunities where we can bring I money.
So, really it's like any business: how do we do more with less? What are you going to do to increase revenue? And how are you going to trim the fat? And one thing we knew we could do was increase the ticket price. We increased the ticket price from $8 to $10 two years ago. And you do always worry about will you eliminate people. But we felt like after 10 years or so, to increase the price was fair.
I think one of the things we had to do in the beginning when we got our budget cut was to look at things we were doing for free. For instance, in the art gallery they used to have nine months of art shows. It was all free. There was no charge. And if they sold an item, I think the non-profit got a small percentage of the sale. So we had to sit back and say, "Okay, what do we want to do with that space?" And we realized it was an opportunity for a rental space. So now we have three of the shows that we felt were the closest to the community, which was the Mollie Fearing Show, the Dare Co. School Show, and then the quilt show. For a couple of years, we managed the maritime museum in downtown Manteo, but we just weren't able to staff something off campus and then staff stuff here. So now the town manages that. And I haven't rehired any permanent staff in over a year. So, we hire what the state calls temp — it's seasonal help. So we can hire seasonal help in the summer, but at this point we're just not hiring anymore permanent staff until we feel strong in our plan and we feel stabilized.
And you know, let me say this – hear this Mr. Recorder! – I think the staff has stepped up to the challenge. If it's weddings we have to do, let's embrace the weddings. If some services we used to contract – like the grass is something we used to contract, now we buy the piece of machinery and do it ourselves. When you have a 27-acre site, there's lot of things happening. As we speak right now, they're happening everywhere. And I credit them for having the attitude of "Okay, we're going to do what it takes because we support what we do here." We know we're already doing great things. that's the other thing, we're building on a great foundations and we just hope t make it stronger.
Having said all that, I certainly think we're appropriation-worthy. This is a state site, the facility itself has been here about 16 years, the ship — the Elizabeth II — will turn 30 on November 22 of this year. And we feel like we've been good stewards of the state funds and really keeping up a nice place for our locals and for visitors how come here. I'm hoping that the 30th anniversary of the ship is something — we're going to be doing a small exhibit in the history center for two months about the ship. And our adventure museum will probably upgrade at eh same time. So hopefully we can think of some event for the locals to come and be reintroduced to who we are. Having said that, I think we have an impact. When groups come they stay in places, they eat food, they get gas, so I think we have an impact on the community that a lot of the business people are probably aware of because they an opportunity to see it. Particularly when those big busses are rolling around. So I do feel like we do try to help support the community in that way and I hope people can feel that impact.
Because you guys have to have a ton of school kids come through?
We get a lot of kids. And I'll send you a map we show the legislators, because it I think get wrapped up in, "Oh this is just local." And nothing wrong with being local but to say that kind of diminishes what we do. Because you can look at a legislator and say, "Guess what? A school just came from your district because the history we're promoting is relevant to where you are." We've had school groups from South Carolina come. We had the Director of Cultural Resources here, and she's from Salisbury, and the school group on the ship was from Salisbury. And she said, "I didn't realize!" And a lot of parents are starting to fund these trips because the schools funds are being cut.
PTOs and PTAs are picking up a lot of the weight. And not just here.
And Dare County is surrounded by a lot of poorer counties. So I hope all those tour busses and the people coming in their station wagons are helping those communities. They're stopping to get something to eat or get gas or shop or whatever. And I'm not just speaking about Roanoke Island Festival Park. I'm speaking of any place, that anybody comes to, even if it's just to sit their butts on the beach all week and get a sunburn, it impacts those communities around us. I want those legislators to know that.
But it's like anything, one man's investment is another man's waste. And it's interesting how easy it is to find money in a budget when it benefits your interests.
And it totally gets down to our priorities. And when I say our priorities I mean our legislators and our governor. But I give a lot of credit to all the people who run small businesses here – restaurants, hotels – it's a very tough business. And I find on a personal level, this is not scientific, but even people who haven't been impacted by the economy are afraid they will be. And so, when they're making decisions, whether it's go out to a movie, or rent a movie or to just watch TV — I get it. People are making their owns decisions about what's important to them. So when they're hearing about other people wanting $1.5 million. And some are thinking, " I think it should be spent doing this," I certainly hope other are thinking, "I hope those folks get some appropriations so they can grow those other areas. " But I get that it's a tough economy. My first office on the Outer Banks was right next to the Food Bank. And the people walking in there look just like me. And it was really a humbling great lesson. And these are people who are working. They have jobs. They're making an income and just trying t make ends meet. And that's a tough thing to do. So the last thing I want people to think is that we don't understand these are tough times.
So knowing that you're doing all this, do you resent some people's beliefs that the park is wasting money? You always hear about 'government waste' and this image of buckets of money raining down and the people receiving it just burn through it and don't' care. So maybe not resent, but do you take issue with the concept that because getting this money from the states, you're somehow treating it with the respect it deserves?
I just have the benefit of seeing the impact we have on people. And I'll focus particularly on the school groups we have come here. I feel like we're enhancing their experience. Look: it's a tough economy, and it's a great country. And people can say this is not a worthy way to spend the funds, I just have the opportunity to see the impact we do have here, on a lot of layers. It's not just on the groups that come that I hope walk away with – number one — a fun educational experience. But I also think the impact we have on the community. I think we're very fortunate on this little island. We've got Festival Park, we've got the Lost Colony, we've got the Gardens, we've got the Aquarium — then we have Jockey's Ridge, Wright Brothers, an abundance of lighthouses. But, at the end of the day, for me, it is about the people. It's about the people telling those stories. It's about the maintenance folks who maintain the site and the ship. It's about the admin people who keep it all running. There's a lot of moving parts to this place. And having said that, we're certainly mindful. The upgrade to the adventure museum, that won't have costumed interpreters; it can be a self-guided experience. Even American Indian town, we may have staff there to answer questions but it's developed to be a self-guided experience. And I think you'll find that more and more as new museums develop that it becomes more of an electronic experience. You'll walk around with your smart phone and your headphones and you're hearing that.
Do you fear it will go backwards in terms of interpretive stuff? How bad is it: is it like geez, we need to let the blacksmith go? And maybe the flat screen with the headphones will replace the guy with the accent?
I think we should strive to do both. I think that the interpretive experience with the costume interpreter is a very beneficial one. But having said, that, our American Indian town and adventure museum are both experiences where you will have a person there, but you don't have five or six costume people there. So I think you balance that. And hopefully that hands on experience is a different hands-on experience. Maybe what you're touching is a touch screen. But we always need to have people on site to help guide people through.
So how does the financial stuff work. I know form looking on line, there's an endowment. There was four-year plan . . .
There's a five-year plan. We engaged a consultant because the state required we do it. And we have a Friends group who has funds also. But when we did our plan —and I'm using a term or consultant used — we came up with our three-legged stool: so we would go into our funds, then Friends of Elizabeth II — our 5013c would help us – and then the state. The way the consultant did the plan was with the $1.5 that we thought we were going to get. And the state, it's a two-year budget. And next year is what they call a short, but if they wanted to, if they gave us money, we would hope they'd keep it there for two years. Generally speaking it's for a two-year period of time.
So if they gave you $450,000 this year, they'd give it to you next year. That's what you're hoping for.
Yes.
But that's still a million less than what you're used to getting,
Yes. We were supposed to get $1.5 million. And I'll send you that report. It's a lot of pages. But I'll separate it out so you can get an overall feel. And that plan was set forth by our consultant and a task force formed to help write this report. And this firm was the lead, and it included some commission members, myself and the chair of our Friends group. And just kind of sitting around talking about, you know, how do we move forward? And what are things we ca n do? You know what we really want to have is kind of breathing room to grow. I've spent a lot of my time in the past three years just dealing with budgets and reports and things. And I think sometimes what gets lost in the message, is the —which clearly are important to people, and it's important to people because it's taxpayer money and they care how it's spent and I totally get that. But it would be great to have time to just be creative and help grow our scouting program and existing programs and just look for other ways we can market to a very modern generation of people that are not just the 20-sometigns, but a generation of people who are used to being electronic. But however we end up, we really want to be able to provide a strong report to say, "Here is how we found these other sources of revenue; here's how we strengthened our existing programming." And we may even have to report on, "Here's some things we tried but didn't work, but we appreciate the opportunity to try them and see if they fit our site."
I saw where that report estimated the park generated $6-7 million for the town. Is part of your argument to say, 'Look what we do?" And is it salient? Are people buying it?
Look: it's a tough economy. And I certainly wouldn't want anyone to feel bad for Roanoke Island Festival Park because we have a lot of people who are out there trying hard to make a living. Look at our fishermen and women And people can say this is not a worthy way to spend the funds. But we also have 27 public acres and a boardwalk to maintain — I think of us as the Central Park of Manteo — and there's no ticket fee for that. And we're committed to doing it in the most efficient way possible. But, having said that, I think the state supporting educational opportunities and preserving our history is worthy. And I'd like to think that no matter how tight our belts get, that we always have room to learn about our history and our culture. And we're committed to doing it in the most efficient way possible. I don't know how to address what other people think. We certainly are trying to be a lean, mean, festival park machine. [laughs] We get it: tighten your belt. To me, personally, people have been very supportive and positive. But I can pretty much be anywhere, whether it's out to eat or at the store, or walking to my car. And they usually say [wags her finger], " Let me tell you what you need to do!" Then it's usually what I call, scathingly brilliant ideas.
What do you hear mostly? And are they viable?
It's always something that – you know, to me I feel like we do something pretty unique. And not that we don't have people that are interpreting the story of the colonists in different ways on the island, I get that. But I think you really can't be all things to all people. So for me it all starts with what we do at the core, which interpreting the history in the park, and the other stuff — which is the concerts, which is the weddings, which is the scouting — is also part of what we are. But, hopefully down the road, it will help support us in a stronger financially way. But you've got to focus on your game and what you're doing.
The concert thing is what I hear most of. I hear a) it's sitting her not doing any good. And b), it's a great venue. You don't have to convince people what a great place it would be for any band. Everyone can see their favorite band playing there to some degree or another. What are the speed bumps? Is it the parking? Is it getting the town to come around?
It's hard for me to speak about 10 years ago. For me, it's been about finding that good fit. Promoting to the promoters, so they say, "This a great venue. And we're willing to put out the funds to bring the band here." And we do have parking, but if they have to bring in a bus from someplace else. I just see it as all good. And whether you come to see the bluegrass festival, or whether you come to see Straight No Chaser or to see Blues Traveler, I will have to say it's a great experience to be out there on the lawn with your blanket and your chair and great music. It just is. For us, we know we need to do what is going to help us generate income. And so, that's why I think for me it's about selling the promoters. That the promoters get this is a great place. And when they're looking at their routing, they're coming here. And us getting to them. So now we're promoting to them through some avenues we have. We know what they're looking at when they're looking at sites, and so now we're starting to do that. And I think this summer, I'm really interested to sit back in September and say, "What are the fruits of our labor?" You know, Live Nation is bringing Straight No Chaser here. If you have someone like that, do they look and say "Great. We want to come back."
The rumor mill was hot and heavy about Widespread Panic. And the way I heard it —and tell me if this wrong – but apparently, they wanted $60,000 for two days and y'all said no. And people were tripping because Widespread is one of one of those bands where you're not worried about people coming from the beach because it's a band that generates its own audience. Why did that fall through?
They were interested in coming here, and at the end of the day they took a different gig over us. But I think they are still interested. They like the venue. And it may be something that my still happen.
But it's not like y'all said, 'No.'
No. [laughs] We spent a lot of time on Widespread Panic. But having said that, I will have to say it was a lot of money to put out to get them here. And we worked toward getting someone else coming in to help defray those costs. But at the end of the day what happened is they took another gig and said, "We really like the venue, we really like the place and let's talk again, because we're interested incoming there."
The other thing that was chucked out there was that maybe Manteo was too conservative and didn't like the idea of a bunch of hippies running around.
It's funny that you're talking about it because we really — if you want to keep a secret, I'm your girl — and for my part, we really didn't talk about it a lot. But it was several months of discussion and so we really got to a point where we were including our Friends in it as well because we would've had to make some decisions about whether we should dedicate funds to do it. Which is a tough thing to do. And when you're talking about your funds being short and how you utilize them, it's a big decision. And finally it got down to there's this other gig and they decided to take that one. And we left it with, "We'd love to talk again." And they said, "We love your venue." And I think they're the kind of group that is at the point where some of their interest is in playing places they'd never played before. And they checked out accommodations.
Well, it's not a bad place to spend a week on the beach.
Well, let me ask your opinion, because if they circle back around I'd be curious to see what you think: do you think we could do two or three days?
They do multiple concerts in a lot of places. I think there's potential for having a couple of bands play a couple of days — like the bluegrass festival. I also think there's ways to tie into the local clubs and do sort of a mini SXSW. Have some headliners here, and also have people paying the Duck Amphitheatre — or the clubs. But there's a lot of musicians here and a lot of connected people, and getting people to come to the beach isn't a hard sell. Especially in the fall when the water's warm. But you could start it small with a couple bands and grow.
I'm hoping that this summer we'll have success. But I think this summer is our first pass at planting some seeds and seeing how it goes on a lot of levels: we hope the promoters say, "That's cool we want it." We hope that the visitor, whether it's a local person or someone who comes to a concert says we need to start looking at festival park for more concerts. That that starts to happen and build in layers. But it's funny you brought up Widespread Panic, because I hadn't thought about them in so long.
Conversely, how much of an anchor on the budget is the pavilion when it's not being used? Does it cost money every year?
It costs money to maintain the grounds and equipment. The stage was added to before my time, but not too may years ago. And think what would probably happen if were doing a lot of concerts out there it'd be an opportunity to maybe upgraded some of the equipment. I think it's fine where it now. But a lot of bands bring their own everything anyway. If you want the numbers I can get them to you.
I'm just trying to get a sense of how big of a drain it is. If it cost a million each year to maintain then maybe there'd be an argument for cutting it loose.
No. It does cost money in terms of maintaining that facility, cutting the grass and maintaining the equipment, we do that. I guess some special equipment or something we have to do we may have to bring someone in.
I heard if Blue Traveler goes well enough, Brew Thru might do six next year.
We've already held dates for them just in case. And the interesting thing with the concerts is a lot of time people want to book the weekend. And we try to tell them, it's the crossover days. And for us at the park, it's the least attendance we have because people are checking in and out of the cottages.
That's also when the weddings are, so it seems like you could do weddings on weekends and leave concerts for midweek.
That's right. Because we had two big weddings the past two Saturdays, and we encourage concerts on Wednesday and Thursdays. And we're talking about flying the banners over the beach, because as many times as it happens, people look up.
So was that part of the logic of bringing Fisher Essenfeld aboard. He obviously has a background in the field. Didn't he used to work with Blues Traveler?
Yeah, when our position opened up, we had someone who did a great job — and not that there weren't people who didn't rent the facility for concerts — but I kind of sat back and thought: what are we looking for? And having done some event work myself, one option I considered was contracting it out. Like we have university performances here. UNC just performed here. We do those in our smaller, 240-seat film theatre. And we also have a 50-seat auditorium. But at the same time, the understanding was we were transitioning to the next level. It's not just for a little while, this what we're moving to be. So I really was thinking maybe I'd hire someone to do that kind of booking and then contract the other. Then when I did the interviews it was interesting to find someone who worked in the concert world, and that's been beneficial. To have someone who speaks their language.
But I have to tell you I'm really happy about our lineup this summer. So I think we're planting seeds. But if we can find some successes, and if Brew Thru gets what they want out of it — which I think is to make some money but also the added bonus of the additional marketing — then if that's a success I think they will do more concerts. I think if Live Nation feels successful they'll do more concerts. I think what we'll find out real quickly. At the end of the day, peoples' definition of success is am I making any money on this. So I think this summer is great opportunity to see and learn some lessons.
Long term, what has the most revenue? The concerts?
I think that remains to be seen. Don't let me mislead you: last year we did two weddings. This year, we have eight and Tanya's already booking for 2014. I don't have the answer to how much that grows. Of course, the one that's the most fun and feels like the best fit for us is scouting, but they can only do so much with their overnights. And it was interesting, we had an issue a couple of months ago where they wanted to do something out there, and someone wanted a wedding and then we were talking about a concert. And I'm like, "Okay, who asked first?" but that's cool. That's the kind of problem we want to have. But anything we can do to fully utilize our park and our acreage is best for us. And clearly this a region that wants concerts. And another thing I'm going to be interested in besides many people attend the concerts is where are they from? Are they locals? Are they out-of-towners? Or is it a balance of both?
So what is this Dare To Discover thing? Is it a coup? Because it sounds like they want to take over the operations, but they aren't very detailed.
I can tell you there was a public information request made that said it was for someone's father who was interested in the park. And then I was notified that someone had turned in a proposal. But we don't own the property. The state does. It's something that came out of left field. I don't know who's on his board. I only know he works for the county and that's because he picked up his information request in a county car [laughs].
Well, their site doesn't have much info. It says they want to do a public private partnership and they want to do more cabin rentals. And it says the lead's name is James Wooten. But it doesn't say who is on his board or any real details. So I was wondering if you knew more.
I've just seen what everyone else has seen. But I'm being very honest — and maybe I shouldn't be saying this at all —but a request was made and we provided it. And the woman who requested it said that it was for her dad. And then this guy, who I later found out was Mr. Wooten, came and picked it up. And I happened to look out the window and saw he left in a county car. And I actually called the county and said, "If want information, you don't have to send someone over…" and they said, "We don't know what you're talking about." And then when the Voice started doing stuff online he started putting stuff out there.
So there hasn't been any dialogue? He's never sat down and said, "This is what I want to do."
No. He asked to be on the agenda of the commission once. And the agenda was already set and we were working on our budget and plan. So he asked if he could come to a meeting and I said, "Sure our meetings are public. See you there." But he didn't show up.
Have you considered any of those ideas?
To me, it seems like there's campgrounds already here, so I don't know that building a campground would be beneficial or that having camp shells would make sense for weddings and concerts. And when we have scouting groups, they bring their own tents and stuff. But there is a 4H camp —I think it's in Hyde County —that has similar things. But for us, what we're doing, I don't think that would work into our plan.
As a state business do you feel weird about competing with the other businesses?
I think at the end of the day the consumer benefits because they just have other options. Another thing with weddings for us, which is cool, is it's another opportunity for a wedding planner or florist to pick up some more business. But you're out there in the world, you're writing about this stuff — everybody's doing weddings, everybody's doing concerts. [laughs] You've got Duck, downtown Manteo — a lot of people are doing concerts, and a lot of them are doing it for free. So, for me, every day your choice is I can choose to spend my day wondering what other people are doing or I can chose to spend my day on, "Here's our game plan; here's what we're doing." But it's an interesting time when municipalities are offering events and concerts for free. And it's just the way it is. And the municipalities probably have more money to do things like that. And I'm sure they do it to benefit the business in their community, the restaurants, the craft shops. So a lot of us are doing the same things. It's just how we choose to do them or the setting that's different. So maybe the victor is that local person who wants a unique experience or that visitor who has a lot of options to choose from when he gets here. So if you're going to be charging for something, that just encourages you to make it a much more special experience. And that just makes our core mission more unique.
Because you're funding a noble purpose.
Yeah.
What about Windmill Point. Have y'all talked at all? Is that a future competitor? Or is there hope or maybe some collusion, if you ever did do a major event with multiple sites?
Look, if they ever wanted to do some of the seafood festival over here? That would be great. I'd be open to that. When the whole thing first started I did call Lee [Nettles, Director of the Visitors Bureau], just to cut through everything and find out what's real. And I said, "What are your plans?" And I guess they're working on their second study. I don't now what ultimately what they're going to be, so again: we need to be focused on us. But at the end of the day, I hope it's something that will benefit everybody. I don't know what the split is between Nags Head and the Visitors Bureau. And you tell me: is Kill Devil Hills trying to do something to?
I can't say. They're looking at that Baum Tract and a pavilion is on the list of possibilities. Not sure what that means, but it seems like if one thing goes well in this county, someone else tries to do it. I think that's a byproduct of seven towns. But our shoulder season, you can't do everything anymore. So it would be nice to see some sense of unified direction.
I know when we try to schedule anything, not weddings, but the concerts, we try to look at a calendar and avoid other events. But it's hard because there's so much happening and so much going on. For me, again, if were to pull up an event calendar for this weekend, you've got municipalities who are in the entertainment business or the bars and restaurants —which you expect them to do that, I'm not saying they shouldn't — but for me, this is my stuff, so I say, "This what we're doing. This is what we do best." But if someone planned something and wanted to have a satellite event her, we'd certainly be open to it. I think that'd be great.
Hopefully there's some collusion. I saw quotes where Lee came to your defense with letters to the governor.
The chamber has been very supportive. The town has been supportive and really said they fell like we really help their economy. And I think the Visitor's Bureau is in a tough spot. They have a lot of people they have to help. And if Kill Devil Hills does do something, I'm sure they'll go the Visitors Bureau and ask for money, too [laughs].
Everybody does. If it's tourism-related, people ask.
When I came here, to be honest, there was twice the bureau asked us for money. They used to sponsor the symphony solely. It was their gift the community and they would have it here at the park. And a year ago they decide not t do it. But for two years, they requested funds to go half-and-half. And at the time we were able to do that. So, we have a nice visitors bureau and they have a lot to promote and support and I think we're certainly one of them.
What's the best-case scenario? Worst-case scenario? Do these revenue streams have potential to support the park? And is there a case where they'd shutter the whole thing?
Well, it's certainly not how I plan my day. I'm just not in the mindset of focusing on closing down. My focus is how we grow. That's my focus. That's where I am. If that changes, then we have to look at things differently. But that's not where I am right now. And that's not where the park is. As you can see all the things going on here – we're certainly not acting like a group that's getting ready to close the doors. So that's not in my mindset.
Having said, that, realistically, you have to look and see where is this money coming from? Or are there ways we can do things more effectively. You always have to be in that mindset, eyes open, no blinders on. For me in the short term, it's seeing where we end up with appropriations and using our existing funds that we have and really look at those areas. And use that as a growth period: are there more and different things we can do in marketing? Let's investigate that. Do we agree and find that the concert area is an opportunity for increased income, let's do that. I'm really hoping the upgrades we do for the adventure museum create a newer experience for people coming to the park. One my goals is to have a space here that is for traveling exhibits, because I think that allows for a new experience in that history/educational location. I think something like that helps are community get connected — you have an opening night for locals to come see us and support us. Because while we do have locals who come use the park, generally speaking I think we see more visitors.
So whoever party is, and who ever the legislators are — because, remember, our cuts started with the previous administration — we're going to have to be able to tell our story and say here's what we do well and here's what we need form you. Or here's what we do well, and we've done it well enough we're not sure we need nay help. I think we'll always be in a place where we need an appropriation. Having said, that, as long as this is state property, I think it's appropriate we should have something. I just hope five years from now that we are known as a really great historical attraction that also has great concerts and is also a great wedding venue and is also great for scouts. As opposed to, here's a great concert place, and by the way it's also a historical attraction.
______________________________________________________________________________________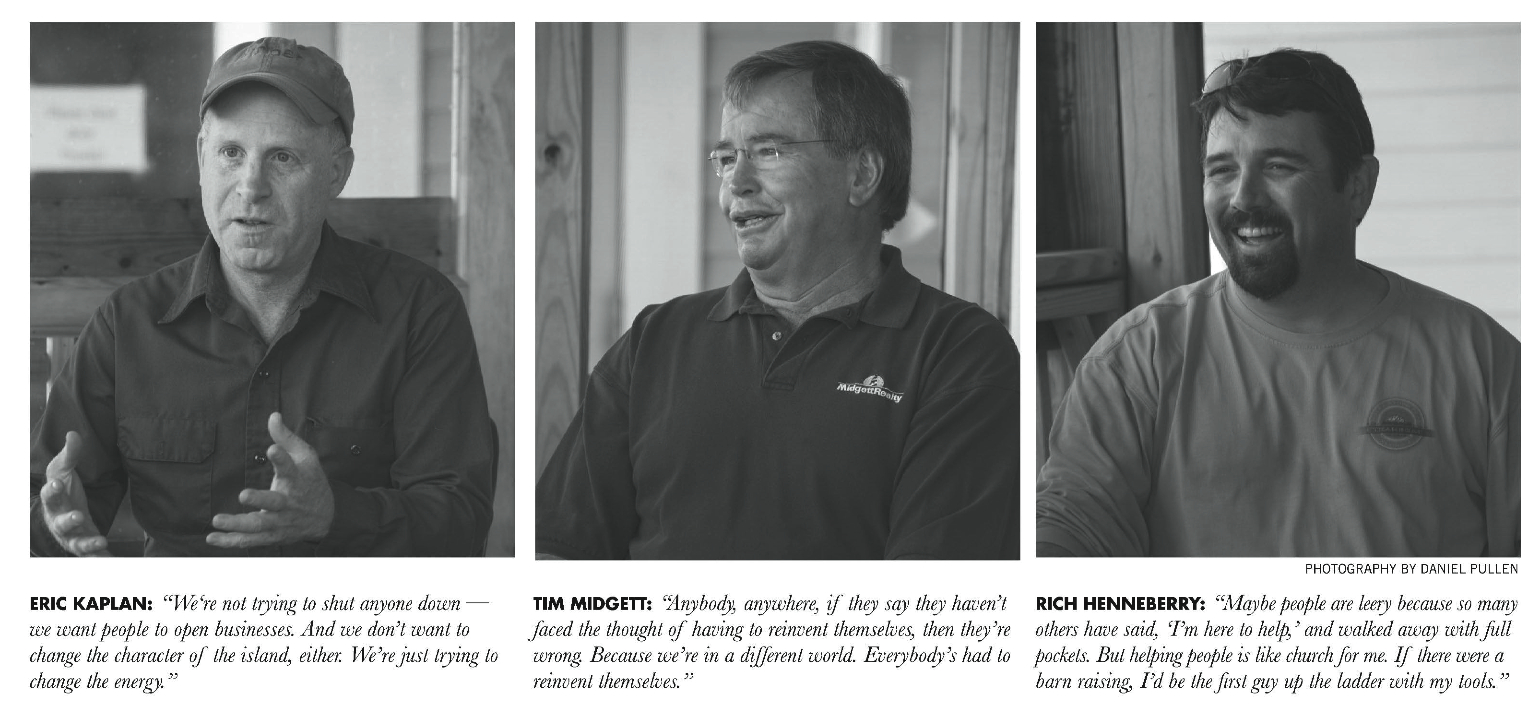 LEADING BY EXAMPLE
How a non-profit project with outside perspective hopes to bring investment and optimism to Hatteras Village
This story starts in Duck. That's where Charlottesville, Virginia, entrepreneur Eric Kaplan and his wife first vacationed 28 years ago. When that got too developed for their tastes, the couple shifted north to Corolla. When that boomed, they bolted for Avon and Buxton — right about the time the beach access battles were heating up. But Kaplan didn't pay much attention to the bumper stickers and protest signs. At least not at first.
"We always just went to the beach and ate seafood and enjoyed ourselves," says the semi-retired founder of Frontline Test Equipment, which makes troubleshooting software for Bluetooth devices. "But once I bought my home in Frisco in 2010, I decided I needed to find out more about the community. So I went on a quest to understand those issues."
Kaplan went so far as to visit the HQs of different organizations involved in the lawsuits. The more he learned, the more he saw a frustrated community that needed help in the face of adversity; he also saw a beach destination that still had a big future. So much that he's guaranteed $2 million of his own money to start a not-for-profit, 501(c) 3 called Hatteras Island Ocean Center, Inc. The goal is to build, fund and operate two cultural attractions in Hatteras Village: a public fishing pier/education site/event venue (sort of a mini-Jennette's) that's still in the fundraising stage; and a combo of interactive nature exhibits and soundside paddle access that will open this June under the name Ocean Center Ecology Park.
Along the way, Kaplan secured help from local fixtures such as wildlife specialist Lou Browning and former tourism board chair, Tim Midgett, as well as fellow part-time residents like DC native Richard Henneberry, who spent his winter framing walls and giving financial advice. Their hope is to give people more reasons to spend time in Hatteras Village and educate them about the island's surroundings and heritage, while providing anchor points for local businesses to cater to those visitors. Yet, they still face some resistance. Some are off-island homeowners who worry about extra people ruining their vacations; others are natives who can't believe there's no catch. After all: why would a bunch of fresh arrivals spend all this money and energy without expecting something in return?
"I do expect something back," Kaplan replies. "I expect to be paid back, eventually. I also expect other non-resident homeowners to join the effort. Because with just a little imagination and investment, this place could be amazing."
We sat down with board members Kaplan, Henneberry and Midgett to discuss their vision — and share in their optimism. What follows is the full transcript of that discussion. — Matt Walker
Let's start by the three of you giving me an idea of what the project is about and what got you involved.
Tim Midgett: My part was really easy. Eric got me involved. It's hard to say no to him.
Eric Kaplan: I got Tim involved because this is a project where a lot of local knowledge is needed. People who know the community and are important in the community. And I figured on Hatteras Island, start by going and talking to the Midgett family. So I went into Midgett Realty and stalked Tim for a while. And eventually, met up with him. And we hit it off right away. He likes the project and I like him. It's great. We're working really well together. It's been a fantastic resource for the project. Anytime we need anything — from who to hire for an accountant to renting a lift — he knows everyone. It's great.
Rich Henneberry: The first time Eric talked to me, I was playing Frisbee with a friend of mine on the beach. And I said, "No. You're crazy. This is the craziest project, I've ever heard." The second time he got me on the beach, I was playing Frisbee with another friend. I started warming up to the idea of doing some economic development here. Trying to get this place up and moving. And, like Tim says, he's hard to say no to.
Eric Kaplan: Really? My wife has no problem with that.
So, Eric. you're obviously ground zero. What's your vision? And what inspired you?
Eric: The reason is I sold a business a number of years back and I'm kind of semi-retired. Although this project kind of changed that. I feel like I've been working harder now than when I was running a for-profit business. In Charlottesville, my wife and I started a not-for-profit school, a 501 (C) 3. And it's been wonderful. It's been a gift to the community. It's been great. And it's been going for 20 years. And coming down here I just feel like: I'm in this community, I need to do something to help it. And I see a void here because so many homes are owned by non-residents. And I'm a big believer in leading by example. My idea was, let's start something down here and lets' get folks to join in. And that's why I'm in, hook, line and sinker.
This particular project, I saw a void in the fact that Frisco Pier was in disrepair. I tried to reach out to the owners to see if there was a way we could work with them. They were not interested. And so I said, If they're not interested, what can be done? And I came up with the idea of doing another pier. And that really got reinforced when I met the AP Biology teacher at Cape Hatteras a few years back. And she said, "You know, I'm teaching Marine Biology but I don't have ocean access for my kids." And that's when it kind of clicked for me: a fishing pier with research education. I've got a strong background in education. I'm not an educator but both my parents were teachers, my wife's a teacher, and she started and ran the school. So economic development and education are the two main themes of the project. Then, while we were focused on the pier side, I was looking down the street and I saw this amazing wetland area. I said, "Wow. We can have ocean access and sound access, all in a few hundred yards of each other." And we can protect the sound side and essentially turn it into a park. And everything just kind of came together. And that's really the genesis of the whole thing.
And then you said, "I need some sort of ambassador into the community." That's when you started talking to Tim.
Eric: Absolutely.
So what intrigued you about, it Tim? You said he's a hard guy to say no to, but there's got to be something else. [Ed. Note: at this point, a plumber arrives so Eric gets up to talk to them.]
Tim: It was kind of unique circumstances at the time. It was post-Irene. I'd been spending most of my time in Rodanthe. Our offices were essentially shut down. We had no personnel there. And Eric kept leaving messages for me. And I didn't know the man to be honest with you. I didn't know what he was about. I didn't know anything. But he was persistent. Whenever I showed up in Hatteras there were messages there. And he kept persisting. And you can't keep saying no when you don't know what it's about to begin with. You certainly have to give someone the opportunity to explain themselves. And once I talked with Eric, I pretty much immediately saw that this man means business and that it's a tremendous project from the get-go. I think had I known where he was headed and just how determined he is, I might have said no. [laughs] Because he doesn't let grass grow under anybody's feet. If you're involved, you're involved. He knows where people's strengths and weaknesses are, and who to call and when, and he makes it happen.
In terms of why I was interested, I was born and raised here. And we've taken our lumps and bruises here recently, with Mother Nature and things like that. And road access, of course is a huge concern for us. This was just a feel good project from the get go. And I think coastal-type tourism is something we need more of. And, yes, we've got lighthouses and a world of national parks around us and things like that. But we really don't have things that are interaction-type things. People can go out and enjoy Mother Nature, enjoy the surf, enjoy the sound, enjoy the beach. But in a lot of ways, this project provides access to those resources that really is not available right now. We do have people can go park a vehicle and walk over to the beach, but they don't understand why the shells are there, why the fish are there, why the tide's coming and going. They don't understand the background. So in my mind, this potentially a coastal attraction that can open up another world to people to some of the nature that created Hatteras and brought them her to begin with.
And Rich, you've been coming here for years. And it sounds like you sort of have a giving streak by nature.
Rich: I didn't have a giving streak all my life. Eighteen years of corporate finance and consulting pretty much burned me out. I got out of that racket and decided I needed to do something else. I've dedicated most of my life now to all volunteer work. And I have three passions. I have music; I have ecology and the environment, which is what's going on down here. And I have veterans issues. If I'm gong to devote my time to an organization, I need to feel passionate about it. And this project tied right in one of those three things.
I don't know if you're aware of this. But environmentalism has become kind of a dirty word in the past 10 years.
Tim: It's sad, but it really has.
You say that word in a Dare County meeting, and people automatically turn off or lash out. Down here it's even worse.
Rich:Well, it must be shyness from the camera and the recorder going, because I haven't used the word "environment" in seven months. [laughs] We actually named this place the ecology center for that very reason so we wouldn't raise anybody's ire. But those things are very important to me. But for me it was about the 3 passions, I have, which are ecology, music and veterans issues.
Tim, you've, grown up here. I think a big part of that resentment's over what's been going in terms of lawsuits and such that people who grow up here are inherently environmentalists. You don't have to tell someone who spends their lives surrounded by nature that nature is important.
Tim: I would absolutely agree with you. I think for the most part people here are good stewards of the environment and are, in a sense, environmentalists. You say that word has been a bad word recently and I think a lot of it is just — let's face it — all the various organizations, environmental and otherwise, that are opposing some of what's going on out here. This is our home, this our livelihood, this is all we know. And I don't care where you're from, you don't want people saying that you shouldn't be living where you live. And it almost gets that fundamental. And environmental organizations are getting a bad rap perhaps when most of what they do is probably good. And it's easy for some CEO of an organization to write a letter opposing Oregon Inlet Bridge, but I wonder how much its membership knows the effects these things have on the people who live here. I think there's a disconnect there. There really is.
Rich: I completely agree with that. It's really easy for someone who's not on the island and doesn't care about the island to say, "We don't need this bridge. " And it's obvious that in the past six months, these people really don't have a vested interest in this island. And maybe their interest is they just don't want another domino to fall in the environmental chain, and that's why they're fighting this. And that's really sad. Because you are going to create people who are going to be against environmental causes, just because of some really stupid issues.
Have you heard any backlash down here as far as the project is concerned? I know I've seen comments on line where people say, "We don't need this."
Rich: I've heard minor things. Nothing substantial. Nothing we can really put our teeth into. I've seen Facebook comments from when we were doing work with the cold stunned turtles and some people wrote, "We should just eat them." But they're just being juvenile. That's not something someone really means or that has anything to do with the project.
It's funny you say that. Because walking through the building, you see signs for future displays. There's one for a commercial fishing; and another for sea turtles. And those don't always match up.
Tim: That's true.
So how do you navigate that?
Eric: Well, let's back up for a second, because there's an important person who I don't want to leave out of the story. Lou Browning, who's an amazing gentleman, was actually one of our original board members. Now he's on our board of advisors. But when I started this, I knew I needed someone like Tim, for all the reasons we articulated, but I also wanted a scientist involved. And we still go to him full time for advice.
But, Rich is right. We don't use the word environment. We're not in the environment park. We're in the ecology park. And the way we came up with the term ecology is we got together with some of the leaders in our fishing community. And I said, "Here's what we're trying to do. How do we do this so we don't piss people off?" And it was agreed that ecology is a safe word. Because we're all part of the ecosystem. People are part of the ecosystem. And we try to stay away from that word environment. You won't find it anywhere in our literature. But ecology has been blessed by the fishing community.
Rich: I used it.
So if there's backlash, where is it coming from? Eric, you said you get 'nastygrams'.
Tim: I can only respond in terms of what I've heard in the community, which is obviously very, very important. . And most of what I've heard has been from individuals — a collective voice — but an individual who feels like that the project in some way infiltrates their back yard. Collective, I've heard very little opposition. Let's face it, this is a feel good project. It's a huge boon for Hatteras Island. Probably the best thing to come along in a couple of decades. There are some detractors in the community who fail to differentiate this project from the Graveyard of the Atlantic Museum. And I've been a board member there for a couple of decades. And it was a long time coming. But much like this, it's no simple project. It requires a whole lot of knowledge and infrastructure and background. As I see it, today we have a world-class museum. And we have a whole lot of artifacts. and no, they're not properly displayed, but the displays for that museum are a couple of million dollars. And that museum is no longer a fledgling group of local people either. It's a part of the state system of museum. So it's not really the village's left to finish. But in my mind it's an overwhelming success. I've seen visitation numbers there that exceed other sites up and down the state. But this is a totally separate, independent project. There's no connection, other than that they're culturally focused research centers.
Rich: Being a relative newcomer to the island, I see people are a little hesitant to tell you why they're afraid, one-on-one. When they have strength in numbers, they'll say, 'This is a horrible project." But when you get them and hold their feet to the fire and say, "What's the problem with the project?" Like last night, they can't tell you one-on-one what the problem is. And a lot of it is the "We don't want it in our backyard, it's going to ruin my view or it's going to ruin what's going on here."
When you look at all these issues, Hatteras is in a state of flux. It's not a 50s fishing village anymore. And it feels like there's a trapeze act going on, where people don't want to let go of this trapeze to grab the next trapeze — or multiple trapezes. Is that that the conflict. Because you hear people who look at the beach access issues and the bridge issues and say "Hatteras is ruined." But you wouldn't be investing all this time and energy and millions of dollars to create a non-profit project, if you didn't see a future the island? So what do you see that other people don't see?
Eric: And we may be talking about different people, too. It sounds like, you're saying there's people on the other side of the bridge and or out of state, saying Hatteras Island is doomed. I don't know if they think it's washing away….
I'm actually I'm talking people who live here. I hear more doom and gloom coming from people who live here, saying "It's not what it used to be to me; it's not what it should be." It's almost like there's this pall of negativity that emanates. And perhaps rightly so. But is part of the motivation for this project to throw some positivity in the mix?
Eric: The first marketing person I ever hired used to say — and she was a lousy marketing person — but she said one thing that has stuck with me. And it's very correct. She said, "Change equals loss." And I think for a lot of people you're talking about, it's changing and therefore, we're losing something. And they don't even know what they're losing — they're probably not even thinking about what they're gaining — it's just different. And there's an awful lot of that on this island, I think.
Tim: Going back to people expressing their frustrations and having doubts about their future. I like to think that's the result of more recent frustrations. That's from having — what? October 29, I think it was, Mother Nature paid us another visit. People haven't had access. They haven't been able to deal with goods and services they were accustomed to. And I think there is a whole lot of negativity built up. And rightfully so. I think that would happen anywhere. But when it's all said and done, the vast majority of the people here are very resilient. They're not going anywhere. This is home. And they love it. And yes, I've seen an unsurpassed level of frustration the past several months. And, again I think there's good reason for it. And I think a lot of it goes back to — for lack of a better word — environmental organizations who are making life miserable. If people knew that bridge was coming, they wouldn't have that fear they have in terms of the future of the village and the island.
Conversely, I went to a meeting over noise, where the whole island showed up to protect the industries that are — like weddings. And it's like the island is in flux. And it was good to see the people moving forward and encouraging new industries. So it seems like there's a transition in place where Hatteras may not be what it was in 1950 — or 1980 — but it can be partially that and partially something else. And this seems to be another step in that direction.
Tim: Yeah. It's hard to separate the things that are coming into play here. I'll stand here and say that any person who was in business — or you didn't really have to be in business. These recent times have affected everyone in some way shape or form. Whether it's the environmental influences — hurricanes, storms, things like that — or more physical in terms of not having roads and not having access. I just think a lot of is we've just had a whole lot of tough circumstances over the past several years. And I think we'll rise above it. Going back to something you said earlier, harkening back to Isabel when she came through in 2003. That changed Hatteras Island. In many ways, Hatteras Island hasn't found its identity since then. I think we're getting there. But let's face it, if we had 400 hotel rooms before then, now we have 150 in Hatteras Village. That's the kind of impact it had economically. And now I'll make a leap forward from 2005 until today — the economic downturn. Everybody's had to reinvent themselves. Anybody , anywhere, if they say they haven't faced the thought of having to reinvent themselves, then they're wrong. Because we're in a different world. And certainly anyone affiliated with anything that has to do with business, has had to reinvent themselves. But we are in a state of flux. Not just Hatteras Village but all Hatteras Island.
Eric: As far as active hotel rooms – and Tim can speak more to this, being in the rental home business and also owning a hotel – my understanding is that the lack of hotels has made a huge difference. And the reason is this: today's typical visitor comes and rents a home for a week and brings everything they need. And they're sort of self-contained. Maybe they stop at Food Lion or whatever. They load up and they spend the majority of time on the beach or whatever they're doing. And then they come home and they cook a family meal. So there aren't a lot of people running around in the evenings. When there were more hotel rooms, those people had to go out to eat. And that put people into restaurants. Once they were out in restaurants, there was a nightlife. A guy named Buddy Foster does a great job of explaining what the village was like when he was a kid. And it wasn't just motel rooms, there was a lot of camping here. So imagine, you've had 1000 or more people who would've been milling around the village, buying the kids an ice cream, going to the art gallery. That doesn't happen anymore. People come off the beach, they cook dinner, turn on the TV, turn on the Netflix, and they're done. No nightlife here anymore. It really has changed the place. Wouldn't you say, Tim?
Tim: I think that's absolutely correct.
Rich:That's what I've seen as well.
You mentioned a boardwalk earlier. Is that part of the reasoning of putting the two close together and having the walking distance: to put people outside?
Eric: Our vision is if we can to tie the central village into what we're doing out here and breath live and activity into this place. That would be fantastic.
Rich: I have friends who rented houses in Hatteras Village. And they said, "We didn't feel comfortable letting our kids go walk up and down 12." And I said, you know they're putting in a sidewalk so kids can walk up and down the sidewalk and play. And they said, "Oh that's great. We're gonna come back and rent. Because it's so quaint and self-contained." And I think these types of projects are good where we can get a sidewalk or walkway, and some stuff for kids to do — so the kids can say, "Mom! Dad! I'm going to bike up to the pier for the afternoon, give me my fishing pole and 10 bucks for a pier pass." When I was growing up it was, "Mom give me, two bucks." Nowadays, it's $30, because, they're going to want three hot dogs, and an ice cream cone and a candybar and five sodas, and who knows? [laughs]
So is this much a psychological boost as it is a physical project?
Eric: Yes. I've said this before, but — for lack of a better term — I feel like Hatteras Village has lost its mojo. And I'm trying help it get it back. To get its confidence back as a Village, and just get the energy flowing. And we talk about leadership by example, and hopefully when people see us do this they think, "Well, you know what? If they can do this, more things can happen." You know people talk about downward spirals, but there's upward spirals, also. And you can change things. You can change things a little at a time. And maybe it's naïve; and maybe its stupid. But I think we can do it. Just from this project, you've met Rich — he can be doing anything in the world, and he's up here picking up a hammer and nails to put up these walls. That's pretty special I think. Tim, didn't tell you the whole story. The whole story is that when we first met, he said, "I've been spending the last 5 years trying to get off boards. The last thing I want to do is be on your board. But I think you're onto to something here. And I'm going to join your board. And I'm going to give you any support that you need."
Part of the reason we're talking to you about his project, is there's always a disconnect between people who live here, and people who visit. But I think there's an outside perspective can be beneficial. Is that what's going on here: people coming in and seeing things with eyes and going "Wow!' this can be something besides what it's always been?" Is that's what going on?
Tim: I definitely think that's a big part of the puzzle. Absolutely. I think these two gentlemen are great examples of someone who did have an outside vision and wanted to come in and do something good for the area. But I'll go back to the discussion to Rich's example of this project and the sidewalks and the housing community — this is among the first tangible efforts to go in that direction. But for a couple of decades, those of us that are in the business community and trying to figure out where Hatteras Village was going, we've envisioned a series of gift shops and what not. As Rich says, a destination village, as opposed to a pass-thru. Where you can park your car here or next door and traipse back and forth through the village, not unlike Ocracoke. Heretofore, certainly in the last decade since it got messed up by Isabel, Hatteras Village has become a pass-thru village for people en route to Ocracoke.
Eric pointed out that at one point, the sign heading north when you got off the ferry heading north didn't' even mention Hatteras Village. It said '60 miles to Nags Head.' I'd never noticed that.
Rich: I heard the story that this was the road to Ocracoke. And I was like, that's crazy. So when I have friends com stay with me in Frisco, I don't let them go north. I say, "Go to Hatteras Village. Go to Burrus Red and White. Go to the gift shop. Go to Dinky's. Go to Isabelle's closet." Those types of things. I force them south. And it's really a lot closer, too. You can get to Hatteras Village in 5 minutes from where I live. It'll take you 15 to get to Buxton. Just go south. Hit those shops. Put some money in their pocket.
The other thing that makes this project different. Eric and talked earlier that a lot of second homeowners just buy a house with out knowing where they bought it. They only see it as a rental machine. And they don't know the issues they're taking on. All they knew is their neighbor in DC bought a rental in 2004 and its paying for itself, and they find themselves caught off guard, whether It is the insurance rates spiking or people crossing the yard to check the waves. So I applaud Eric for taking steps to learn about this place, and going and talking to Irene Nolan. I guess what I'm saying is there's a right way and wrong way to do it. And this message of getting people with second home to treat it as such.
Rich: Well, my wife and I, we made our house down here a home. We don't rent I out. So we didn't buy a big house. It's a small little house, one lot back. One of those off set shed roofs. It's a small three-bedroom. But you walk in there, it's our home. Unfortunately, a lot of people can't do that. But my word to people who do own houses down here is to find out about the community, talk about the community, let the people who rent know about the community. Send them to community activities. Leave ideas in the house so they aren't just sitting there. But a lot of people don't really care. They're like, "I want my little piece of paradise, or this beach. And I want it quiet. And I don't want to see any more than one line of people running up the beach. If there's more than one line of people on up the beach, then it's no longer paradise." But I don't know what to say to those people, I don't know how to do it. Maybe Eric has a way to convince them.
Eric: I don't think there is a way. I mean, it's a shared resource. If you don't want to be on a shared resource, then don't put your beach house on a national park.
Tim: That is absolutely correct. This the wrong place.
Eric: People seem to forget that this is a national park. They really do. Now it's a beautiful national park and it's not densely populated, but at the end of the day, it is a national park. It's a shared resource. And we all have to get along. And some people don't want that. They talk about their beach. But it's not their beach, it's our beach.
Tim: But I've been seeing a lot more VB people coming down who want to make Hatteras more of a second home. I've heard – or put two an and two together—but I can name a half dozen Virginia Beach couples who've bought true second homes here since the downturn. And that something we hadn't seen before. It was all investment. And I'd say as much as a 1/3 of the sales we've seen in the past two or three years have been second homes. And that's very good for the village I think. It might be a couple homes less in my rental program but there's more to it than that. To me, every person that's a true second homeowner, I want to reach over and hug them. Because, I feel better about someone who's got a real commitment to the place than those that are in it for the quick hit. People are here because they want to be here because they love it.
Rich: I was talking to a volunteer on the project, and he said, I used to go to Nantucket. And it cost me $375 to take my truck across on the ferry, each way. And that kept the island very exclusive. But then what you had was a bunch of rich people on an island who would yell at each other. And say, "Your property fence is two inches too high." I don't 'now if you get that around here. I don't know that anyone would yell at you if you put a fence around your property to keep your dogs in.
It's funny you say that. Because in discussing the long-term fate of Hatteras Island, I've made that comparison. Because this place could be Nantucket in 30 seconds if it wanted to be. I firmly believe if the bridge went down, this would become a high-end resort. There's already an airport. And if it generated the same tax revenue…
Tim: I think that's what would happen. You shut off access today, absent global warming and the tide rising, that's' what you'd end up with.
Eric: But that goes back to the vision for this place. When Conrad Wirth came down made this deal with Tim's family, he said, "I'm going to turn this place into a national treasure that everyone gets to use, and you're going to get to be merchants and motel operators and stuff." And the thing people don't think about is: what about the family that drives here all night from Ohio so they can get up and fish? And every possible minute they're on the pier fishing and then they go home and work for 50 more weeks so they can come back do it next year. This place isn't supposed to be Nantucket. And I think it's the credit of the people around here that they recognize that. I think it's to the discredit f the people who make it more difficult to gain access to the island. Because, again, we go back to the word ecology. Again, we're part of the ecosystem. Going back to the guy from Ohio, he's okay. He can come here. Because he's part of the ecosystem. It isn't like this is only for birds or turtles or fish; we're all supposed to get along. And sometimes that gets lost on people.
Rich: I heard a neat story about a guy who lives up in Avon. He saw a couple getting married on the beach who didn't have a photographer, so he shot some photos for them. And these people were so happy that someone would take the time to do that for them. And it was one of the nicest stories I've ever heard. That wouldn't happen in Nantucket. It's kind of like when they have gathering down here, everyone makes food. That's how they get people to come together. That's community. That's neat.
And what's funny is that another byproduct of that community feel is how protective people get. How you navigate that must be part of the difficulty. It's like, "Yes, we want to bring more people here, but those people are going to not only help the economy but will blend in." Like you were saying earlier, they're mad about a pier, but it could've been a condo.
Tim: A whole bunch of condos.
Rich: But that wouldn't have been horrible either. I mean, it wouldn't have the best thing.
But it's not worst-case scenario. The worst case scenario is doing nothing.
Tim: That's where you really go backwards. In my estimation.
So what do you think this place looks like in 50 years. What are the threats, and what will be its salvation?
Tim: I was hoping you were gonna look at somebody else. [laughs] That's a tough question. And in order to answer it you'd have to remove all the environmental issues going on. Again ,it's two separate things. Absent the tide rising – and I mean globally — I like to think the place is going to be here and there's going to be more uses like this. I mean, we've got a tremendous number of second homes and vacation homes here, as we do up and down the entire Outer Banks. And they have perhaps caused a paradigm shift as well. Because if we had those 400 rooms, quite frankly, a lot of them would be sitting vacant because people have gravitated toward those homes. Maybe it's the together, maybe it's the multi-generational family aspect, Maybe its just purely dollars. I was trying to put that last, but it may be first. And being in the business, I don't know if that's fair of me to say it's purely economic. But again, that has cause a shift and forced people to either reinvent yourself or fall behind. And this island, things are happening here. And you can either be progressive or you can sit back and take potshots at the change. But the change is gonna happen. And I think it has to happen for us to persevere and move forward.
Eric: I'm not sure the hotels would be empty. Think about it now, it's not he easiest place to get to and the system is set so you rent for a week. But if you could get a nice hotel easily, maybe people would run down for the weekend more.
It'd be interesting to see how the Hilton does. But it's an interesting dynamic. I'm sure the Food Lion and Harris Teeter don't mind. But a lot of its messaging, too. Cape point closed yesterday, and the first thing you heard was "Save a bird, kill an island." That can't be a good thing for people to hear. I mean, Corolla doesn't have Cape Point either. And the parking pass may be an issue, but I'd rather pay 100 bucks and get to Hatteras than spend an your in Corolla traffic. I know you gotta lean on politicians and show need, but you need to put a positive message out there.
Eric: it would be really easy to put a positive message on that. When Cape Point closes – when ramps 44 and 45 close — put up a sign that says "Ramps 44 and 45 closed for wildlife protection, Ramp 49 is 4 miles up the road." I'd tell people to go find the next ramp.
Rich: But they [the NPS] just put "ramp closed."
Tim: And they do it on every portable sign from here to Virginia Beach.
Eric: And it would be an easy problem to deal with, but quite frankly now — and this I what I was telling you before. The park service is open to making these changes. I'm having conversations with the park service about how to make this place more visitor-friendly. And they're open to them. They really are. And maybe that's a subject for another day. But at some point, I predict you'll see a sign like that put up by the federal government. And it won' be a negative; it'll be a positive. But you know what ramp 49 isn't the point, but it's still the beach and its still pretty damn nice and you can still catch fish there.
Rich: Where do I see this place in 50 years? I've been trying to educate myself on this place since I moved here. And this island is not the easiest place to live. You've got issues with weather. It's got road issues. It's got bridge issues. And the people who live here are very resilient people. I think they'll always get by and they'll always live here. But with the work that we're doing, we can help the people that make this their community and home, we can help them thrive. And that's why I got involved. Because we can help people thrive by doing something and being a part of the community. I'm not a big church-goer, but I like to be involved in the community. If there was a barn raising, I'd be the first guy up the ladder with my tools. But there's always going to be people living here here. This island, with the gulf stream and the proximity to the continental shelf — it always going to be a great place to surf and a great place to fish. And I just see us being able the help people thrive. And the more we can do things like this and get people involved, I think this place is just going to better. It might not be as hard to live here as it was before. But that's what I see in 30 or 40 years. I can't see 50 years because I'm gonna be dead by then. [everyone laughs.]
But there is a long-term vision here. And a lot of times, when you see changes on the Outer Banks, there's not a lot of long-term vision here when you see people making decisions. As much as I hate to say it, because I was the biggest foe to the "long bridge" when it first was being discussed, once you see the 50-year plan for short-bridge only leaves you with five miles of access to Pea Island. Possibly spotty access. And makes dredging the inlet even tougher, I decided that if a long bridge would bring more reliable access to Hatteras and allow that jetty to be removed so the inlet would stay open and let sand flow south, I'd make that sacrifice. But big picture discussion like that just get washed away because user groups say, "what's this going to do for me right now?"
Rich: Eric sold me on that. I'm a long-term stockholder kind of guy. I'm a guy who buys stock and holds on to it. I don't flip it. And you're talking about sustainable growth. And one of the things Eric sold me on was he said, "I like sustainable growth, as well. " And sustainable growth economics is you build for the long term. You don't build for next year, you build something that's going to last 15 years. And that's one of the things he used to sell me.
Eric: Yeah, it took me 25 years to get my business to the point where anybody wanted to buy it. And it took 20 years to really get the private school on solid footing.
To me, this feels like a positive byproduct that's slipstreaming all the negative thinking we we're discussing earlier. This idea of, things are going to be different than what than they were, but it's going to be good. We're going to stop screaming about the bad side, and focus on the good side.
Tim: But isn't that probably a function of social media that everybody's dealing with? I'm an eternal optimist. But let's face it: the guys who are blogging, are not optimists. They're pessimists.
Rich: They're gonna be angry about something.
Tim: And that's probably a bad stereotype, but to a big degree it's true. And with social media, that guy who came to ramp 44 yesterday and couldn't get there, he probably Facebooked immediately that this place sucks. But that's just negativity. And nobody's going to overcome that.
Not unless people post "no it doesn't" right after it. It's up to other people to put out a positive message.
Tim: But the positive message guy is out doing something positive. [everyone laughs] He's using positive energy to do positive things.
Eric: But I will say this in fairness to other people. I have the luxury – and I know Rich does, too – of being able to say, "You know what? We've got the time to think long-term, because we're not sitting here trying to make the mortgage payment or trying to make the payroll." I've run a business for many, many years. I know what it's like to wake up in the morning and say, "Holy crap, how am I going to make payroll today? I hope the orders come in." So, I don't want to be disrespectful of the people who need to think short term. Because you know what? If you don't think short term, there is no long term. It's finding that balance. And that's where I think people like us can come in. We have this obligation to give back, because we've made our money. We have a solid foundation. So it's our turn to give back and help the other folks. So I think everybody needs to look at the other peoples' motivation and try to understand them. It's the old cliché, walk in the other guy's shoes. What's interesting about the people around here, what's blowing my mind – although I'm starting to get used to it — is a lot of people around here don't understand altruism. They look at me, they look at Rich and they say, "What's in it for you guys?"
Rich: They can't see that there's no profit But the profit is mental for me.
Eric: Well said.
Rich: the profit is in here and here [points to this head and his heart]. I feel good, I can go to bed a t night. I know that I've done something that's good. I know I've helped a couple veterans, I know I've helped a couple musicians, I know I've helped a couple of people on Hatteras Island. I feel good.
Eric: I worked my butt off for more than 30 years, so I could have enough freedom to come and be altruistic. But I worked hard for it. It wasn't given to me. I worked very, very hard. And was very lucky. And I don't know. Tim, do you think people are ever going to get it that we're just trying to be helpful?
Tim: I was just thinking that very thing. And you're spot on: they just don't understand it. It's like, "What's he doing? What's in it for him? It's all personal motive." And I don't see that at all. And I don't know why people think he exudes that. I guess it's because he's a goer and doer, and they think because he's going and doing, he's doing something for his own personal benefit. Same with Rich. And it's the furthest thing from the truth.
Rich: Maybe it's because, so many people have come here and said, "I'm here to help, I'm going to do something." And then they walk away with a full pocket and nobody gets anything. So again: lead by example. And that's what Eric's doing. And what Tim's doing. They're leading by example. So you can sit there and talk all you want, but talk is cheap as they say. But I was just thinking, maybe one we way could talk to people if they don't believe us, is we could put into a church concept and say this is the way we get our spiritual fulfillment. And some people down here might buy that. But I feel good about myself at the end of the day.
So what's the timeframe?
Eric: So this, the ecology center, will be open by the end of May, first of June. The pier? That's a guessing game at this point. We have so much money to raise, so the thing we need to do now is —first, of all, we've been putting just about all our emotional and physical energy into this for a few months, because we're so close to having this. And it made more sense to get this going, prove that we know what we're doing, create a destination and start giving something back to the community. And hopefully by doing this, we can start to plant the seeds that are going to help the pier become a reality.
And then you go and source funds for that. And when you go to source funds, I'm assuming it's not just locally.
Eric: No, we're looking all over. We did get a nice grant from the Nora Roberts Foundation to kick start things. But the other thing is, and I said this at the meeting last night that we were at: even if we never build a pier, so what? We did this. And the way we've got the pier phased, is we start with a beach access and a bathhouse just to create more access and parking. And then the next step is to build a pier house. And people say, "Well how are you going to get the pier done?" Well, you know what, let's look at our worst-case scenario: if we create a beach access and an event center to bring people here and help drive economy – because 150 people coming down for a week to attend a wedding is a lot of money into economy – then so what if we don't build a pier. You've got a nice access and there could be handicap access. What's the down side? It's really interesting, but like Rich was saying earlier: when you look someone in the eye and ask them to explain what their problem with the project is, we've haven't been able to get any specific answers.
Well, it's nice to have someone coming into the community to do something that's not self-serving. That's not a straight up, "I'm gonna go sell a bunch of t-shirts an put the money in my pocket."
Eric: Well, we are going to sell a bunch of t-shirts. But we're gonna use the money to help fund ecology exhibits. Why? You wanna buy a t-shirt? [laughs]
______________________________________________________________________________________________________________________________________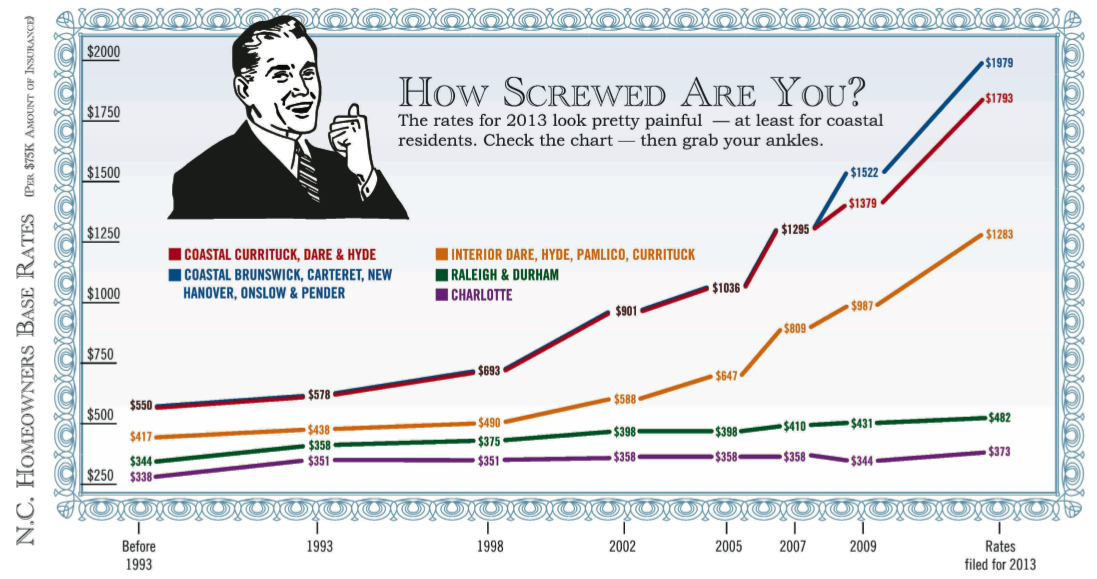 ALL RISK. NO REWARD.
NC-20's Willo Kelly explains why the insurance game stays rigged against coastal homeowners — and what you can do to protect your own interest.
When it comes to insurance, Outer Bankers get the short end of the stick. (Or the long end of it, depending on how you look at it.) And we get hit with it repeatedly.
Just ask Willo Kelly. As president of the coastal lobby NC-20 — and government liaison for the Outer Banks Homebuilders' Association and the Association of Realtors — she's poured over countless documents and policies for the past five years and two previous rate increases. In the process, Kelly has determined what you may have already suspected: insurance companies use hurricanes and suspicious models to hike up rates along the Atlantic, while keeping them low everywhere else in North Carolina — even though inland counties suffer greater losses and file more claims. For 2013, the rate bureau requested another 30% increase, triggering a hearing by the Department of Insurance. It was while reading the paperwork that Kelly found more than just confusing boilerplate. She found vindication.
"All you had do was read the first page," she says. "'Filing suffers from significant deficiencies'; 'pervasive lack of documentation'; 'data is so questionable that a proper evaluation of this filing . . . various components and methodologies, is obstructed.' Basically everything we've been saying: that the whole system is flawed."
With the homeowners hearing set for June, we sat down with Ms. Kelly to find out just how things got so out of whack — and why coastal residents keep getting whacked worst of all. —Matt Walker
MILEPOST: What's the best way to describe your title?
WILLO KELLY: I handle government affairs for the Outer Banks Homebuilders' Association and the Outer Banks Association of Realtors. I also serve in a volunteer capacity for NC-20 as president. NC-20 has opened the doors to legislators to work on this issue.
How did you get involved? And can you give me a history of the issue?
I was the first hired president of the Currituck Chamber of Commerce back in 1999 and this discussion goes back to then. In 1993, there was a rate filing and another in 99 and a couple more before my term with the chamber. And we had discussions then that instead of being 5 years apart, these filings were coming more frequently. But it didn't consume my life like it does now. I've never sold insurance. I've never taken a class on insurance. I've talked to a lot of insurance agents and looked at a lot of policies. I can tell you how to read your policy and what to look at. That's something that needs to be made more public. Because when you're talking about a tough economy, people are hurting and everyone wants to raise their rates: power, phone bill, insurance. The things you think of as fixed expenses aren't. But I think I've been given the title of consumer advocate only because I read thousands of pages and figured it out. So people call me about insurance. And between NC-20, I've become sort of the go-to person. But I do joke that it's because I read the refiling and nobody else wanted to.
I think everyone assumes insurance is going to go up no matter what. Why is this rate filing different from 2009? Why now? And why this much? Because we keep hearing 30% . . .
That's homeowners insurance. There's a lot of moving parts and components. I'm still learning things. The filing alone for 2012 is almost 1400 pages. And a lot of the information it seems like you're not meant to understand. It's not spelled out in layman's terms.
And when we hear that everything goes up, we assume that's because costs go up. But let's not forget, insurance is the business of risk. And insurance is sort of like gambling, you give me this money, I'll cover you for this much, and I'm going to roll the dice. You give me $10, I'll cover you for $1000. And the insurance industry knows that only 10 percent maybe — sometimes 6 to 8 percent — ever file a claim. And the more you can spread the risk, the greater your chances are you will win. And in the past, it's been the spread of risk over a period of time. Today, all insurance companies are investment companies. They're taking your money and using it to invest and show shareholders a profit. So the reason we're seeing these increases is because their business model has changed from looking at it over 10 years or 20 years — good years outweigh the bad years, and we're profitable over a period of time — to one year. And when people hear insurance companies are facing billions in losses, they don't know there's $586 billion in this fund called 'policy holder surplus."
That's the money they pay out in case of a loss.
Well, in theory. But I had an insurance lobbyist tell me, " that's not 'policy holder surplus' that's shareholder dividends." So we're now looking at having to pay every year to the possible worst-case scenario of risk. So we're moving the money, is what we're doing.
Sounds like a Ponzi scheme. Take in new money to pay out to other people.
You said it. I didn't. And then they come up with his product of reinsurance, where they can purchase a product to cover their risk.
What's reinsurance?
So we have this company in Germany or Bermuda who says, "we think you're a pretty good risk, you give us money and we'll cover your catastrophic risk." And the interesting thing about reinsurance is: insurance companies own reinsurance companies. They are the investors in insurance companies. There is billions and billions of dollars flowing through the reinsurance companies as investment money. And that has gotten so out of hand that if you're a customer of Farm Bureau, they spend 40% of their premiums on reinsurance costs.
So how's this happen?
I should have Post-its to show how this works. [laughs] It starts with the Department of Insurance and the North Carolina Rate Bureau. We're the only state that still has a rate bureau. We're one of 11 states that have an elected insurance commissioner. Politics are heavily involved here. We have basically proven almost unequivocally that our rates have gone up in the past as a political move by the insurance commissioner who has kept the rates low in other parts of the state. And it's been an easy sell that our rates should go up because we live on the coast so we have these hurricanes. But general statues aren't supposed to look at the risk of hurricanes; they're supposed to look at catastrophe. And we've more than proven that catastrophes hit the entire state when you look at actual loss numbers. So why is it that 32 counties and the city of Charlotte have not seen a homeowners rate increase since 1993? Why? Because that's where the votes are. And it looks like the same thing happened in this November agreement with the dwelling rate filing; he did the same darn thing.
Well, if you only have 30,000 people in a county, there's only so much political power you can wield.
Even if we network and we came together in the 20 coastal counties — if all 20 counties voted as one block — we only have 8% of the voters. From what I hear, next year 16 [inland] counties will have 60 percent of the votes. Look at the number of legislators, we're losing representation when Wake County is gaining representation. So when we go to a house or senate insurance committee meeting [coastal NC] might have one or two representatives on the committee where you can have two guys from Wake County, etc. And they have been — I don't want to say brainwashed — but the perception they have is we don't pay our fair share. That there's tremendous problems with the insurance market and the Beach Plan — which is not a state entity, as people are lead to believe. But even our legislators don't always understand the structure.
So what is the structure? Isn't the beach plan your wind and hail policy?
A separate wind and hail policy can only be written through the Beach Plan. We really need visuals. First you've got the Department of Insurance, which regulates all insurance in the state of NC. And the commissioner is supposed to be the consumer advocate — a consumer advocate that's elected and gets money for his campaign from the insurance industry predominantly. I've likened it to an energy commissioner getting all his money from Exxon. We'd all be screaming bloody murder. Last year, was the first year our commissioner went out of state to get money for his campaign, and he went to Atlanta and Chicago, which have big insurance ties. So after the Department of Insurance you have the rate bureau. All insurance companies that write policies in the state must be members of the rate bureau. The rate bureau has a board made of company representatives. In the Department of Insurance, the commissioner is basically the almighty — once he makes a decision you can't challenge him. The court of appeals said that. So if he's working with the rate bureau on a rate filing, the only person who can sue are either the rate bureau or the Department of Insurance.
So there's no recourse.
Exactly. So this is the fox, this the henhouse. And then over here — created in 1969 to allow for the development of oceanfront properties — you've got the North Carolina Insurance Underwriters Association, better known as the Beach Plan. And it was called the Beach Plan because it only covered oceanfront houses. And every company writing in the state of NC also has to belong to the Beach Plan. And — now this is the best thing ever — whether you write a policy in Eastern North Carolina or not, you belong to NCIUA. And premiums go in and when there's no losses, they take the money and it's distributed to every insurance company working in the state of NC.
So it's not like they built up a fund in case of disaster, either.
Not until 2009. So, the going's good. And it keeps going good for 25 years. So in 2006, they distributed $41 million from the Beach Plan. Some moneys before were used for losses, operating, distribution. They kept a little surplus fund. But there's obviously been some mismanagement because the same people who took the money then came to the General Assembly and said: "Oh my gosh we need help. This is a ticking time bomb, we don't have money in case we have a new loss." But what they didn't tell the legislators is they were sucking the money out of the fund for 26 years.
Correct my memory — was it Fran that came in 1996? And is that when rates first really spiked?
Yes. Hugo came in 89 but that really came up and devastated Charlotte. Then Fran came in and devastated Raleigh. We're under the assumption that we pay premiums and that goes into a big pot of money to pay out claims. But the large majority of the people don't file claims. And even if 30% of people filed claims, the companies operate so they still make money. But in '98 and '99 they were in the hole by $40 and $42 million. And that's when they went to the general assembly and said, "There's a problem." So in 2006 they took out $41 million dollars; yet in 2008 they're saying "We have a problem." So in 2010, we took that information to the general assembly. Because it's divided up by market share: if Farm Bureau has 15% of the market share in North Carolina, they get 15% [of the surplus in the Beach Plan]. If Nationwide has 10%, they get 10%. If you wrote 1 percent of the market share of policies in the state of North Carolina you got a check for $410,000, without ever having to write a policy in eastern NC. And if you take all the money they've distributed over time and add it up, it's more than the companies have had to pay out [in losses].
So it also sounds like its gone from "Let's collect the money and save it to hedge against future losses" to investing premiums and distributing the money as profit, while buying reinsurance against the losses — and building that cost into future premiums. Because the other side of this is filing a claim and not getting any money back. We all know people who got no money after Irene and we all know insurance companies work hard to get out of paying claims. A buddy of mine played golf with an insurance broker who boasted he made a six-figure bonus for not writing any policies on Irene.
And where does that money come form? You say, we're at this tremendous risk, you don't want to write here, we're dumping all these policies into the Beach Plan — but you've taken all this money for years. And nobody knew this until we all started working together and shared this information. I'll give Marc Basnight all the credit in the world. Had he not looked at the loss information and the distribution of the surplus money — and the 32 counties and the city of Charlotte not seeing a rate increase since 1993 — and stood up as a speaker in 2009 and interjected, we would have paid $12 million more in premiums as Eastern North Carolina policy holders that first year. He put into the bill they could no longer take money out of the surplus; they could only use it for operating costs and losses and reinsurance. So reinsurance went way up.
So it's another Goldman Sachs, Wall Street before mainstream situation: they get the money then use it to cut their personal risk, then add that cost to your bill. And then they try not to pay on the other side.
I had a friend in New York who used to say, "If you want to make money, use the other man's money." And that's what this is. But insurance is a critical component of our economy because without insurance you can't get a mortgage. So it affects affordable housing, financing. We're gonna see flood insurance change here. It used to be if you built your house to a government standard, you kept that zone. And if the map changed, you kept that rate because you obeyed the law. The national flood insurance program reform now says, if you go from one zone to the other you pay the new rate. We don't care if you've been in your house 15 years, your insurance can go from $1250 a year to $13,000. And your mortgage company will make it mandatory that you pay it. And if you can't, how many people would that force into foreclosure? This is what happened in Florida. Insurance went up so much the market value of their homes dropped. And I was told a few years ago by an environmental lobbyist who wanted to see no more development, that his network of people know how to make that happen via regulation and through insurance — just make the insurance so expensive that no one will invest here. And we'll become cash only. Talk to a realtor on Hatteras Island they'll say most transactions are cash sales. Because they're not mandated to buy the insurance. So are people really self-insuring? Or are we going to see a bunch of abandoned properties if we have a big storm? There's a great report by Robert Hunter who's with the Consumer Federation of America. He's a former insurance commissioner in Texas and he wrote a great paper about disappearing risk. And Hurricane Andrew was the game changer in 92. That's when everyone woke up and said, we've got to do something,
But insurance companies, unlike utilities, can say "I won't write there anymore" so they can cherry pick [based on risk]. They also set their own rates through collusion. So we pay based on worst-case scenario. For example, Isabel: we didn't really a have a major catastrophe since then until Irene, in terms of huge coastal losses. So in that time frame, they had all these good years. But they still want to abandon us. But the government says they have to show they have the wherewithal to pay. You can't just start writing insurance. You have to have a balance to pay it. And when people hear insurance companies are facing billions in losses, they don't know there's $586 billion in this fund called 'policy holder surplus." And that's the unfortunate thing, even $60 billion in losses, look at the premiums that are being paid. But the lobby has a lot on their side because they can manipulate the numbers so you feel like we have a terrible problem and we don't pay what other states pay. And that's what happened in our general assembly.
When I look through the last homeowner rate filing, there's' a way to calculate how much you paid per dollar for losses. And from 2001 to 2005, the Outer Banks portion of Dare County, for every dollar we paid in for five years, only six cents paid for losses. And in inland areas, every policy that paid a dollar, 22 cents paid for losses.
So there's no equity in terms of historical losses. Our rates are based on a model projection, but we're not privy to the info that goes into the model. And in this dwelling rate filing — when they finally scrutinized a rate filing — it was proved that the modeling rate was questionable. It looked like there were excessive numbers used. The methodology was actually illegal and they issued a findings of fact that justified everything we've said for three years: it's a broken system; that there had never been a scrutiny of a rate filing since 1993; that there's an insurance commissioner reaching a settlement with a rate bureau made up of industry representatives; and the public isn't notified of an increase in rates until it was a done deal. Finally we have legislation that says the commissioner must hold a public comment on a rate filing. And if he holds a hearing, he has an opportunity to come back with a modified rate.
But the Department of Insurance determined — after the scrutiny of this rate filing — that the current dwelling rates should go down 11 to 30 percent and they denied the filing. That's how excessive they stated the losses to be. This is coming from the Department of Insurance's dwelling rates findings. But what happened caught us completely off guard: the rate bureau appealed this hearing and these findings and three weeks after the election the insurance commissioner says, "You know what? If we roll the dice and go to court, they might win." And if they win, they get everything they wanted. All the increases. So rather than take that chance on going to court he decides to reach a settlement agreement with a rate bureau. And he basically gave them everything they want. So we went through the whole process for nothing.
So what was the deal? Did they split the difference? Did he give them half of what they wanted?
No. He basically gave them everything they wanted — in the coastal counties. In the other counties he didn't. So, let's say in Dare, Currituck and Hyde on the barrier island we pay $477 per $50,000. They wanted $619: he gave them $597. So instead of 28% he gave them 25%.
But if they'd gone to court, the rates also could've gone down 11 to 30%.
Right. Where's the rationale in any of this? They held a 3-month trial that said rates should go down, he then reaches an agreement that gives them — not an 11-30% decrease, but a 25% increase. And that's where statewide increase numbers are so off. Because you're 5 to 15 percent in the western part of the state and 40 % on the coast. So, basically, Charlotte, at the end of the three years, is paying 3 dollars more. And we're going to be paying a hell of a lot more than 3 dollars. This situation just shows how flawed the system is.
But their total number of policies is higher, right?
They're getting more in premiums, too. That is what they're saying. And the risk is spread to more policy holders in Charlotte than here. Yeah, but we still we don't have the losses to justify this [type of increase.] If 32 counties and the city of Charlotte are paying less in homeowner's insurance premiums than they did in 1993, there's a problem here, politically. If they're going to use the justification that rates have to go up because of the increase in building costs or the market, there's a problem that 1/3 of our state hasn't seen an increase. However, they're led to believe that their premiums are going up because of people on the coast. But their premiums go up, not because of the rates — because they haven't gone up — the premiums go up because the insurance companies apply an inflation rate factor to your policy every year. And they've gotten so greedy that instead of 2 to 4 percent, it's going up 10 to 12 percent. So every year, when you get your premium and it's more, it's because the dwelling value that you had listed [has gone up]. At first you had $100,000 down to rebuild — and that's another thing people need to understand, it's not your land value, its' the cost to rebuild ¬—now you're at $110,000 because they say the cost of building went up 10%. Really? And the second year, you're going up $21,000. By the fourth year, your dwelling value went from $100,000 to $142,000.
And that's only the cost to rebuild. Not market value. And people don't understand your policy should only reflect the cost of rebuilding as of this year. And if something changes tremendously and the price of lumber goes through the roof, it might need to go up a little higher. But that one number determines what the companies say is their exposure. It's inflated, it's artificial, and it's excessive. Because they're using that number not just to determine your rebuild costs, but everything else. If your dwelling value is $100,000, that's what your premium is based on. So is your deductible. So if you're in the wind pool, you're going to have a 1% named storm deductible. That's $1000 every time the wind blows from a named storm and you have damage. If you have three named storms, that's $3000. So after five years, your dwelling goes to $150,000 and your deductible goes to $1500. But it still only costs $100,000 to rebuild – maybe $110,000. So, there's $400 to $500 more in deductible you're paying. And your premium is more. And the agent's commission is based on the [dwelling value], too.
Now, Nationwide just lowered their sales commission from 14% to 10% because the company said the agents were being paid too much money. But they're still getting 13% from the Beach Plan [policies they write]. Because there's no agents in the Beach Plan. It's your company writing the policy, and the agent gets the commission. So we're going to have an argument this year: why is the Beach Plan paying more commission? Because we're actually incentivizing these companies to put policies in the beach plan. Why would they assume the risk when their agents can make more money. But here's the interesting thing: people say, I've got $70,000 of personal property contents, and $15,000 in loss of use and $15,000 in other structures. That's $100,000 that companies say you have to carry so it matches your dwelling. Now, all of a sudden the insurance company says it has $200,000 in exposure. And that's the number you keep hearing, 'We have too much exposure . Our aggregate liability for the $74 billion."
But that's including contents.
And the sheds you don't even have in your backyard. And if this number is inflated, then they're basing their modeling when they go in and say we have $74 billion in exposure, they're saying, "If we have 100% total loss, this is the number we have to pay out." That's not what they're going to have to pay out. Because the number is inflated already. Who has $70,000 in personal property and contents in a $100,000 house? I mean, your cabinetry and windows and stuff are all part of your homeowners policy.
Isn't contents just stuff that's not attached. Isn't that why you videotape your house before a hurricane comes through?
Exactly. But if you have jewelry, if you have artwork, you better have a rider on your policy because it's not going to cover it anyway. So you take it up to $300,000, now you have $210,000 in personal property. But they'll never pay that. So when we look at modeled losses, this total exposure number of $74 billion based on a major catastrophic storm. Basically, they take Hazel from '54 or 55 — because it's the only Cat 4 storm to ever make landfall in NC — and they say, "If Hazel comes up the coast again, this is what we'll pay." So that's what we pay to: Hazel. And this is strictly homeowners; this isn't commercial policies or hotels. So when you hear losses in New Jersey of $35 to $40 billion, that's everything. And they say we have a $74 billion dollar loss potential based on the risk in the wind pool. And there are very few commercial properties in the beach plan. But even if all the companies who do business in North Carolina said, "This is our exposure," it's still wrong.
And that's technically a fraction of what they have in their chest anyway.
We thought after 2009 when the state said they couldn't touch the wind money anymore that the pot would be growing. And somebody always posts comments like, "Oh yeah, our rates are going to go up because of people on the coast. " But the facts are, in 41 years of the Beach Plan — from 1970 -2011 — we heave paid in $2.2 billion in premiums. But 41 years of cumulative losses only totals $784 million. We've paid $2.2 billion in the beach plan, we've paid out $784 million.
And that's all the coastal counties.
This is everyone in the Beach Plan. Eighteen coastal counties. And we've expanded the program. We are no longer a coastal insurance private pool, we are an eastern Northern Carolina wind pool. Probably 200,000 policy holders. My husband Mike's parents live in Camden and they've had to go into the Beach Plan. We knew they were spending on reinsurance but we expected once they couldn't touch the surplus any more we'd be well over a billion within a few years. But still, the Beach Plan is no ticking time bomb. The Beach Plan has more than paid for itself. But inland counties don't know. They don't know their premiums are going up because there's an inflation rate attached.
In fact, we're paying for them because we're paying higher rates…
Oh yeah. So they can keep their rates lower. And I even had an insurance person, say to me back in 2009: "We don't care where we get the increases. If the insurance commissioner's only going to give us increases on the coast instead of us going through the court process, we'll agree with that." But they don't want to write here anyway because they want to reduce their risk. It's been proven that after 1992 and Hurricane Andrew, something like almost 80 percent of losses were paid by insurance companies. After Katrina it was down to 60 percent.
And Sandy is already hitting FEMA up and down.
After Katrina, you saw a shift to where less money was paid by insurance companies and more came from the federal government. FEMA stepped in. So it seems like more insurance companies are backing away from their risk. They have exclusions in policies where they can divide it up by state. I found it interesting that in the case of Alaska, if you have damage to your house from snow melt, it's not covered. If you live in California or Nevada and have earthquake damage it's not covered.
Unless you have an earthquake policy; and in California you have to.
Exactly. So, we've shifted from a homeowner paying a premium every year and knowing they're covered if something happens and they have a loss to "let's see what we can either back out of or make you pay more for." And they were considering in the beach plan not covering wind driven rain for homeowners wind policies. What the heck is a hurricane if not wind-driven rain? So where's the consumer advocate? There's no one there. Through homeowners and realtors and builders and NC-20, we've gotten some of this information out, but we need to have a much broader, louder effort.
So what can people do moving forward. And what's the time frame? Dwelling is settled right? Some people think the pushing off to June was a political decision as well. Do you agree?
Will we even see June? He could settle with the rate bureau before we even get there.
But it seems hard to believe that no one in the assembly understands that they're screwing people.
Well, as long as it's the people on the coast, it's fine. Look: the facts are the facts. And they don't want to argue them, they want to ignore them. Senator Harry Brown , luckily, is the senate Majority leader, and he's from Onslow County. And he totally gets it. He's been fighting this fire the past couple of years. He has a house in the mountains and one in Onslow. And in Onslow, he's paying 5 times more than Asheville; and the Asheville house is bigger. And there's actually a wind overlay map that NOAA does, and it shows the entire state of NC is susceptible to 200 mph winds. You've got an overlay of hurricane prone area and, of course, hurricanes come in from the Atlantic, so you'd assume this certain area is more prone to hurricanes. But there's a whole separate part in the mountains called a 'special wind zone. ' They don't pay any more for that special wind zone, And they don't have to build to the same strict codes so when it does happen they suffer tremendous losses.
But New Jersey will get what they want because they have tons of people on the coast. Does Raleigh need to understand if people can't live here, we wont have the infrastructure to support the tourism industry. Because it's not all rich people.
We've argued that point. The people who live here aren't the wealthy people. They think everyone here is from Pine Island. That's the perception. But the majority of people who live here and will be affected by these homeowner's policies — and that's what this hearing will be about in June; and it will take place like a trial. There's no public comment, we had our day in court. But it's about homeowners policies, the people who live in NC and are trying to own a home. And we forget about it because we have this great tourism economy here, but the people south of us are big military people. And a lot of military families live paycheck to paycheck. And these big increases can put them out. So we may have an ally with the military family lobbyists and what not.
So between now and June, what do people do? Are there insurance companies that are better than others? Or things you can do with your policy?
Nationwide was one of the last companies to write wind and homeowners policies together. They're not writing any new policies that include wind. They're also dropping their current wind polices and forcing them to go into the beach plan. The problem with forcing people into the beach plan — or coastal property insurance pool, which they renamed it in 2009 — is people in our state think we're getting this great deal and we have this special insurance just for us. And that it's to help us. But you pay the maximum rate allowed, which is approved by the insurance commission in the rate filing. A lot of people get discounted rates just to get their business. They don't pay the maximum. In certain market times you're out to get all the money you can because the investment market is so good. Well, the investment market isn't so good now so they've backed off the discounts. But we don't get that. What we have to do is when we go into the NCIUA — when we are forced into the NCIUA — we pay the maximum rate plus 5% for wind-only policies and plus 15% on full coverage homeowners policies. So the legislators were led to believe that this was supposed to be a market of last resort. And to deter people from going into the beach plan — to make them look into the voluntary market or even the surplus market — they added this surcharge. But those charges should be criminal because we don't choose to go there. It's our only option.
Are there any companies still writing wind policies?
If you look at the info on the beach plan and where the policy holders are, it looks to me like it's becoming more of an Eastern North Carolina wind pool, where all the companies are putting their wind risk in the wind pool. Allstate was one of the first to announce, then State Farm. Farm Bureau just dropped 35,000 policies. And it seems like the big companies forced the little guys out because they could afford more risk, and now the big guys are backing out. So the problem is you've got a business that — although they're very similar to a utility — they don't have to write. They can pick and choose. And they've decided that since the market's bad, and they don't need our money that bad, they're not going to cover catastrophic risk. And nothing says that they have to. So the bottom line is we need to find a better way to manage our catastrophic risk. And we're having that conversation with people in other states as well. Because on the Gulf Coast this could have a greater negative impact than the oil spill.
So could you team up across state lines?
Insurance is regulated by the state so you can't cross state lines. But we're having conversations to see if we can create a multi-state compact to see if we can go across state lines. The cost of reinsurance just in Eastern North Carolina alone through the end of 2011, every dollar we paid into the beach plan — which was $330-some million dollars in premium in one year — two thirds of that went out to buy reinsurance. And it sounds good: here's a back up plan in case of emergency. But it's not 10 percent of what we're paying. It's 67% of what we're paying. If people in NC knew, given the state of the economy and the outsourcing of jobs, that 67 cents of every hard earned dollar that went toward premiums in the wind pool went to pay for reinsurance overseas…
What if you did a public service campaign that laid out the difference between rates — like "you love coming here, we can't maintain this" — what would the rest of the state have to pay to keep our rates from going up 400? $20? $50?
You'll have more people come out and say that you're a fool for living there ,it's your problem. That's so sad. But that's the sentiment I'm hearing from people. But 52% of the US population lives within 50 miles of the coast.
And everyone's got disasters. Vermont got shredded by Irene. California has earthquakes. So what's the average person need to do with their insurance policy. What's the quick fix?
Well here's something we want to advocate for next year and work with our department of insurance on. There should be a disclosure statement in every renewal policy that says, "This was your dwelling value last year, we have applied X amount percent. This s your dwelling value this year. This value represents the cost of rebuilding your structure of your home. It does not include the cost of this or this. It is not the market value. This number is the number used to determine your deductible and your premium." I wouldn't even mind if they said this number determines your agent's commission. But there should be some kind of disclosure statement. Because they have in many cases arbitrarily applied an inflation rate factor that increased your dwelling value, which increases your premium, and people don't understand the whole process of how rates are set. So they can just apply this rate. And you don't know it happened.
If you do know, can you beat 'em back? Or do they say , "Go someplace else."
We know a guy in Manteo who had a ranch house, no bells and whistles, 2200 square feet. His insurance went up to $9000 a year from $7000. That's $750 a month. That would've been a house payment years ago. But they had his house valued at $500,000. His builder says, "It's not going to cost me 250k to rebuild." But they've got this software program they use when you first get your policy and they plug in the numbers — square footage, number of windows, type of foundation, upgrades — and say, "This is your cost to rebuild." So he says "run those numbers again." It came up at $350, 000. But because of the inflation rate being applied every year over four or five years without him paying attention, it was $500,000. Insurance companies don't like to do that because it lowers their overall exposure. But if we were to do an 'auto correct' across all the policies, there would be a huge shift down in companies' overall exposure. And a huge decrease in premiums and revenues in 9 out of 10 policies. So the first thing people need to do is call and say, "I want to reevaluate my dwelling value." Put those numbers through the software program and see what they come up with.
But I guess the risk is it may go up too.
It'll never go the other way. I guarantee. And the agents who live here and work here are good people and want to help you, but there are decisions made on the corporate level and they're hand fed information. I mean, when I've talked to insurance agents, they had no clue about the loss history. They were only given information of, "This is the Beach Plan, the risk is this, there's not enough money to pay it." And I'm like, "They took $130 million out over 20 years." They don't know that. But your agent is typically the frontline person getting hit with "Why are my premiums going up?" And yet it's the higher-up levels and the lobbying that's affecting the consumer.
So, getting back to poor Joe who found out he only needed $350,000 to rebuild. I said, "Joe, you should talk to the Department of Insurance about this and show them your renewal policy from the past few years. You might be able to get some money back from your company." And his answer was — and I've heard it over and over again— " I don't want to get my agent in trouble. He's a good guy."
I know a woman in Currituck whose insurance was $250,000. The tax value on the structure was only $117,000. I said, "Tell your agent it won't cost more than 130k to rebuild." I followed up with her and she says, "He said he wanted to make sure I had enough coverage, so he brought it down to $180,000." But she'll never get that $180,000. It's not like life insurance. If your house burns down, they're not going to give you a check for $180,000 plus another 70% for contents. They're only going to pay the cost to rebuild it.
And if you can't prove you owned the contents, they're not going to give you a nickel on the inside.
Exactly. You don't even necessarily get the money up front. Sometimes you pay and get reimbursed. Now, here's something some people don't know. In an HO3 policy — the best homeowners policy that you can have — after a hurricane there will be demand surge. You'll see prices go up for lumber and such. With a Homeowners 3 policy, if you have 100k coverage, the company will cover you up to $125,000 . That's why you pay more. I'm not sure they pay that in the wind pool, it should follow, but they don't tell you that.
Well, you're always going to get up-sold. You walk in looking for a TV, it's always, "Have you seen this model?"
But it's your insurance agent — and "agent" is a term used to describe someone working your behalf. What I've seen is we have insurance salesmen. And when it comes to losses, I have friends who are agents and seem to be very, very good people. But you also have the guy who was charging Joe $9000 a year and making x commission.
The other pitfall is knowing your policy. People after Irene were shocked to find out that if they were at a certain elevation, the contents under their house weren't covered — but their neighbor's garage was.
Right.
Now what about named storms. The National Weather Service isn't naming nor'easters, but the Weather Channel is. Is that something we need to be worried about?
If the Weather Channel is doing it, I'm not sure it matters. But it's pretty interesting that Cuomo and Christie came out and said they were going to talk to the insurance companies about waving deductibles. The logic there was that when the storm made landfall it wasn't actually hurricane force winds. Therefore it wasn't a hurricane . There's the difference. When we start getting compared to other states, people say NC is paying lower premiums than any other states. I was told by the Beach Plan manager that we're paying less coastal premiums than other states because our deductible is 1% compared to 2%. And I said, first of all North Carolina has not had the losses that other states have had — you can't compare us to Texas or Florida by any means — so we should be paying less. Second, the deductible situation, somehow through that Beach Plan reform, they wanted 1% on any wind; and we thought we won by saying "named storm" instead of any wind losses. The insurance lobby was pushing for a 1% deductible in the wind pool regardless of whether it was a nor'easter or a thunder storm. We got it to 'named storm.' But other states have a hurricane deductible.
So ours is 36 mph instead of 74.
Exactly. And we don't just pay named storm for the year — like they have a hurricane deducible for the whole year so their deductible is like their medical deductible — we have a named storm deductible per occurrence. So if we get two named storms we still pay that deductible twice. Three storms, we pay three times. That's the other difference.
Wow.
So I try to educate the legislators. One good thing is Eastern North Carolina legislators — democrat, republican, whatever —have formed a caucus. I gave several presentations to them about insurance, so they're all on the same page and are armed with the facts so when a lobbyist does come in they can say, "What about this?" That'll be very beneficial to those of us on the coast. I truly believe that knowledge is power. And I still believe in power of the people. And I hope if we speak with factual information and loud enough, we can effect some change. We just all need to come together, whether it's coastal North Carolina or other states from the Gulf to Maine. We are spending an exorbitant amount of money on reinsurance, where if we just pooled half of that money together we could more than cover Katrina three times over. So if we can start communicating through the states and look at how we can better manage catastrophic risk, it would not only benefit any coastal resident but the inland states as well. Because when we suffer damage, it does affect the state of North Carolina. And we are a tremendous asset to the state. We do give more in taxes than we get back from the state. And I'm not running for office, but that did sound like a political campaign speech [laughs].
It's funny because 80% of these houses are owned by people out of state. And you think about how many people in DC…
I know, and I get phone calls from them now saying, "What's going on down there?" And I'm like, "Can you talk to the guy you know in congress?" Because this is pretty messed up and the only people who benefit are the insurance industry. The more they can drive home that there's this huge catastrophic risk and we should be paying to that catastrophic risk every year, the better off they are, the more money they make. And when it comes down to when the catastrophic risk happens, as evident in New Jersey and New York, the federal government is going to have to step in and bail these people out. Just like Katrina. And that's because insurance companies have backed away.
But they're not making any less money or charging any less.
No. Now, when the investment market goes back up and interest rates go up, they'll come in and there will be a money grab. So you'll see access. You'll see them actually writing policies. Right now, they're not making money from the money we're paying, plus they've got the risk. I understand business and economics. If it was my business, I'd do the same thing. ButSusan Valauri of Nationwide said their largest one day loss in the state of North Carolina ever was from a hail storm last year; not Irene, but a hail storm in central North Carolina. You get rocks pelting a densely populated area, you get tremendous damage.
But their rates won't go up?
Probably not. But what I don't understand, is if the rate bureau already got their hand slapped and were told their methodology is illegal in the dwelling filing findings of fact, why did they use the same methodology in the homeowners insurance rate filing? Why did they use the same modeling? They included more information, but it was the same formula. And if they've already said this where we have problems in the dwelling rate filing, are they even going to give the Department of Insurance an opportunity to conclude our homeowners' rates should be less? I don't think they're gong to have this hearing. I think they're either going to pull this rate filing or the insurance commissioner is going to reach a settlement.
What do you mean by 'pull' the rate filing?
That means they withdraw the rate filing. They have the option to do that and they'd come back with another rate filing. Or he can reach a settlement agreement with the rate bureau. And if he reaches a settlement agreement, we don't have any access to how thy reached the settlement. So if he holds a hearing and determines the rates should go down, all the rate bureau has to do is file an appeal and he'll say, "Well, I'm helping you out here, rather than go through an appeal and go to court." All the rate bureau has to do is file an appeal and it'll force the commissioner into a settlement rather than risk the full rates going into effect. And all you had do was read the first page of this order of the hearing and it's like the rate bureau is just using a fraudulent document: "Filing is not clear, concise, internally consistent or readily understandable….pervasive lack of documentation, explanation and justification to both the data used as well as the procedures and methodologies used . . .suffers from significant deficiencies… the data is so questionable that a proper evaluation of this filing, including its various components and methodologies is obstructed." This was their order to hold a public hearing on the homeowners insurance rate filing and it's basically saying everything that we've been saying: that the whole system is flawed.
And it's more flawed toward us?
Well, they say it's a 30% increase across the state, but if Charlotte is currently paying $344 per $75,000 worth of territory they asked for an 8.5 % increase, which would be a difference of 29 dollars. Our difference is $414 .
And if you have $300k home, you multiply that times four.
More like three and half because a portion of that is fixed expenses that are added to each policy. But it's pretty close to four times. And if you're in for full peril the Beach Plan, you're getting charged 15% extra.
But I asked the Department of Insurance for the historical rate history for every territory in the state of NC. They could go back to 1993. So before 1993, it was $550 on the Outer Banks. From 1993 to 2009 it went from $578 to $1379. Now they want $1793. So that's 300 and some percent increase in that time period. In Charlotte in 1993 they were paying $351. In 2009 after the rate increase went into effect, it went down to $344. So where is the increase in building cost and all that?
And insurance is business and they're in business to make money. Okay, fine. But should we be looking into treating it more like a utility? I've been pushing for some sort of state catastrophe pool discussion for some time, becase the entire state is at risk of catastrophe; the whole state is at risk of hurricane damage. Why not a state wide hurricane deductible? Why not take that money we're spending on reinsurance and allocate it to a catastrophe pool and keep the money in the state of North Carolina and invest it in the state of North Carolina? Should we look at a statewide catastrophe pool — a multi state catastrophe pool? Because when you start looking at premiums, since 2006, an estimated $8 to $20 billion per year was collected in premiums in these various state wind pools and the majority went to pay for reinsurance. And if we kept that money and put it in a fund, it makes more sense.
When you think about insurance, everyone always says, "What if I took this same money and just stockpiled it in case something happens?" It may not make sense for one house, but it might for a whole state because you spread the risk out and you get a giant lump sum.
A lot of retirees who own their homes do that. And this year, Senate Bill 836 , said the rate bureau has to come up with a rate or some sort of form for someone if they want to buy a fire policy and they can self-insure for wind. But another question I have is: how can these insurance companies be so broke and pay for all this advertising. Who sponsors the stadiums? Banks, cable companies. insurance.
Farm Bureau Live.
And who's paying for all the lobbyists? Every time we walk in the door to a representative, four lobbyists walk out And the profit even last year for insurance companies, even with all the tornados in Missouri and hurricane Irene, total catastrophic losses in the US totaled $35 billion. They added more than that to their policy holder surplus last year. So when you hear them say "We've had catastrophic losses and rates need to go up" they still added all this money. And that's where I said, "Isn't hat money supposed to cover those losses." And the insurance guy said, "No that's shareholder dividends." The guy in Nationwide told me they had to show their shareholders a 10% profit every year.
And we've almost gotten to the point were you need to cut the profit out because they've gotten too greedy and we can't pay to their level of what they need for profit. But if we took 18 counties and tried to create a mutual insurance company with the premiums that are being paid now, we could take the Beach Plan money — in the bill in 2009, Marc Basnight included in a provision that says if a group were to take over the operations of the beach plan and a separate entity was created, the assets would transfer. Wouldn't you like start a mutual insurance company with $700 million in the surplus fund? Yeah, you might have to buy some reinsurance to begin with, but we could work with the state to look at tax-free bonding as an opinion that we could borrow if there were a worst -case scenario. But build up that pot of money — which we're not doing now because we spend so much on reinsurance; we're not growing our surplus. The more we can grow our surplus the better off we are in terms of the health and stability of our beach plan. Which we're not doing because we're spending so much for reinsurance, which is based on an overstated projection for losses.
But wouldn't it be great to think like that? How can we better manage catastrophic risk? The unfortunate thing about having a mutual insurance company for eastern North Carolina is you're not spreading risk to lower it for everybody. You're still putting the burden here. But we can't continue to see increases here like we're seeing here to make up for the cost of reinsurance and profit. And then the insurance companies may come back an say, "Now you're interfering with competition — because the state cannot adopt any law or regulation that will interfere with the free market or competition — but my argument back is they don't want to write here anyway. There's no market. They're not writing policies.
So expressing support for that idea may be one thing people can do to change things.
Well, there has to be some better way. Because if we get hit with these increases in 2013, are we going to see redevelopment? Are we see people come in to invest? Are we going to attract employees? Are we going to attract small business owners? Or keep them? So we either all get on the same page and start talking about managing catastrophic risk. Because the bottom line is we're getting to the point where we're going to be unable to afford the product. And we're going to force people out of their home. We're going to greatly affect investments.
But if you can save someone $500 a year in premiums or $2000 on their deductible, that's the way to go at it first. Because with the politics behind all this — with the enormous mount of money being spent by the insurance lobby — we are fighting an enormous uphill battle to effect change. And if you want to take the discussion beyond the scope of insurance, it's really: where is the state's commitment to coastal North Carolina. Because if you want to know the consumer perspective of coastal residents in North Carolina, it's this: we're backed into a corner and we've got nowhere to go. And no way out.
_____________________________________________________________________________________________________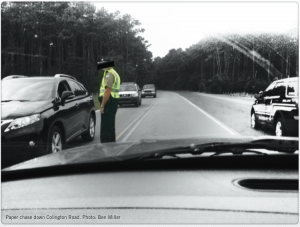 STOP. RIGHT. THERE.
The law says license and sobriety checkpoints are allowed so long as they're reasonable. We asked the ACLU to help define "reasonable."
"The right of the people to be secure in their persons, houses, papers, and effects, against unreasonable searches and seizures, shall not be violated, and no warrants shall issue, but upon probable cause, supported by oath or affirmation, and particularly describing the place to be searched, and the persons or things to be seized." — 4th Amendment, U.S. Constitution Bill of Rights
Clearly, our founding fathers never had to drive down Colington Road on NFL Sunday. And while the issue of highway safety and drunk driving is every Outer Banker's concern — especially during the holiday season — it only takes a couple winter roadblocks to wonder: how is it Constitutional to randomly make drivers stop and prove they're not breaking the law? As a Racial Justice Attorney with the ACLU of North Carolina, Raul Pinto's job includes protecting civil liberties during the execution of roadblocks, license checks and police stops in general. We asked him to help clarify the state and federal statutes so both residents and officers know their legal limits.
MILEPOST: What is the ACLU's purpose and what is your role inside the organization?
RAUL PINTO: The ACLU is a membership-based organization that works on defending civil rights and civil liberties. My job in particular was to study the increment of checkpoints in minority communities and that includes protecting civil liberties during the execution of those operations. And also, it entails the studies and stories from racial profiling. And also working from a legal standpoint to ameliorate those problems and organizing grassroots efforts to address the issue.
So what are the constitutional rights we're working with? And how did roadblocks go from unconstitutional to constitutional? Because I'd say 50 years ago, people would have a big problem with this concept. Or even your average tea partier today would see it as a major constitutional breach to ask people to randomly prove their not breaking the law.
So when you're talking about check points — and it's important for people to know that even a brief slowdown to show your license actually constitutes a seizure under the law — that would bring the stop under the 4th Amendment, which states that any seizure has to be reasonable. So, then you're starting to look at proof that the manner in which these checkpoints are being conducted is unreasonable. And that can take on different meanings. For example, you can look at the number checkpoints that were being conducted. We conducted an investigation in Winston Salem where the police department admitted they had conducted 244 checkpoints. And specifically those checkpoints were concentrated in minority areas. So we think that that number — concentrated on minority areas — would make those checkpoints unreasonable. And there other ways hat you can argue that.
Now the one thing is that, the Supreme Court — in a phrase in passing, really —stated that check points can be done. And check points to check licenses can be conducted. But usually what goes into that analysis is that the state, or in this case the police department, must have a public interest to conduct these checkpoints. So while they do have the authority to do them –not only under federal law but north Carolina Statues also grant police departments the authority to conduct checkpoints — they still must comport with the standards of reasonableness, so you can't be held up for more than you could be for what the original checkpoint is for.
So, how it appears — at least anecdotally to the casual witness of the past 30 years — is first you had sobriety checkpoints. The idea being we need to stop drunk driving, particularly around the holidays. Those seem to be more announced though. And that has sort of migrated into he license checkpoint where simultaneously the car cruiser runs your plates from the side of the road. Is that basically the chronology of what seems like a whittling away of what's considered to be your constitutional rights?
To a certain extent you're right. The North Carolina law regulating the way checkpoints are supposed to be conducted actually started as guidelines for DWI checkpoints. And then the NC legislature figured out that they were also conducting other types of checkpoints, like license checkpoints, and they broadened the statue to encompass all types of checkpoints and not just DWI checkpoints. So yeah you can see the progression in police practices by the way the statute was written and amended.
One argument I've heard is the rational behind allowing the checkpoints is driving isn't a right, it's a privilege. So you effectively volunteer to give up a certain degree of your rights when you get a license. So does this fall under the right to privacy or….?
No, it falls under the 4th Amendment, an unreasonable search and seizure. And when you talk about the racial disparities that inherently occur in some cities while executing these checkpoints, then you're looking at 14th amendment equal protection claims. So why is one resident of one neighborhood being asked to show his license multiple times a week when a resident of a Caucasian neighborhood is not? So you're looking at that legal theory as well. But in the cases you're describing I think it's more of the 4th Amendment: why do we have to go through this repeatedly in order to get to our homes and places of work and what not?
We have a lot of sobriety and license checks here. A year ago someone said to me he'd never seen so many license and sobriety checks — roadblocks and just general police stops. Is there a difference legally between a license check and sobriety check and what the police can legally do?
What happens usually is that when you have a sobriety checkpoint the law enforcement agencies will apply a much stricter standard — which means they'll have a breathalyzer test ready, a mobile unit usually at the check point — so therefore it takes more planning and many more officers. Now, a license check, in contrast, is something that can be done by only a couple of officers. There's no great planning required. They're supposed to be authorized by superior officers, although we've seen in different investigations that that's not always the case. And they can happen anytime, anywhere. And the procedure that will be followed is officers are supposed to be stopping cars in a systematic fashion. And that means they're supposed to stop every vehicle or every second vehicle, every third vehicle, so they're supposed to use a pattern of stopping to check driver's licenses. And that also means that not only are they checking for licenses, they're checking for other violations of traffic laws.
So registration or proof or insurance or anything you're usually asked for when stopped by an officer.
That's exactly right. And something that does occur is — let's say a driver comes to a regular license checkpoint and the officer has reasonable suspicion to believe that you've been drinking — then they can do the breathalyzer test and check you for a DWI as well. So the gamut of violations they can check during a license checkpoint is many. It's the entire spectrum of violations of traffic laws.
I think that's what troubles people most. If you were to ask a lot of people, they would say what it basically comes down to is fishing for violations. Even if the explanation is "we're just making sure everyone's up to date," the motivation is to just to cast a wide net and see what they can come up with. Especially around here in the offseason where we have a lot less people and a pretty high number of police officers.
And you're bringing up a very good point. Because while they can check for violations of traffic laws, the checkpoints themselves cannot be utilized for general crime control. For example, police officers cannot set up a checkpoint in order to investigate drug crimes. So they can't set up a check point to search your vehicle for drugs. And that has been decided by the Supreme Court of the United States.
But what seems to happen is — or at least from what I understand — if they can set a series of circumstances in motion, they can get to that point. So, asking a series of questions during the license check or simply asking for consent to search, then they can make it legal to take that step from, "Let me see your ID" to "What's in your car?"
So if it's a traffic enforcement checkpoint — which would be to check for your driver's license or seatbelt violations — the length of time the driver is stopped should not exceed the purpose of that checkpoint. For example, if it's a seatbelt checkpoint the officer should be able to check to see if you're wearing your seatbelt, check for your license, registration or other papers, and if all is in compliance they should let you go on your way. And so if they're asking for consent then you might have an argument that the checkpoints actually are not for the purpose of conducting a seatbelt check, but rather they are for the purpose of going on a fishing expedition, or ascertaining that other crimes are not being violated, which will then take them from the ambit of being allowed by federal law to not being allowed by federal law. So you really have to take a look at what are the practices the police are using when they conduct these checkpoints.
And you're touching on another issue as well, which is consent. And unfortunately, consent is the catch-all. If a driver gives consent to search the vehicle then the police can do so. So it's important for the community to know that when an officer asks for consent, you as a driver and as a citizen always have the right to deny that consent. So that's important to know, as well.
Then the old argument often becomes, if you have nothing to hide why won't you consent? And then it comes to, "We'll just get the dogs.' How do you maintain your rights without stepping into that trap? Or without appearing disrespectful?
And that's a very tricky balance. And the interesting thing is, the more educated a citizen is when it comes to their rights, the more they know they have the authority to deny consent, the less likely it is the officer will use that same tactic in the future. I'll give you an example. Fayetteville recently had racial disparities in the amount of consent searches — not checkpoints, but consent searches in general. So in some instances African Americans were being searched at rates of 3 to one to Caucasian drivers. The city council took several measures to ameliorate that problem, one of which was actually the use of a consent form, which basically says that if you're going to ask for consent from a driver, the driver has to put it in writing that he or she has given that consent. And the consent form also states and informs the driver that they have the right to say no. Once that form was implemented the ratios went down to about one-to one. So the importance of that is that when people know their rights, they can actually help shape police policy and police practice. So it was a very interesting example but it shows you that when people know their rights, they're more likely to exercise the rights they have. But, as you're saying, it's a very tricky balance because officers will certainly utilize certain tactics to obtain consent.
But the one thing the driver has to know, they don't need reasonable suspicion to ask you for consent — but they do need reasonable suspicion to search your car without consent. And so without that, the officers would be in violation [if they search your car without consent and reasonable suspicion]. And, also, the stop cannot be prolonged any longer than it should have taken for the original purpose of the stop. So it's very tricky and sometimes full of legalese. But when people know that right, they can help shape police practices and police conduct.
And so, for example, if you're sober and your car's clean, the best thing someone can do in this situation is — instead of saying, go ahead an search it because I want o get out of here — is to push back and say, "No." And force them to get the dog and force them to go through the process and force them to come up empty-handed?
Well, I would phrase it a bit differently. I would be forceful in asserting my rights and the rights given to me under the constitution.
It's funny, because it's not necessarily a racial thing, but here they frequently do checkpoints in and out of Colington. And the Outer Banks isn't vey racially diverse to begin with — I think 3% of our community is black, maybe 12% Hispanic— so most of the people living in Colington aren't of a different race, but you could argue the bulk are of a different socioeconomic background than some of the wealthier beach neighborhoods. And it's also the county, instead of a town, so that could be part of it. But it's pretty much synonymous with roadblocks. Especially, compared to more affluent areas. Is there any precedent for socioeconomic bias? Or is that inherently harder to prove than race?
Unfortunately, when it comes to discrimination law, socioeconomic status has not been given very high priority. But what I will say, is that in our work in Winston Salem, while there were racial disparities, I think there were also socioeconomic disparities as well. and a lot of our work there was sort of grassroots, going to elected officials and trying to impart change that way. So I do encourage folks in these communities to go out to their elected officials and talk to them about the problem. And if they feel affected, like their rights are being violated, by all means contact the ACLU and their elected officials so they have it on their radar and they see what's going on in these communities and why these checkpoints are being located where they are.
So what are the rights of the driver? Can he refuse a search? Can he refuse to show ID? I know if you refuse to blow in a breathalyzer you're automatically penalized, but what's the rules for checkpoints in general? If you turn around, does it mean, "Come get me?"
Well, that's an interesting question. I think when it comes to a checkpoint, the best thing for a driver to do is — first of all — remain calm and cooperative with law enforcement. If they ask for you license and registration, provide the officer with them. Because, as I was telling you before, law enforcement agencies in North Carolina have the authority and the right to conduct checkpoints. So, that's point number one. Turning around from a checkpoint should not necessarily be reason for an officer to follow, but it does come into effect. And what we've seen in other communities is they'll have a checkpoint set up and not far from there will be a pursuit vehicle who will follow other vehicles that turn around. So while it shouldn't be, in practice it does. An when it comes to consent searches you can always deny them consent to search your vehicle. That is your right. And is not only established in federal constitutional law but in the statute and the law that allows officers to conduct consent searches. And so you have that option. Now, there are certain exceptions to that rule when an officer can search your vehicle without consent and without a warrant. But the general rule is that if an officer asks you for consent, you can deny consent.
When it comes to the breathalyzer test, that gets a little more nuanced, but the bottom line is that a person who has been stopped for DWI or when the officer has suspicion that the person has been drinking, the person cannot refuse a breathalyzer test.
So, one of those situations may be if the officer says, "I think I smell weed," they can search your car. Do they have to ask for consent? Because, obviously, 'I think I smell something" is pretty subjective and it could be used as an excuse. Does something have to be visible?
You know, it really is situation by situation. I've seen cases, some racial profiling cases, where the officer's reason for a search was this reason that he smelled marijuana although nothing was found. So that's one of the things we're going to be highlighting very soon with the racial profiling campaign that we're launching. But it's really a subjective approach, so it's really difficult to tell you what reason the officer may give you. It becomes impossible for me to anticipate what it would be. But, for example, if you have something that looks criminal – if it is in plain view- that might be reason for the officer to search you. And there are others. But it's really a case-by-case basis.
The other response you hear is, "We'll just get the dogs." How is that not an invasion of privacy? Why is that upheld — or is it? And how effective are dogs anyway?
Unfortunately, dog searches have been upheld because the dog is not supposedly going into your vehicle from the get go, the dog will basically sniff air, and supposedly the air is not private. So, it's really a technicality. And therefore, if the dog comes up with a positive — which you never really know what that positive is unless you've been trained to work with the animals — it creates for the officer the reasonable suspicion in order to search the vehicle without consent.
But remember, the officer cannot prolong the search, again, any longer than what it should've taken for the original purpose of the stop. So let's say they stop you for a seat belt, you were wearing it, you're on your way. And if, for example, they mention it will take them an hour and a half to get the dog so you better consent because you don't want to wait that long, that's something that's violating your rights. The dog search per se i snot necessarily violating your rights and they have been upheld, but again the search cannot prolong the purpose for your original stop. So people should be aware of that. And should write down as much information as they can remember once they've been subjected to this kind of stop.
That's a good point. Because a lot of times, they say, "We can just wait for the dogs." But then you can say, "If you don't produce a dog in the next five minutes, I'm outta here." Is that what would you say? Maybe not in that tone…[laughs]
Well, I would definitely avoid that tone. And a lot of these rights you can assert them, the officer's gonna end up doing the things they're trained to do, and these sort of things can go into a complaint with the internal affairs department. I know some communities have lost trust in their police departments, but it's a good tool at least to put your voice in writing. You can definitely let our organization know so we can keep track of these practices and see what can be done. Either from a legal standpoint or from a grassroots community standpoint.
The other thing is the persistent questioning. I mean, after the fifth time they say, "Are you sure you haven 'been drinking?" is there a point where can you say, "Are we done here?"
I think it's always important to ask the officer — after you've been asked a series of questions — "Am I free to leave?" And that's really the key question. Because if the officer says no, you're going from a mere traffic detention to a possible seizure of your person. And that triggers more constitutional protections than that of just a traffic stop. So you can always ask — and you should always that — after you've answered the sort of routine questions: Where are are you going? Is everything okay? Is this your car? After those questions have been asked, the trigger question is: Am I free to leave? And if the answer is no, it's possible you're being detained and you're triggering more constitutional protections.
What about the rights of the passenger? Assuming you're not sitting in the car with a beer in your hand, are you protected?
In North Carolina there is no passenger identification law. So you are not required to give your identification to the officer, unless the officer has reasonable suspicion to believe you've been part of a crime. And so the officer should not be asking passengers for identification unless there are those circumstances. However, a lot of officers do not necessarily know this, so they don't practice that very well, so they'll ask the passenger anyways. So our recommendation is always — in order to avoid further trouble — that if passengers have that identification, they should just show it and that way you can comply with the officer's request. But as far as having to do it, no you don't have to do it. And North Carolina is one of the states where the law protects people. Unless the officers have reasonable suspicion to believe you've been in a crime.
So if it comes down to a search of the car and the driver, the passenger should be able to refuse and not be searched?
Right. And when it comes to a person's frisking, I'd be hesitant to comment on that. Because, again, it really depends on a plethora of circumstances.
For example, if they think you have a weapon and you refuse, they're going to get even more nervous…
Right and also there's issues of probable cause, and the difference between probably cause and reasonable suspicion, so you'll get into a whole lot of circumstances that I could spend a week talking about.
So in some ways, its' better to comply to get through the situation. But then you follow up and say, "Look this is what happened, and this is the chronology of what happened, and this is why I feel it's unreasonable."
And this is something also for the community to know about. Let's say when internal affairs for a certain police department gets one complaint, they may be less likely to do something than if they get 10 complaints. And obviously the more complaints they have the more likely they're going to see a problem. And also they're going to see community concern. And that's the same thing with our organization as well. One complaint may show me that it happened once. But if I have 10 complaints from a certain community then I know it could be a systemic problem that needs to be addressed.
Is it just a matter of just taking down copious notes after the fact? Are there certain things they need to be looking for? What do you do if you do feel like you were unreasonably detained?
If there's a traffic ticket involved and they believe that they were unjustly ticketed they should definitely contact an attorney. Specifically one that deals with traffic issues. That's my number one recommendation. Second, is try to take copious notes and as soon as the stop is over, write down as much information as you can remember. Definitely include the police department or law enforcement agency that conducted the stop. If it's a checkpoint, try to remember how many officers and patrol cars were present. And if you're stopped during a checkpoint or a random traffic stop, you can always try and remember the name of the officer. If you're given a ticket you'll have it. But make a copy of the ticket. We've heard in some communities that once a person's paid a ticket they were only given a receipt. I would recommend they also make a copy of the ticket for their records, as well. So record, record, record. And get as much info down as possible. Get it in writing. And then, as I said, you can take that information to internal affairs. Or to a non-profit organization like ours. And keep the conversation going about this issue. Talk to your neighbors; talk to your friends. Find out whether this has happened to others, that will help show if it's a single event or a practice of your law enforcement agency.
Definitely around here, you hear a lot about people getting stopped randomly after midnight, being asked to consent to search, and just complying because they're tired from work. But it sounds like if you do have the time and inclination, the better response would be to go through the motions so they come up empty and establish a pattern of it not being so beneficial to the department to keep doing it.
That's exactly right.
Besides the obvious — don't drink and drive, don't break the law — is there anything people can do to avoid being stuck in these situations? Or once you're on the road, are you at the mercy of law enforcement?
You know the traffic code — not only in North Carolina but in every state — is so intricate that at any given moment you could be breaking two traffic laws at one time. So it really becomes the discretion of the officer as to what type of violation they're going to stop you for. But again, maintain calm and be as courteous as possible. That's something we advocate, and be cooperative with police officers as well. It might lessen the tension of a very stressful situation.
Anything else you'd like to say?
I think we've covered it all. Just remind the community that if they feel their rights have been violated to try an remember and write adown as much as possible. And to contact the ACLU. Definitely you have to report it to someone because if these stories go untold there's nothing you can do to shape those unconstitutional practices.
________________________________________________________________________________________________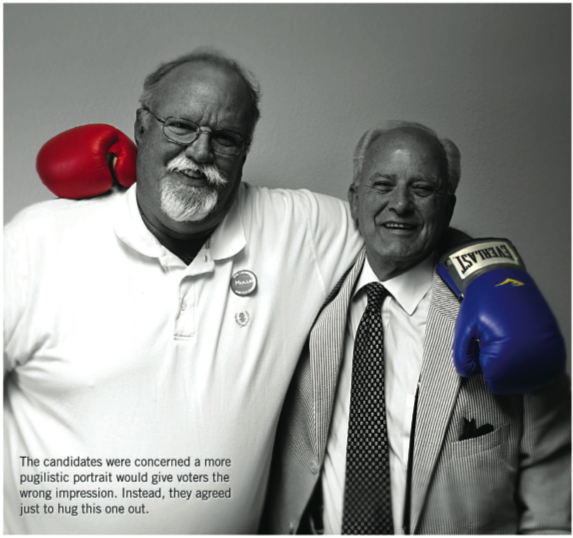 BOB VS. BOB
In a political season rife with partisan friction, the county battle between Woodard and Muller is looking surprisingly friendly
This election season will be the most brutal ever. Or so you would think from the national debate. And, honestly, when we first asked Bob Woodard and Bob Muller to discuss the race for Dare County's only open seat (District 2), we were hoping to see a little blood fly. After all, Muller is a Democrat, Woodard a Republican. As KDH Commissioner, Woodard said 'yes' to Lowe's; Mayor Muller helped shape Nags Head's 'no box stores' vision. But instead of two party prizefighters striking partisan blows, we found two cordial candidates with striking similar views. Both are strongly pro-beach nourishment, pro-beach tourism and pro-beach access. And both see major issues coming down the pike, particularly the impending property tax revaluation. (In 2013, the county will adjust its rates to keep the necessary revenue coming in, so while home values maybe down, peoples' bills will actually increase.) Most notably, both believe in a governing philosophy that puts following personal values over bending to public opinion. Maybe that's why they share such strong mutual respect. As Woodard notes: "Bob said, it and I'll say it: no matter what happens in this election, Dare County will get a great representative."
The following interview represents the full conversation of the edited version that printed in Outer Banks Milepost 1.3 Fall '12 issue. — Ed
What made us think of talking to you two — because obviously, we'd love to talk to every candidate — was the fact this is the only open seat. And you both have served for a long time in your respective towns. Commissioner Woodard, you're still serving on the KDH board. Mayor Woodard, when did you leave the Nags Head board?
BOB MULLER: I was an elected official in Nags Head for 20 years, from 1985 to 2005. And I was the mayor from January of 2000 to December of 2005. Since then I've work on a number of community boards: the Outer Banks Community Development corporation — I chair that board — the Community Foundation Board, the Eure Outer Banks Art Center, which is a group trying to create a local cultural center. And I'm working with another group that's trying to access some broadband fiber that's being installed in the area and drive it into unserved and underserved households of Northeastern North Carolina. It's called Northeast Rural Broadband.
So it's still public service, but not in a elected position. Can you both of you tell me what motivated you to get into in public service to begin with and how that carries over to running for Dare Co.?
BOB WOODARD: In my case I used to come down as a young boy with my parents back in the 50s. And I fell in love with the place. I loved it so much I said, "I hope one day I'll be able to live down there." And I was fortunate enough in 1968 to be able to purchase a piece of property in Kill Devil Hills — for a lot cheaper than what it cost today [laughs] — but I built a little beach cottage in 1970 and came down on the weekends. And when both my boys were grown and married, my wife and I were able to sell our home in Chesapeake. As a matter of fact, she said, "I'll give it two years." Well, I can't drag her away now. But it's a lot different living here than it is coming down on the weekends. But in 1995, I believe, we moved down here permanently and I commuted back and forth to Norfolk until I had 30 years with a firm. And last January I left there and went to work for Towne Bank, Towne Insurance. And during my time down here I got involved with the town. I served on the Streets and Special Projects Committee, and then I served on the planning board, and then I ran for public office. And I'm in my third term at KDH.
But I look at it as paying my civic rent so to speak. I feel like if you live in a community and care about that community you do what you can to make it a good community to live in. And I don't have all the answers as far as what's right or wrong. But what I do have is the experience in KDH and the willingness to listen to folks and try and do a good job and do what's best for the town. And that's what I'll bring to the county side. That experience and the ability to work hard and try to do what's right in Dare County. And Mike Johnson chose not to run so I felt like the Republican Party needed someone with some background and experience and someone who cared, and so I threw my name in the ringer. I think Bob said it, and I'll say it: No matter what happens in this election, Dare Co. will have a great representative in either one of us. This won't be a "Bob you're totally wrong on what you're thinking, I disagree with what you're saying 100%" [campaign]. This will be a very positive campaign from both of our sides. I'm pretty confident in that.
Which is interesting to hear, because nationally the two parties are far from friendly.
WOODARD: Well, it is a partisan race, but we don't bring those platforms to the table.
MULLER: But there's a lot of folks — I being one of them — who would like to see the county go to a non-partisan format and get those partisan politics [out] because they don't define — Republican and Democrat at the county level — don't define candidates particularly. You've got small government Democrats, you've got some Republicans who see the need for tax increases and more programs. So when you look at the board, you don't see Republicans and Democrats, you see seven people working really hard to do what's best for the citizens of Dare County. And I agree with Bob. I would hope people will give us the opportunity to talk about what is the future of Dare County. Bob and I aren't going to get caught up in name-calling and the silly stuff. And I hope the people will let this election be a debate about the issues that will face Dare County over the next 20 years.
But to get back to your initial question. I moved here in 1977. I was living I Ohio. I went into a record and stereo store and met a woman who'd been coming down here on vacation — these stories all start with 'I met a woman' [laughs] — and we came down and rented a place in South Nags Head for about a year. Nine hundred square feet with a wife and two kids. In 1979 we bought a house in North Ridge. I almost bought in Kill Devil Hills, so it's interesting to think what might have been if that had happened. But I bought in Nags head. And I looked around when I was in my early 30s and Nags Head was about 60% built-out, and there were a lot of decisions to be made about how the community grew. And I decided I wanted to be a part of those decisions. So, like Bob, I got appointed to the board of adjustments, planning board. In 1985 I ran for the board of commissioners and got to work with a lot of people in figuring out what Nags Head was going to be when it grew up. And the Nags Head vision statement talks about family vacation tourism, predominately single-family homes. We've sort of gotten there. And 20 years is along time to serve so I felt it was time to get out. I retired from 30 years at the post office a little bit after that.
But I love Dare County and I wanted to help in the community so I found some activities that let me do that in the non-profit realm. And now, this opportunity has come up and I see the same question in the county board: we need a county board that is looking to the future. That is talking about the big issues that are going to define us over the next 20 years. Transportation. Water Quality. Our beach quality and our access to beaches. The county board spends a lot of time — and rightfully so – not tripping over financial roadblocks that are being set in its way. And to some extent, bureaucratic roadblocks, talking about access problems on Hatteras Island. We don't have that big overarching vision; we don't have that big consistent community theme. And I hope to help the county move toward that having a consistent vision of where is it that that we're going to go. I also believe the county needs commissioners who will work hard and I will do that. I'm a little flabbergasted they passed a $100 million budget without a budget workshop. And I assure that's not the way we did our municipal budgets.
WOODARD: No it's not.
MULLER: And that won't happen if I'm elected. I think if people look at my Nags Head experience they'll find that that I was a pretty hard working elected official. And I'll bring the same thing to the citizens of Dare County.
What do you see being the pressing issues then? Mayor Muller, you just mentioned water quality, transportation. I'm assuming the revaluation is another.
WOODARD: I think there are a number of issues. And Bob's right. You pass a budget that huge without work shops — both of us have experience on both of our boards, we have a number of work shops before we take a hard look at passing a budget. I see the reval in 2013 is going to be a huge issue; I want to be a part of that. I want to have some input. I can't give you a definite answer right now because I need to get in there and study it but I want to be a part of that. I don't want to continue to grow government. I feel like in these economic times that we're in we have to be very careful about growing government. Another pressing issue is potential consolidation of services where it can happen. And Bob's aware of where I'm going with that. We had a great relationship with Nags Head. They needed a north end address for a fire department; we needed a south end. And we were going to do something. And we had it all put together to build a facility and share services. And it so happened they were able to put the beach nourishment deal together. But those some of the things we need to look at is sharing some services from the county aspect. I think that's' critical. But I would submit that we need to continue take a hard look at government in terms of growing it. We need to keep those moratoriums going in terms of positions — unless it s case of pubic safety, fire and police. Not looking to cut anyone's position, but certainly consolidate where we can.
The other issue I'm concerned about is our retail sales. I serve in my second term now on the visitors bureau and our occupancy and our restaurant receipts are up — slightly — but he retail is down. And we need to bring in community leaders and bring in the experts in that field to see what we can do. Folks are coming down here by the droves. It's been a great summer. But they're not spending on the retail side and we need to take a look at that.
I also think the board needs to be futuristic in thinking of what we can do to bring — obviously we can't bring [big] industry in here — but there are the IT type services we could bring in that can help with our employment. And I think we're a great site for that. So those are my concerns and I want to be a part of it.
MULLER: Short term, revaluation is a huge issue. I almost don't want to even call it an issue, because there's nothing anyone is going to do about it. Property values are going to drop — about 40%. And frankly there's no way that some people are not going to see their tax bills go up. And you have to understand, the difference between the total amount of money used to run government — which is how much moneys' generated by taxes — and your individual tax bill, revaluation simply affects the redistribution of those costs. And without a doubt, people are going to see substantial increases. I expect my individual taxes to go up to double. I live in modest home in Nags Head Cove. It appreciated, but not as much as the oceanfront properties did in the run up to the real estate bubble. Likewise, it hasn't declined as much. So my share of the pie is gonna be bigger. And that's what [revaluation] is.
There are some things we can do to ameliorate it. We need to start charging realistic EMS fees. Our EMS fees are pegged to the Medicare minimums; they need to go up about 1.5 times that. But I think we have to be careful about how we look at our budgets. There's been a five year salary freeze in dare county employees — plus they've seen their health benefits reduced 401k contributions reduced — and as our economy recovers we're gonna see some of our better employees go find a job someplace else because they can do much better. I was talking to a woman the other day; she's involved in water quality testing. She's got a degree. She's been with the county five years and she's had one raise. And she likes working in the public sector, but she could take herself into the private sector and make double. So we need to think about how we take care of our employees.
And there's another threat that's on the horizon and that's insurance. Take your tax bill and put it next to your homeowner's insurance and tell me which one's the bigger threat. That's an issue we need to get involved in short term and long term. Homeowners insurance is a threat in terms of cost and availability. Imagine an Outer Banks where banks won't lend because people can't get affordable homeowners insurance. Imagine an Outer Banks where homeowners insurance costs are 3 or 4 or 5 times that tax bill, and what those rents have to be — and can we be competitive in that family vacation market when our homeowners are forced to charge more just to break even?
Those are some of the threats that are out there: access to beaches, both on Hatteras Island and on the northern end. Making sure folks can get to the water. But it's also important that we look at things like wastewater — we pump 12 million gallons per day into the sand north of Oregon Inlet. We do it in a virtually unmanaged system. I'm not an advocate for central sewage; I happen to be in the North Carolina On-Site Wastewater Hall of Fame. I'm a believer in on-site wastewater. But we can manage it better as far as helping people replace failed systems. Look for systems that are underperforming, old systems. we know are too close to the water table and help folks raise those systems through grants, loans, what have you.
Transportation: the biggest single negative in all the visitor bureau surveys is traffic. How are we going to manage that? I don't have the answers, but we're smart enough as a community to start working toward finding and implementing those solutions. And we have to do it together. And one of things I want focus on is we are one county: if you're not catching crabs in Stumpy Point, the waitress in Kitty Hawk is not getting tips, and the kids in Buxton aren't getting new school books because the taxes aren't paid. It all links together. And you cant' talk about transportation on the Hatteras Island and not talk about it on the north beaches. DOT wants to move four cemeteries in East Lake, and you can't talk about traffic and travel on that road and not have it be part of a plan that brings folks over the causeway and up and down the beaches. Because we're one county and we have one future.
WOODARD: And Bob's right. And this is not a slam at he current board in Dare. We have one or two functions a year and we talk abut what needs to be done. And I think we're way beyond that stage now and I think we have to have a board that's proactive, that's going to come out and work with the individual towns and let's put some goals and objectives in place and let's work toward those. Let's make those things happen. And I don't see that happening — at least from a standpoint of making it happen sooner than later. And I think we need to have those workshops and we need to work together. And you make that commitment on that board and you take it to the highest level and use very source and every revenue to make it happen. That's important. And I don't' see that as much from this existing board as I would like to see. I know if Bob was there, or I, either one, we'll both push that idea very hard.
We have some huge issues on Hatteras Island with beach driving — as you know. We finally have a senator who's stepped up to the plate to help us. We have another huge issue with our local fishermen trying to get out of Oregon Inlet. It's ridiculous we can't get the federal funds or the funding to make that happen so these people can make a living. That's our history. We don't want to see that disappear. The other thing about this board, if I'm elected, I'm going to push very hard for buy local. I don't care if it's seafood or groceries, whatever you buy, buy local. And quite honestly I see some of that leaving the county – I see I from an insurance standpoint, and I'm in the business. We have businesses that don't buy local; residents that don't buy local. And we need to find a competitive situation for those people to buy local.
And Bob said it earlier about the insurance rates. I'm in the same boat, I'm on the west side, I'll probably see mine double. But we need a voice. We've got Willo Kelly who works very, very hard and has done a fabulous job to fight those rates, but we need some power behind us to make that happen. The rest of the state is not subsidizing Dare County by any stretch of the imagination. And those are all key issues that I know both of us will work hard on.
MULLER: Bob mentioned Oregon Inlet – or should I say Oregon Outlet, which is how it ought to be known. And it's important for commercial fishing but I'll tell you what, if that inlet closes there are three places we've identified where an inlet is going to reopen: Whalebone Junction, Soundside Road, and old Nags Head Cove, where my house is. That's just another example of we're all one county. It's not just an issue for fishermen in Wanchese or charter boat captains in Manteo. It's an issue for all of us. Because if that inlet closes, water quality in the sound is going to decrease, and an inlet's going to open someplace else. Possibly where we don't want it. So the folks in Southern Shores who aren't concerned with Oregon Inlet, it should be a huge concern to them. Because it could devastate the whole county and the economy.
You bring up an interesting point. Because in some ways, the Outer Banks is such a tight community; in others, we're so spread out it's hard to engage people.
WOODARD: That's right. And [sometimes they feel like] if it's not a problem in my backyard, I'm not gonna worry about it. But I was on the KDH board when Nags Head had their beach nourishment plan. We submitted to the county that we wanted a certain amount of funds, but we were willing to step back and not step on their toes so they could do beach nourishment. Quite honestly, we can't afford to retreat. It's not an option as far as I'm concerned. This is a barrier island, we need nourishment. Kill Devil Hills is working toward doing the same thing. And we're gonna keep an eye on Nags Head's project. And those were tough decisions that board had to make. But it's critical that we protect those property owners and continue that same way of life that we've had down here for years and years. Because I love this place and plan on spending the rest of my life here. And I don't plan on moving anywhere else. And it's critical we save these barrier islands and do what we can to protect our livelihood.
MULLER: You were talking about getting people involved. And certainly there are enormous challenges in getting citizens involved. And they've doubled in the past couple of years because everyone's working two jobs. But we have some tools we can use. We have social engagement tools — the internet, Facebook and social media — that are always shaping issue on the Outer Banks. And there was lots of discussion of this nourishment when the project was being done. And there are tools we can use as a community — with the county taking the lead — to have discussion about transportation and water quality and those kinds of things. And I hope we can get more engaged in that. There's been some reticence by the county board to really engage the community and I feel like we have to do that to be successful. When you look around and you see successful communities, you see communities who have a shared vision of their future. If you ask someone in Seattle, they know they're about coffee and they know they're about Boeing and they know what they're gong to do. We need that kind of vision on the Outer Banks. We need to pull together. There's too many forces trying to split us up; whether 's single-issue extremists on Hatteras Island or whether it's Republicans in the legislature who think the Northeastern North Carolina has gotten everything it's wanted the past 20 years. Or whether it's Virginia Beach and Myrtle Beach who would love to see us fail. But I could spend days talking about beach nourishment and you had a good piece in that issue with Bob Oakes.
Well I'm actually the biggest skeptic ever. But I'm also the first to say: give it five years and see what it does. But you both just mentioned Oregon Inlet as a major concern. One of the more popular complaints about the beach nourishment project was that all that sand was going to wash into Oregon Inlet. Now whether that's enough sand to make a difference, I don't know, but it's a great window into how politics works. Because often one solution threatens another. So which project do you get behind? And, then how do you justify the money to keep dumping sand when times are so tight?
MULLER: The hot spots on Hatteras Island are relatively short — and one of the big advantages of Nags Head is it was a long project, and the longer project the better it works. Nourishment may not be the best answer on Hatteras island but we have to do something. We can't just say we'll let that cut stay forever, because a third of our occupancy tax revenues and a large part of our property values are down on Hatteras Island. Again, if Hatteras Island fails, all of us up here are going to pay. We're gonna pay more in taxes and not have the quality of life that we want. I wish I knew what a silver bullet was but if we don't start working on those problems now we'll never get there.
The other part of that is access. If you build the most beautiful beach in the world , but if you can't get to it it's useless. And certainly the park service has limited access. But part of that response has to be to continuing to engage with the parks service on those decisions. The other part has to be providing our own access. Bob's town, my town, have more access than most coastal counties have. I think my third meeting as a commissioner in 1985 we approved Harlow Street across from Jockey's Ridge. And the town has continued to do accesses virtually every year using matching funds from the Division of Coastal Management, matching funds from the Visitors Bureau. The county has some property down in Rodanthe that they can look at improving. And we need to go down to the communities at the southern end of Hatteras Island and make sure we have as much access as we possibly can. And they serve as more than just places for people to go to the beach; they're also social meeting points for communities. Where are you going to go surfing? Nags Head Town Hall for a while was a great break. At one point we'd come out in our coats and ties and there'd be people in wetsuits pulling boards off the rack. But that's what accesses serve as. I see a lot f folks I know from my commit on the beach more an anywhere else.
WOODARD Like Bob said: we worked hard in KDH, we've got 29 beach accesses in 4.2 miles. Plus additional handicapped accesses. That's important. And the Visitors Bureau is working hard to pump funds into Hatteras for that very reason. But it's important to set those funds aside for those folks down there. Bob's right: if we lose a third of that tax base, it'd be devastating; then the rest of the county has to belly up to that. I'm optimistic that with a new superintendent coming on board in the next 30 days. And I'm hopeful we'll have a friendly conversation with the new superintendent.
What if it doesn't' happen? The biggest scare I got talking to Mike Murray was the decision was being made above the local level. That they were making national policy decisions. What then? Do you keep hammering? Because people are already going up to Carova because they think they can't drive on the beach at all – which seems to indicate that the PR campaign is doing more damage than good. Because Carova doesn't have the Point or Cove or other popular spots either.
WOODARD: Well the other idea of that is the fees are outrageous also. But I still believe in my heart that if you have the right people who are wiling to sit down and work together and come up with a solution that will help all — instead of drawing a line in the sand and not budging — we need to continue to do that. And I think the current chair of Dare County and the county manager have worked very, very hard to try and do that. And that's why I'm trying to keep an optimistic view with a new superintendent.
MULLER: There are three strategies: the first is to engage with the park service with good science, to say these park closures are not necessary to meet the legislative mandate. The second is the legislative strategy that they're currently pursuing with Warren Judge appearing the house and being successful and finding new friends in the senate. The Senator from West Virginia comes down to Hatteras all the time and is a great advocate. The third on is the one I talked about before: we're gonna start building our own accesses so it's as easy as possible to get to the beach. It may not get you to the Point, but you still get folk on the beach. And the negative publicity, there's some of that, but I'm not as concerned about that as I am about folks throwing their hands up in the air.
Again: what do we want to see on Hatteras Island in 20 years? I don't think that what we want to see is a beach we can't get to. So we have to have a long-term strategy. But this issue doesn't just affect Hatteras Island. We have people up here who say, "That's just Hatteras Island, I can still go drive on Nags Head beaches in the fall or I can still drive on Carova." Wrong answer. That part of the county is benefitting you and is important to you and part of our whole social fabric. You can't just write off Hatteras Island. You have to stay engaged there as much as you stay engaged over on the mainland.
I'd argue people move here just for that stretch. And that's the scariest part about the 50-year DOT plan for Bonner Bridge and Route 12. Because even the current plan kills 8 mile of Pea Island eventually. So what's the plan for 50 years after that? Going to those meetings and looking at the long-term vision you start to see why Audubon pushed for the 17mile bridge, even if you don't agree with it. Or, from an access standpoint, you start to see why nourishment was on the table even though the idea of the state signing up to pump sand non-stop seems far-fetched, as well.
MULLER: That's a good question. And it's one we need to answer. The 17-mile bridge I don't believe is the answer. I think you'd have to pull people off the island way too early in the case of an evacuation. Power is the other reason. If you were to run power cables along that bridge, the Hatteras Island power bills would be insupportable. It's as much as economic decision as anything else. And when you look at the billion-dollar cost of that bridge, you can pump an awful lot of sand and engineer a lot of beach for that kind of money. Is it a constant battle? Sure. It's a natural area. But I think we need to be ready to fight that battle. All these strategies that bypass Pea Island lose a big component of the Outer Banks. It's a wonderful spot. And I'd hate to see us lose it.
WOODARD: I echo those same comments. The long bridge isn't the answer. It bypasses too much pristine beach that our visitors as well as locals are taking advantage of.
But even the short bridge is going to kill miles of access — four at New Inlet and S-Turns. And two more spans to come that will kill another four. That's half of Pea Island.
WOODARD: And that just goes back to what Bob says: we have to make those other accesses work and make them available. That's part of the answer.
All these strategies come down to the funding. Where do you get the money from to do these things? I mean property taxes are going up, our education budget is already strapped; is it time to add a penny to the occupancy tax to fill other shortfalls like we do for nourishment?
MULLER: Well, part of the nourishment money is 1-percent occupancy tax. The bulk of the nourishment money is coming from the affected property owners. And if we are going to do it in developed areas, we need to look those benefitting property owners. Now, Nags Head, when I was on the board, I advocated shifting more of that burden onto the west side —but still having a large chunk of it on the ocean front — because I feel everyone in the community benefits from it.
In the large picture of where does money come from for education and things, I'm not sure new revenue sources is gong to be the answer. The efficient use of existing resources is going to be the answer. Why do we have two garages sitting side by side, fixing diesel school busses and diesel tractors, each one with it's own layer of management? We've got two sets of people mowing grasses. Let's look for those new efficiencies. They're not going to be big, but maybe in the aggregate they'll add up. Again, I mentioned EMS fees, maybe raising EMS fees so we can get back some insurance reimbursements. And a large number of our budget comes from tourism-derived revenues; we can build those revenues and build property values back, if we have a plan to maintain ourselves as a successful vacation destination. If it don't work — whether the threat is the beach, whether the threat is insurance — we're gonna see property values decline more and more revaluation situations that see more of that burden shift back to the west side and smaller mainland property owners. Let's reverse that: let's get our vacation economy thriving, through more events, more surfing contests. Let's make this a place that folks want to come to so property values rise, rents rise, more property taxes go on those economic generators –those rental cottages – and the burden will get lifted and shifted back over the other way. So long term to be more efficient; the long-term strategy is to grow the outer banks as a family vacation destination.
WOODARD: Again, like Bob said, I don't see a need for a special tax. We need to get in there and look at that county budget. There are some duplications and it's important to do that. But the primary objective of Outer Banks Visitors Bureau is to bring those tourists. If we're competing with the Floridas and the Myrtle Beaches, we've got to bring those people in here to enjoy those things that we as locals have enjoyed for numbers of years. I've said a number of times that I can still do the same thing today that I did 40 years ago on the Outer Banks: I can still throw a beach chair and cooler in my vehicle and go out to a beach access and watch one of the top 10 sunrises in the world. I can still climb the highest sand dune on the East Coast and watch one of the top 10 sunsets — take a piece of cardboard and slide down or go fly a kite . You can still go to Oregon inlet and charter a fishing boat and go sport fishing one of the top 10 fishing destination sin the world. What we need to do is to bring more visitors here and continue to grow that; that is our economic base and it's important we get those folks here. And the Outer Banks Visitors Bureau is spending enormous amounts of money to draw folks into the community and we're putting it back into the community. We're building bike paths, we're building beach accesses, we're funding shoulder season events to bring people in. I see this marathon event as brining huge numbers in the shoulder season and the more we have the more revenue we can bring in. We're working very hard with the Town of Nags Head on this Windmill Point project. We haven't made a decision yet — we'll be looking at that again in August to see where we want to go — but we're pumping as much into the community as we can to make things happen.
MULLER: Bob's right: the Visitor's Bureau is doing a lot. But it's interesting to see what private business is doing. Look at what Real is doing down in the tri-villages. It's a monster in the best sense of the world. When I talk about growing the tax base, I'm no talking about tearing down houses and putting up high-rises. I'm talking about taking your 12 weeks and making it 15; making it 18. We all know the fall is the best time to be here, so let's make it place people want to come. I think arts tourism is one of the seriously undeveloped segments. I attended a workshop with the Town of Nags Head, trying to make Gallery Row more of an arts tourism destination. A lot of people don't realize we have the highest number of working artists per capita in the state. There's an enormous amount of talent we just don't feature and promote enough.
And there's other ways we can diversify the economy. We recently had folks from New Jersey come down and test a wave energy device off of Jennette's Pier. They did it through CSI. We have this wonderful synergy of the Coastal Studies Institute, Duck Pier and Jennette's Pier that's unequaled any place on the East Coast. The county has an administrative building; instead of having it sit there with office space, the county can help develop and nurture that industry. And also fight for CSI in the legislature and make sure it maintains funding and grows. We're getting ready to get enormous amount of data capacity this fall; it's gonna run right down that bypass, take a turn and head back west. Data capacity you could run a data center on. We need to make sure we're leveraging that to build our economy in terms of new industry — like software developers — but also into making sure existing businesses are using it to the maximum. Are they marketing and selling surfboards n the internet as well as in the shop? Is the rental cottage property secured with video cams so you can sit in your house in Ohio and make sure your cottage is secure in the wintertime? Things like that. So there's a lot of opportunities to add to the economy and the vacation experience that is out there.
Back to the school thing. I know there's stuff to pinch, but there are also expenses that rise every year based on what the state will fund and won't fund because we added an extra school. And apparently, we're already behind on maintenance. And, obviously, tourism fuels everything. But one thing that's frustrating for residents, I think, is when it comes to projects that drive or protect tourism, decision makers find the funding — or in the case of nourishment, we raise it —but not so much when it comes to spending directly on the year-round community. At what point do you start peeling off that revenue and instead of funding something to help the visitors' experience, like a new bike path — or buying something shiny and tangible like a new helicopter — and a apply money directly to filling community needs like education? A bike path is nice, but just as you suggest county employees will leave if they don't get a raise; teachers will leave if they can't get ahead. And that's a draw for more talented people to move here that will produce the industries you're referring to.
WOODARD: That's a very serious question. That's a tough situation to take a look at having not been through that budget process county wise. I know from a town perspective at KDH, you have to fund needs rather than wants. And you have to set some priorities, see what's on the table and make the tough decisions. And that's the only way I know to take a look at that. There are other avenues for funding paths and things, like grants, but you heave to take a hard look at the educational piece. And I would pick the school board's brains on that and get their input. I know, many years ago, Bob [Muller] got really involved in affordable housing issues so we could get quality teachers.
MULLER: And Bob [Woodard] was a big supporter . . .
WOODARD: So, again, those are things I'd need to be in committee to study and take a hard look at because education is important and we need that proper funding there. But, if I had my druthers I'd table a path in favor of doing what needs to be done on the educational side.
MULLER: A quarter of our county budget goes to education. All of that money is unallocated tax dollars — there's no matching funds. The health department, half their money comes from tax dollars, have comes from the state, federal and other sources. Same with social services. With schools, there's $25million that the county appropriates to schools, virtually all of it is property tax, occupancy tax, sales tax dollars. So we have to be really careful with that. Because we can make real savings there or, as we run it up, it goes directly into the tax rate. There's nothing to soften that effect. There's a couple of things we can do there: the school board has very strict maintenance schedules. So you replace air handler very five years, or windows every seven, whether it needs to be replaced or not. So when the school board starts talking about unfunded maintenance, you need to go look at the school and see if the window's still good.
Which points to a bigger problem and that's communication between the school board and the county board. It got so bad in the 90s we had a lawsuit. You got the funding formula we currently use out of that. And those boards need to sit down and start from scratch again and begin working on their processes so one side isn't trying to bludgeon the other side into submission. So they're working together to get what's best. One thing the school board does have that a lot of parts of the county doesn't have is good metrics. The school board can tell you what their test scores are, what their graduation rates are — all those kinds of things. What shocked me when I looked at the county budget is there's nothing in there to tell you how a department is performing except to tell you whether it spent all it's money or not last year. There's no "what was the cost of picking up trash?" or "how much did we spend delivering subpoenas?" or "how time was spent doing law enforcement?" O "What's the smoking program costing us per person who quit smoking?"
There's no metrics in the county budget. And one of the things that can help us get a handle on it so we're not responding to people who are driving costs is to start looking at the results of our service. You open up a municipal budget, you'll see: how many tons of garbage were picked up at x cost; how many miles were driven; here are our arrests, our fire responses, the number of tax bills collected. So there's all those metrics that the county board — if they had a workshop — could've had a chance to look at. and I hate to beat on that, but it just staggered me. And in their defense, two years ago they did a lot of work on their two-year budget, but I would think you would at least spend a work session or two looking before they passed something.
WOODARD: Absolutely.
MULLER: So education, we need to reform that a partnership but also need to look honestly and hard at what the school board's needs are. But there other sources on the margin for money, like a little higher tax collection rate, not much but we can push a little harder. The county is now farming out collection of it's of its EMS, which I think will do a lot for the collection of EMS bills, because they don't collect a pretty decent percentage. And there's some other minor things like that that which will help revenue streams on the margin. But in the end it comes down to what kind of government services you want and what are you willing to pay for. Governments are how we make our decisions as a community and we need to decide: do we need a helicopter? If we do, a helicopter that can be reimbursed by Medicare costs $7 million. You can buy a cheaper helicopter, but you're not going to get the revenue stream that comes with it. Likewise, schools that deliver top quality education cost this much money, so we decide together as a group whether we make those expenditures or not. That's what elections are about. That's what public forums are about. Folks need to do what we both did: start going to town meetings, serve on a town board, become part of that process. It's a little time consuming, but it can be fun too. And the end result is you get to walk around and say, "I was a part of that." That's a really good feeling. And if folks pick up nothing else from these discussions it's that being involved in decision-making is not a bad thing. It's important. It's something. Everyone needs to do and they'll find they enjoy it.
WOODARD: Well we hope so, at least, because they're making decision that affect heir lives.
MULLER: And elected officials really do want to hear from people.
WOODARD: Absolutely. It's important. Nothing's more frustrating than not to hear from your constituents. We have minor issues on the table and you'll have 20 or 30 people show up — then you have a budget hearing and nobody shows. These are things that affect your lives and your livelihood. And I echo what Bob said: we do care. We do want to hear what you say. And we do take it in full consideration. Sometimes we may not support your ideology but we make the decisions based on what we think is best for the community as a whole.
MULLER: And that's one of the things we learned in Nags Head when we started putting our meetings on TV — Bob's learning it now in KDH – I can't tell you the number of times someone form Colington would walk up in the post office and say, "I watched your Nags Head meeting, I never thought about drainage in those terms. I never thought about elevating buildings to prevent flooding possibly causing surface and groundwater on other lots and what's the more important value." There's a lot that goes into making decisions, and the more people participate, the more they'll understand about the balancing act that making decisions as an elected leader is. And drainage is really good one, because how you balance public safety, public good or protecting a home versus the possible impacts on adjacent homes?
It's a "where do rights begin and end" kind of thing. And this is a good segue; this is where I try to turn into Chris Matthews. What prompted this idea was at the May 8 primary I got into a parking lot discussion with two people where both said "I'll never vote for him." For Commissioner Woodard it was — no surprise here – all about Lowes. Mayor Muller, yours was more tied to the Isabel response where South Nags Head stayed closed off for a week. In both cases, they felt like you ignored the will of your constituents. Would you care to respond?
WOODARD: Well , you know, there's probably more than one person who said that about the Lowes. And they certainly have a right to feel that way; and I have empathy for someone who felt like that or feels like that. But we have an elected board who has a property owner that has property rights. And I took a sworn oath hat I would defend the property rights of those owners. And they had a right to sell that property to whomever could qualify to purchase that property. And we got into debates that it was a maritime forest — it was never a maritime forest. It was zoned commercial property. It was always zoned commercial property. And I'm not going to deny the right for an individual who owns property to exercise their right to sell that property to whomever can qualify to purchase it. Just for me to say, "No, I don't want a Lowes," that's not the right answer, either. Our country was built on entrepreneurialism. It was built on the fact that competition is good. So we, the board, did what was right at the time and what was ethical to approve. And I'll defend that as long as I'm in office with respect to Kill Devil Hills and I'll protect individual property rights as long as I'm in office.
Because the perception was there were concessions made.
WOODARD: Well that's what everybody said. There were two issues: one was pervious pavement, which a fellow commissioner had been trying to get on the table for about five years, to use pervious pavement; the other issue was with respect to the size of a sign on a larger facility. So neither one of those functions would've killed the Lowes deal or anyone else purchasing the property. It's just not factual. And quite honestly, it's put about 118 permanent jobs added to the county that are full-time, benefit-paying positions. And that's important. And they're a North Carolina-based company. Competition is good, and I don't know that I need to say anymore than ewe did what we felt was right for the time and I'm not going to violate property rights.
MULLER: Can I talk about Lowe's? I'll tell you, I think given the framework that the Lowe's application came into, I feel like the KDH board did what they were required to do. But I'll also tell you that that framework wasn't mandatory. The Town of Nags Head set size limits on stores, specially to keep out big box stores, back in the 90s. And any town, any community that had the discussion, had the option of saying, "we want these stores" or "we don't want these stores." And Kill Devil Hills had a clear policy that that's what they wanted. Whether it was they wanted the jobs or what have you. Nags Head had a different value, our vision statement talks about partnering with locally owned businesses to keep wealth in the community. That's a value and the value you want development and jobs is another value. But that would not have happened in the Nags Head that I helped govern.
Which brings me to my answer about folks who don't want to vote more me. I had 20 years for people to be pissed off about something that I did. And Isabel was certainly a divisive issue. We kept South Nags Head closed until we felt it was safe to allow residents and property owners to return. There were some folks who really, really didn't like that. We know because we held a facilitated public meeting after the event. We set the board up and we said what we needed and then we got feedback and listened to that feedback and tried to build a betters system. So there were decisions I made that people didn't like, sure. But I'll stand or fall on my reputation as an elected leader who stops, listens, thinks and makes a decision. Who works hard and is prepared when he walks into a meeting and does what the thinks is best for the community. And if there aren't some people who are pissed off as you as an elected official, you're not doing your job.
WOODARD: And I agree. I don't' have 20 years, I have about 12 – 16 with the planning board. And I have enough to get people upset. If they're gonna hold one issue against you, it is what it is. But you never hear someone come up and say, "Bob, I really appreciate the fact that you held the line on taxes. Bob, I appreciated the Centennial bike path you got put in for the 100ths celebration of flight. Bob, thanks for being the catalyst of Ocean Acres and making the storm problems we had with the floodings in our homes go away. Bob, thank you for holding the line and not letting our personnel go so the employees were be able to keep their jobs." And the list goes on. So, I'll take the one or two negatives against all the good and positives.
Well, I've always argued it's important to thank elected officials when they do make a decision you agree with – or just for sticking their necks out.
MULLER: It may be important to pat elected officials on the back, but if you really want to thank someone, thank their spouses. [laughs] Because they can't got to the grocery store sometimes because issues are on the table that you're involved in.
WOODARD: That's exactly right.
So, philosophically, where do you draw the line between reflecting popular opinion and voting your conscience?
MULLER: You need to have a set of values and your votes need to reflect those values. There's a role for listening to the public and making sure you're informed and that you see all sides of any issue and you have all the information. But for me, the decision comes down to doing what I think is best for the community. And there's been some times when that was really an unpopular decision. Sexually-oriented businesses is probably the best example. When Nags Head approached the adult store issue, from the beginning I said, "Nags head had to allow but regulate adult businesses." And the board, and the public had a very angry meeting. They said, "You're wrong, this will be the ruination of our community." The fact of the matter was, if we denied them, the Supreme Court says you can't – it's a free speech issue. Gut you have to stand up with what you think is best for the community. You can't go along with something you think is going to be wrong. But you do that in the contest of being fully informed of community views and opinions.
WOODARD: I cant say it any better. And I think I can say this – I've been told this — that there's nobody any more prepared at every single Town of KDH commissioners' meeting. I've been told by the current mayor, the former mayor, all my fellow commissioners: Nobody does the research that you do and comes any more prepared to a meeting than you do. But I have to vote my conscience of what I think is best for the town.
And we've certainly had another recent issue with the chickens in the backyard, which I'm sure you're familiar with. And I had an open mind from the get go. As a matter of fact, I entered into the topic to hold a public hearing, which we were not obligated to do. We also had some students in First Flight High School who did some research, pro and con, that I said we needed to hear before we made a decision. So we postponed the vote until we had a public hearing. And I admit, the public hearing was overwhelmingly for it. But I had strong issues from the other side where it was pitting neighbor against neighbor and I didn't think that was the right thing to do for our community. So I voted against it. And it failed. So those are the tough decisions you have to make. And there were some unhappy folks. And I was told, "You didn't listen to the community, you didn't listen to the majority" and they certainly have a right to feel that way. But as an elected official, you do you research, then you do what you think is best for your town at the time based on hour land use plan you have in place.
MULLER: And other than having a referendum, how do you know what the majority of the public thinks? I've been at public hearings that sound very one-sided, but just because you have 30 people in favor of it, in a town with 2000 voters and 3000 residents , that means you have 2000 people you don't know how they feel. Perhaps you can extrapolate that public sentiment is this way or that way, but I always scoff when I hear elected leaders say, "I'm doing this because the people want me to." I don't buy it. They're doing it because that's what aligns with their values because you have no way of knowing other than elections what those people really want. And again: public hearings are really important, visitations, emails, phone calls. Totally important. And believe me, public hearing aren't always fun; elected officials don't have public hearings because they want people to come in and point fingers at them and shout at them. You need that public input as much as you can. But in the end, as Bob said, you make those decision based on your values and what you think is best for the community.
That's why you do vote. And you do get out there. You both sound so much alike — not that you'd vote the same way — but in terms of your philosophies. What can you tell voter out there to push them one way or the other — your way, I'd assume?
MULLER: I would urge the voter to talk to folks who live in Nags head. To look at my record. To look at the community I helped build. And to look at my public service after that time. I love the Outer Banks. I love it a lot. And we have a great future ahead of us if we grasp it, engage it and make it our own. Start dealing with the issues that shape that future. I have a history of doing hat in Nags Head and I'd like to do that for the county. I can't contrast myself with Bob, all I can do is present my experience and the town I helped grow since, working on affordable housing, trying to get broadband indo underserved areas, things like that.
WOODARD: Same here. I'm certainly not going to bash my opponent, because I have the utmost respect for Bob. We've served on different things together, and I know his commitment to the community and I know he knows mine. This is a place I came to in the 50s with my parents. I fell in love with it. It's a place I've always wanted to live and a place I've made my home permanently for along time. And I'm of the type that I feel like I'm paying my civic rent. I'm giving my time back to the community to work for a better place to live for a long future to come. I have so who grew up in Chesapeake and works here permanently. Married a local girl. And I have granddaughter who I want to experience the same things I experienced. I have another son who lives in Suffolk. They don't live here, but I know he 'd love to because he's always coming down here to surf. I would say the same thing: to those who truly know me, if you really want to find out about a person and what their values are, don't' willy-nilly take a position like, 'He doesn't care about this." If you know me, you know that I wear my feelings on my cuff. I'm very serious about what I do and what is in store for the future of our county. Take the time to talk tome. Take the time to pick up the phone and call me. Take the time to ask those that know me very well" "Will bob give it 100%?" He'll give it 110% and then some. So find that out. If you've got one issue you've had a problem with me on, I respect that. But also know me as a person. And know me from talking to people in the community that know my best interest is for the county and the town that I live in. And we'll let the voting public decide.
MULLER: And we'll get a good hard working commissioner either way.
_____________________________________________________________________________________________________
SYMPATHY FOR THE DEVIL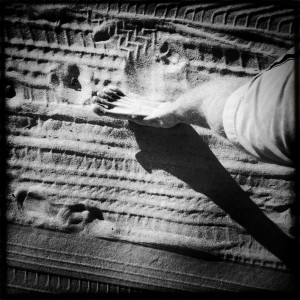 Ed note: It's easy to demonize the National Park Service as the root of all access evil — until you realize the enviro side hates them nearly as much. For the summer edition of Milepost (Issue 1.2), we sat down with Cape Hatteras Superintendent, Mike Murray, for their perspective on how the new ORV special regulation came about. What follows is the full two-hour interview. For the full Cape Hatteras ORV rule and comments, click here. And for an updated list of seasonal closures click here
Hate clouds judgment. For example, it's hard to convince folks you're a diehard nature lover when your bumper says plovers taste great. Forwarding photos of park rangers shooting foxes can only backfire once people learn it was really a rabies scare. And, most importantly, while broadcasting beach closures non-stop is one way of saying "Save Hatteras" — it's another way of saying, "don't bother coming to visit."
Look: there's lots of reasons to be angry about the access situation down south. From the suing parties' shady methods to the lack of flexibility on both sides of the issue to the sense of powerlessness that comes from watching outside interests make decisions that affect local life.
Unfortunately — no matter how passionate the emotion or noble the purpose — screaming wildly over the new ORV regulations won't help as much as trying to understand it. In an effort to diffuse some of the anger and infuse some reason, we sat down with Cape Hatteras National Seashore's Parks Superintendent, Mike Murray, to get the Park Service's take. Instead of a power fiend intent on "killing an island," we found a public servant tasked with meeting the needs of conflicted, vocal user groups while following federal mandates and avoiding lawsuits. We also discovered that nobody is happy with how things turned out. Not even the conservationists. As Murray notes, "People are surprised and disappointed that we didn't just do it the way they wanted. It's not that simple."
Don't believe him? Keep reading. (Better yet, read the federally registered document. Of 86 comments, 76 get told "sorry," "you're wrong" or just plain "no.") It may not make you less mad, but it will make you feel less singled out. And seeing the full range of perspectives can only make the cause more effective in pleading its case for future change. Because as easy as it is to demonize the Park Service as pure evil, the real devil is in the details.
MILEPOST: Where are you from originally?
SUPERINTENDENT MIKE MURRAY: I'm from Franklin, Virginia. As a kid my family came down here quite a bit. I've been coming here a long time. I remember taking the ferry over Oregon Inlet.
How'd you end up in your current position with the park service?
It's a long circuitous path. I went to the University of Virginia, majored in Biology. Got very interested in outdoor recreation. I was in the outing club. And I got a seasonal job at Yellowstone as an entrance ranger back in 1978. Got hooked on the service. Got a permanent job. Worked in law enforcement at places like the Everglades and Yosemite National Park, New River Gorge, Sequoia and Kings Canyon. Then I went back to Yellowstone as the Assistant Chief Ranger of Operations. After that, I became the Deputy Superintendent at Cape Cod National Seashore. About that time my parents were getting older — my wife and I have their only two grandkids — so we were looking for an opportunity to be closer to home. The opportunity came open at Cape Hatteras. I had an interest; I knew the place as a kid. And was excited to be able to come back in late 2005.
Cape Cod had its own ORV situation. Were you part of that? And did it prepare you at all for coming here preparation coming here?
Cape Cod has its own history of ORV management. It's an ORV and piping plover park. Most of their contentiousness came well before my time. They had lawsuits back in the 1980s for non-compliance with the executive orders. They had a plan and a regulation and permit program in place. Around the mid 1990s they went through negotiated rule making to revise the regulation, which is much simpler apparently than creating one from scratch. I arrived a few years later when they were just starting to implement. So I was there when they implemented the regulations but I had nothing to do with the development of it.
Did you know when you were coming here that this would be part of your position?
I knew it was a big issue here and I knew it would be challenging. I worked at Yellowstone on snowmobile regulations. Those are similar types of contentious issues involving passionate motorized recreationists versus conservation and environmental groups that think motorized vehicles should be more restricted so there's less impact on wildlife. So I had some experience, but nothing prepared me for this.
When I spoke to people out west, they assumed we were encroaching on wilderness. But the wilderness grew up around the place. So it's different in some ways.
This area has a unique history. And I think beach driving — ORV is sort of the newer term — but I think beach driving began as a means of transportation when there were no paved rods. So when people out west talk about offroad vehicles, they tend to think about souped-up dune buggies racing across the desert. Here it's very much transportation people use to get to remote locations on the beach.
Looking at those comments, it hit me: you're dealing with this unique local environment and the various people being affected. At the same time, you have this national framework of rules. Is that the heart of the conflict? You have to fit these individual needs into a national format?
To a certain extent, each location is unique — so there's some latitude for variability — but there are some very fundamental issues. Two executive orders issued in the 1970s governing the use of offroad vehicles on federal land. In essence, those said ORV use has to be managed in order to minimize impacts on wildlife and wildlife habitat. Minimize impacts to soil and vegetation. Minimize user conflicts and provide for public safety. The park service as a whole issued a regulation to implement those executive orders, and basically it said in all the parks in the National Park Service — there are only a limited number where offroad vehicles are allowed — if those locations allow it, there has to be a park-specific regulation or special regulation. So one of the problems here at Cape Hatteras has been that in the 1970s the park started an ORV management plan but didn't finish it. And they never promulgated the special regulation to authorize ORVs. So it's been a lawsuit waiting to happen for 30 years. Without that special regulation, we were told by the courts in 2007 — a court in Eastern North Carolina issued an order that basically said without an ORV plan and special regulation, ORV use at the seashore is not authorized and therefore prohibited. So, the need to get the plan and regulation is important — number one , just to authorize the use – and then two, it needs to be managed in a way to minimize impacts to wildlife and user conflicts and those types of things. So the purpose of the plan and regulation is to meet those requirements.
So the rule came down from on high: do something to get in compliance or it's illegal. And there was even some talk that Judge Boyle might shut down beach driving entirely. And that's what prompted the negotiation rule making process.
And I should add that Cape Hatteras is not the only park facing this. There was a nationwide lawsuit against a handful of National Park units back in the early 2000s. Blue Water Network, or Friends of the Earth, had a joint lawsuit. So a number of parks have been trying to get their ORV plans done, as well. Cape Lookout is one. Glen Canyon National Recreation Area is another — to name a few.
Looking at comments, I was impressed by how opposing the views were. And, many times, you had to tell them both no. So the guidelines seemed like bumpers on each side that kept you from going too far to one side or the other.
I'd say that's generally accurate. Under the park service general regulations there are only certain parks that are even allowed to have ORVs. It's only allowed in national seashore, national lakeshores, national recreation areas and national preserves. There's 50 of those out of 397 parks. Of those 50, less than 15 allow it. So ORV use is relatively rare in the park system. Because of these executive orders that require a park specific regulation, each of those parks has to do their own regulation, so they determine the management locally based on the local situation. So I can speak in reference to Cape Cod: they don't have species of nesting sea turtles there; they have fewer species of nesting shorebirds; the breeding season doesn't last as long. They did a regulation back in the 80s that limits ORVs to about 25% of the national seashore. So that gives them built in control and they manage ORVs in that 25%. Here, we didn't have regulation, we didn't have a plan, ORVs use a much larger area, we have more species that nest — plus the turtles — so it's a more complicated situation.
Has the number of ORV parks changed at all over the years?
The number of parks that allow it with special regulation has been relatively stable for a while. The number of parks that allow it isn't changing significantly, but there's a handful that haven't completed their plan and special regulation. Some are a little ahead of us, some are a little behind us.
Because some people feel this is a master plan by the park service to eliminate ORVs entirely. And if that number was increasing, that obviously wouldn't be the case. Where if they were disappearing, one might assume the opposite.
I would say it's not the park service's plan to eliminate ORV use at he parks where it's been allowed. Several things are at play here. One, the popularity of sport utility vehicles in the 1990s. At Cape Cod, we saw a significant increase. More people have four-wheel drive, and in the populated northeast, there's not a lot of places you can use it. So at places like Cape Cod, it becomes more popular. Drive down the road here, you see a lot of four-wheel drive vehicles. And if it's allowed someplace, it comes under more scrutiny. There's concerns in Corolla, and it's not even a part of the park system. It really ends up being a conflict between people's values. Some people view the beach as a place to go for a peaceful walk, and they don't find it that peaceful if the beach is a road or a parking lot. Others, view the ORV as a means of transportation to get to and do what they want to. Despite what it seems to people, the park service tries not to interject itself into those personal value conflicts. We have an agency mission and policies we need to follow. So the goal of our plan is to provide diverse recreational experience opportunities. So people can judge what they want to do for themselves and then find reasonable opportunities to do that. And I can tell you from the public comments, there were a lot of people who do not like the idea of ORV vehicles on a seashore beach, just as there are many people who've been doing it for years and want to continue to be able to. So we tried not to take sides, while at the same time finding some reasonable balance that lets us meet our legal mandates.
Sounds a lot like being a referee. No one likes the referee.
I can say that from looking at most of the comments on the draft plan EIS (Environmental Impact Statement) — there were thousands, so I can't say I read every individual form letter where it said the same thing as the last 50 or 100 — but more narrative type comments I tried to read so I could get what they were thinking. And they were very polarized. People thought it was too restrictive on one side, on the other, they thought it wasn't restrictive enough. And to the point that we found substance in those comments — legitimate concerns and suggestions we thought were appropriate to implement — we tried to incorporate that into the plan. So a lot of people say we didn't listen to this side or that side, we listened to all sides —but they didn't agree. It's really tough to try to figure out what were the appropriate compromises. We had suggestions for buffer distances for birds that would have worked great for access but worked poorly for the birds, so we didn't use those suggestions. I know you attended quite a bit of negotiated rulemaking, and similar points of view, polarized views hat you heard there, carried through on the draft EIS and the proposed rule. It continued to be polarized with very little agreement between this side and that side.
That whole process moved me in terms of how things work in a political environment. Because you hope that people will come to the table and try to figure out a way to make everybody happy; but really, they just fight for what's theirs. Is that why it fell apart?
It's hard. When it first started, I was optimistic. I came to Cape Cod after the negotiated rulemaking, and it was very successful there, but looking back it was a lot more narrowly defined. It was to revise the exiting regulation, it wasn't to create the whole thing from scratch. What we were taught by the facilitators, who gave us some negotiation training in the beginning, is everyone decides what their negotiating tactics are and have to assume people are going to go with what gets them the best deal for what they want; and that's probably the way it played out. What was best for the park service would've been if the ORV side would've agreed with the environmental side on something that was legal to implement. We would've loved to implement that. Unfortunately, they didn't agree. And my interpretation is that since they wouldn't compromise, we had to figure out the compromises for ourselves. And people generally don't like what we came up with.
Who makes those calls? Is it a panel? DC? People in the office?
The park staff and I have quite a bit of say, but it's a park service plan. So we had project managers from the National Environmental Quality Division office in Denver. They were here through the process at all the negotiated rulemaking meetings. We had solicitors from the Department of Interior that advised us on legality. Ultimately, the way the process works is that the park recommends a plan and then the regional office has to approve it. But on something as high profile as this it's reviewed up into the Department of Interior to decide whether or not they approve it. But it's a park service plan. It's not "the Seashore's plan" or "Mike Murray's plan," it's the park service plan.
One comment that struck me is: "Locals shouldn't have to pay" and the response was, "It's a national park; it belongs to the whole public." In some ways it was a decision that was beyond the scope of 5000 Hatteras Island residents or 34,000 Dare County residents from the very beginning.
I've worked at I think eight units of the National Park system now. If there's any entrance fee or special use fee like this, it comes up everywhere, and the answer's always the same: it's national policy. As much as it would be nice locally and increase goodwill, we can't show favoritism. As a national park system we have to treat everybody fairly when it comes down to fees. But we did offer different kinds of passes. So if you're a frequent user, it's advantageous financially to get the annual pass as opposed to the weekly pass. And to that extent it's possible to build in some opportunity, but then you don't have to live here to get that.
Have you ever seen a place in your experience where the park and community was so intertwined?
Surprisingly, while every park is unique, this set of circumstances is not the only place with communities either right on the boundary or surrounded by one, so it is not completely unique in that regard. Cape Cod, for example, had six incorporated towns where the park ran the length of them. Sometimes the seashore was park property and the bay side was town; sometimes the seashore had property on both sides but no connection the middle. And we had the same fee scenario there at our beach parking lots. We had six towns that wanted to be able to park for free, and there was only one town that was entitled to that based on their deed transfer. They deeded their beaches to the park service in the 60s and in that transfer they reserved the right of the residents to park there at no charge. So those kind of longstanding, binding contractual agreements can come into play, but nothing like that specifically relates to beach driving here. Now, the enabling legislation authorized the continuation of commercial fishing and the park service has a special regulation for the seashore authorizing it, and that is limited by regulation to the residents of Dare County. There's a list of the different towns and villages. If you're a resident of that, and you have a state commercial fishing license, then you're entitled to a free park service commercial fishing permit. Under the ORV plan, people who get that permit don't pay a fee for the ORV permit. And that dates back to the enabling legislation.
That's funny. Because when you talk to people about the enabling legislation, one thing that gets them upset is that — at least the perception is — that the beaches were supposed to stay open forever. I'm assuming they didn't put that in the deed or some other contract like that town in Cape Cod. Or is the grapevine taking liberties with what transpired?
You'll get different points of view on this, so my point of view is not necessarily the only one. But if you look at the history and you look at the enabling legislation, if you look at Conrad Worth, the Park Service Director's 1952 letter, you can pick something out of context and say: "This is what he meant." The trouble is you have to read things in context. We have all kinds of laws and the enabling legislation, this is a key section where it talks about recreational purposes. So it authorizes development for recreational purposes, and then everything else "shall be "permanently reserved as a primitive wilderness and no development of the project" — it wasn't a park in 1937, it was a proposal — "or plan for the convenience of visitors shall be undertaken which would be incompatible with preservation of the unique flora and fauna."
This is not the entire enabling legislation. One of the earliest sections says the park will be administered, developed and preserved in accordance with Sections 1, 2, 3 and 4 of this chapter. Section 1 is the Organic Act. So congress intended from 1937 — that was sort of legal premise, one of the first things stated in the enabling legislation was the Organic Act.
So when you look at the Organic Act, the constraint is it's for conserving resources and for visitor enjoyment, provided resources are conserved unimpaired for future generations. Now when we get sued over the Organic Act, which has happened many times since 1916, the courts have ruled consistently — and the park service policy is — that when there's a conflict between conservation and use, conservation is to be predominant. Because if we don't conserve those resources for future generations, then we haven't met the fundamental purpose.
So, basically, if you think about 1937, there was very little development. No paved roads on Hatteras or Ocracoke. No paved roads south of Whalebone Junction. There were no beach parking lots. No restrooms. So, Congress recognized there needed to be some development. But they put constraints on it — and they're subject to interpretation — but "certain areas deemed particularly adaptable shall be developed." And if you read the 1938 prospectus for the seashore, they talk about developing what became Coquina Beach. They didn't call it that, but "paved road to paved parking and beach restroom, north of Oregon Inlet." In 1938 the park service plan was no paved roads on Hatteras or Ocracoke. And over the years, it became a political compromise to agree to the road. And back in the 50s, when NCDOT paved the road, in the administrative history the park service thinking was, "Well, if people drive down the highway, then beach driving is no longer a necessity and we can manage it better." But they didn't really change anything. And so there's this really long history of continuing beach driving, park service concerns throughout the years. In the 1960s, after Bonner Bridge was built, the number of people driving to Hatteras was much greater. There was a complaint to the Director of the National Park Service basically saying, "It's no longer Cape Hatteras National Seashore; it's Cape Hatteras National parking lot." And that was back when they had 50 vehicles parked at Cape Point, much less 500.
The way I look at it? That's all interesting history. You can pick choose and interpret it, but I can't turn back the clock. We can't reduce development. We have highways and bridges that get a lot of people here. My job is just to be sure we manage visitor activities —in this case, offroad vehicle use — in accordance with laws, regulations and policies in order to conserve resources and give people diverse recreational opportunities.
At the same time, you have more leeway here, in terms of recreational activities than other places. There seems to be two bumper guidelines in the comment responses. For people who want unlimited access it's "we have to follow the Organic Act." Then when someone said, "Get rid of ORVs," the reply is, "We need to provide diverse opportunities."
We do. There are some comments that said, "You need to eliminate ORV use." That was not our intent. We did not include that as one of the management options and we were criticized by some people for that. But the intent was to manage it in accordance with regulations and policies and to make ORVs authorized, legally defensible and provide diverse opportunities for other people. Some people do not find it pleasant to walk on a heavily trafficked beach. And when you read "permanently preserve as primitive wilderness," the question comes up a lot in our comments: "Where do I go for that?" To me, it's not a valid argument to say, "It's in the middle of Buxton woods away from the beach." Because the seashore's all about the shoreline. And it says, in essence, the seashore was created to prevent development of the shoreline — or limit development to that which is necessary. So the goal of the plan is to deal with these multiple, sometimes conflicting issues and values and legal mandates.
One thing I'm sensitive to is that we were heavily criticized by conservation groups. And the quote out of many of their comments is — even though we are restricting ORVs more than before — "you still allow more miles of ORV use than Cape Cod and Assateague Island National Seashores combined." In other words, they're saying, "You're still the most liberal ORV use area." But I would argue that this long-standing use is appropriate as long as we can minimize the impacts, and particularly the big impacts here are when ORV use is in conflict with shorebird and sea turtle nesting activities. So that's a temporal conflict. It occurs year after year, but it's not year-round. So it's something that has to be seasonally managed, which is where the resource protection measures come in. We have a lot of staff energy we have to put into monitoring nest activity so we can be sure it's adequately safeguarded so it can evolve on its own.
So while some people say, wait for a nest and stop night driving locally, you say, "There's a limit to the resources we can devote." So you put laws in place that make it efficient.
And some of it relates to national guidance and policies. On the federal threatened and endangered species list there's often a recovery plan, which is developed by the Fish and Wildlife service. A scientific panel of experts develops the management recommendations and, as a federal agency, the park service — under law — must contribute to the recovery of those threatened and endangered species. So by policy we should be following the recovery plan. It's pretty awkward if the recovery plan for loggerhead sea turtles says night driving should be prohibited in the nesting habitat during the nesting season — it's legally awkward, it's internal policy awkward — if the park service allows night driving. Particularly when we have no particularly good data that shows it makes no difference here.
Two things I see that come up a lot: number one, we talk about ORVS but a lot the pedestrian access gets lost as a byproduct of this. That stretch from Avon to Buxton, can be roped off almost entirely. Which seems outrageous from the perspective that the purpose of these parks is for people to enjoy them. My main beef has always been: if people can't enjoy the parks, they won't protect them.
Sure.
Do you think it's reasonable for people to be upset they can't walk to the beach?
I respect the right of people to have their own opinion. And if their opinion is they're upset about it, I accept that. From the Organic Act, the Endangered Species Act, the Migratory Bird Treaty Act point of view, the park service is obligated to protect those birds, particularly when they're nesting. Protect the eggs, protect the chicks, etc. I wish I had a magic wand for a simple solution to enable these birds to nest successfully when there's a lot of visitors using the area. But I don't. And I'm not sure there's a way to do that. When the closures to protect nests are in place it does affect both pedestrians and ORVs. So, in that regard, the discussion is not about ORVs. But when I hear the big generalizations that "pedestrians can't go anywhere either," I usual interpret that as someone doesn't have enough information or the full perspective.
Under the consent decree, using the same buffers that we've incorporated into the long-term plan, out of 67 miles of beach, we rarely had less than 50 miles open. And 17 miles sounds like a lot — and sometimes those 17 miles included very popular areas like Cape Point, South Point of Ocracoke, etc. — but the challenge is during peak visitor period is also the peak breeding season for those species that are protected. So the way the plan is written, the best the park service can do is provide adequate protection, try our best to inform people where these closures are. The Google Earth map, if people are familiar with that, generally shows the current status. There's many, many miles open to pedestrians and/or offroad vehicles. And there are some places that people want to go that are currently closed and will be closed later. So, to me it's a dynamic situation. It's hard to have a solution that works both for the birds and the people at the same time. It's a temporal conflict. It's during a certain time the year it's a conflict more than it is other times.
That's the other question: where's the science? Was there any attempt to gauge behavior and patterns here on Hatteras? Or was it all adopted from other areas?
There's studies from a lot of different areas. Particularly on the shorebirds, there's research well back into the 70s. We have some research here and some generally accepted scientific research from elsewhere that's often used as a touchstone reference for guidance on how to protect or manage a certain species, including in terms of buffer distances. So, there's not one simple, every species has been studied so thoroughly here that we know exactly the right buffer distance here. American Oystercatchers have been well studied by NC State University at Cape Lookout National Seashore and at Cape Hatteras. So there's a lot of information there. Piping plover have been studied in New England, but also to a certain extent at Assateague, more than here. Some of the colonial water birds have been studied at different locations. So I would say there's no simple solution that fits each species. We have to look at the available research, get scientific expert advice on the applicability of the study here, and we have some experience implementing certain size buffers under the consent decree, different size buffers under the interim strategy…
The buffer is 1000 meters now. Have they increased?
Generally not. For piping plover chicks — just chicks, not nests — there's a 1000-meter ORV buffer. And this originates in the piping plover recovery plan, which basically says in order to avoid take — which means unlawful loss or killing of a piping plover chick — it gives two sets of recommendations: one, is that when there's chicks, you exclude offroad vehicles from 1000 meters on either side of the nest because the chicks are known to be highly mobile; or — because there's an "or" clause —if there's been intensive monitoring, and the local data supports it, than the buffer could be less, and it mentions 200 meters. The issue is in the interim plan we went with 200 meters and didn't have great data to support it. So I think that was one of the many reasons we were sued because it didn't really quite meet that recommendation. And so under the consent decree, the parties that agreed to the settlement agreed to the 1000-meter ORV buffer for piping plover chicks. The nest buffer under the consent decree is 50 meters for piping plovers. Each species has a different latitude or susceptibility to disturbance. So, in some ways, ironically, some of the other birds that are not federally listed as threatened or endangered are more prone to disturbance and they need a bigger buffer. But it's a species-appropriate buffer. There are a number of studies that are generally accepted out there. If you were to look at the comments, it would seem like there is disagreement on the science. There's not that much disagreement among the wildlife scientists.
I think the problem is it feels like you're taking the salesman's word for it. If you invest your life into protecting something, you're not going to have an objective opinion. I think what people were hoping for is some objective research from right here without a dog in the fight. Is there opportunity moving forward to get local data and maybe make changes moving forward? Recognizing that it may change for the worse.
Let me break that into two parts. One is the relevance of existing or pre-existing studies. The park service approached it several different ways. Back in 2005, before my time here, the park service entered into agreement with the US Geological Survey to come study Cape Hatteras, look at the specific species, look at relevant literature — research, studies, etc. — and make management recommendations. This is the infamous USGS protocols. Some people wonder, "What does the USGS know about biology." Well, back in the 90s the DOI reorganized their science program. And the bottom line is most of the researchers — the pure scientists, not the people who manage on the ground or regulate wildlife — the people who do the research are vested primarily in the US Geological Survey. The internationally recognized Patuxent Wildlife Research Center — that's USGS. So Patuxent sent specialized scientists who know these species to come do that work. Now, they wrote a report, it wasn't research — it was recommendations. There's dispute…
Is that the peer-review dispute?
Right. Or the people who reviewed it, some people feel like there's the appearance of a vested interest in it. I can't change what happened before me. So, what we did was, we thought about it — and I wish I'd thought of this earlier, but I didn't — but at some point I went through my regional office and I asked USGS, "Hey, there's people who dispute the validity of this report, can you have it reviewed again? Have it objectively reviewed and updated if it needs to be?" And again, the park service, we didn't put all our stock in what they said, but they identified relevant research, which was also identified by other sources, including the US Fish and Wildlife Service, including the Wildlife Resource Commission of North Carolina. So, rather than put all our eggs in one advisor or one report, we looked at it all. Plus our own experience implementing several different management strategies. And we decided that, if we're going to err on the side of resource protection — remember when there's a conflict, conservation is to be predominant — then we need to stick with these buffers.
But we designed the plan to be adaptive. So we identified targets for future numbers of nests or species, so if we're making progress toward improving those species then we'll reevaluate progress or not every five years and see if we can adjust something. We'll have new data that we can see: do we really need 1000 meters for piping plover chicks or not? Or if we give it to them for 1000 meters, we can see how much they do move.
See, the problem is, prior to the consent decree, they weren't protected much beyond 200 meters. So given the larger buffer from vehicles we're seeing that they move much further than 200 meters. Not every day, but at a certain point when they're ready to leave the nest and go to their foraging grounds, they'll make a big move. It looks like they'll tend to stay once they're there. Not always, but most of the time. So our thought is, when we do this periodic review, we'll have enough local data that if we feel like we can justify changing buffer— and that particular one is one of them—I think if we had the data we might be able to support changing. Then we'd have to consult the Fish and Wildlife service. But I see the plan as sort of a living, adaptable, thing.
We're also looking at other options for access. Right now we have public scoping to get feedback on the parking and new ORV ramp plan. Public scoping ends on March 31st; but our preferred alternative calls for more parking, more ORV ramps, some interdunal roads to make connections from this ORV to that ORV route more convenient and practical. Before we just start constructing those things, we need to do a smaller environmental document.
So it could get looser after five. But it could also get more restrictive, I assume.
Well, potentially. We would have to determine why it's not doing any better. On the beach nesting wildlife, there's generally four factors that play a big role in their success. One is weather, we have no control of that. Two, is availability of suitable habitat; and that can be affected by construction somewhere else. We don't tend to construct or develop on sensitive wildlife habitat on the seashore, or other is, we may have suitable habitat, but it's so heavily used then it's not available when the species need it. So, by having these pre-nesting areas, it's enabling the best habitat to be available. Three is human disturbance, so when they're actively nesting or raising these chicks they're susceptible or sensitive to human disturbance — which increases abandonment of nests, increases loss to predation, things like that. It's often hard with multiple factors to say a nest loss was caused by one factor. It's usually an interplay. Then the last one is predation. Predation plays a role, habitat plays a role, human disturbance plays a role, weather, and every year it's a different combination. Sometimes we can say this nest was loss to predation or big storm overwash, but it all interacts.
And predation is the other big hot button issue. People say you're killing one animal to save another. I also remember people suggesting in the meetings that ORVs allow for more human interaction, which scares off predators.
If we limit ORVs without managing predation, then we may not have much success and limiting ORVs alone won't make a huge difference. If we limit predation and don't limit human disturbance, it's the same thing. I can't tell you how much each one contributes at any one moment because there's a constant interplay between the two. There are some studies, and they're referenced in the ORV plan, that high levels of recreational use tend to increase predation because a lot of animals are habituated to being around people; they can find scraps, the leftover bait on the beach, discarded fish carcasses and such. Some people in their comments will argue that the more vehicles on the beach, the less predation there is. I'm not sure there's science to support that; it's a common sense argument. But there are studies that show the more recreational use, the more predators there are.
The predator control program I have mixed feelings about. I have a degree in Biology, I worked in parks like Yellowstone where mega predators, large predators were eliminated in the 30s — like the gray wolf. And I was there when we re-introduced gray wolves.. The challenge is Yellowstone is a remote area. 2.25 million acres surrounded by six national forests. So it's a large, in tact ecosystem. And some scientists will say it's not in tact; it still has migration corridor problems for wildlife, etc. Here, where you have eight developed villages — seven on Hatteras, and Ocracoke — we have a big problem with feral cats. There's cat colonies in most of the villages we have no control over. There's mammalian predators that are not native to the island. And there's some you can argue were here before but they weren't abundant — foxes, coyotes, and certainly an overabundance of raccoons and possums. And they're smart, resourceful animals. And they figure out where the food is. In the winter, it's probably not on the beach; during the breeding season, it's on the beach. There was a study at Cape Lookout where they tried to trap every raccoon to see what they do; they radio-collared a bunch. In an area where historically they had no raccoons, they had over 300 — on an island with no ferry, no bridge, no roads, no villages. So we probably have many times that on Hatteras. We probably have an unlimited supply.
What we do with our predator program is try to reduce the impact of predation on the nest sites. So the trapping occurs near the nest sites. We catch an awful lot of feral cats. Again, there's cat colonies in the villages producing feral cats. Some people truly abhor the idea of killing animals. And I have mixed feelings about it myself. And I respect that point of view. But some people are kind of selectively complaining about it. People are against us managing the wildlife, it seems, because they know it will benefit the birds. Some people who want much more open ORV use — and back before 2005, 2006 there were documented cases of chicks being run over. No piping plover chicks, they're small hard to find, we don't know; can't say they have or have not. But American oystercatcher chicks, lease tern chicks, run over because of the pressure to leave areas open to ORVs. So there seems to be an irony of people wanting us to return to that kind of ORV use complaining about an overabundance of predators — including some non-native predators — to benefit the birds. If people out there are interested in the management of wildlife, I'd like to see a better management of the cat colonies. I'm not saying catch and kill 'em all. Many parts of the country do catch-and-spay program. Ocracoke has a successful program. Vet schools in the state have a traveling pet clinic that will go down there and catch as many stray cats as they can, spay or neuter them, and then you deal with the ones you have but the population stays in check.
Well that photo of the fox getting shot doesn't help the image either. But I understand that was rabid fox…
Well, it didn't test to be rabid. It was behaving abnormally, we heard reports — although we never made a case — that it'd been captured north of Bonner Bridge and released down there. I can say from a lot of experience with canids, more with coyotes and wolves and out west — and I used to be a bear capture technician at a couple of different places, and have free-range darted coyotes and black bears — that fox was not behaving normally. It was out in a crowd of people in broad daylight. And the issue is: at what point do you treat it as risk to the public? And I was there on the spot when the decision was made — and it wasn't the moment it was seen, it was after it was observed for a while. That wasn't a normal situation. That was not a fox behaving normally. So whether it was sick, it's hard to say.
But it wasn't even a bird-related shooting. So why do people latch on to it? In some ways is this just a PR battle?
Well, I would say it's a very polarizing issue. All parties involved have their public relations campaigns — some would call it spin; some call it propaganda. We encounter misinformation repeatedly. Some parties have more ability than we do to spread information. So rumor control is a challenge. Unfortunately, I think the public is misled. We get calls in the summer: "I hear everything's closed." And someone walks the people through the Google Earth map and it's like, "Gee there's a lot of places open." And in the past few years we've tried to measure how many miles are closed on a weekly basis, and I can tell you, the peak closures over the peak breeding season tend to be mid-May to mid-June. And then it starts to reverse. And by mid-July, many things are fully reopen. Not every single thing. But it follows a predictable pattern. Our goal is to put out information so people can plan around that.
How does the current plan compare to what was before? Is it more closures? Last winter we could still park at S-Turns, but here it says it's pedestrian — or is that just below the waterline?
What' different his year is the plan has designated ORV routes. If it's not a designated ORV route then it's a "vehicle-free area" or pedestrian area. So, that was one of the key things we failed to do before which put us in legal jeopardy of not being allowed to provide ORV use. The park service regulations say you have to designate them out in special regulations. So these are the designated routes. Just south of Rodanthe pier north, originally the park service had 500 feet of ocean front; and then the village boundary, you can see people developed right up to that boundary. So much of that has eroded. Just like S-Curves. So the park service jurisdiction has narrowed down to just the intertidal zone north of Rodanthe Pier. So our feeling was, it's hard to justify allowing ORV use in an area that's underwater.
Is some of that also being generous; recognizing the fact that if you grant ORV access here, you'd have to take it from someplace else? So if you're gonna make a place ORV, you want to make sure those people benefited?
There's some truth to that. I mean, there was an attempt to balance the miles a bit. But, anyway, that's what the blue and green miles are about. On the resource protection side, under the interim plan and under the consent decree, we did pre-nesting areas for piping plover at the inlets and at Cape Point and South Beach. There were no pre-nesting areas designated for American oystercatchers and colonial waterbirds. Under the plan, there are pre-nesting areas for American oystercatchers and colonial water birds. American oystercatchers, have what is called strong site fidelity. The same pair will come back and nest at the same site year after year. Under the consent decree we would monitor those areas a lot, because we knew they were coming back, and as soon as they came back and demonstrated some kind of breeding behavior, the consent decree required we put up the buffer. And the same areas tended to close. They're very predictable. So under the plan, we looked at the nesting history over the past five years and the current habitat conditions — the staff went out to look and see and if those areas had good nesting habitat — if they did, the plan calls for a pre-nesting area. So what's new with this "pedestrian shoreline access"? Under the consent decree — when there were pre-nesting areas at some of the points, or inlets, it was often a complete shoreline closure. Because when the consent decree was implemented it froze the pre nesting areas to be the same to maximum extent possible as of 2008. So we had areas where no birds nested, yet we had to put up a pre-nesting area. The new plan is more adaptable. We've identified areas where we think it's likely for those birds to nest; it's a proactive way of protecting that habitat so it's available. But to hedge our bets, in case they don't show up, the pedestrian shoreline access allows that use until they show up. Now, we've had confusion on the wording of our signs, so we're looking into that…
Well, "leave no footprints" does sound extreme. Even if the intent was to be more flexible.
Well, the intent was to be more flexible. Frankly, from the management responsibility and the legal liability point of view, it's a calculated risk to let people into what is known and identified as sensitive nesting habitat. So this provision of the plan was our way of managing that. It came up in negotiation rulemaking discussion that if you let people in those kinds of areas, you can't take a chance that a dog's off leash. Kites are a big problem, typically with piping plover. The recovery plan recommends a 200-meter kite buffer around piping plover enclosures. And so one could argue that we're not being that strict, because we say no kites within or over the airspace of the piping plover closure. And our feeling is if we have good compliance, it will work.
That's the big "if" about the new plan. In order to evolve to some future change in buffers, we have to have good compliance. The purpose of the buffers is to reduce the chances of human disturbance. That part of it has proven effective during the consent decree. Is that reduction of disturbance the sole reason there's been increase in nesting numbers? You can argue that either way. There's multiple factors every year. So the intention is we hedged our bets. We wanted to allow use of those areas as long as we could. And because the pre-nesting areas get left in place until a certain date — because that's the best habitat — if for some reason birds don't show up later on, we wanted to at least have that shoreline access to reopen. And if we call the whole thing pre-nesting area, it doesn't open up until July 31. So it's a bit mystifying as to why people are so upset. Upon reflection of the wording, I can see why the wording has confused people, so we're gonna address that.
But birds are there now anyway, right? So the signs have gone.
Several areas the birds are already here, so those pedestrian shoreline access areas are closed as prescribed by the plan. But there are other ones where the birds aren't there yet. But it's actually a good thing if the birds arrive and get settled early, because if they nest successfully on their first attempt and have chicks, they won't re-nest again. If they lose a nest because of disturbance — they abandon it, it gets predated by gulls; or they lose chicks immediately after hatching for whatever reason – most of these species will renest again, and again, two or three times that year. Which means the season is that much longer. What we've seen under the consent decree is not only an increase in the number of pairs for piper plover, but a reduction in the number of renest attempts.
So do you feel like the new plans is more restrictive or less restrictive than the consent decree?
Well, the consent decree modified the interim strategy by adding the buffers and the nighttime restriction. Neither one of those designate ORV routes, so neither one of them passed the muster for that legal requirement of designating the routes. They provided a resource protection. So, in that regard, any objective person would say the plan has additional management layers, which you would call restrictive. It has a different, but similar version of the resource protection measures. It's made more things regulation— the park service has the authority to post a speed limit and change the sign. In the ORV rule, it permanently designated what the limit is unless otherwise posted.
So, it has more rules in place, which is inherently more restrictive. But as far as the miles open and closed, how do they compare?
My calculated guess or judgment is the plan this year will play out in the breeding season similar to what has happened in these last four years. The birds tend to come back to the same places. You know, their arrival date can be different; they can nest down the beach a quarter mile from where they were before. Colonial water birds have a little less site fidelity. But from now until mid May, maybe late May, there will be an increase in the number of nests. New arrivals; new breeding behavior; new closures. There will be a peak period, generally mid June or so, where the maximum amount of resource closures are in place. In recent years, it's only been a week or two where there's been anything less than 50 miles open. Now, some of those miles, again, will be hard to get to — which is why we're designing a plan with new access points. If you have an ORV route that's 3 miles long and only has one access point – and you get to a nest within a ¼ mile of that access, you can't get to it . . .
That's why everyone's frustrated.
So we need to build redundant accesses for routes so if one gets blocked you can get to the rest of it from the other one. That's not going to happen this season. We're doing the planning to start constructing next winter. So, hopefully, we'll see some of the access points by summer of 2013.
What about monitoring spoil islands? When people take issue with the bird population number, they always point out that the spoil islands aren't taken into account.
The park service has no responsibility for any of the spoil islands. The only island we have any responsibility for is Green Island, which is on the southwest side of Oregon Inlet. That's a natural small island; or sand spit. Where we do get nesting, that's the only one. The spoil islands are mostly managed by the NC Wildlife Resource Commission. A few further south in the state are managed by Audubon. We tried to initiate a discussion with those entities about counting birds at the same time — if they do their surveys while we do ours, then at least we're not double counting. It's been a little challenging to coordinate it. The people at the other agencies agree in principal but they have staffing and timing issues; they can't necessarily do their counts the same day we do ours. There was a lot of discussion during reg neg on that. It is of interest ecologically to know where those birds are. In some ways, it's beyond my control, the park service's control. I can't make those other agencies count when we count. And the bottom line is: the park service has responsibility for the wildlife on our seashore. I can't say the seashore is a sacrificial zone, that we won't protect our wildlife here because there's plenty of them out on the spoil islands. I've read reports from the state that say, overall, some of the species are in decline statewide and coastwide, and so everybody has to play their part. But just as a fundamental legal responsibility and obligation, the park service has to — under the Organic Act and all these other laws — we have to protect the wildlife on the seashore.
If I think back on comments, public comments, on the EIS or on the proposed rule, they are very polarized. And whether it's Southern Environmental Law Center and National Audubon or the OBPA or NCCBBA, we saw valid points on both sides. But many points were conflicting. One side wanted us to be more restrictive, the other wanted us to be less restrictive. Figuring out how to put that into a practical management plan — not aimed at pleasing everybody but aimed at providing effective resource protection and diverse visitor opportunities, trying to meet the purpose and need of the plan — is very difficult. In the beginning of the planning document under NEPA, the reason for doing the plan is described in the Purpose and Need Statement, and that is the ultimate test of the final decision is does it meet the purpose and need. And purpose and need can be complicated, ours was: we want to allow for appropriate ORV use; we want to protect resources unimpaired for future generations; we want to allow for diverse visitor experience opportunities, which in some ways boils down to some areas open for ORVs some not. And people can pick and choose what they want to do and where they want to go. And then when they get there, there's a range of things they can do. We tried not to say, this is the kiteboarding site and this is the surfing site and this is the walking your dog site. But what is common, when we get nesting birds, primarily, and turtles, those areas — regardless of whether it's ORV use or pedestrian — have restrictions.
When you take all this input in — twenty thousand comments or what have you — was it weigh everything equally? Did local opinion way more? Did congressional opinion weigh more?
There's some common principles in how comments under the National Environmental Policy Act are to be reviewed. It's not a vote. So numbers may be interesting, but if you get 10,000 comments that are saying, "I'm for no ORV restrictions" or saying "I'm for eliminating ORVs," that's technically almost a non-substantive comment. I mean, we decided in the purpose and need that we're allowing ORVs; we're not trying to eliminate them, but we need to restrict them sufficiently to manage conflicts with other users and resource protection. So those were typically lumped into what's considered but dismissed from further evaluation.
But where we have detailed comments — "I don't like permits, but if you do permits, I think you ought to do it this way" — those are looked at. Frankly, when you have a very polarized issue, you get comments all around the target. Some are on the target and some are not. So you try to figure out, if we do it this way based on these comments, that's one item, but it's a complicated plan with many items in it. So we have to look at how does it work as a whole. People are surprised and disappointed that we didn't just do it the way they wanted. It's not as simple as that. For example, it was clear in negotiated rulemaking and the early public scoping sessions that Cape Point is an important access area for fishermen, for surfers, for people who like it out there. And ORV access is of value. You had some constituents that wanted all the inlets, and points and Cape Point closed to ORVs. We decided, okay, we're gonna have some inlets and points open to ORVs, some not, and some that may be seasonal. And we frankly, kind of split the baby in half. And that kind of input led us to believe that east side of Cape Point is the best access to get to Cape Point. And generally — it's been closed for a few months during the consent decree, but it's been more likely to be open than approaching Cape Point from the west. So we have to take those definitive but polarized opinions and, respecting those two points of view, find something that is appropriate. Ultimately, the park service is responsible for making a management decision. We consider the public comments, we consider what's been defined as purpose and need, and try to come up with a plan we think accomplishes that. And on offroad vehicles or snowmobiles or a few other hot button issues in the park system, it's going to be very polarized.
With talk of wintering populations and stuff, might access decrease? Because once it's in place, it's done. And I know one comment response basically said, "We can't seasonally open stuff as easy as we can seasonally close it."
I would say there's more flexibility on the resource protection side than the ORV designated route side. It was a regulatory requirement that the designated routes be spelled out. Some comments thought we should be more fluid and flexible about designating routes, in essence saying the whole seashore should be a designated route and the superintendent should decide "This is the route today" and that doesn't fly as meeting that regulatory requirement. On the other hand, there were some suggestions that we not lock in resource closures — and I don't think we did — for the wintering birds. Some people thought we didn't need to do anything for wintering birds; some people thought we needed to be more ambitious in protecting shoreline for wintering birds. The way our plan worked out, if it's a particularly sensitive habitat, it could be a small resource closure and I can tell you what we had in place this past winter before the plan went into effect: is a little bit of the mud flats on the sound side of South Point, Ocracoke; and a little bit of the mudflats at Bodie Island spit. Everywhere else it might have been an ORV closure, but it was open to pedestrians. If you have remote areas and other management overlays, where there's designated routes or something else reduces the number of people in the area then we can be less restrictive about the closures. Some people would argue either way you're reducing the use in the area; other people would argue, that's the point: these are sensitive areas; some of these are considered critical habitat for wintering plovers. To get to the bottom line: it's hard to know the exact right thing to do in a complicated and contentious issue like this. So we tried to build in some flexibility so it can evolve. If we can learn about buffers and come up with documentation that smaller buffers for piping plover chicks would be effective here, then we have the ability to move in that direction.
Why no daily rate on the beach permits? I think a lot of the outrage was having to pay so much right at the start.
Well you have to understand that it's a special use permit and a cost recovery program. We issue all kinds of special use permits for other activities, like weddings, which typically last a few hours. The going rate on a wedding permit is $100. And because of the administrative costs of issuing a permit, our feeling was the administrative cost of issuing a permit for a day instead of week wasn't going to be 1/7 of the weekly permit. It would've been a significant cost that increased our workload, etc. So the bottom line is a daily permit could easily have cost 50% or more of the weekly; so we felt like it was just a better value. It was simpler for us as well as the visitors. I mean, I suppose there are people who just want to go out there one day; but during the discussion the focus seemed to be on weekly stuff since most people rent a cottage for a week. And they're probably going out for more than one day. So it was decided based on efficiency. The fee was based on how much we needed to recover to provide the additional program services and oversight. If you compare the permit cost here to Cape Cod or Assateague it's similar. Cape Cod's is higher. When we developed the fee the annual fishing pass for one person at Jennette's Pier was $300 and $65 for the week. So our price is still a good value.
Shuttling and water taxis are possibilities mentioned in the doc. I never saw it come up in the reg neg, but…
It was discussed in subcommittees. Some of the conservation groups were pushing it because they'd seen it happen elsewhere. There was quite a bit of disdain on the ORV side; I think if you're used to driving anywhere you want, it's hard to make the leap and concede to the possibility that that might be beneficial. The park service has already begun to follow up on that. We had a technical assistance team of transportation planners come and look at the situation and they're going to provide us with a report. I think the focus of what we're looking at is at the Spit or Cape Point. If the end of the spit or Cape Point isn't closed but you can't get there because there's nesting closures before you get there, is there a way to shuttle people so you can get around it that works for the birds as well as for the people. In the short term, there may not be an easy way to do it, but in the long run it's something I think we'll continue to look at.
Let me ask you this: do you think Walker Golder's getting as much heat from his people as the access people are? Do you think they feel like it's a success?
I don't know how Walker feels because I don't see him or talk to him. It's unfortunate that people feel like there's winners or losers here. If we try to envision the future, 10 to 15 years from now, what I'd like to see happen — and it remains to be seen; can't predict the future — is that nesting populations are thriving here. That people have adapted around the seasonality and they're used to the recreational opportunities. That we've been able to revise parts of the plan based on adaptive management so that things that people think are burdensome now will seem less burdensome. If we can justify it. And that' the big "if." Visitor understanding of the rules and willingness to comply with the rules will help determine how much flexibility we can have in the future.
What would've happened if you said, "Screw it. We're doing it the other way?" Because I think some people think we can return to the old way. Could the park service said: it's the old way. Or would it just mean more lawsuits?
I think if you read chapter one of the plan, particularly the purpose and need, it's very clear that the park service thinks that the way it used to be is not legally defensible. Legal defense is a theory until it's tested in court. But the park service chose a plan we think is justifiable, legally defensible. Based on the best available science, it meets the requirements of the executive orders and the other laws and regulations that apply and goes and meets the purpose and need of the plan.
How close are to where you can say, "That's over."
From the park service point of view the rule's being implemented. The lawsuit has to be resolved, but the plan's being implemented. There's a lot of steps and hearings until it can be a law. And people can comment and submit testimony. All that's beyond my control. What's under my control is implementing the plan on a day-to-day basis. So that's what we're doing.
I read a quote by Bill Harris that said, 'I feel like I lost every friend over this issue." I've hard about rangers not being served in restaurant and stores. What's it been like for you the past 7 years?
It's been very challenging professionally. And I would've loved to have found a solution that everybody loved. And short of that, I was hoping the negotiated rulemaking committee could agree to some common ground that the park service could use as the final basis for the preferred alternative. Frankly, at the end of the day, they couldn't agree to almost anything. Or they wouldn't agree formally to this point or that point, even if it seemed like things you think they would agree to. So it's a good lesson in trying to resolve conflict that is very polarized. I don't know what the lesson learned is, other than that I wish the park service had completed the plan back in the 70s. But people should not be misled into thinking that would've solved everything. In 1978, when the draft plan was published, loggerhead turtles were listed as a threatened species but piping plover were not listed until the early 1990s. So even parks that did their plans in the 80s had to change it and make it more restrictive later. What would it be like today if that plan and regulation had been finished? Hard to say. I can tell you it's much harder to wait until the bottom of the ninth inning when things are perceived — at least by one side with a lot of legal arguments on their side — who feel like things are out of hand.
It's been difficult. I have a very dedicated staff. Some of them are not treated well in the field. That's unfortunate. We try to be professional and objective about doing our job. But frankly, a big part of the problem is the opposing sides don't seem to recognize there's other people out there who don't think the same way you do. The ORV people feel like it should go back to the old days, and there's a lot of people who disagree with that. If they could've found a way to incorporate and collaborate with pedestrian access folks during the reg neg, that would've been a powerful coalition. But when you look at ORV recommendations for routes and areas, there's very, very little year-round designated pedestrian areas. And so the pedestrians aligned themselves with the conservationists. Too bad it's about taking sides; it should be about what's best for the park. And certainly, having visitors who can enjoy themselves here and be future advocates for the park, that's important. It's unfortunate if we lose one faction of visitors who don't like what we're doing. I think everyone needs to understand that the park is here for multiple purposes: not just beach driving, not just recreation. Look at the enabling legislation: "the park should be administered, developed and preserved in accordance with the Organic Act. No development or plan for the convenience of visitors shall be undertaken that would be incompatible with the protection or preservation of the unique flora and fauna." So we need to meet multiple objectives to be successful.
The plan is complicated. And it may be hard for people to envision that there is some flexibility built in for adaptive management. I don't mind being judged on facts on how things work out. In some ways, it feels like we're being overly prejudged from the point of view of fear and hysteria in some cases. And in my mind the plan has some flexibility that will let it evolve over time as we learn from its successes and its failures.
My feeling is if we don't manage the use and conserve resources adequately, it would be very difficult to justify allowing it. The executive order says you have to close ORV use if you can't manage its impacts. I'm paraphrasing, but it's along those lines. So I'd argue that's what we're trying to do. People can judge how well we're doing that, but we needed a plan that worked together in total. And if you loosen up something here you have to tighten something up someplace else.
There was a thoughtful reason for every part of the plan. In an ideal world, when people are a passionate about a place like Cape Hatteras, I'd like to think we can figure out compromise we can all live with. But in this case it's been extremely challenging. In the negotiated rulemaking the way I interpreted the outcome is the polarized sides couldn't agree to a compromise and they left the park service to come up with the compromises. And neither one of them likes it a lot. You can argue one side likes it more than the other, and that's probably a fair argument at this point. But when I read comments from those parties, I still see a lot of criticism of what we're doing, even from the environmental side of it.
What's that they say? A true compromise is when nobody walks away happy.
If that's true, then maybe the plan's in the right spot.
Anything else you'd like to say?
The last thing I can think of is there's a lot of negativity out there about the plan. And it seems like it's a byproduct of a lot of people think it's worse than it is. Even during the consent decree we had calls everyday during the summer season saying, "I hear everything's closed." And then they hear what's open and they say, "Oh that's not so bad." On the other hand, if they call and want to go to Cape Point on July 1. Based on the nesting history, we'd tell them it's typically not open so they can plan around it. Our goal is put out accurate information so they can decide what to do.
_________________________________________________________________________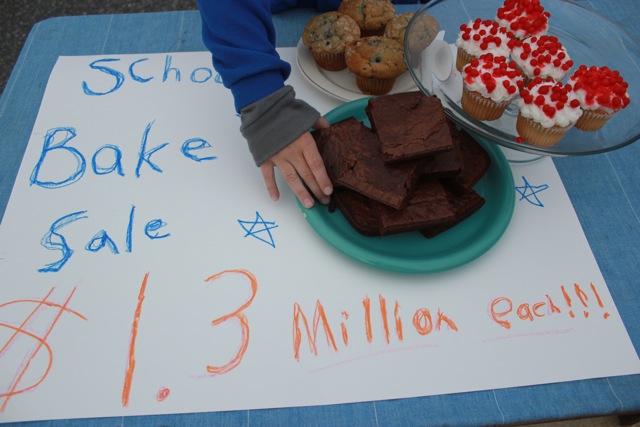 Issue 1.1: FOOD FOR THOUGHT
After four years of financial dieting, Dare County's school budget is skin-and-bones. Education Chair Ben Sproul discusses why now's the time to cough up more dough.
Pop quiz! What's $1.3 million divided by 30,000? Easy, right? $43.33. What's not so easy is securing that money in a recession. When Dare County's Board of Education asked for help in filling last year's school budget shortfall, they were denied for two primary reasons: 1) the county had maintained their commitment to schools by not cutting dollars the past four years; and 2) local kids receive more money per student than anywhere in the state. But, just like everything else, it turns out school funds have to work a little harder on the Outer Banks — a fact even the commissioners addressed later by finding an extra $350,780 to avoid losing personnel. This spring, the BOE will plead its case again in an even tougher climate. We sat down with Chairman Ben Sproul to find out how the math works, what's at stake, and what you can do to help.
The following interview represents the full conversation of the edited version that printed in Outer Banks Milepost Winter '11/12 issue. — Ed
How'd you end up on the school board?
It's an interesting story. I was standing on the top of a mountain getting ready to go snowboarding, and my phone rang. It was Skip Saunders who was getting ready to come off the school board, but he didn't want to leave with no prospects of who was going to run. I was already doing stuff — the planning board, the restaurant association, CASA — I was probably doing too much stuff. But I've got kids in school. And it was like, "You can really make a difference." So he and a few other people talked me into it. And fortunately, I ran uncontested so I won — against nobody! [laughs] But it wasn't a tough decision. And now I realize it suits me.
How so?
I tell my partner, Steve [Pauls], all the time that the job is a lot like the job here [at the Pit]: it's managing people; it's dealing with conflicts at 2am. But I'm the kind of person who needs a challenge and likes to bang around complicated ideas, and there's a lot of complicated things that go on in trying to steer a ship that size. And while you can't run education like a business, there are certain parts that benefit from having that background. The big picture things and the challenges of how to manage with a declining budget — we've had to do that here. It's not been rosy anywhere for anyone. It's a challenge trying to convince the county [to increase funding] among all of their priorities. And it's been a good experience to stretch my mind in that direction of how are you going to allocate these resources and how can you put pressure politically to increase the value of education and how can you work with the organizations that lobby at the state level. So it's been very interesting and educational for me. A lot of my job now is educating people on how it works. Because we have a fantastic staff who do a great job in a tough situation. But the public doesn't realize how and why stuff happens.
What a perfect segue. You say we need more money, but critics say $10,000 per student is more than any county in the state gets and the schools need to use it more wisely.
Do you know why that's not true? Well, the figure is true in a technical sense. And it's a figure to be proud of, because it shows we invest in our kids. Part of the reason that won't buy as much as in another system is our geographic set up and the decision ten years ago to have three high schools in an area with only 5000 students. Now, there are benefits to that — like smaller class sizes and shortening the time parents and kids spend getting to school — but it comes at a cost. First, it's inherently less efficient than, say, 5000 kids at one school. Everything's all together and you don't have to travel. Second, the DPI – Department of Public Instruction at the state level — has a bunch of rules about what they will and won't fund. And, staffing-wise, the state doesn't pay for another principal, or vice-principal or guidance counselor at a third high school. So we are going to pay those things out of local funds forever. And you can go and dissect those numbers a bunch of different ways.
So they made an investment decision 10 years ago to build schools we didn't' have to.
Didn't have to? That's sort of a judgment call. The argument against building and spending the money is: can't you bus kids around? But in order to do that, you'd have to say, this portion of Wanchese or Manteo are going to get bussed over to Nags Head Elementary. And in order to offset it, the line for Kitty Hawk Elementary would have to move farther south to grab more people so Nags Head would be the right size. You can see how there would be a huge downside to that for those families.
And that's another interesting topic that's important right now. All the schools have a design; a target of maximum number of students. Right now we're in a fiscal situation where are classroom size is getting higher because we're just not getting the money. We used to have a lower than average classroom size. We're getting closer and closer to the maximum classroom size. Now, you can go over that somewhat until you hit a legal limit, which is when you really have to bus kids around to make things work. We're in a situation now where we have a little extra room at Kitty Hawk but we're a little over design capacity in Manteo Elementary. If you use all the boilerplate design criteria, we need six more classrooms in that school to get the classroom size down as low as we like. But that's the rub: in Manteo, there's nobody sitting in the hallways; there's nobody in trailers. It doesn't look dire. But the numbers bear out: it's time to build. But everyone knows it's not a perfect distribution of schools with population.
You probably don't want to get into this, but there's also a certain reputation that certain schools have for being better than others, and a perception that the parents of those kids would like to maintain that.
What's your perception of that? Because I might have a different take.
Well, if you were to ask me what the going popular perception is for elementary schools north of Oregon Inlet, the average person would rank them: Kitty Hawk, First Flight, Nags Head, Manteo. Now that may not to be an educated perception, but that's what you'd hear. I'd also suggest you'd that the overall perception is that people in Kitty Hawk and Southern Shores would love to keep it that way.
Well, fortunately for us, outcomes — which is what we call them — are not very different from one school to the other. And they're all fairly high. And people are always gonna try and rank stuff. And it isn't because the school is particularly better or worse, or that staff is particularly better or worse. I think we have a great education community that shares ideas and all support each other. It's not dysfunctional like I see in a lot of other schools when I travel. However, there is a direct correlation — and I don't think anyone would dispute it — between socioeconomic demographics and achievement: i.e., if you have books at home, you're more likely to do well in school. Or if you have a parent that's involved you're more likely to do well in school. . . .
If you grow up in a household where college is expected, you're more likely to go.
And we have a lot of great programs that really help address that. Like the AVID program. And we'd like to expand that and move it up father up into middle school, but in these budgetary times we've had to stop expanding it. But the outcomes for that program are fantastic; a really high rate of the participants are going to college. But back to the elementary level, my wife was president of the PTO for three years at our school and it was a struggle to get volunteers, it was a struggle to raise money. Whereas, you could see up at Kitty Hawk huge gaggles of people out helping run events. And they raised a ton more money. And you can see that.
Plus, when you look at the statistics, a lot of our schools are Title One schools so they get a little extra money from the federal government, just because a lot of our kids are close to the poverty line or at the poverty line. And the number they look at is the percentage of kids on free and reduced lunch. Which is 42% now for the whole county. We were at 26% in 2006. That's a huge dip. But in Kitty Hawk, it's still 25%. That means the number's even bigger further south.
So the number of people of parenting age who are at or close to poverty level now is staggering, but it's not talked about, because everyone around here is so resilient. If you're still here, you're like, "Chin up, we're gonna get through this." But that doesn't mean its not more challenging for the teachers. Because when there's food insecurity, it's harder to learn. And we're sending home 700 backpacks filled with food every weekend, because that's how many kids qualify for it. And a lot of those kids, that's making or breaking being hungry. That's a serious issue. We come from an area where we see beautiful mansions everywhere, and it can make you forget that our socioeconomic status is not that much better than anywhere else.
To me that's one of the bigger discrepancies. Because when I look at that $10k per student number what I think is, "Well, it's not paying for teachers." Because a starting salary is like $28k. There are bus boys on this beach who make more.
It's hard to live on this beach for that much money. And the percentage of teachers here who work all summer has to be up there.
And that doesn't happen in other areas. The starting salary for a California teacher when I was there was $50,000. Here it takes 15 years to make $40,000 dollars. And that's more than most people will be willing to put up with. But that's decided by the state. How does the county work in terms of funding? And who's responsible for making decisions? Is it you? The superintendent?
As a whole, neither one of us has a whole lot of leverage to deal with money coming in. The way it's set up is sort of like check-and-balance. The idea is you have a finance officer and a superintendent, who are running the second biggest employer in the county: we've got 11 schools, 700 plus employees and an approximately $50 million budget, roughly 85% of which goes to teachers. The county basically flat-lined us at around $19 million four years ago.
Our board reviews the big top tier decisions that are made about the budget, policy, legal issues, that the professional staff is doing. But we're mostly looking over the books and budget amendments and making sure there's no malfeasance. And then on a policy level we have an attorney who is interpreting the rules coming down from the state. But basically: we hire one employee. The superintendent. And the superintendent hires other people who hire other people. But everything goes all the way up through us.
But it's very complicated in terms of funding. In fact, the state has this formula where they say: "We're gonna fund this many salaries." And then you tell the state, "These are the salaries we're gonna pay." So we hand pick which teachers the county pays for and which ones the state pays for— and that will be the most expensive employees. And if someone at the bottom works their way up through accreditation and so forth, they might get a check form the county one year and the next year get a check from the state. So every month, the finance department is shucking-and-jiving to squeeze the most out of every dollar or every position we get. But even if the funding stays the same each year, the cost of health care and benefits go up. And all the low-hanging fruit has been cut over the past four years. In fact, the only reason we got an extra $350,000 from the county last year was by making the argument, "You say we're not getting a cut, but it still translates into a cut in teachers." Because if the price of health benefits goes up so much for these 50 employees, suddenly we only get 49 employees. So we talked them into the cost of employing the same amount of people.
At least they did much. Who puts the budget together?
The budget is put together by professionals for a lot of professional reasons. They're trying to manage all these priorities, such as classroom size. Let's say you're only allowed to have 18 kids in a classroom, and you have 36 kids. You have two teachers. But let's say you get a 37th kid, you have to hire another teacher — but you're only getting paid for one extra kid. You're only getting a state allocation of $6000 or $7000 dollars. But you still have to hire a whole 'nother teacher. Now, when you've got 20 kindergarten classes, [shuffling an extra kid] isn't that big of a deal, but in a small system there's a lot more volatility.
That's interesting. Because most parents think, "Yea! Smaller class!" But in reality, one extra kid might suck $20,000 out of the budget.
And what takes the brunt of these things is the stuff that isn't required, but you still want to have, like high level high school classes like advanced calculus or advanced science class. Because we can't financially hire a teacher to teach three people — that doesn't make any sense because that wouldn't be fair to the rest of the students. That's why Virtual Public High School is — well, it's the way of the future really — but it's is great for small systems like ours because the school can pay something like $600 per year or $350 a semester for those classes. And you have a top tier teacher on a computer screen giving a class and answering questions.
So that's $600 per year per student?
Something like that. The breaking point statistically is — on average — if you have 15 or fewer students it would be cheaper to put them in virtual public high school for that class. If it's 16, it's cheaper to get yourself a teacher to teach it. And now there's a demand to take Mandarin and things like that. But when you start out, you never have 15 kids who want to take Mandarin — you start out with 3 or 5. But apparently every student who's ever taken the virtual Mandarin class has passed and gotten credit for it.
So is that implemented now?
We have it in small doses. Some people think it's too expensive. And it would be nice if it would cost less. But that is controlled at the state level and it's been super successful and grown really fast despite the pricing they currently have. But it's certainly worthy of advocacy on the state level to do more. Because if you have 56 kids in a class like Cape Hatteras, what percentage is going to what to take AP Physics? It's going to be three. That problem only gets you 3 times father up at First Flight, because the class is only three times bigger. So you only have so many classes you can break it up into before it won't mathematically work. And just like any decision you make in business, certain things have to come in front. But I think we're very good at accommodating people as much as possible. And if you have a kid who needs to be challenged in chemistry, if you have an ongoing dialogue with your principal and your guidance counselor and say: Where's this going to be a year or two years from now? I think you can work out a plan.
That's the downside of having a smaller school system and smaller classes . . .
You don't have that breadth of different classes. But we still have a really high ratio of kids taking AP classes and college credit classes. There's a whole bunch of kids how have their freshman year done before they graduate.
So how does that get implemented more? Because, for me it comes down to the same issues that plague the Outer Banks in general. It's a small community — a rural community, in fact — with not a lot of money endemically, but with a lot of money flowing through it. So we're not the power brokers. I guarantee you, if the people who rented these houses up and down the beach lived here, we'd have the most sophisticated schools you can imagine. If you visit here, you'd think we had heaps of money. Because that's the image we portray. But if you moved here form Jersey, you'd be shocked to find we don't have some of the things you might expect.
Or might be used to.
It almost sounds like we got into the same situation as the rest of America ten years ago: we bought too much house. Or, to be more specific, too much school. Is that factored into the cost-per-student number as well?
No. That's totally separate. Has nothing to do with the buildings. That's if you're teaching outdoors. And the way I imagine it — and this is just me; nobody else has said this to me — but if you have a few hundred million dollars in buildings and they last 50 years, you'd want to build them every five years and spread it out. Instead, we built the vast majority of our square footage inside of 10 years. The problem is, 50 years from now there will be a ten-year stretch where we're really trying to replace buildings. And of course, we want them to last longer than 50 years, but you see how that can be a problem.
Because all the upkeep will happen in the same time frame. But we needed something bigger, too. I'm assuming the reason we built more elementary schools was to accommodate more students.
It hasn't been as big as people think. There's been some shifts. And they have some very sophisticated modeling to figure out what they think is going to happen. But Manteo had a surprising jump in elementary school numbers the past five years. More than everybody expected.
What's the modeling look like five years from now? I know our population isn't booming.
Even though our population has been stagnant, our kid population has grown. But what a lot of people don't realize is a lot of it is churn. You start out with say, 5000 students in fall. And then you do a count in February and enrollment is down by — I don't know, 75 kids. And they go "Oh, that's three classrooms you don't' need." And we say, "Don't worry: by April we'll be above 5000." Because people turn over in the winter here. Kind of like military families all move in summer; tourist destinations it happens in the middle of the school year.
Moving back you always hear, "schools are great." How do our schools rate countrywide?
We're in the top five counties in the state in lowest dropout rate and highest on-time graduation rate — over 90%. I think we're the only county that's been above 90% in on-time graduation — that means in four years — for three years in a row. So we're really good at graduating kids. Now some people will say, "That's because you don't let anyone drop out." Well that's kind of a good thing because if you get that diploma there's all sorts of good things for the community long-term. I'm sure you've heard the phrase, "Educate 'em or incarcerate 'em." Actually, we've had a big philosophical change. Fifteen years ago, we had one of the very highest dropout rates. It used to be, "if they don't want to be here let them just drop out and cause a ruckus." Now it's, "Let's educate every kid." And we have a bunch of programs designed to keep them from seeing dropping out as the only option. So, that's a good thing.
Other statistics: something like 80% of our kids takes the SATs, and we have over 1000 as an average. And the number of kids going to college is really high. The other thing that's tough is people say, "Big deal. Isn't North Carolina like 48th in the nation?" But there's another poll out there that does a comprehensive comparison of individual high schools throughout the nation. They put in things like graduation rate, SAT scores, GPAs, number of highly qualified teachers. So they have this really robust tool they rate schools with. And all three of our high schools were in the top 5 percent nationally. That's amazing.
That is amazing. But the fact is America's schools still underperform on a global level. And even locally we don't offer things that I had in a Virginia Beach high school 25 years ago. Considering how connected the communities are, that frustrates me. Because, for me, it shouldn't be, "No child left behind." It should be, "No child left unchallenged."
And that's an important point — and you can find this documented easily — but American schools don't stack up very well anymore. We don't produce enough engineers to do the engineering we need done in our own country. And that's a paradigm shift we have to be able to get into our kids heads: you have to have a brain, you have to work hard. And other countries are willing to do that. That's the tough part of my job: getting people excited about what we've accomplished and, at the same time, going "there's so much more we can do with more support." In terms of both people and money.
Well there's always VoTech.
I know you're kidding, but Skip Saunders — who preceded me on the board — ran his own construction firm for many years. Now he teaches Construction Technology 1 and 2. And he's come up with this program where the art students design benches and give the plans to the construction guys; they get the materials donated and make the benches, then sell them to buy more materials. So they get the business experience. The marketing and design experience. The excitement and pride in the product. You have to love teachers who take something to the next level. And that's happening. It would be nice to be able to expand that into other trades.
Nowadays, trades pay better and are more secure. We were always told to grow up seeking out a white-collar career. But those aren't sure-bets any more.
When people say "Schools did enough when I was a kid," I like to point out that 40 years ago 75-85% of jobs you could start out after high school and work you way up. Now days it's the opposite. It's like 75% of jobs require specialized post-high school training just to start. And they don't have a lot of upward mobility.
I'd argue self-reliance and imagination are going to get you farther long term.
Creativity is the big goal that we have here. And continuing to foster an environment where kids feel free enough to be creative is an environment we have to protect. And I think that's alive and well, luckily. And two things I have to give Sue and her team credit for is – both collaborative learning in students – but also a teaching community where [people share ideas]. Part of the problem with rewarding teachers for good is it teaches them to hide their tricks instead of fostering a better outcome for the whole. There's a pilot program for the state in Kitty Hawk, and it's going to be in all the schools, but the idea is when you give a test and you get the results back, it instantaneously tells which kids got what answers right and wrong, then pairs them with the teachers who were more effective on those respective problems. That's friggin' brilliant. And those things are coming down the pike right now. So it's a pretty exciting time to be in education.
So our future is rosy if we can just figure out how to fund it all. The business argument is you need to trim more costs. Have you pretty much trimmed everything?
You should interview Jim Winebarger. He does facilities for us. He's done an amazing job. Every few months he's done some huge thing to lower costs. Every time we get new equipment it's more efficient; we got fluorescent bulbs and new light switches where the lights turn off when you leave the bathroom. All sorts of things.
What about food? People complain about school lunches but that doesn't come out of the county budget, does it?
Right. You're either paying for it out of your pocket, or it's being paid for by the federal government.
I guess someone might argue the $2.25 you pay for your lunch is offsetting someone else's free lunch.
It's the other way around. I think the feds give us more money than it costs us to make it, because they give the same amount to every school, and we don't have the same costs. We don't pay our lunch ladies the same as they do in California. So the more people who get free and reduced lunch, the better it is for every kid, because we get more money in that pot to buy food with.
Why do you think it's so hard to convince budget hawks to spend on schools? I'd argue a good school system is good for business because it draws talented people who might move elsewhere.
I hear all the time in the hospital: I chose this hospital for the schools. I know when my parents moved back from Germany, and my dad was going to be stationed at Fort Monroe where the schools were crap, he drove us 30 miles each way to get us to a school that wasn't. So I know parents make those decisions. And you can make the broad-brush argument — always — that investing in schools is a good long-term investment because it makes a better long-term population. You end up getting more high-income doctors and entrepreneurs moving here because people do make decisions on where to move based on schools.
So what's the county's logic when they say not to fund? What do they say?
They say, "We don't have the money. You're the best funded in the state." They've closed their mind to it because there' in a declining budget and they have to cut somewhere.
But there's a whole separate budget item that's about $500,000 annually for maintenance — of which we're now about $1.5 million behind. And at a point you really start to get in to dangerous territory when you don't keep up with the maintenance of the buildings. You know you can put off painting for a year and it won't hurt anything. You can put off doing a floor. And the schools are in pretty young shape, but they're already 10 to 12 years old. But the plan is they have to have certain maintenance done on a certain schedule. And we're way behind because three years ago, the county stopped putting $500,000 away in that bucket every year. As a matter of fact they went to zero. And then we negotiated to $70,000 and then we negotiated to $100,000. But when you go three years and are short close to $1.5 million, every time you do that new construction maintenance plan, [the amount gets bigger] because they're piling up. You can only push stuff down the road so far.
It's like the ounce of prevention is worth a pound of cure thing.
Well, they start to get more expensive because — hey, if you'd done that floor three years ago it would've cost less than now as well. One reason we had to renovate or build at such a clip ten years ago was because in the '70s and '80s, they pushed things so far down the road. It t got so bad that it was better to abandon the building and build something new, then to spend so much to fix the old and add onto it. But now you're starting to see the public notice it. Like the track at Manteo, some of the parents and kids are starting to realize, "Our track's in such bad state, we can't hold a meet here. It's good enough to practice, but not quality enough for meets." So we get emails about it. And you have tell folks, "This is all public. This is all completely transparent. And this was on the maintenance plan to be refurbished three years ago. And it's still there. But it's not at the front of the list; there's some roofs that are leaking that need to be fixed first."
So how lacking are we in terms of teaching staff?
We're better than some other schools. And that's the whole thing about not letting good be enemy of the great. We have something in the neighborhood of 14 fewer teachers than we did last year. We may have the same amount of money, but that's how it came out. And a lot of things we'd like to do but didn't have to, so we got rid of them. And a lot of things that we wanted to expand, we didn't.
What would you do? What's first on the list? And does it take a tax increase at this point?
Dave Oaksmith used to say: "Hey, we're willing to take the hit for asking for the money." One of the things I like to do for people — whether it's the town budget or the county budget or the school budget — is say: "Hey, what is it that you want? Let's figure out how much that costs. Now let's figure out how much that would cost if we divided it among all 30,000 taxpayers." You start realizing it's not that much. My favorite example is recycling. In Kill Devil Hills there's only 7000 residents. They decided to do a pay-to-play recycling program. So only a small percentage of residents recycles, but we all pay eight or ten dollars a month. A restaurant like mine pays $400 a year. But if the town had said, "We know it's going to cost more because we're so far away from the recycling center and we have to transport, we want everyone to have it, let's split it among all the taxpayers." It would've been $20 a year and every house — even every rental house — would have recycling? Would you take a $20 tax increase a year to get town-wide recycling?
What would I do [for schools]? If I had $100,000 extra, the first thing I'd do is expand Pre-K — what used to be "More at Four" — because even though it's needs-based it has the most dramatic effect on student achievement for everybody. Because kids who couldn't afford to go to pre-school don't hold back the class for years to come. Down the line? That's why you need a big team of professionals to put together the budget, because you have to take whatever little is extra and figure out how to spread it around. Maybe it's PE time. Maybe it's AP classes or foreign language opportunities. We can't do everything. But there're ways for the public to have input and we can work together on what the priorities are.
How helpful and involved are local parents as a whole?
I don't have anything to compare it to. I grew up on military bases; and military parents are very involved, generally speaking. Once you get to high school, you can do the booster club, you can do some things. But elementary school teachers? Boy, they could put parent help to good use. If you could be the mom or dad for kindergarten, first or second grade classroom, that can really help. Fundraising helps, too. But Involvement helps the most, I think.
What is the difference between PTA and PTO? And how much weight are they carrying?
PTA expects thousands of dollar sin national dues; if you're a PTO you don't have to pay national dues. They make a significant difference. I know that First Flight Middle School, their budget was in the $20,000 dollar range. So it's not huge, but it goes along way. And it's money where the parents can decide, "This is what we want to do with it." I know that Kitty Hawk's is much higher, like $60,000 to $80,000. So you talk about the money, but you also talk about the volunteerism that goes with it
So what's the forecast from the state for next year?
More cuts. Worst yet, they say. Because last year fed programs filled in a bit. Now all that money is expired and there's going to be another round of discretionary cuts on top of that.
And if the feds are cutting, and the states are cutting, what's the county saying?
The county says it's going to be flat again.
And if 85% of that budget is teachers, and you're already running out of people…
So how many fewer teachers will we have to get by on next year? Well, last year, something like 30 or 40 people moved on, and we only hired 15 people back. So we reduced staffing through attrition. And that's likely to happen again. Sometimes they get shifted around. It's a big complicated board game of taking little pieces out of here and there until we get to the right place. And the assistant ratio keeps going down.
Is there a chance they'd have to fire teachers next year?
That depends on how many people retire. If no one retired? Probably. But they call it a RIF — a reduction in force — because you're not actually firing someone. You just don't have money to renew their contract.
Really? When I was a kid, RIF stood for "reading is fundamental."
Isn't that funny? But that's what they call it.
Some of the comments on line called you alarmist. How do you respond?
I don't think it's alarmist when it is the truth. I mean, it's nuts and bolts. It's dollars and cents. You have less dollars, and as expenses go up, you're going to have less people. You just have to decide where those less people are not going to be next year, in a world where we would like it to be a significant percentage higher.
So when are these decisions made and what can the public do?
The best way to put it — using the business term "level of service" — is if we want the level of service to not get worse, we need to find a way to replace the funds that are being lost. The best way a person can make that happen is to tell their commissioners: a) "I'm willing to pay more taxes, but I want it to go to education"; or b) "I've looked at your budget and here are the things I think you should stop funding in favor of education." Or some combination of those two things. And that's a lot to ask because I'm sitting on the board and I still don't understand the county's budget. [laughs] It's extremely complicated.
Anything else you'd like to say?
The real takeaway is there's so much to learn about how it's done. I'm admittedly a glass-half-full guy; I'm also a guy who generally assumes there's a logical explanation for things. The best thing is I'm usually right. And I think that there are a bunch of people out there who are interested enough to armchair quarterback and bark on the internet, but not interested enough to go and actually talk to their own principals and teachers. So I'd encourage people to get involved and find out more. And when you go talk to your principal, know that there's a person who honestly has your child's best interest at heart. We don't have any bad principals. I'll tell you that. Straight up. And we have some fantastic educators. And they love it when parents and citizens are involved and are interested in what's going on. And they're happy to tell you how it really works if you don't really understand. Because the more eyes that are on the ball, the better we're all gonna be.
______________________________________________________________________________________
ISSUE 0.2: AFTER THE STORM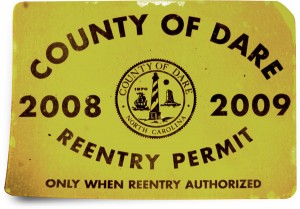 The extended conversation with Dare County's leaders regarding reentry and local reaction following Hurricane Irene
In the five days after Irene, local radio stations aired more than 1000 phone calls. Many were residents expressing frustration that Dare County welcomed visitors less than 24 hours after lifting the evacuation. On October 12, a panel of Dare County officials — Commission Chairman Warren Judge, Control Group Chairman Mike Johnson, County Manager Bobby Outten and Public Information Officer Dorothy Toolan — agreed to discuss the re-reentry process and the local reaction. What we discovered is that no group makes every decision; and rumor mills and radio rarely influence policy.  The following interview represents the full conversation of the edited version that printed in Outer Banks Milepost Winter '11/12 issue. — Ed.
MILEPOST: How does the control group work?
BOBBY OUTTEN: The control group is made up of a representative of the county, each town, the park service and the sheriff. Prior to a hurricane they meet to get an update from emergency management on what the conditions are and what decisions need to be made. And when I say, decisions, it's typically, 'Do we need to evacuate?' Because evacuation involves all municipalities and the county. You have to drive through all the tows to evacuate, so whatever you do impacts every town.  So once a decision is made by the control group to evacuate, then you have re-entry decisions to make. And when re-entry is a countywide decision — for example when you have a roadblock at the Wright Memorial Bridge and the Mann's Harbor bridge — then the control group decides when to remove those because you can't come into any town without coming through those two checkpoints. But the entry and reentry into any particular town, is a town a decision.  For example, in this re-entry when the checkpoints were removed from those bridges, all the towns said, "We're prepared to accept visitors." Except Duck. Duck did not allow re-entry. That was a Duck decision; that was not a control group decision. Nags Head can decide what happens in Nags Head, Kill Devil Hills can decide what happens in Kill Devil Hills,  Kitty Hawk, Southern Shores, Manteo, all the same.  They all have the right to do that. The control group can't make any one entity do what they want to do in their town.
Has there ever been a conflict because of that?
BO: Well, the purpose of the control group is to avoid that conflict. And that conflict has occurred in the past. Even with there being a control group. But not very often. The point is to make sure everybody's talking. But that's how the control group decisions are made. Similarly, Hatteras Island is a Dare County's decision. The control group doesn't decide Hatteras Island because you don't have to go through the towns to do so. It doesn't impact them one way or the other.
Can one group override the other? I mean can they override their vote?
BO: The control group is a consensus body. There's no vote. It's not like everyone can vote and we can control everything. We can't make them close Nags Head, even if we voted for it. But since I've been involved, it gets talked about, decisions are made and everyone's pretty much on board with the decisions that affect everybody. But the decision to open or close Duck was a Duck decision and we didn't have any input; just as the decision to open or close Hatteras wasn't their decision and they didn't have any impact on that. So those who think the control group has some legal authority or a vote like a board; that's not correct. It's a consensus building thing. And the idea is to make sure we're doing things that make sense for everyone.
Commissioner Johnson, you made the comment at the Sept. 19 meeting that "Decisions aren't made in a vacuum." Where else does the input come from beside the people in the room. Is it citizens? Is it law enforcement?
BO: Depends on the situation. During the storm, there's a decision every 10 minutes. And that determines where you get your information.
MIKE JOHNSON: For example, if it's during the storm and the question is "Do we want have to have a road block or not?" then we walk over to the support group room and talk with the sheriff's department and the state troopers,  and that decision's made — "Bam." — and you go ahead.
But as far as when to re-open or not, how much is reaching out to the community  . . .?
MJ: Probably too much [laughs]
BO: Well understand what we're talking about first of all: to evacuate and close a community you have to have a state of emergency under the statue. So you declare a state of emergency when the storm comes. When the storm is over, you're looking at emergency management things; is there food, water, shelter power, roads. Is there debris on the roads. Public safety types of issues that justify continuing a state of emergency. When those things no longer exist, where you have power, roads are open, food and water in place. You have EMS available. You can get to people . . .
WARREN JUDGE: Pick up trash .  .   .
BO: When those things are done  you don't have an emergency anymore. So the question about re-entry or no re-entry isn't "Can the visitor get his trip insurance?" Or "Is a cottage ready to house people?" It's more than that. You have to have a reason to be under a state of emergency. If we had a situation tomorrow where there were a bunch of cottages out in a village, we wouldn't declare a state of emergency unless there was a life threatening situation that required us to do that. So the first thing you do is say "Is there a state of emergency anymore?" And all those things play into it. And while housing is one of those things, it's not the thing that makes a decision. If you had the bridge go out in June, you wouldn't close Hatteras Island all summer because there wouldn't be a state of emergency. And you wouldn't have the authority to declare a  state of emergency, simply because the bridge was out in and of itself. You put that analogy alongside what  we have here: and the re-entry decisions become do we have a state of emergency any longer that justifies keeping people of the county. At some point you don't.
I've heard both sides. The litmus test for me was when you were hearing the notifications to boil your water as they were letting tourists back on the island.
BO: But you have to understand, that came after the decision to re-enter had been made.
But would we have known the water was unsafe if we'd waited longer…?
WJ: It was safe when the decision was made.
BO: When the re-entry decision was made there wasn't a water problem. We made the decision and allowed people back on and then we had a break. We have a break once a month. And we just happened to have it happen hours after a reentry decision.
WJ: It's probably more like two or three a month. We had one today. On California street in Manteo. And everyone gets a notice: "For these 11 houses, boil your water." It was just highlighted because of the timing. It was one of those fickle, fate situations.
Because, at the time, you kept hearing "boil your water" on both sides of the bridge; at the same time you had people coming back on. But you're saying it's the timing that associated with the storm.
WJ: Absolutely.
BO: But certainly, if you don't have water, that's one of those factors. Anytime the water pressure goes below a certain pressure you're required by the state  to put out  that notice even if the water tests safe because it's subject to bacteria growth. So when the line broke and pressure went below that level we had no choice but to put out that advisory. Which we did.
The other complaint was the timing; people wanting more than 24 hours. The evacuation was lifted at 2pm on Sunday; at noon Monday, visitors are coming over the bridge. People felt they didn't have time to put their lives together. The analogy I heard was: if your mom wanted to come stay the day after Irene, you'd say, give me one more day to get my act together. But, then again,  some business owners said they wished they could open immediately.
BO: Well, you just answered your own question. But the towns control that. Once the decision was made by the entire control group not to have roadblocks, then the towns decide what to do. And there was a consensus among towns to open. Except Duck. And the reason Duck decided not to open was they had a road out and  couldn't physically get people there. And they had more damage in the center of town than the other towns did. But that wasn't our call.
Then the gripe from Duck was that visitors could get there before the people who open up the houses could get 'em ready. It seemed like that ongoing conflict between business community. Or the way Commissioner Johnson put it at that meeting was "your socioeconomic position, isn't my socioeconomic position."
BO: But put it in the context of what  we're talking bout: is it a 'state of emergency' that you didn't have time to clean your house or yard? The only way you can close off the county or town is by virtue of state of emergency. And that's not one of the things in the statute.
WJ: A week ago, there was a terrible accident in Barco. And no cleaning crews or personnel could get in from Elizabeth City. Anything north or west of Barco. Or they drove all the way around, which made them late. I'd venture to say that it was hard for some rental facilities and hotels to meet 4 o'clock check-in simply because personnel wasn't showing up until noon or later. Which is the exact same situation — I can't get my cottage clean and my guests are here — it's just that this was all wrapped around a very emotional time. And certainly our residents took a beating. Where we live took a beating. And you know what: if I lived on that particular street in a particular town and I couldn't hardly move because of that traffic, I'd be calling my police chief and asking for help. That's not something that Mike Johnson was in charge of.
MJ: But even the Duck decision, the way that works is from an emergency management standpoint, the county north of Oregon Inlet is okay to open. We get that from our emergency management, and then it's my job as  control group chairman to call all the mayors: "Okay, north of Oregon Inlet, there's no state of emergency: what are you guys thinking in your towns? Okay, Duck wants an extra day because they have extra problems; Southern Shore is thinking, 'I might not be able to get down my streets.' Okay, well we're fine in the county: Mann Harbor's good, East Lake's good, Wanchese is good, Manteo says we're good, Kitty Hawk says we're good, Duck says we need a little more time, and we say "That's what we're gonna do; road blocks are open." Now the problem is when Kitty Hawk say, "We can't do anything, " but Duck says "We wanna open." That's when the heavy duty negotiations come in.
BO: And Kitty Hawk, in fact, did that during Isabel. We had people from Nags Head who had to go all the way around Elizabeth City to get to Home Depot. But the town has the authority to do that.  And the control group can't change that.
MJ: And that's why the control group really needs to work together.
Sounds like a lot of decisions are more granular than is currently perceived. If you were listening to that broadcast, a lot of the hostility should've been directed a rung or two down.
BO: There's  two kinds of decisions that are made. There are decisions that are made according  to a plan — where do you put trucks and take stuff — and that's made at a staff level. Bigger policy decisions such as evacuation and re-entry are made at a higher level, with the political people being involved as well. So depending on what the decision is depends on where it's made. And so depending on what your frustrated with determines…
MJ: . . . who you want to throw the tomato at.
So, schools: at first parents were frustrated they had to work and had no place to send their kids. And then, they got mad when the schools opened after 3 days because they'd heard if we missed four days in a row they wouldn't have to make them up.
MJ: That would be the school board.
BO: But there's no way you can make these decisions and make everybody happy. Earl wasn't a bad storm; we had some flooding down south. In Earl, were waited probably a day longer than we could have to make sure the road was in place. And we caught it from the retail community then: "Why did you wait a day, you only worry about the rental community." So no matter what decisions you make, there's no in between. If you open quickly the retail side I happy and the rental side is mad; and if you wait, the rental side is happy and the retail side gets mad. So what we have to do is look at it globally and look at it from an emergency management perspective. And if life safety issues are resolved, then we make decisions within reason to re-enter and one side or the other isn't gonna like it.
MJ: Why don't you go ahead an show him the buckets of lots we cast. [laughs]
Commissioner Johnson, you made a comment in one meeting about "billionaires worried about their pocketbooks." What did you mean? Some speculated the county opened quickly so people wouldn't skip their vacations or cash their insurance.
MJ: It sounds like me . .
WJ: I don't  believe anyone who makes those calls sits around and talks about insurance.
MJ: In the end — the very end — we were trying to incorporate however we could, the timing — and in particular — the wording:  you get to Hatteras Island, if you have a ferry reservation. Hoping that if they'd get their insurance if they didn't have a ferry reservation. But we can't make decisions predicated on an insurance policy that you bought. We can only do it based on the emergency. And as far as a statement like that, you're looking at a guy who'd been at it for weeks. And emails and phone calls by the barrel saying: "you idiot." And not a one of 'em with one piece of fact in any email for phone call. Nor do they have any  idea of how we make that decision. And there comes a  time where you go [makes motion like snapping his pencil.]
BO: But in that process, all the things we talk about are balanced to do what our decision makers think are best overall for the county and recognizing somebody's going to be disappointed and not like what you did. That's just the nature of the beast. I don't think there's been a reentry yet that someone wasn't disappointed and didn't like the decision.
MJ: We sit around and make bad decisions; because you already know that: Somebody 's going to think it's a bad decision. But we think that we're doing it from a educated standpoint that it helps the majority.
DOROTHY TOOLAN: I wonder if there's anything I can do to educate people about he process of the control group. Because I don't think people understand there is consensus. Because we operate as a joint information center so all the towns in the county come together when we activate to put out information from one source. And it's all on county letterhead so it looks like the county is saying it. But it could be the town of Duck or the town of Nags Head. So I've never thought about it ;til now, but speaking with one voice  . . .
WJ: Directs all the attention to the county.
BO: But that's necessary as well. Because people need to be able to come to one place.
MJ: Six or seven years ago we didn't have a joint information center, isn't that right?
DT: This was formed after Isabel because we had towns and departments issuing different  stuff, and we came together and said, "We need this to be one-stop shopping."
MJ: So it's one voice, one place to find your information, and it's saying the same thing. And it's kind of state-of-the-art what she does.
Okay, mosquito spraying…
MJ: Oh, God.
People were questioning the aerial spraying and why didn't we use larvicide…?
WJ: We did that.
DT: We were.
BO: We used larvicides, we used truck spraying and we used aerial spraying. The Center for Disease Control recommended we do the aerial spraying. They sent us a letter saying it was justified. The health department said there was a risk of disease. And the aerial spraying, we understand from the EPA is safe. So all those bases were covered. And I've used this example before: one doctor said, if you'd ever seen one case of encephalitis, you'd take the risk of aerial spraying. Some people didn't like that; but I received lots more calls about "What are you gonna do about these mosquitoes?"
DT: 150 to one, probably.
MJ: And some of the rare "thank yous", you get in government.
Because I did research the chemicals, and Naled does cause cancer risk in rats and other issues…
MJ: Watch the TV at night, Levitra causes blindness, diarrhea. . . .
BO: But the EPA said it was safe to use, too.
I don't think they can legally say it's safe. They can say the risk isn't significant. But Naled does have the highest classification when it comes to toxicity of all the mosquito control pesticides. Either way, I think the concern was why spray at all when you can use larvicides. But you were using larvicides, as well?
BO: Well, you're trying to do it in sequence where you kill them before they lay and you kill the larvae before they hatch. So when all your weather parameters line up just right, then you spray. But we used all the resources available and we brought in an  entomologist and he told us what we needed to do and how we needed to do it and that's what we did.
WJ: This wasn't Bobby and Mike sitting in a smoke filled room.
MJ: The CDC isn't going to tell us to spray 30,000 people with something that would hurt them. That ain't what they do.
But then you think about what the government told people when they wanted to do nuclear testing [in Nevada], and it's always "don't worry, this is safe…"
MJ: Well, they told us: we could spray with chemicals, but we couldn't drop any nuclear weapons on the mosquitoes.  [laughs]
BO: But it's an emergency management decision. Mosquito control is something in emergency management that other places do as well as part of the recovery  . . .
MJ: Hyde County.
WJ: Currituck.
BO: . . .because it' important for health reasons.
Every radio caller was told to take their issues the next meeting.  Is it safe to say nobody's made any public comments regarding beach reentry?
WJ: Not  yet.
DT: I don't think we've had any public comments at any commissioners' meetings.
BO: We got tons of emails from visitors who were upset they couldn't get on Hatteras Island. I say "tons," it's probably a couple hundred. We got a few from local people. But not what we got from the visitors.
WJ: And we got more locals that said "thank you" than criticized.
So what now: is it recovery mode? And what sort of time frame?
WJ: We're in recovery. Absolutely we're in recovery. And if any readers want to donate, ICO is the coordinating agency. And we have hundreds and hundreds of families from stumpy point to Kill Devil Hills to Avon, Rodanthe, Waves Salvo, Kitty Hawk village, Colington — they're gonna need things. Many things. To put their households back together. It's more than just brick and mortar. It's contents.
BO: I met with FEMA today and they didn't have a guess about time frame. As long as it takes is pretty much the answer.
WJ: Insurance money. FEMA grants for those who don't have insurance. The people's ability to fund whatever …recovery is subjective.  So, depending on what each individual's level of recovery, it's  gonna take a while. Infrastructure-wise the bridge is built, the road is open, the permanent solution is yet to come. But right now that's done. In 37 days or whatever.
BO: In 60 days or so the debris will be picked up. And then it's a matter of putting your life back together. Getting your house repaired, and that type of thing. And in the interim it's how do we house those people and what do they do while they're getting all that together?
Would you say this is worse than Isabel?
WJ: I don't see how you compare them. It's two types of damage. Isabel was an entirely different storm: it was oceanfront, the big destruction was there north of the village cutting it off, and we had some road problems in Rodanthe got fixed quickly. South Nags head took it's beating. Third Street north every telephone pole was knocked down and there was a lot of flooding. But all that was ocean side; it was the business district. Certainly there are some residents in there, but you can't compare 'em. Because the insurance company comes down and writes you a check for 25,000  square feet of concrete, asphalt, wood shingles and says, "Here  you go Mr. Businessman-or-woman," and you rebuild. That's not happening here; it's your home. You look at those debris piles and it's toys, it's furniture, it's pictures of the family, it's clothes. To me there's no comparison. And I don't think you'd ever want to say one was worse than the other. For the folks trapped on Hatteras Village the day after Isabel, they had no road, they had no water, they had no power. It was probably gloomy those first couple of days. They got power back by Sunday but for three weeks they were walking down to town square  to take a shower in a trailer. They were walking out back to drop a bucket in the creek to flush the toilet. So it'd be hard to convince those people anything was worse than that. But you walk through Colington or down Bay Drive or Stumpy point  where a third of the houses are uninhabitable today and you'd be hard pressed to convince them anything was worse than Irene. It's bad either way. It's just different set of people were injured. A different set of people had hardship.
MJ: It'll be a long winter. A long winter. But Bobby, Dorothy and myself, we traveled the 9th Ward I think  a year after Katrina. Total devastation, nobody living there except may one house out of 300 on a block. And even today it's like that. But those people in Rodanthe or Bay Drive or Mann's harbor, they'll be back. It wont' be next week, but sometime. Just  a tough bunch of people. A different bunch of people. And they take care of themselves. Whether the government or insurance company helps them to what level, they'll find a way to fill the gap and make it happen. That is good.
ED NOTE: AT THIS POINT, THE CONVERSATION SEEMED AT AN END SO WE STOPPED RECORDING. THEN IT RESUMED AND WE STARTED AGAIN.–
And rumors spread like wildfire. When the school kerfuffle was going, I called a friend on the school board and said, "What's up?" and he said: it's totally untrue.  People in Western NC make up many more snow days . . .
WJ: And what did the general assembly do this summer? They did two things: they extended the school year to 185 days; and secondly, they said you have to go every day.
MJ: There ain't no exceptions.
WJ: And the superintendent told us: there's no waiver to apply for  anymore.
BO: So she has to get her 185 days in however she gets 'em in. But again, rumors, the whole idea of having the joint information center that Dorothy does is that if everyone is putting out the same information, hopefully you eliminate a lot of the rumors. But you have 'em anyway. We had people call me and say "I have so-and-so working on the bridge and he says it's not going to be done til December." And I'd say , "No I talked to them yesterday and they're right on schedule." So that's what you deal with an and you just have to beat it down. And we know it's out there, because we deal with it every day.
WJ: You just can't deal with it fast enough.
BO: No, because you have to hear it before you can deal with it. and you say: Did you go to website? And they say, 'no.'
How much of your job was rumor control?
B.O. We had a call around on the radio every evening at 5'o clock we checked in with the fire chiefs  to see what was going on in the communities. What were the needs, what were the problems. Did this truck get there? Did that truck get there? And one of the things on the checklist was rumor control. Every day we asked: what are the rumors you're hearing so we can get you the information and you can get it out the community so it's not rumor anymore. Either true or not true. Irene Nolan at Island Free Press would email, "I heard this rumor"  and I'd email back something for rumor control.  Because it made our job so much more difficult.
WJ: And information is  very powerful to people.  And I know Mike feel the same way: we wish the people had called us. Some of the things you hear on the radio, it was like "Where do people hear that stuff?" Call us. I was in Avon at the first meeting and I wrote my number up on the board. call me. Don't sit there and brood over a rumor that you hear.
Its' the curse of a small town too.
WJ: And people are mad. They're hurtin'.
BO: But we're talking about a lot of negative. Those negative things we're talking about are four or five things out of hundreds that are positive.
WJ: Let me tell you: a great story for you is what residents have done, neighbors helping neighbors. Volunteer firemen who lost their homes ,yet they worked 18 to 20 hours a day in other peoples homes, only to go back to a wet musty house because they didn't have time to do theirs. There's 100s of those stories compared to the 5 people who call  you up and cuss you out over something. The ferry division. Yeah, we had some aches and pains over there, but you talk about 100 men and women around the clock the clock. Making 16 round trips a day, 24 hours a day. In storms…
BO: And staying over here in hotels. What we did in 35 dies with  a ferry system and an island cut off is remarkable. If you're over there suffering, you don't think it's so remarkable but..
MJ: Huge power restoration, phone restoration. Didn't lose water. It's huge.
WJ: Unbelievable. The phone contractors were down there. It wasn't the transmission lines hat were difficult, it was that everyone needed a new phone line to their house. The distribution system.. .
BO: But they got over there. And they got prioritized on the ferry or over by helicopter, whatever had to be done to make all that happen. We had emergency medical services on the ground the next morning. Ready to go at full speed capacity as soon as the water receded enough they could get out of he driveways. Again, I could go on and on . We didn't lose water for  a minute down there. We sealed off all the towers, so if we had a break we wouldn't lose it. And if we had a break we fixed it before we turned the water back on. Those people had water to bathe in and drink the day after the storm. The fire departments were remarkable, we didn't have  a fire loss. On and on.
WJ: Folks from Hatteras Village who had no damage came up — the owner of  a realty company and his chief construction guy — split up into two crews and went to Rodanthe and Waves and just started cleaning out stuff to the street.
BO: We get caught up in the reentry, which is really an argument between two different factions of the business community when there's hundreds of other things that go on that we do.
WJ: If you go to those four villages,  three of them had no damage and the fourth the businesses district was fine. They were ready. And the grocery stores had shelves full , gas stations full. Restaurants were ready.
BO: That's part of what you look for.
DT: I had a call from a woman saying, the grocery store's not ready. And I said, I was down there myself and there was food in every store. The Food Lion in Avon was probably better stocked than the Food Lion up here..
BO: Well the Food Lion in Southern Shores didn't have produce for a week. But it seems all the media inquiries are something where someone's called and said, "We didn't get enough blue tarps." Or they didn't like the reentry decision. No media has focused on building the bridge in 36 days. Or juggling the priorities or the ferry system . . .
WJ: How 'bout the deputy sheriffs and highway patrol who had the overnight shift at the Bonner Bridge, or at Salvo or the Stumpy Point ferry dock in just mosquito infested conditions?
BO :. . .and while it was long lines, it was organized and orderly. You guys should focus on that.
Well, the purpose of this particular column is to pick a complex, contentious issue that not everybody likes. And the curse of politics is that people always call and complain; nobody calls and says, "Everything's been going great the past month."
MJ: We got three good emails. Bobby forwarded them to me. [everyone laughs]
WJ: But I'll tell you this next storm, if you have a whole new set of faces in this room, you still got the same problems. You still have the same issue: when do you evacuate?  When do you reopen? It's bigger than Mike, Dorothy, Bobby  and warren. It's bigger than all the mayors.
MJ: It's way bigger.
BO: We had hours in the storm when it was raging to sit there an do nothing but run scenarios. And I tried to write a reentry policy and you cant do it.  By the time you write all the 'what ifs', the tree web gets so broad that . . .
MJ: You get to the end and you can't see the trunk anymore.
BO: There's so many variables that you can't draw a policy. It's situation-dependent.
DT: There's no perfect plan.
BO: It's what's the situation? What roads are out? Do you have water? Do you have power? What are the negatives if you re-enter? What are the positive? And there's no way to account for all the infinite possibilities that would influence the decision.
MJ: We think operational-wise that this was a good hurricane. We think a lot of good things happened in this hurricane. But you can't say that, because someone might take it wrong. And it wasn't a great hurricane at my house either. But I don't remember ever looking at any TV coverage of any hurricane in America and seeing someone say, "This was a good hurricane; we handled it good." Because you can't.
BO: And we'll do after action meetings to see how we can do better and change things. And hopefully we're learning every time we do this. And the things we learn we'll fix and make recovery better for the next time. So it's a learning process.
______________________________________________________________________
ISSUE 0.1: TRIAL BY SAND?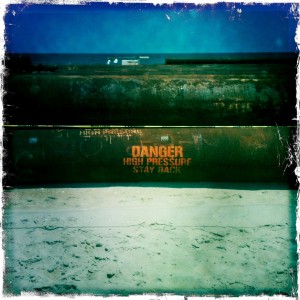 The extended version our inaugural issue's conversation with Nags Head Mayor Bob Oakes about beach nourishment.
On July 1, 2001 Mayor Bob Oakes sat down to discuss Nags Head's beach nourishment project, which was only partially completed at the time.  An edited version appeared in the Fall 2011 issue of Outer Banks Milepost. What follows is the complete interview. — Ed.
You gotta give Nags Head credit: they sure know how to fill a beach. Calculating a decade of sand loss — then dumping a 16-year supply of matching grain sizes. (Instead of using Oregon Inlet dredge spoil, which would race home ten times faster — and probably look 100 times worse.) They even got tourists to foot most of the bill by scoring $18 million from Dare County's Shoreline Management fun. (Of course, that means Kill Devil Hills, Duck and others will be lining up next.) But for many residents the question isn't how they did it — but why? Why gamble millions on an angry ocean with budgets so tight? Why try at all after the public voted "no"? Mayor Bob Oakes kindly agreed to sit down and offer some answers on how all this sand came to Nags Head. How long it stays? Well, even he admits that's "entirely up to the ocean."
MILEPOST: This is obviously a polarizing topic. Can you explain how we got here?
MAYOR BOB OAKES: Well let me start with the principles and the choices we felt like we had. There are three typical responses to erosion. One is the boardwalk and bulkhead things you see, more often up north. North Carolina ruled those out of bounds years ago. In the late 70s they passed the CAMA act and said we're not going to harden the shoreline. And frankly, that's to protect the neighbors. Because if one guy hardens, the guys on either side suffer tremendously. And that's what we've seen with sandbags.  The sandbag line stops, the beach has receded on the other side of it. So hardening the shoreline we didn't think was the best thing to do.
Retreat is the other big option. And the bad thing about retreat is — well, for one we were losing tax base and losing infrastructure in water lines and roads.  But the end result of retreat is you go away entirely. And I don't think the town is ready to do that. So, if you're going to draw a line in the sand, it seems reasonable to draw it out in front of your tax base and try to protect the tax base and the road at the same time because we wont let it get back to the road. So you're left with that soft approach of beach nourishment where you're not building structures where you affect the flow of sand and affect the neighbors. You're just adding sand to that system.
So we're in the process of putting down about 16 years worth of sand. We started measuring the sand loss on the beach back around 2004. And we had a previous survey from the late 90s that gave us a fixed point.  So we know the average of what we're losing annually over the past 10 years. We want the beach to last 10 yeas, so we're putting 16 years worth of sand out. There's about 100 million cubic yards in the borrow area offshore, so we're using 4.6 million cubic yards of that. So we're using really high quality sand. And we're fortunate to have a good sand resource out here because Southern NC doesn't have that sand resource. They're pulling from inlets and that type of thing and offshore areas that don't have the same sand repository. So they've gotten kind of a mixed bag. And it's part disposal project and part beach nourishment. And somebody helps paying for the disposal part of it because they have to keep the inlets clear. We don't have anybody paying for part of it, but we've got really good high quality sand and large grain sand. The grains on our sand are pretty good size. We core sampled out there, so we know what were looking at. We also core sampled out at Oregon inlet, and the sand at Oregon inlet is about ten times finer. And the problem with that is get up in that water column in suspension a whole lot easier. So it goes away a lot faster — our guy says 10 times faster. So we got the right sand. I think if you went out there you'd have a hard time telling the new beach from the old beach, which I was really thrilled about. And I've actually seen the critter holes, so I don't' think we've lost all of our critters either. We've also had two turtle nests recently, which is a pretty good year for us.
So that's the gist of the principles: we had hardening here, retreat over here, and nourishment in the middle The worst case with nourishment is if the sand washes away, you've lost a lot of money.
And that's one of the issues. And I'll give you credit for following the Army Corps plan so closely. But the Army Corps doesn't approve these projects unless they're doing it for 50 years.
But the price tag on those 50-year terms is outrageous. And that was part of the issue. It's a local project. When it became apparent that federal funding wasn't forthcoming coming on the big project. And they were talking about — it started out at 65 million and went up over the years to 90 million. And somebody told me that's 90% of what the core spends on the East Coast in a year. So there was no way we were gonna get all that money from the feds.  And the federal project focused on putting a big dune behind it, this is more focused on building beach. And you can build a dune, but if the ocean's brushing against your dune, it's going away. You see that all the time during a storm. It's like a hot knife through butter. Stabilized or not, if a wave hits the dune, it's chopping away at the base of it. The idea of building the beach is it breaks up the force of the waves. So we think we've got reasonable protection. We have a lot of stuff that's right on the edge. If you go down to Jennette's and head south, the Comfort Inn . . .
You might say the Comfort Inn's over the edge already . . .
[laughs] Yeah, they might be over the edge. But all those condos too.  You have a lot of houses after Comfort Inn all sand bagged. And that's probably three quarters of a mile of sand bags. They were basically in imminent anger. Another storm or two would've probably exposed those bags and probably brushed right past them. And those are all big structures. Very difficult to move. It's not like a single family home where if you've got a place to move it back  you can move it back.  So, two things: we got the permit, which was six years of jumping through hoops. It's just an incredibly long process. Finally getting that permit in December was a big go-ahead piece. Then we just had to figure out how to pay for it. And what we've done is put the vast majority of that paying for it on the occupancy tax. Nags Head's very lucky that Dare County saw something coming and in 2002 they put 1% of that occupancy tax on the nourishment. Now, they were thinking of paying the local share on the federal project. But if there's no federal share forthcoming, they said, "This is what's it's for." So, they're parting with 18 million out of that big fund that has around 30 million it. But it will take a couple years for anyone to be ready to do anything, just because of the permitting process. So, we're getting 18 million. We're covering 10 miles of beach. Nags Head contributed about 25% of that occupancy tax fund anyway.
So basically, everyone's lining up. Nags Head goes first, then KDH says, "If it works, we're next." And Duck's already looking . . .
Sure. But any sand to the north of me, I'll take. [laughs] It's coming right here. But KDH was two miles or so for $200 million. Their costs will probably come down, but we got this sand for $5.85 a cubic yard for the first 3 million. And $5.08 a cubic yard for the next 1.6 million. So a super deal. We'd priced it around $7 to $7.50. So we hit the timing just right. And these guys are probably the biggest dredgers in the US.  So they're the guys to do it. Summer time — the timing of the project — is difficult on occasion. Nobody wants their summer vacation with bulldozers and pipes out on the beach. The big reason for that was safety. The winter storms.
Well they won't operate in sea heights over a certain limit  anyway. Doesn't that make you nervous? The one thing you see when people point to success stories around here  —  whether its' VB or Southern NC, is that…
They're not out in the middle of the ocean. We're exposed.
We're exposed. You're saying 10 years, some people are saying we'll be lucky to get 3 years. Is it basically, 'trial by sand' for lack of a better term.
There's a little bit of that. You can do all the models in the world but it doesn't tell you what the real world is going to do. But that's the rationale we used: this is how much sand we've lost annually for the past 10 years, including Hurricane Isabel and a number of nor'easters. There's no real reason why that number would increase to 500,000 cubic yards per year. So I think the science is reasonable behind it. A lot of times nourished beaches erode quicker than 'virgin beaches' for lack of a better term. But a lot of times that's because of the incompatibility of the material. A smaller grain sand will go away faster. We shouldn't have that problem. So it stands to reason we should have a similar erosion rate to what we've been experiencing over the past 10 years. So even if you bump it up to 300,000 cubic yards a year of loss, you still put enough sand out there for 15 years or so. But we'll see. The plan is we measure it from here on out and see how much we're losing.
How many people have you spoken with when making the decision. Dr. Pilkey says "No way." Your guy says, "Yes, way." And everyone tends to hear what they want to hear  . . .
Well, the data is the data. You're surveying the profile and you measure the amount of sand that's been lost. Those are facts. Those aren't opinions. The opinion part is "How long is it going to stay there?" Dr. Pilkey certainly has an opinion, but it's not necessarily based on fact. Nobody's got those facts here because we've never done it here. That's one positive piece, is we will have the information — factual information — after this project and on the follow up to learn: does it go away faster, does it go away at this rate? So I think that's very much a positive. I do think we try to be reasonably balanced. There are good parts to it and bad parts to it. Nothing is all good or all bad. And there are coastal engineers out there who think it does work  it — obviously the army corps believes it will work. I think Dr. Conn was hired before I got on board, but he's done projects reasonably nearby. Myrtle Beach, and we're not saying this beach is Myrtle Beach. But then it's not the same process either. Sandbridge was another one. Virginia doesn't have the same hardened structure laws, so 10 years ago in Sandbridge  at high tide your back was up against the bulkhead — if you had any beach. And they've renourished and it's worked reasonably well for them. Two issues: is it going to work and is it going to be economical depends on how long that sand stays out there. If it stays out there for three years, yeah, I'm a dog. If it stays out for 15, everybody's happy. I'll be very surprised if we didn't get six to seven years out of it; we're paying for it over five. So, if its' still out here after we've gotten paid for, I think that'll be deemed a success.
But then it'll be somebody else's turn. And they're going to need the same amount of funding. It will rotate.
Yep. Everyone talks about it's not a one-time thing but we also don't know how frequently we'll need to renourish. The norm is 3 to 5 years. But those are projects where the fed picks up 75% and the state helps pay the rest, so those localities don't have as much skin in the game. We do. And we tried to scale the project to keep it economically effective. But frankly, you do have to put it out there and see how long it stays. There's no other way to model it.
The money issue is tough, too. It's a weird time to take a $36 million dollar gamble. I've hard people say "We can't get $1.3 million fro the schools, but we can put $36 million on the beach." And I know they're funded differently, but where there's a will there's. way. Why can't we use occupancy tax to go toward that? Or to make something permanent at Windmill Point or . . ?
Well, the schools are a county issue so I probably need to  shut up. But Dare County didn't have these schools 40 years ago. And we wouldn't have 'em today if we didn't have the tourism economy that's based on the beach.  What's more important? To have a convention center at Windmill Point? Or to have the beach there for the next 10 to 15 years. I think if you go look where the beach has doubled in width out in front of the Surfside Hotel, to me there's no comparison.
But what if in a year later it's gone? Now's not the time to make that comparison.
But again, I'm relatively sure, if you put out 16 years worth of sand, it's not going to go away in a year. To me, all those funds — or the vast majority –  are generated by the beach and tourism. This is a way of funding it that put very little burden on the local people because they don't' pay that occupancy tax. I tried to push our board not put even a portion of it on our west side local residents. But the board felt strongly everyone will benefit and everyone should pay some share. Right now it's 16 cents in special tax district on everyone basically east of the beach road, because there's a tremendous benefit there. And it's obvious: my property value goes up because there's double the beach in front of my house or hotel.
But the primary complaint I hear is people felt like they voted this down.  And that got pushed through. Can you explain how that happened?
Sure. I've been elected three times and said the same thing in each election. And our last election was a year and a half ago. We had two candidates who were strongly anti-nourishment and two who were pro-nourishment. And the pro nourishment ones won. I don't know" if you keep electing people who say this is the right thing to do, you shouldn't be surprised when you get that.. If the majority felt like it was not the thing to do, they should've elected other people.
I guess you can be a one-issue candidate. But, on the other hand, if I support everything else you do that doesn't leave me much of a choice. And I can see being at the poll going, "we voted nourishment down twice, they have to listen."
Voted it down twice, where do you get that? The sales tax repeal which was all Dare County. And then the referendum in Nags Head, there were different costs involved. We didn't have anything coming from occupancy tax. I think it was double the cost — we had 32 cents on the oceanfront instead of 18 — and I forget what the west side was but it was significant. And we had the whole town paying. This has just the oceanfront district and the occupancy tax – I take that back. That was the plan I presented. The board added the two cents on everybody. And to me that was a significant difference.
Still, in the peoples mind  I think they feel "I voted no on nourishment."
But you come to the point were you've got to do something, too. And it's a representative democracy, not a pure democracy. And we have people on our board who've looked at it and studied it. And four out of five thought nourishment was the best way to go. And I'm the youngest in time served on that board. And all those other folks have been elected on a pro-nourishment platform.
If it doesn't work, are you prepared to lose your job over it? You see the message boards say "Vote 'em all out!."
They'll have that opportunity. They'll have some of that opportunity in November. And I think it's good that people do have the choice. But I think the choices they've made in the past have been for candidates who are for nourishment as the way to go. How you pay for it has always been the rub. If somebody else was paying for all of it, I don't know if it would be an issue. We've got someone paying for a big portion of it, but we will all benefit from it. All of Dare County's economy is based on that tourism piece.  What pushed me over the edge on it on some fit, was some of the Sea Gulls stuff. Where you've got houses actually in the  surf, septic tanks are behind the house broken up from the last storm. And that's what you had to look forward to basically. If you kept up with the sand bags, that's where we were going.  A wall of sandbags all the way down south Nags Head. And to me, that's not the vision we want to have. And we were close to approaching that.
On the other had, it is a migrating piece of beach. And we've gotten to the point where people should be aware of that. I had friends who just bought down there. And I told 'em "You're crazy."
You let them do that?
I told them not to. So did their real estate agent. But they did. You know why? They saw the nourishment program coming. And I was like, "People have voted no twice." And they said, "It's gonna happen. " And they bought it.
Well, it's a gamble.
And they made it based on the belief hat this sand will be there as long as their house will be. But don't they deserve to take that risk? And even the Nags ahead website says, if we get hit with a hurricane we "may be eligible for FEMA funding to replace sand lost during that storm." Aren't both examples of asking other people to support risky behavior? I mean, my wife and I bought our lot in the middle of island for a reason; and till know 50 years sea level rise may make my deck a dock.
South Nags Head has been the poster child for erosion since I've been down here. And, yeah, to a certain extent it's bailing some of those guys out. We've also taken legal action to have some of them removed. So, it's a huge gamble if [your friends] bought down there with the idea of that nourishment coming. Nobody even knew it was going to happen until mid-April of this year; and I was surprised that it happened this year. I wouldn't have bet on it. I wouldn't buy anything in South Nags Head. But once you start on that road of retreat, you're going to keep losing tax base. And it's going go from here to zero. And that's the thing about the town. Your taxpayers a lot of times are thinking, "In five years I'm gonna leave and I don't want to pay any more taxes than I have to." The town has a different responsibility because it's going to be there –  hopefully – forever, to look farther down the road, not just five years – but the next 50. And the prospects for South Nags Head in the next 50 years are pretty grim. Like I said, if it doesn't work, it'll wash away and you'll be back where you started. But do you just give up without trying nourishment? That was the point to me: shouldn't we at least make the effort and see if it works or if it doesn't. Because you can always retreat. And if this doesn't 'work, I'd imagine we will end up retreating.
The worst accusations you've probably heard is that it's personal. Between Village Realty and having a house on the beach some have suggested it's strictly self interest.  How do you respond?
I mean, I'm in the very north section of the project. I'm doubling my taxes from $3000 to around $6000. I expect to recoup that in property value. But you don't realize an increase in property value until you sell. And the house we're in has been in my family since 1933. My wife's grandfather built it. It's been moved back twice, so we know there used to be a lot more beach than there is now. And there's not a whole lot of room to move it back. But I'd like one of my kids to live there one day. And if you don't do anything and it keeps moving back at two feet a year, eventually it catches you. But the reason we did the north end of the project is the relationship between length and longevity; if you make the project 10 miles instead of five miles, you should get four times the lifespan. So that's the reasoning there. It stays in the system longer. And that north five miles is the anchor for the south five miles.
Because of the littoral current. Which brings us to the other main timing complaint: people see this sand just filling up the inlet at a time when dredge funds are low.  We know you can't take it from the inlet because the sand doesn't match. But have you been taking a lot of flak for filing t up?
It's got a ways to move down. You're talking five miles to the inlet. But the littoral current's going to move it that  that way. But it's not a straight shot. And that's one reason we talk bout doing a terminal groin at the southern town line. I think that has possibilities. I don't think we'll ever get anything like that. The legislature approved a bill but it doesn't seem to fit where we are.
Well, then you're talking about robbing sand form further down the beach.
Well, Rodanthe is sand starved. But once you get past the inlet, you get into sort of a different system. And they don't' have a lot of sand down there.  One of our fears was putting out too little sand. If you don't put out enough it goes away faster and you don't get any effect from it. So I think this is a large enough chunk of sand. The beach is a basically the equilibrium between the ocean and the land. And what we're trying to do is reset that equilibrium so it's a little bit farther out. And yeah, its' going to erode as you come back. But you're buying time.
So buying time. That's what it is.
But the thing is that occupancy tax is generating a tremendous amount of money.  Much more than $36 million a year. I think it was somewhere around $55 or so. And all the towns and Dare Co. benefit hugely from that. Nags Head, we've got a $12 to $12 million budget. And we get $2 million from those proceeds every year. So it's a significant revenue source.
Are you worried if it turns into a constant, VB type affair where there's always pipes and filling that people will say, 'I don't go to the Outer Banks for this.'? What if it has the opposite effect and makes people go the other way?
Well, I think how it develops helps. We have single-family homes. Some may be big single-family homes, but they're not hotels or condos or the high-density options you have in Virginia Beach or Myrtle Beach. But that's how those places justify that federal money going into. It's that economic benefit. And you can justify it better if you have a 10-story building you're protection than a single-family house you're protecting. And when I got here, retreat was the town policy. But the problem is people don'' give up their houses very easily. And if you give them an option, like sandbags, they put the sandbags in and don't really care about their neighbors. I'm saving my house, you put sandbags in and save your own. And there's a point in that conflict between private home and the public beach where you've got to say, look, it's the public's beach. You may own down to the mean high water mark. But the public's got the right to go through all those places. And they can't go through 'em if you septic or your sandbags are blocking the whole beach. " And that's where we ended up with Seagull and we're still battling it out down there. And I do' know how it'll end. But I feel very strongly about how it should end: if those houses are in the surf six months out of the year, they're not on private property anymore. And it's a legal battle.
But w'ell see. I'd like to have some of that group come and look at our project and give it a critique. Tell us what we should do better. I've heard too many of the cheerleaders. I sued to be anti nourishment. I went to board meetings and said "this is dumb." But part of that was what they were trying to sell. They had a guy come to a board of realtors meeting and say there's a 1000 time benefit to spending that 80 million dollar. I couldn't make those numbers work. I can make $36 million work if it's coming from occupancy tax, just between retaining that tax base. And these oceanfront houses generate far more in tax revenue between sales tax and occupancy tax. If somebody's renting a house for $5000 a week, they're spending 5% in occupancy and 6.75% in sales tax. And a lot of that money comes back to Dare County and the towns. And the state. So l looked at it as an investment there to keep that income stream coming in. You make a special investment on the beach. And it keeps coming in for 15 years. If you retreat, income steam is going to go down. There's just no way around it.
So what does Nags Head look in 50 years? How does it look north of the bridge? How much is nourishment? And how much sand is left?
I think if we wait five years and see what we've got then, we'll have an awful lot more information about how long it stays and how it goes away. And any future decision we make we'll be able to base on some actual performance. I think you'll end up with somewhere between 10 and 15 years, 'til it's time to renourish again. My only concern is the permit taking six years to get. You've really got to start early. My board feels differently. They want to start putting money away for nourishment now. My point is you don't know how much it's gonna cost and when you're going to do it. Let's wait a bit and get some of that information.

My fear is if it's still here in two years, KDH will rush to follow.
There ain't no way to rush through the permit process, that's the thing.  I think the latest controversy is public access — with potential for sand being put on Duck's beaches. Nags Head has wonderful beach access. We've got more than all the towns combined – maybe even the most of any town in North Carolina. But Duck doesn't have that. Same goes for Southern Shores. I don't think everybody should be held to the federal standard, because federal funding not being used. And we don't' meet that.  If you want public sand on the beach, the public should be able to get to it.
What about the environmental impacts?
I think we've been very fortunate. There's not a lot of organic material in it. You don't see plumes – the water's clear a s bell right now. You see sand stirred up where there's pumping but it's not an environmental calamity. The quality of the sand is great. The benthic organisms is probably the biggest concern,  and walking along the new beach, I saw holes indicating those little calms. So I feel like we've done a good job. And all the scientific literature I've read says the benthic organisms rebound in a year or two years. And I think we're taking those organisms offshore and they're are surviving the trip to the beach. The seagulls are sure feasting well [laughs]. They're sitting there at the end of ht pipe. So they'll pick out whatever things are coming out. But a lot that is making it. I think the sand fiddlers move up into the dunes like they do in a storm. All this is such a dynamic area. We can't move the sand as fast as the ocean can. As people like to tell me [laughs]. Mother nature is still in charge. And she is. All we're doing is setting that equilibrium part out farther out in the water than where it was. And yeah, it takes a huge amount of money and a huge amount of sand, and we'll see how long it stays there. But it is entirely up to the ocean. And I do understand that part.